Ditanium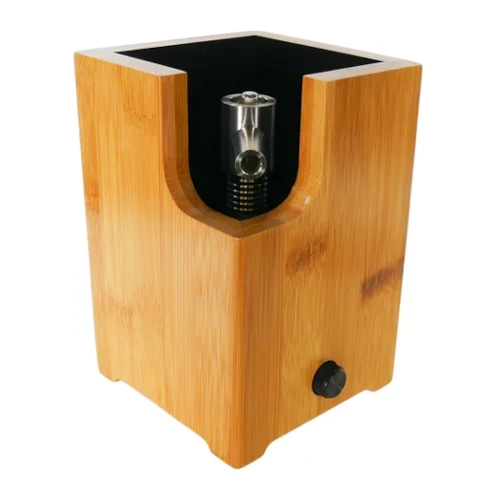 Ditanium Description
The Ditanium is a powerful desktop extraction with a quartz and titanium heater cover, it can reach high temps, which enable it to support concentrates, and it's housed with various high-quality hardwoods. It even supports using both dry herbs and concentrates at the same time if that's your thing.
Ditanium Features & Traits
Desktop
Convection
Electronic
Premium
Concentrates
Wood
What Comes with the Ditanium?
Ditanium Vaporizer
Silicone Whip Tubing
Titanium Mouthpiece (14mm)
Glass Handpiece
User Manual


Ditanium Specifications
Find out what you can expect if you decide to pick up the Ditanium
Chamber Capacity
~0.5 grams
Housing Material
Hardwood - Various Types Available
Temperature Range
0 - 900°F
Ditanium Prices
Below are approximate prices for the Ditanium in various different currencies. These numbers are based on the average market rate for the device and are updated as regularly as possible.
$299 USD
$462 AUD
€299 EUR
$422 CAD
$494 NZD
£256 GBP
Ditanium Retailers
If you decide to buy the Ditanium or were wondering where to buy the Ditanium, it's available at the following retailers. Please note some or all of these may be affiliate links which help support us in covering the costs of operating Thermal Extractions. However, this comes at no additional cost to you. Furthermore, we always recommend to shop around the get the best Ditanium price!
Ditanium on Reddit
See what people are saying about the Ditanium on Reddit. Please note that this feature is currently considered experimental and not all content found may be relevant to vaporizers or even this vaporizer.
Ditanium FAQs
What color lights are on the Ditanium vaporizer?
Most models of the Ditanium vaporizer come stock with blue LED bulbs. However, you can purchase several other colors from the manufacturer to further customize your experience.
Ditanium Ratings
Loading Ratings...