Arizer XQ2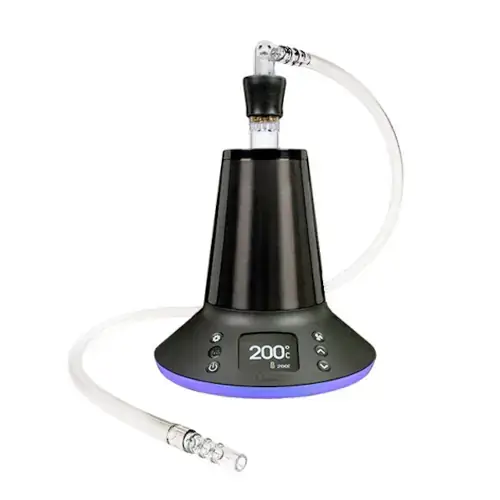 Arizer XQ2 Description
The XQ2 is the latest in the line of desktop vaporizers from one of the most well-known companies in the space, Arizer. Yet again, they've produced a great device with a high degree of flexibility and performance right out of the box. In addition, the XQ2 comes at a very reasonable price making it one of the best budget desktop vaporizers on the market.
Arizer XQ2 Features & Traits
Desktop
Convection
Electronic
What Comes with the Arizer XQ2?
Arizer XQ2 Vaporizer
Power Adapter and Cord
Glass Connoisseur Bowls (x2)
Glass Tuff BowlGrips (x2)
Glass Aromatherapy Dish
3 Feet (~1 meter) Silicone Whip
Glass Mini Whip w/ Dome Screen
Frosted Glass Balloon Mouthpiece
Air Filter Cartridge with Filter
Stainless Steel Stirring Tool
Balloon Connector
Balloon Bags (x2)
Balloon Cap
Flat Screen
Remote Control
Owner's Manual


Arizer XQ2 Specifications
Find out what you can expect if you decide to pick up the Arizer XQ2
Temperature Range
50°C-260°C
Arizer XQ2 Prices
Below are approximate prices for the Arizer XQ2 in various different currencies. These numbers are based on the average market rate for the device and are updated as regularly as possible.
$240 USD
$394 AUD
€240 EUR
$350 CAD
Arizer XQ2 Retailers
If you decide to buy the Arizer XQ2 or were wondering where to buy the Arizer XQ2, it's available at the following retailers. Please note some or all of these may be affiliate links which help support us in covering the costs of operating Thermal Extractions. However, this comes at no additional cost to you. Furthermore, we always recommend to shop around the get the best Arizer XQ2 price!
Arizer XQ2 Ratings
Loading Ratings...