Stache E-Nail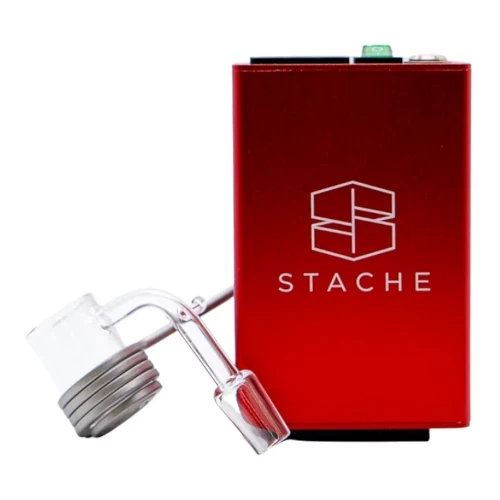 Stache E-Nail Description
The E-Nail from Stache (creator of the well-known RiO) is a digitally controlled heating device that can deliver powerful results when paired with your favorite concentrates and a rig or bubbler. It comes with a convenient 14mm nail making it easy to find something to pair it with or a suitable adapter.
Stache E-Nail Features & Traits
Desktop
Concentrates
Conduction
Microdosing
Electronic
What Comes with the Stache E-Nail?
Male Quartz Nail (14mm)
Silicone Storage Container
Heater Coil
Power Cord
Carrying Case


Stache E-Nail Specifications
Find out what you can expect if you decide to pick up the Stache E-Nail
Temperature Range
700-1000℉
Stache E-Nail Prices
Below are approximate prices for the Stache E-Nail in various different currencies. These numbers are based on the average market rate for the device and are updated as regularly as possible.
$190 USD
$307 AUD
€190 EUR
$280 CAD
$329 NZD
£167 GBP
Stache E-Nail Retailers
If you decide to buy the Stache E-Nail or were wondering where to buy the Stache E-Nail, it's available at the following retailers. Please note some or all of these may be affiliate links which help support us in covering the costs of operating Thermal Extractions. However, this comes at no additional cost to you. Furthermore, we always recommend to shop around the get the best Stache E-Nail price!
Stache E-Nail on Reddit
See what people are saying about the Stache E-Nail on Reddit. Please note that this feature is currently considered experimental and not all content found may be relevant to vaporizers or even this vaporizer.
Stache E-Nail Ratings
Loading Ratings...
Check out these other Vaporizers!