Vaporbrothers VB1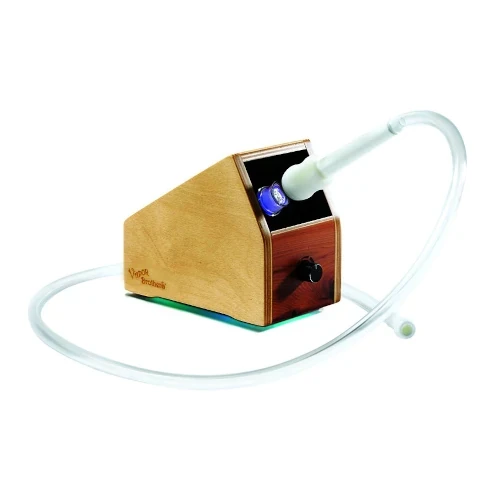 Vaporbrothers VB1 Description
The Vaporbrothers VB1 is a classic, tabletop vaporizer known for its durability and simplicity of use. The VB1 utilizes a whip system, where the user inhales vapor through a silicone tube. It has an adjustable temperature control dial and a ceramic heating element, which enables you to dial it in to provide clean and flavorful vapor. The VB1 has a cult following and is widely regarded as a reliable, long-lasting option for at-home vaping.
Vaporbrothers VB1 Features & Traits
Desktop
Convection
Electronic
Microdosing
Premium
Electronic
Wood
What Comes with the Vaporbrothers VB1?
Purchasing a VB1 can be quite customized depending on the type of finish and other factors you prefer. Additionally, multiple package options can be selected from, the following are the contents of the "Basic Kit".
VB1 Desktop Vaporizer (various finish options)
Whip Kit (multiple options)
Packing Tool
2.5" Herb Grinder
Organic Vaporbrothers Aromatherapy Herbal Blend Sample
User Instruction Guide
Limited Lifetime Warranty & Registration Info


Vaporbrothers VB1 Prices
Below are approximate prices for the Vaporbrothers VB1 in various different currencies. These numbers are based on the average market rate for the device and are updated as regularly as possible.
$280 USD
$460 AUD
€280 EUR
$408 CAD
Vaporbrothers VB1 Retailers
If you decide to buy the Vaporbrothers VB1 or were wondering where to buy the Vaporbrothers VB1, it's available at the following retailers. Please note some or all of these may be affiliate links which help support us in covering the costs of operating Thermal Extractions. However, this comes at no additional cost to you. Furthermore, we always recommend to shop around the get the best Vaporbrothers VB1 price!
Vaporbrothers VB1 on Reddit
Rate the Vaporbrothers VB1
Vaporbrothers VB1 Ratings
Loading Ratings...
Check out these other Vaporizers!