XMAX QOMO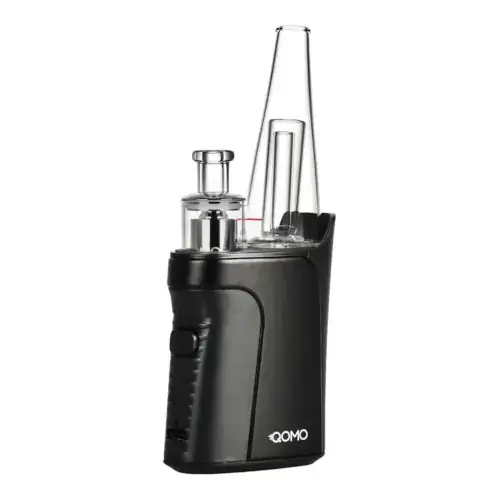 XMAX QOMO Description
The XMAX QOMO is one of the smallest and most affordable e-rigs on the market that doesn't let its size get in the way of providing a budget-friendly way to enjoy concentrates on the go.
XMAX QOMO Features & Traits
Portable
Budget
Electronic
Concentrates
Conduction
What Comes with the XMAX QOMO?
XMAX QOMO Device
USB-C Charging Cable
Replacement O-Ring
Silicone Mouthpiece Cover
Gift Box
User Manual


XMAX QOMO Pricing
Below are approximate prices for the XMAX QOMO in various different currencies. These numbers are based on the average market rate for the device and are updated as regularly as possible.
$89 USD
$135 AUD
€82 EUR
$120 CAD
$145 NZD
£70 GBP
XMAX QOMO Retailers
Looking to buy the XMAX QOMO? Check out our list of XMAX QOMO retailers. Note that some links may be affiliates, supporting us at no extra cost to you. Compare different retailers to ensure you always get the best price for the XMAX QOMO!
XMAX QOMO Specifications
Find out what you can expect if you decide to pick up the XMAX QOMO
Manufacturer
TopGreen Technology Co
Temperature Range
280°C - 350°C (536°F - 662°F)
Battery Life
10-20 Sessions
Power Adjustment
Modular - 3 Stages
XMAX QOMO Cleaning Guide
Remove the bubbler, cap, glass atomizer surround, and unscrew the bowl.

Clean the body and silicone parts of the device with some paper towel or cloth moist with warm water. Avoid using alcohol for these sections as it may damage them over time.

Rinse or, ideally, soak the bubbler, chamber cover, and cap (with the o-ring removed) in isopropyl alcohol.

Wipe out the atomizer (bowl) with a q-tip dipped in isopropyl alcohol, alcohol wipe, or similar. After extended use, you'll want to replace the atomizer as it becomes challenging to clean sufficiently or is no longer performing as expected. The atomizer can be replaced relatively inexpensively at around $10 USD.

Once everything is clean, ensure everything is completely dry before putting the unit back together and using the device again.
XMAX QOMO Ratings
Loading Ratings...