XL E-Nano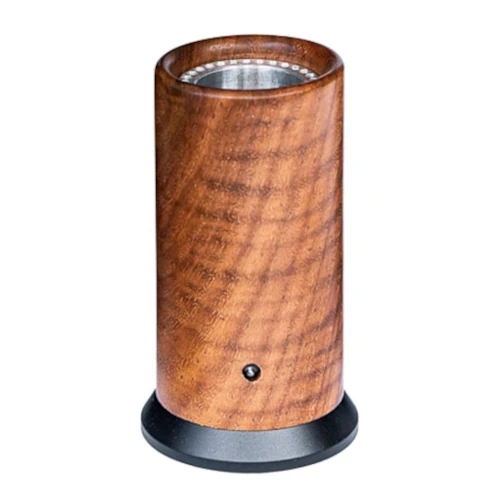 XL E-Nano Description
The E-Nano XL provides the most premium experience of the lineup. It takes an already solid vaporizer and adds a new heater optimized for lower operating temperatures while producing better performance, a larger aluminum base to keep things steady, and an upgraded power adapter with a matching wood cover. Like all E-Nanos it is designed and built in the USA from high-quality wood. Various options are available, from more affordable yet still quality woods to more exotic options for those that want something a little extra special.
XL E-Nano Features & Traits
Desktop
Convection
Microdosing
Premium
Wood
What Comes with the Dynavap The E-Nano XL?
XL E-Nano
Power cable with Temperature Control
Cotton Storage Bag
E-pick Stainless Steel Multi-Tool
Quickstart Guide
Glass Stem
EpicKai Sticker


XL E-Nano Pricing
Below are approximate prices for the XL E-Nano in various different currencies. These numbers are based on the average market rate for the device and are updated as regularly as possible.
$280 USD
$425 AUD
€260 EUR
$380 CAD
$456 NZD
£223 GBP
XL E-Nano Retailers
Looking to buy the XL E-Nano? Check out our list of XL E-Nano retailers. Note that some links may be affiliates, supporting us at no extra cost to you. Compare different retailers to ensure you always get the best price for the XL E-Nano!
XL E-Nano Specifications
Find out what you can expect if you decide to pick up the XL E-Nano
Country of Manufacture
United States (USA)
Power Source
AC Power (110v)
Power Cable Length:
2.5 Metres
Power Adjustment
Rotary Knob
Temperature Range
0-560°F
XL E-Nano FAQs
Is the XL E-Nano compatible with water pipes and bubblers?
While the base unit doesn't support water pipes out of the box, E-Nano water pipe adapters (E-Nano WPA) are readily available. Additionally, some expanded kits that include additional add-ons, such as the XL E-Nano Deluxe Kit, do include a water pipe adapter with the unit. So if you want to use a water pipe with your E-Nano, just ensure you purchase one or a kit that includes it.
XL E-Nano Ratings
Loading Ratings...