Arizer XQ2 Review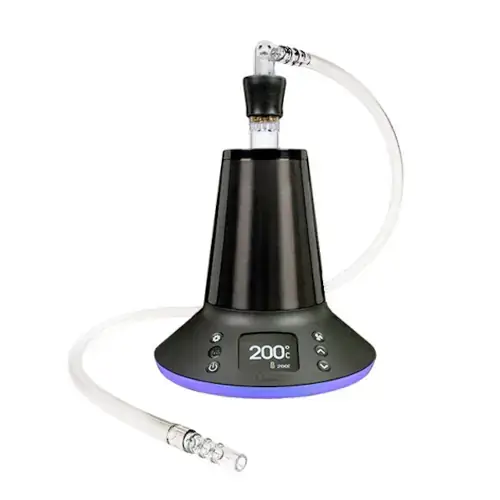 10 October 2022   •   11 min read
The refresh of the well-known and often highly recommended Extreme Q, the XQ2 brings a modern design and more polish to everything that made the original great.
Arizer XQ2 Highlights
Whip and bag support
3-speed fan assist
Remote control
Dynamic lighting
What is the Arizer XQ2?
The XQ2 is a desktop vaporizer from one of the biggest vaporizer names around, the Canadian company Arizer. It provides a high degree of flexibility with support for a whip, bags, and more, ensuring that whatever your vaping preferences are in a desktop vaporizer, there's probably something for you here as well.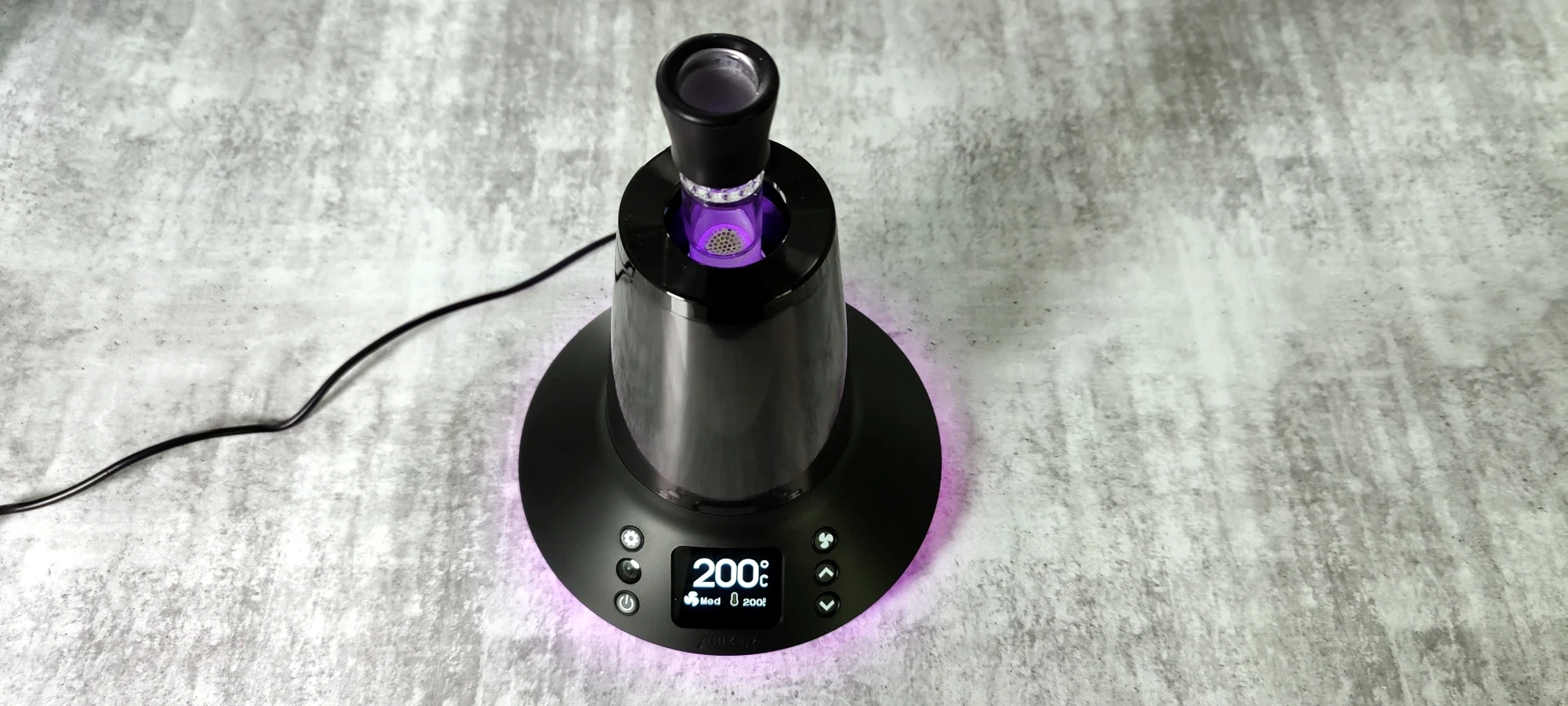 How to Use the Arizer XQ2
Load your bowl with ground material and place it over the heater, where it will sit comfortably in place.
Attach the whip using the included adapters or set up a bag to fill as explained in the user manual; it's pretty easy to do.
With the device plugged in, press the power button on the front of the control panel or via the remote.
Adjust the temperature as desired using the up and down buttons or via the remote.
Once your set temperature is reached, it will beep, and you can also reference the display for the current temp at any time.
You can now either fill your bag using the fan assist by pressing the fan button to alternate between the available fan settings or inhale directly via the whip.
The above should be considered an oversimplification of how to use the XQ2, as there's a lot of variety in terms of how you can approach the device. However, once you have a basic understanding of how it works, it's straightforward to explore it yourself and find out what works best for you. It's very user-friendly, so don't be put off by the relatively large number of included pieces, as you'll quickly understand what each part is for and how it can be used in practice. The included user manual also provides a very nice overview of all the features, so you'll be up and running in no time should you pick up the XQ2 yourself.
Changing Arizer XQ2 Settings
When the device is turned on, you can adjust a few key settings by pressing the menu button, such as changing the lighting between various modes, changing the temperature from Celsius to Fahrenheit, screen brightness, preheat delay, and adjusting auto-shutoff times.
The options available for the lighting are well worth a look and add some surprisingly nice ambiance when using the device. In addition, the menu system is relatively easy to navigate, and you can make little changes to match your preferences. This usability is a noteworthy improvement over the original Extreme Q, which did face some challenges in this regard.
There is nothing super confusing, or that should result in damage to your device in the settings menu, so don't hesitate to play around a little and find out what each option does. Arizer did an excellent job developing the user interface of the XQ2 to be both simple and intuitive, and it's pretty nice to use.
Packing the Arizer XQ2
The two included connoisseur bowls can be inserted into the XQ2 in both directions enabling you to load extreme amounts of around 1.5 grams of dry herbs when using the cloud bowl (larger side) or more practical amounts for individual use by utilizing the flavor chamber (the smaller side). Packing the bowl is relatively straightforward; simply load in some ground material while keeping it loose to ensure even airflow, and you're good to go. Just be sure to avoid grabbing the glass directly when you want to pack a fresh bowl, as it will get more than a little warm.
Elbow packing is something that was popular with the original Extreme Q that is also possible here due to the similar design. So if you find that you aren't getting quite the vapor density you're looking for when using the bowl loaded normally, try packing the dome-shaped screen directly and turning up the heat a little more than you usually would when using the connoisseur bowl to ensure the heat is still sufficient by the time it reaches the screen. How much does the Arizer XQ2 Cost? If you've been looking at desktop vaporizers, you're probably already clutching your money in fear. Yet, the XQ2 actually comes in at the reasonable price point of only around $240 USD and can be had for even less if you shop around or hit a good sale.
You get a fairly comprehensive out-of-the-box experience here, making the already fair pricing more appealing. Like its predecessor, the XQ2 slots nicely into mid-range pricing while providing an experience that doesn't feel lacking.
Is the Arizer XQ2 Well Built?
The Arizer XQ2 has a pleasant modern design that is a fantastic evolution of the original. Furthermore, alongside its sleek appearance, you'll be hard-pressed to find any rough edges or low-quality inclusions, as everything is of good quality with clear attention to the high standards typical of Arizer products.
Everything from the buttons on the device to the remote is quite nice, and even the packaging is a joy to open, albeit not ideal for packing your device back up, which is a minor gripe with the recent packaging from Arizer. However, there's little to fault here as between the base unit itself and everything included in the rather sizeable kit, nothing stands out as lacking or an afterthought.
What Comes in the Box?
Arizer XQ2 Vaporizer
Power Adapter and Cord
Glass Connoisseur Bowls (x2)
Glass Tuff BowlGrips (x2)
Glass Aromatherapy Dish
3 Feet (~1 meter) Silicone Whip
Glass Mini Whip w/ Dome Screen
Frosted Glass Balloon Mouthpiece
Aromatherapy sample (not all regions)
Air Filter Cartridge with Filter
Stainless Steel Stirring Tool
Balloon Connector
Balloon Bags (x2)
Balloon Cap
Flat Screen
Remote Control
Owner's Manual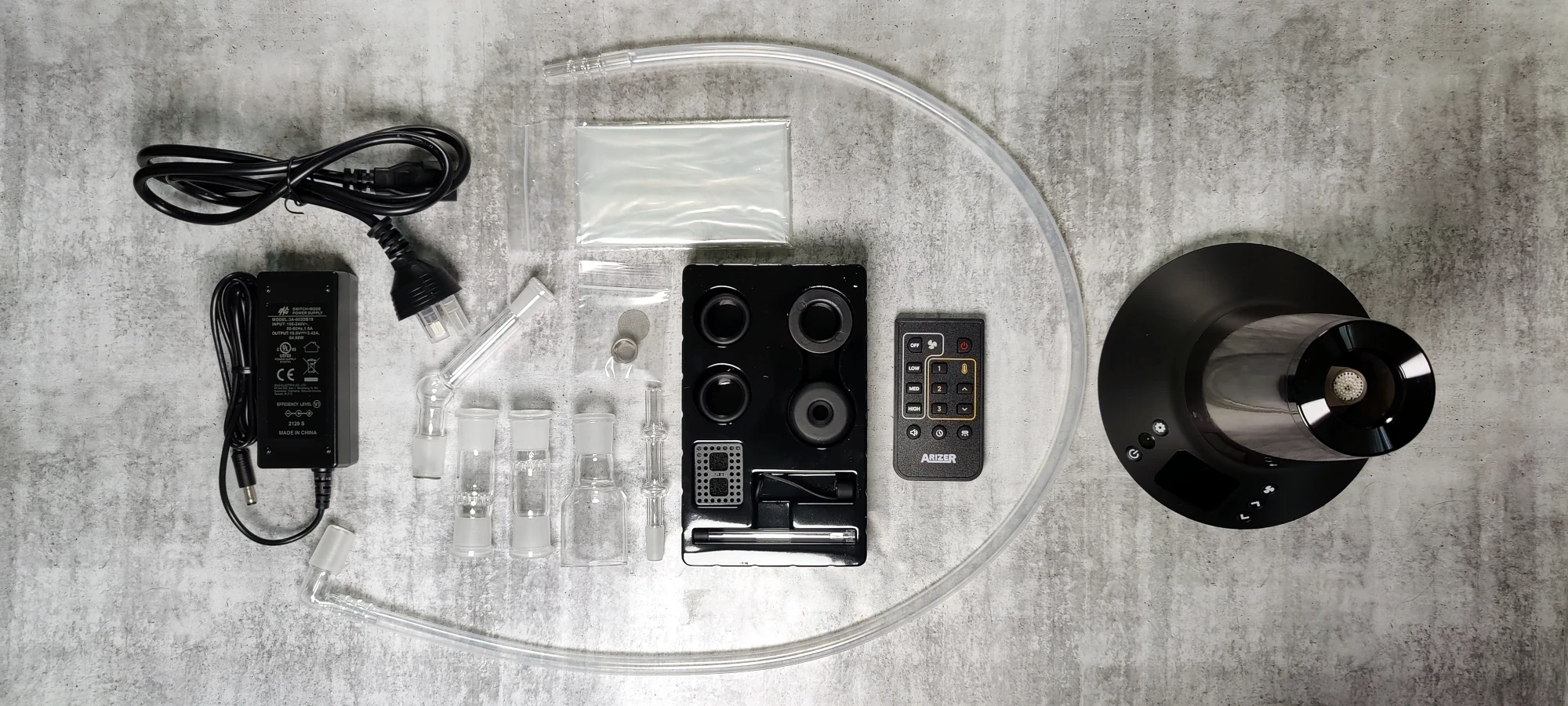 Can you use the Arizer XQ2 with a Water Pipe?
The XQ2 can be used with many water pipes and provide a great experience. However, unless you can put together something to connect the XQ2 to your bubbler using the included whip and accessories, you'll likely have to go digging in your vape drawer for an adapter, or once you work out precisely what fittings you may just need to order something.
It feels like a little bit of a missed opportunity not providing out-of-the-box support for 14mm and 18mm water pipes, given how common they are. Including just an extra adapter or two would have made the difference here, and it's hopefully something they consider next time or during a future refresh of this device, as it would really be the cherry on top of the already excellent XQ2 kit.
In any case, you shouldn't find too much of a challenge getting your XQ2 rigged up to your water pipe via the whip once you work out exactly what you'll need. Even if you need to grab an extra adapter or two, most can be sourced inexpensively, so it's not too much of an issue.
How to Clean the Arizer XQ2
Maintaining the XQ2 is relatively easy, given that most parts that will accumulate moisture are glass. All the glass pieces can be either soaked or wiped down with isopropyl alcohol to get them looking as good as new.
The whip should not be soaked in alcohol and is best replaced when things get a little too messy. However, there are a few approaches to extending the life of a whip, such as soaking it in warm water, which should reduce some of the accumulated residues from repeated use. In the same sense, the bags should be treated as disposable and discarded once they get a little too dirty, thankfully, they are easily sourced while being relatively inexpensive, and you can always use a good old-fashioned turkey bag in a pinch.
The unit itself should stay pretty clean, minus a little dust buildup which is easily managed with a damp cloth to get it looking fresh again. Avoid submerging the unit, not that it should ever require doing so anyway. Can the Arizer XQ2 Produce Good Vapor? The vapor produced by the XQ2 varies significantly depending on your approach to using the device and the settings chosen. For example, the fan can be operated at three speeds, considerably affecting your experience. However, overall the vapor produced by the XQ2 is quite good and rather tasty. With some experimentation, it can be fantastic once you find the sweet spot for your preferences.
If you're finding you're not getting much vapor at a temperature you usually prefer on other devices, consider testing at a slightly higher temp as the XQ2 does trend towards requiring slightly more heat due to the sometimes significant distances between the heater and the material, especially when elbow packing to push some extra vapor density or using the flavor chamber. Thankfully, with the max supported temperature being rather high (260°c), you should have no problem bumping it up, even if you prefer vaping a little warmer than most.
Is the Arizer XQ2 Good for Microdosing
The XQ2 performs best when you give it a decent amount of material to work with, and while it does make some considerations for those that prefer more extreme through to moderate amounts, it doesn't quite hit the mark for those that really want to keep their use to a minimum.
So for those that are looking to have those really small hits, the XQ2 isn't quite the answer, especially when you take into account the time required to preheat it thoroughly. That's not to say it won't do the job; it's just not a strong aspect of this type of device, even though the flavor chamber side of the connoisseur bowl or elbow packing, for that matter, does help a little in this regard. It's just something to be aware of for those that prefer small frequent hits throughout their day that they may be better suited to other devices, perhaps something more along the lines of the Solo 2, also made by Arizer.
If you're someone that leans towards more moderate doses or likes to ease into a session with some temp stepping, that's no problem here, and you'll find yourself at home with the XQ2. The main downsides of microdosing with the XQ2 are the warm-up time and heat retention, but again, it's workable and will only be an issue for those a little more fickle about how they microdose.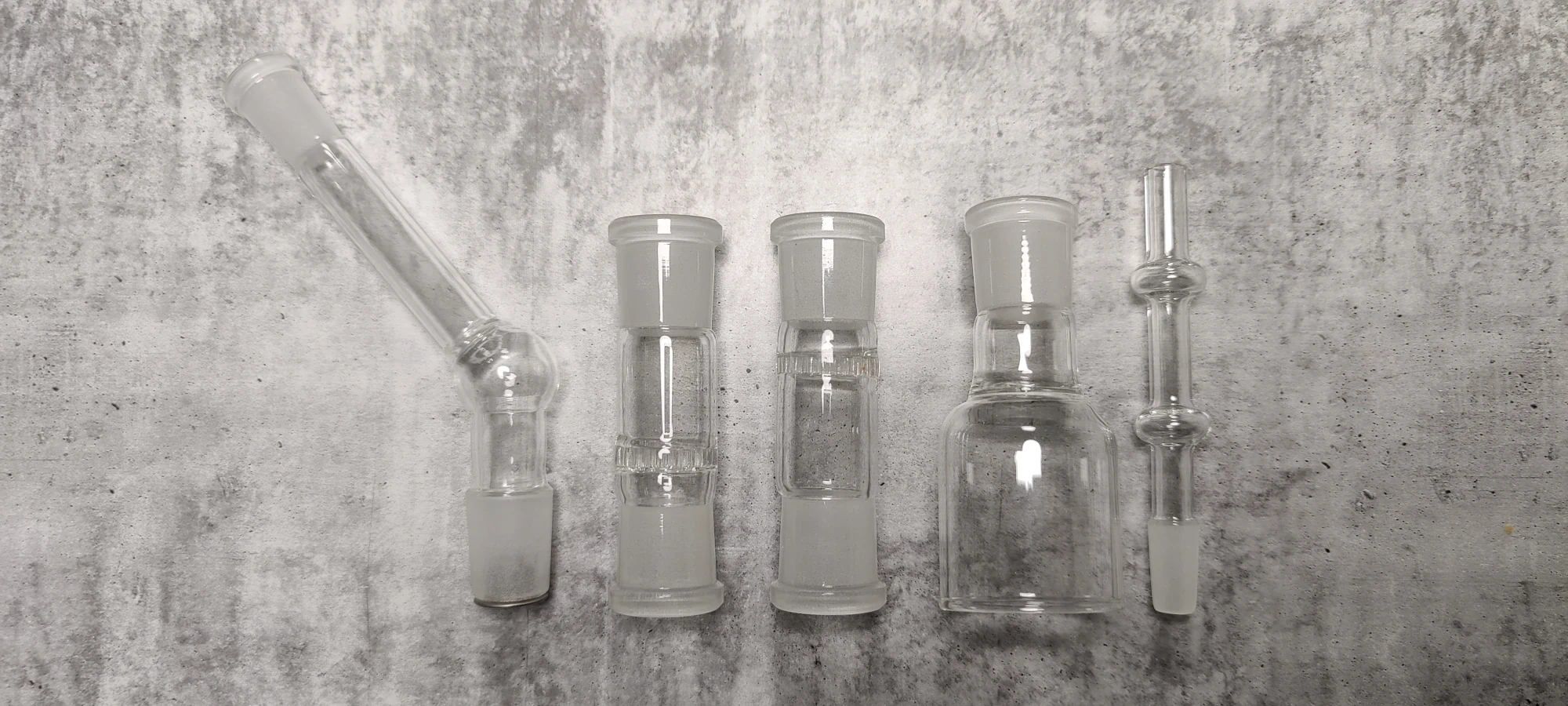 Can you use Concentrates with the Arizer XQ2?
For concentrate enthusiasts, the XQ2 isn't an ideal choice. However, if you're someone who just likes to add a little extra something to your flower occasionally, you'll be able to get away with it here, provided you take a little extra care when doing so.
Using concentrates directly on their own isn't possible here as they'll just drip into the heater and potentially damage the device, but mixing small amounts into some ground material or sandwiching between a couple of layers should work just fine; just take it easy to ensure there's enough material to absorb the concentrates once it melts.
Is the Arizer XQ2 Good for Beginners?
If you're diving into vaping for the first time, it can feel a little overwhelming with so many types of devices and ways to use them. You may not know where to start and, more importantly, what it is you actually like. Thankfully, the XQ2 is easy to use once you get familiar with the various parts included in the kit, and it ensures you have a lot of options enabling you to explore and see what approaches work best for you.
For a beginner that doesn't mind losing out on portability by opting for a desktop vaporizer, the XQ2 is certainly one to consider; there's plenty to get you started, and you shouldn't feel like you're missing out on anything once you move past that beginner phase.
Arizer XQ2 Pros
Heaps of ways to use it (bag, whip, etc.)
Fan assist is both included and optional
well-made and responsive remote control
Lighting provides a pleasant ambiance
Great value
Arizer XQ2 Cons
Water pipe compatibility out of the box could be better
Warm up time isn't overly fast (1-2 minutes to reach temp)
No spare tubing included (only one whip)
Not the most aggressive desktop around
Is the Arizer XQ2 Worth Buying?
The XQ2 is a brilliant refresh of the original Extreme Q and a great device in its own right. However, while there are harder-hitting options out there, that doesn't always make for the best or most well-rounded experience, and the XQ2 is an excellent example of this point.
Flexibility is one of the strongest traits of the XQ2, so it doesn't matter if you want to share a few vapor-filled bags with some friends while going all out with the connoisseur bowl or you'd rather just have a relaxed session with the whip, it can do it and do it well. Moreover, it's a great desktop dry herb vaporizer at a reasonable price that upholds the quality and fair prices for which Arizer is known. They've done well to create yet another device that will likely remain an easy recommendation for desktop vaporizers in years to come.