XMAX Starry 4 Review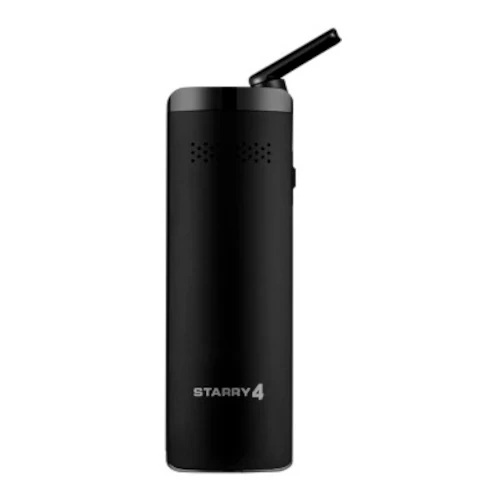 8 May 2023   •   12 min read
Are you considering adding the Starry 4 to your collection? Let's find out if this portable vaporizer from one of the best budget vaporizer companies is a good choice.
XMAX Starry 4 Highlights
Zirconia Mouthpiece
Airflow Control
Replaceable Battery
Ceramic Oven
Haptic Feedback
What is the XMAX Starry 4?
The Starry 4 is the latest in the lineup of budget-friendly portable vaporizers from the team over XMAX (TopGreen). It utilizes convection heating to provide a relaxed sipping style vaporizer while also providing airflow control for additional flexibility that isn't common with these types of vaporizers.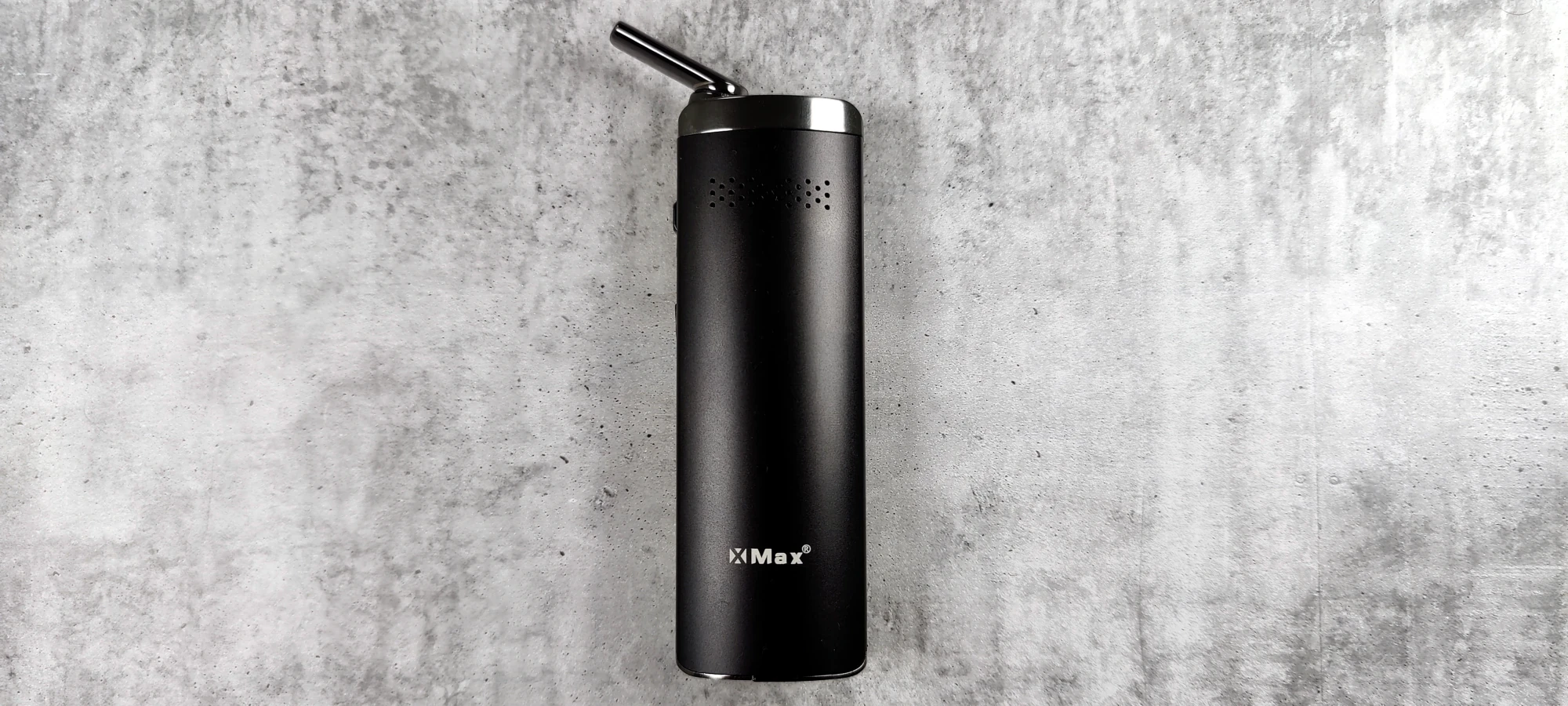 Preparing the XMAX Starry 4 for Use
Loading the XMAX Starry 4 with material is a breeze; simply remove the magnetic top cap to reveal a spacious chamber that can hold up to around 0.3 grams of material, enough for a satisfying session. The top section fits snugly in place and comes off easily, making it simple to pack and reload.
To achieve the best session with the Starry 4, it's ideal to pack the chamber half full or to use the included dosing cap. While the dosing cap is a welcome addition, it has limitations in that only one is included, and the lid can be somewhat fiddly. However, using the dosing cap is a great way to keep the oven cleaner for longer, which is a definite plus.
Overall, loading and using the XMAX Starry 4 is a straightforward process that makes for a pleasant vaping experience. The spacious chamber, user-friendly design, and optional dosing cap all contribute to an enjoyable and hassle-free session.
If you're using the XMAX Starry 4 vaporizer for the first time, it's an important step to give it a quick clean and dry burn before use, which is good practice before using any new vaporizer. Taking this step ensures that the device is clean and free of any residual manufacturing oils or debris, and it can also help to ensure the flavor is as good as it can be.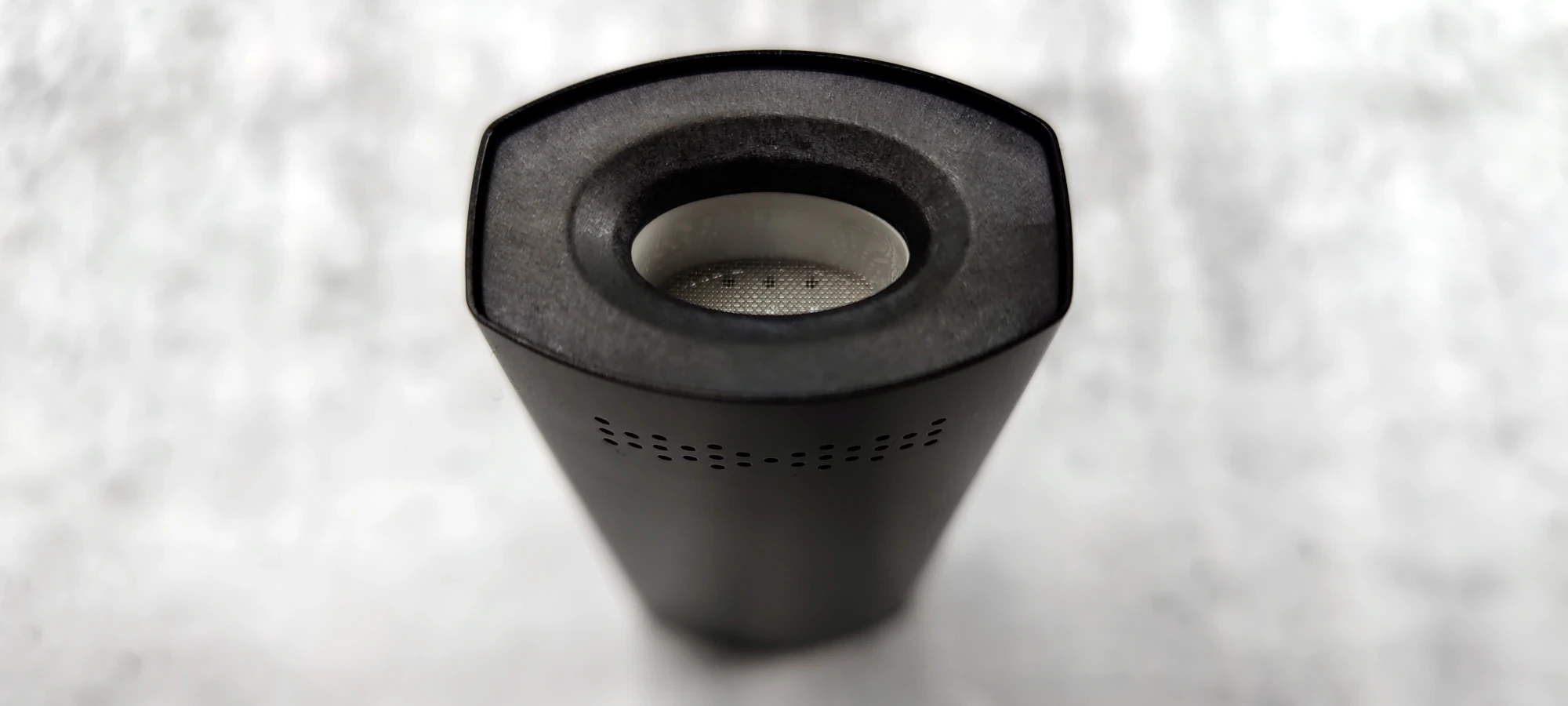 Using the XMAX Starry 4 for the First Time
Using the XMAX Starry 4 vaporizer for the first time is an enjoyable experience overall. The device is user-friendly, and it is straightforward to set up and get started. One of the standout features was the device's versatility in accommodating both direct lung inhales with the airflow open and mouth-to-lung vaping with the airflow restricted, which allows you to customize the experience based on your preferences.
After vaping, the material is nicely roasted at higher temps yet evenly vaporized, resulting in a reasonably efficient extraction. Unlike many conduction heated vaporizers that benefit from a tight pack, the Starry seems to not only tolerate a relatively loose pack but perform well when going that route.
How much does the XMAX Starry 4 Cost?
The XMAX Starry 4 is priced at around $99 USD at retail, which is a fair price for a pretty good portable vaporizer. Although the market is becoming more competitive at this price point, the XMAX Starry 4 remains a solid choice for those looking for an affordable and reliable device.
If you can find the XMAX Starry 4 on sale for an even lower price, it becomes an even more attractive option. Nonetheless, at its retail price, the XMAX Starry 4 offers excellent value for those in the market for a budget-friendly portable vaporizer.
What Comes in the Box?
XMAX Starry 4 Vaporizer
USBC Charging Cable
Chamber Mesh Screens (x2)
Dosing Capsule
Mouthpiece ORings (x2)
Mouthpiece Silicone Cap
Cotton Swabs (x3)
Alcohol Wipes (x3)
User Manual
Cleaning Tool
Packing Tool
Brush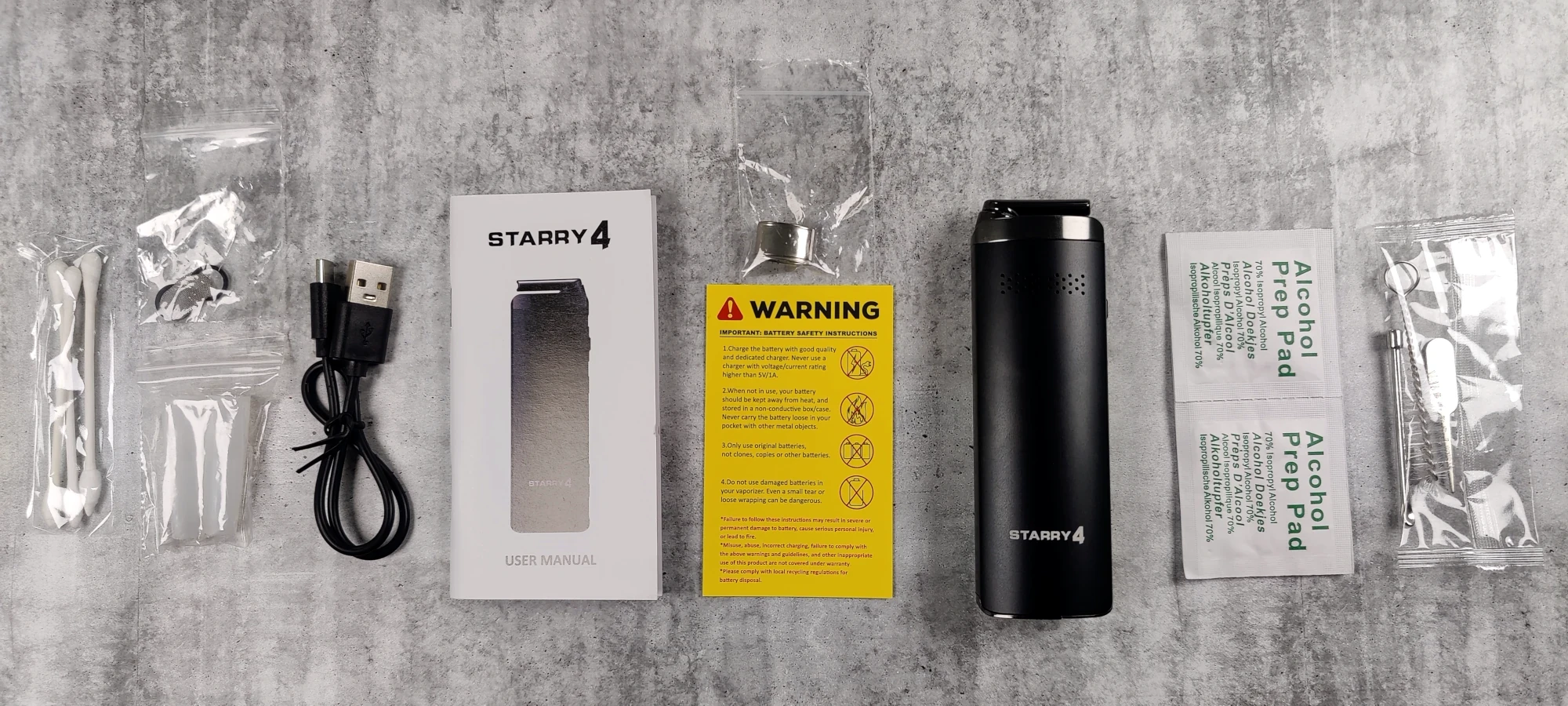 Is the XMAX Starry 4 Well Built?
While generally well-built, the XMAX Starry 4 vaporizer could benefit from some improvements in certain areas. For example, the top half of the device feels too light, making it feel slightly unbalanced, but only in terms of weight distribution while holding it. Also, the included dosing cap could be engineered better (especially the lid), which may be frustrating for some users.
One tiny part of the design where the XMAX Starry 4 falls short is the texture on the airflow control, which detracts ever so slightly from the device's overall sleek and minimal design. However, despite these minor issues, the XMAX Starry 4 is still a well-built vaporizer that delivers a satisfying and reliable vaping experience.
An excellent addition is the zirconia mouthpiece, which is not commonly seen on portable vaporizers, especially at this price point. It tends to absorb heat well but can get warm during longer high temp sessions.
There's not much to complain about in terms of design or build quality, it doesn't scream premium, but at this price point, you really shouldn't expect it to either. However, it is nicely put together, and there are no glaring issues that detract from the experience.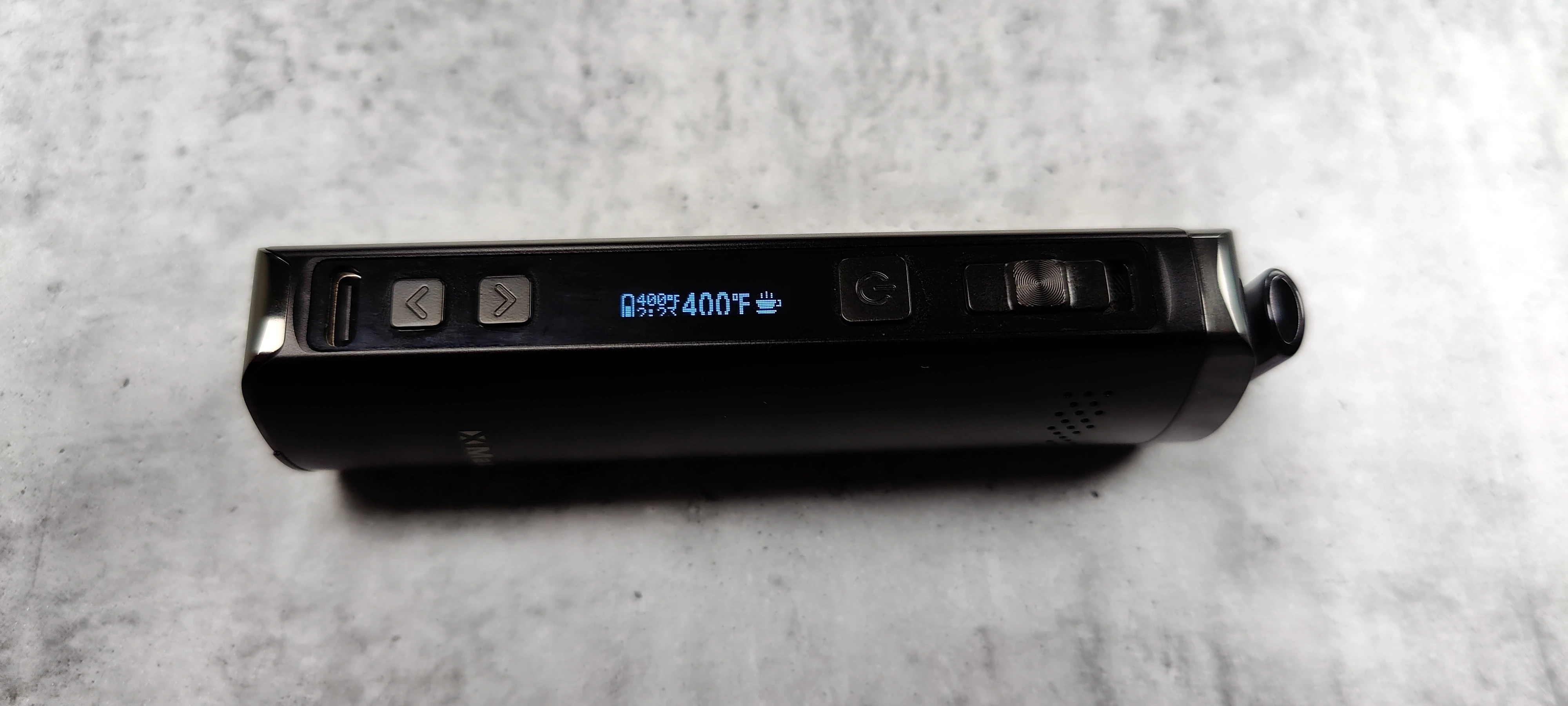 XMAX V3 Pro vs. Starry 4
There are only a few options worth considering for those aiming to spend around a hundred dollars on a portable electronic vaporizer. One of the other pretty appealing options is indeed the XMAX V3 Pro. Both provide a punch at their price point, which you would prefer primarily comes down to preference. Do you like long and slow direct lung inhales and smaller chambers? The XMAX V3 Pro it is. However, for those that want a more relaxed sipping type vape with a larger capacity, the Starry 4 is the answer.
So when comparing these two vaporizers, the biggest thing to consider is exactly how you like to vape. Given the price point, you could pick up both, depending, of course, on your budget constraints.
Can you use the XMAX Starry 4 with a Water Pipe?
Some available Starry 3.0 water pipe adapters will work with version 4, but not all due to the slight differences between the two models. Additionally, it's pretty easy to DIY something with a bit of silicone tubing and a glass 18/14/10mm adapter as well if you were so inclined. So while you won't get the best experience running something like the Starry 4 through water, it will let you push things a little harder for some reasonably heavy hits that would be challenging otherwise.
Is the XMAX Starry 4 Portable?
The Starry vaporizer is a device with a compact shape that allows for easy portability. It can be conveniently carried in a pocket, bag, etc. While not the smallest device on the market, it is not notably bulky at all either.
One notable feature of the Starry is its swappable battery, which can add to its convenience and portability. This feature allows users to easily bring along spare batteries in a case for longer trips or busy days. The device also features USB-C charging, a growing standard that makes finding compatible charging options easier.
The mouthpiece design is simple and practical, allowing users to quickly move it out of the way to prevent it from snagging on anything or impeding its portability. In all, the Starry vaporizer may be a suitable option for those seeking a portable device for their vaporizing needs while on the go.
Does the XMAX Starry 4 have Good Battery Life?
The Starry 4 has a slightly reduced battery capacity compared to its predecessor, but this doesn't have a significant impact. With more than an hour of runtime on a single charge, most users should be able to enjoy more than a few sessions before recharging. However, those who prefer longer sessions may consider investing in a spare or higher capacity battery, as long as it's a good quality 18650 battery with sufficient specifications.
Using a high-quality external charger is generally recommended whenever possible, and thanks to the removable battery and the improved battery door on the Starry 4, this is easy to do. Charging the battery via the device takes around 90 minutes, which is a reasonable amount of time for a single 18650 battery like the one used by the Starry 4 to charge.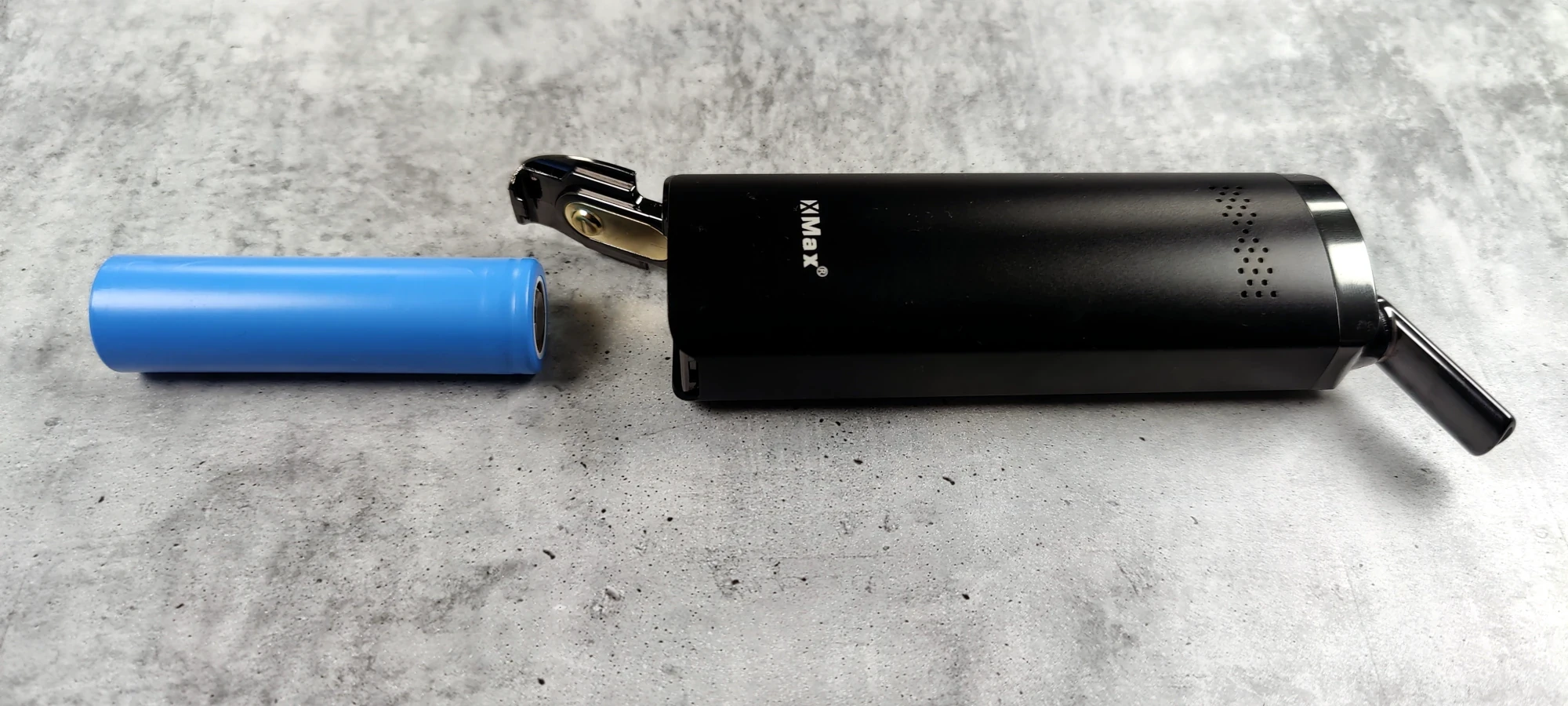 Is the XMAX Starry 4 Easy to Clean?
Cleaning the Starry 4 is a minimal hassle. All you need are some alcohol wipes or cotton swabs and isopropyl alcohol. The larger oven makes it fairly easy to wipe out, and the top section breaks down into a few separate pieces, making it easier to access and maintain.
There are no major roadblocks when it comes to cleaning the device, so it's generally easy to clean as long as you have some degree of dexterity.
Can the XMAX Starry 4 Produce Good Vapor?
Vapor production when using the Starry 4 depends greatly on how you use it. The airflow control provides a fair degree of flexibility and affects performance depending on how you utilize it. For example, having the airflow wide open lets you take some long deep direct lung hits that can produce some lovely vapor. Alternatively, reducing the airflow significantly results in dense sips or vapor suitable for mouth-to-lung vaping. It's actually quite surprising how much that little addition of airflow control improves the experience when using the Starry 4.
Overall, the vapor produced by the Starry 4 is certainly decent, especially for a conduction-heated portable at this price point.
Is the XMAX Starry 4 Good for Beginners?
The XMAX range is relatively easy to recommend to a beginner looking to dip their toes into vaporizing dry herbs without breaking the bank, and the Starry 4 is no different. For someone looking for a conduction-heated portable vaporizer and wanting to spend around a hundred dollars, the Starry 4 is a good suggestion in many cases.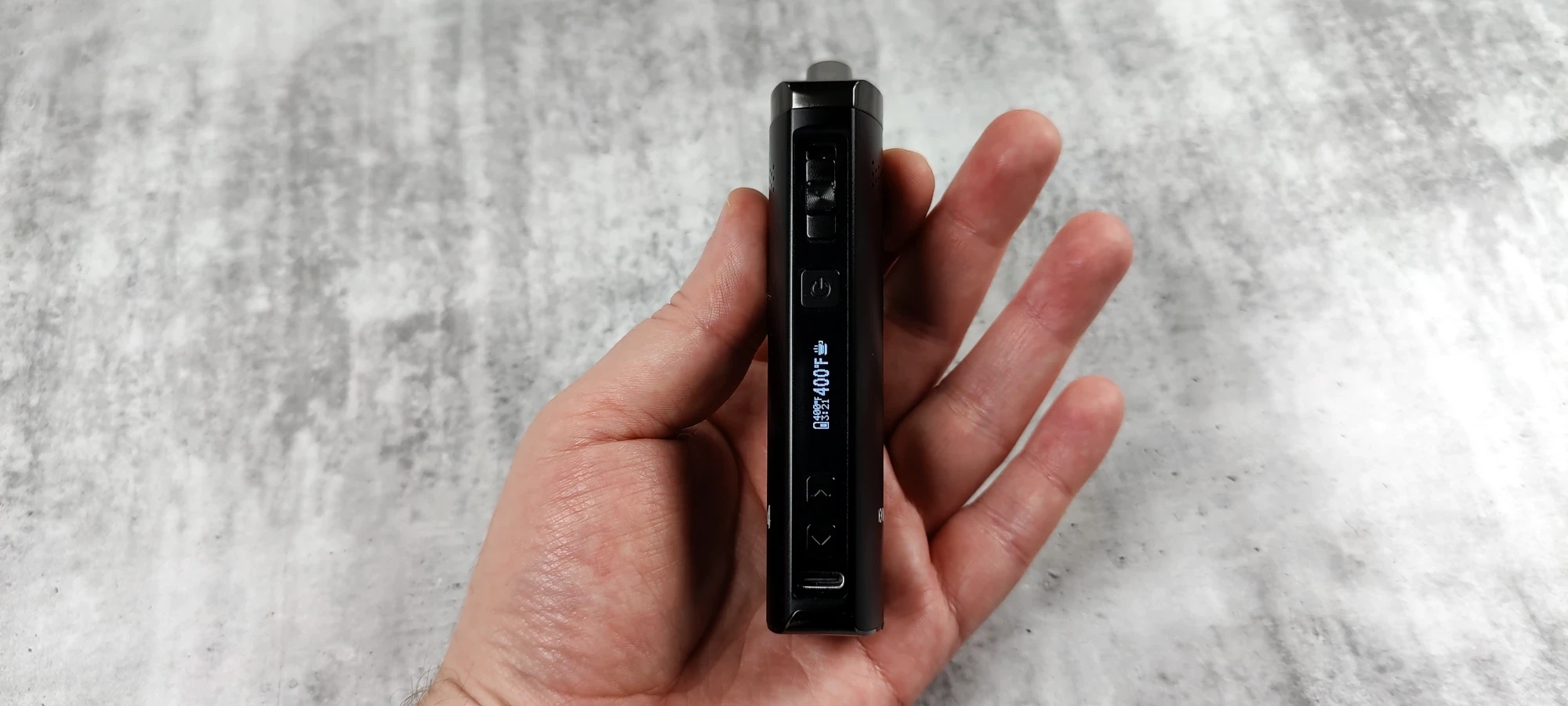 Is the XMAX Starry 4 Good for Microdosing
The XMAX Starry 4 tolerates using smaller amounts relatively well; this makes it a suitable option for some microdosers. If you're someone that just wants to use around 0.1 - 0.2 grams a session, you should be fine here. However, for those that prefer just to take a hit and turn the device off, it can retain a bit of heat, so you will lose out on some terpenes and taste after that first partial session due to your material lingering in the still-warm oven.
The included dosing cap is a nice addition, even if it could be a little better (as mentioned previously, the cap is a little fiddly). If you're the sort of microdoser that likes to prefill some dosing caps for the day, that will work here; you'll just want to pick up some additional caps. However, it's nice that you can get a feel for this without spending money upfront just to see if you like the idea of a dosing cap when actually using one.
So when it comes to microdosing, the Starry is an acceptable option; it just comes down to precisely what you're looking for and the amount of material you're actually using each session.
Can you use Concentrates with the XMAX Starry 4?
Using the Starry 4 with concentrates can be achieved with the optional wax cup that can be purchased separately. However, you're only going to be able to achieve so much with a vaporizer not designed specifically for concentrate use, but the option is certainly welcomed. However, XMAX does make some alternative devices like the Daboo and QOMO that might be a great fit for you if you're looking for a budget-friendly option for concentrates.
The XMAX Starry 4 Blind Box
Introducing the XMAX Starry 4 blind box, a captivating limited edition release by the XMAX team. Inspired by the popular blind box concept, this product features four distinct housing designs meticulously crafted by a talented artist from the US. These designs not only showcase artistic craftsmanship but also exude sheer awesomeness. Inside each blind box, you'll find the recently released XMAX Starry 4 vaporizer, along with two randomly selected additional accessories like a ceramic water pipe adaptor and other useful add-ons.
This unboxing experience offers a delightful twist for vaporizer enthusiasts who crave something unique. The XMAX Starry 4 blind box presents an intriguing option for those seeking fresh possibilities in the vaporizer market, all while adding a dash of fun to the equation. We got our hands on a blind box ourselves and were fortunate to receive the Ganesha design variant. Trust us when we say that the picture simply doesn't do it justice—it's a truly fantastic design on an already great device.
Excited to get your own? You're in luck! Throughout the month of July (2023), they are giving away several Starry 4 blind boxes. Be sure to check out XMAX on Twitter for a chance to snag one for yourself.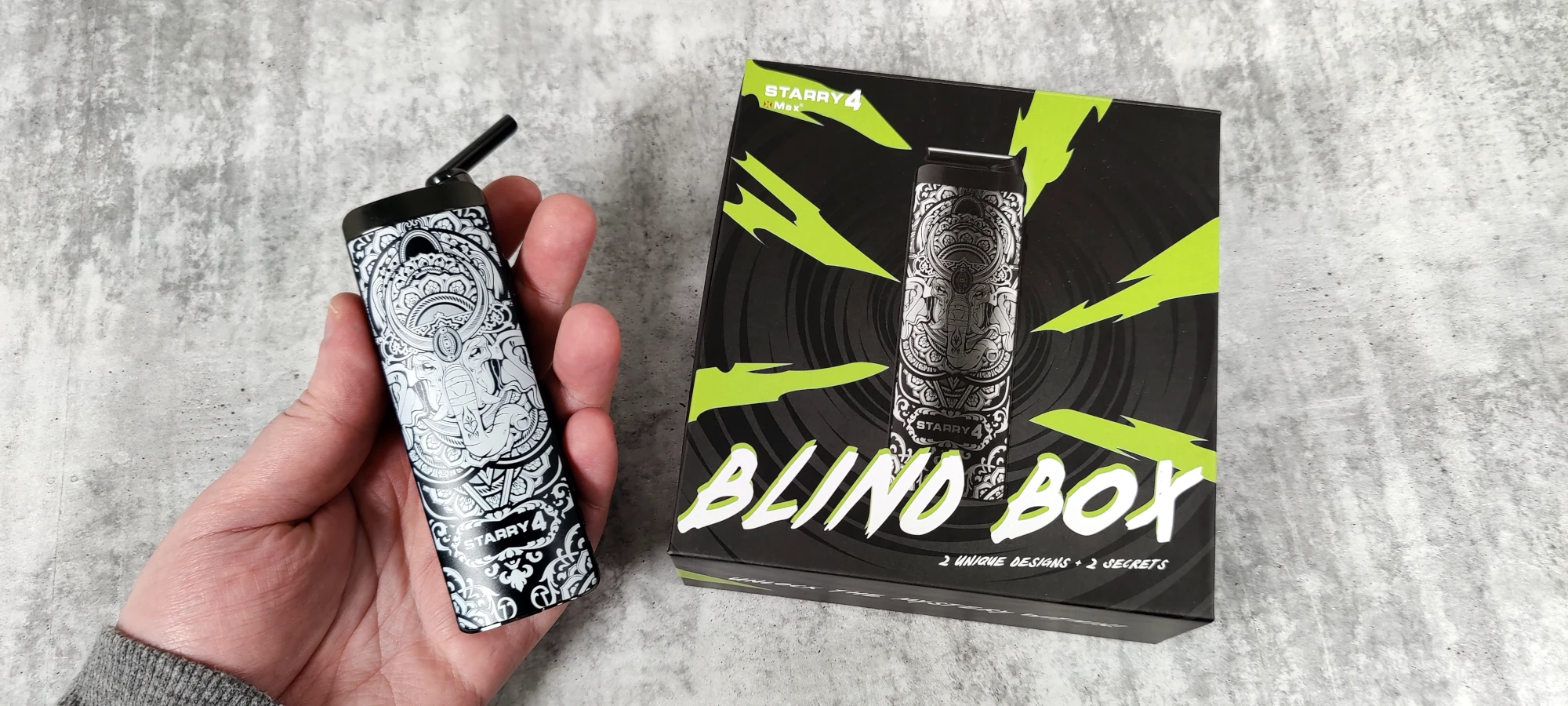 XMAX Starry 4 Pros
Adjustable airflow control
Replaceable 18650 battery
Haptic feedback
USB-C charging
Included dosing capsule
The Zirconia mouthpiece is nice
XMAX Starry 4 Cons
The dosing cap isn't the best
The top section can get quite warm
Is the XMAX Starry 4 Worth Buying?
If you already own the previous edition in the Starry lineup, the Starry 3.0, it's probably not worth running to the nearest vape store to grab the new model unless you have some money to burn or your old Starry is a bit worse for wear. However, this isn't a bad option for anyone considering picking up an affordable portable vaporizer.
It ticks many boxes (USBC charging, swappable 18650 battery, etc.), is rather beginner friendly, and performs quite well for the price. The heater is also better than the last gen, which is also a nice touch. Furthermore, some little additions, like the zirconia mouthpiece, are also great. So maybe give it a go and see what you think for yourself.