XMAX QOMO Review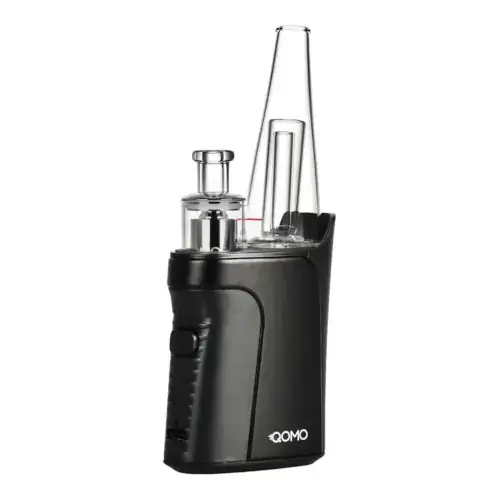 8 October 2022   •   7 min read
E-rigs can be expensive, but the QOMO takes a swing at providing a budget option for concentrate users that is much more portable than most other devices in its class.
XMAX QOMO Highlights
Portable design
Integrated water pipe
USB-C charging
What is the XMAX QOMO?
The XMAX QOMO is a portable e-rig from the team over at TopGreen, who are well known for their very popular budget dry herb vaporizer, the XMAX V3 Pro. At a size small enough to hide most of it in your hand, the QOMO is about as close to discrete as you can get an e-rig enabling it to actually make a little sense for use while out and about.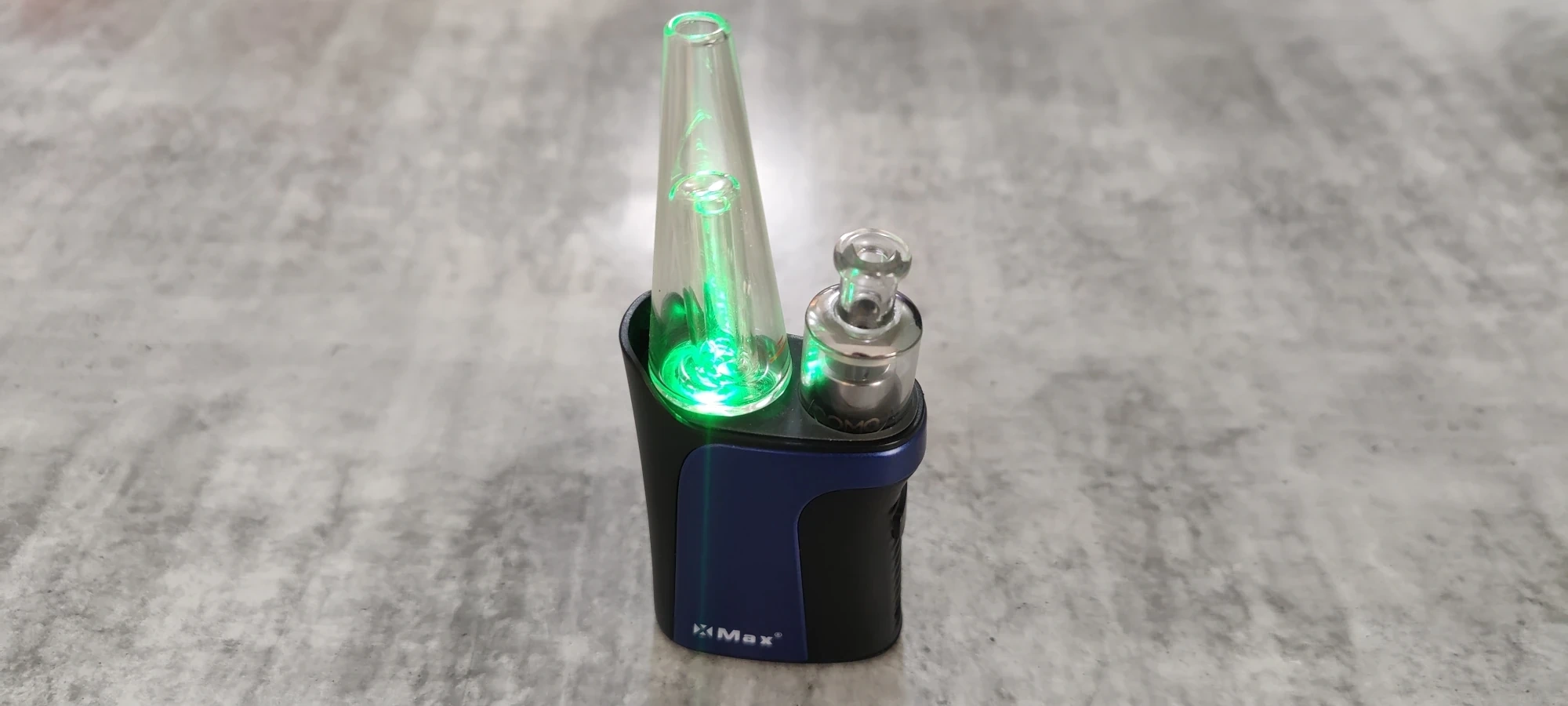 How to Use the XMAX QOMO
Fill the bubbler with clean water up to the red line on the side of the glass near the bottom.
Press the button (there's only one) three times rapidly to turn on the QOMO.
Press the button twice to rotate between the three temperature settings to select your desired intensity.
Press the button once while turned on to initiate heating. While heating, the light will cycle in intensity. When heating is complete, it will remain a solid color. Heating is quite fast, taking only around 20 seconds to complete.
If you haven't already, remove the cap, place a small amount of concentrate into the ceramic bowl (atomizer), and put the cap back into position. It will work fine whether you prefer hot or cold starts, so you can put it in before heating or after; it's entirely up to you. Inhale slowly and enjoy. Once you finish your session, pressing the button three times will turn off the QOMO.
The three heating modes are represented by different colored lighting. A white light (536°F/280°C), green light (608°F/320°C), and a red light (662°F/350°C) represent the available options. If you're unsure where to start, the best thing is to start with the white light and increase it from there.
How much does the XMAX QOMO Cost?
One of the best things about the QOMO is the price. It can be found for around $89 USD, which is a respectable price for an e-rig (even a tiny one like this). If you can find any discounts, it becomes even more interesting. While you shouldn't expect a premium experience at this price, it provides more than enough value to warrant the price point making it a pretty nice little buy.
Is the XMAX QOMO Well Built?
The build quality of the QOMO is quite reasonable. Everything slots together quite nicely, nothing is too loose, and the production of each part meets the expected standards. The glass parts aren't high-end, but this device isn't shooting for premium either. The silicone that supports the bubbler and other components fits things snugly while still making it reasonably easy to remove them for cleaning or if you wish to replace the bowl.
The button doesn't rattle though it's not the crispest click either, but it's fit for purpose. The plastic casing surrounding the bottom half of the device is essentially the same; it's okay, but nothing to write home about. Thankfully, it doesn't have much of a shine to it, so it should hold up quite well to a bit of scuffing without looking too bad, which is nice for these cheaper devices that people are more prone to be lax about how they are handled.
A mild gripe is that the cap is held in place with a fairly basic o-ring which may or may not hold up well over time. However, even if it doesn't, the device should still be usable, provided you don't drop the cap somewhere, and a spare is provided, so it's not a huge issue. Either way, something a little more substantial would have been appreciated.
Overall, the design and build quality of the QOMO is ok. It's been designed fairly practically and achieves functionality without too many bells and whistles that would undoubtedly have driven up the price.
What Comes in the Box?
XMAX Qomo Vaporizer
USB-C Charging Cable
Replacement o-ring
Silicone mouthpiece cover
User Manual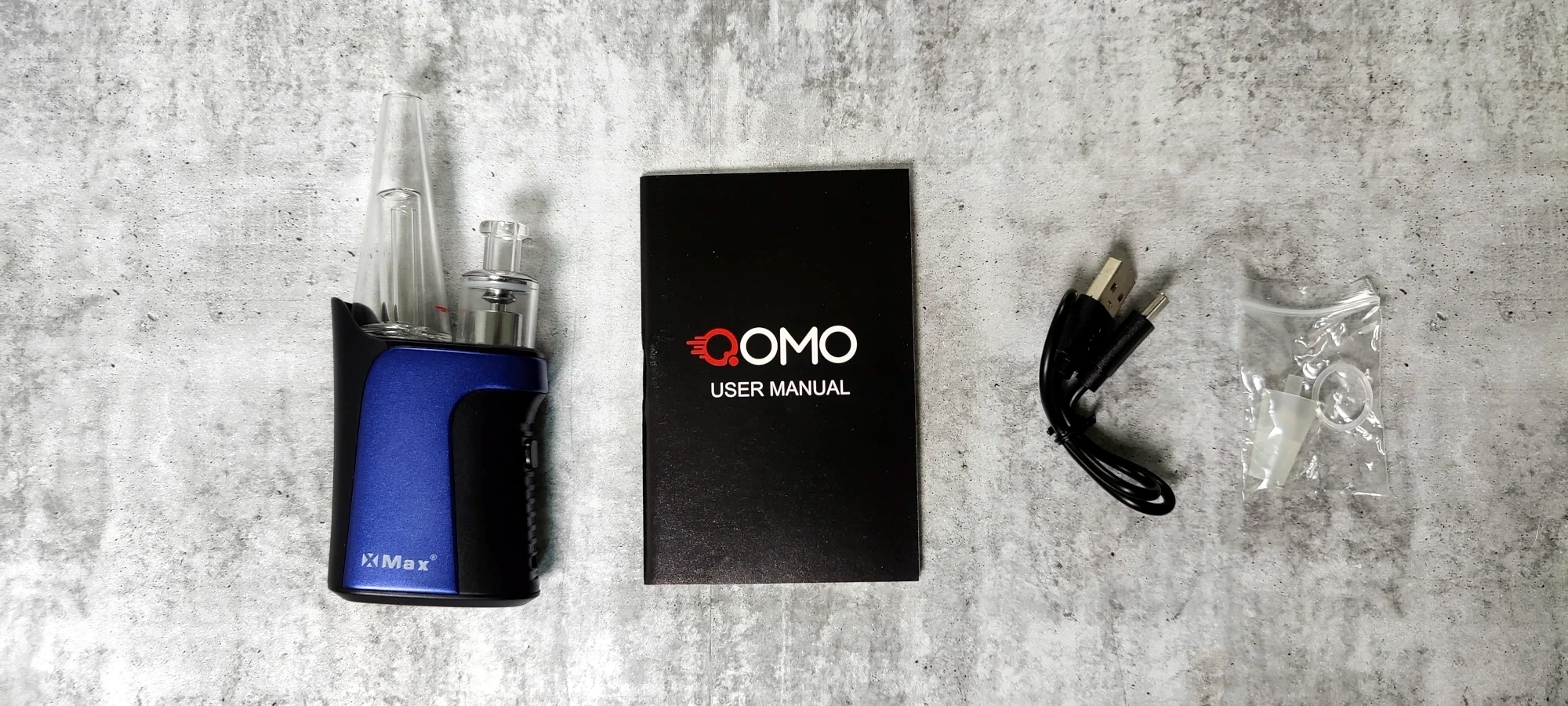 Does the XMAX QOMO have Good Battery Life?
Even if you push the QOMO relatively hard at the highest setting, you can still get a decent amount of sessions out of a full charge. Depending on the length of your sessions and which temperature you opt for, you can expect somewhere in the range of 10-20 sessions.
With a charge time of 1-2 hours, charging isn't too inconvenient either, especially given you can charge the device via USB-C, making it quite easy to carry a single charger with you, provided your phone also supports this popular standard.
Is the XMAX QOMO Easy to Clean?
Cleaning the QOMO isn't overly challenging as the various parts are easily separated, exposing most areas that will accumulate residue. Ensuring you rinse and change the water in your bubbler regularly will help reduce the amount of cleaning required to maintain your unit.
Is the XMAX QOMO Portable?
The QOMO is one of if not the most portable e-rig available. Due to its small size that can essentially fit inside your hand, you should have no problem taking this out and about with you, provided you don't mind carrying a small bottle of water to fill the bubbler when you want to use it. However, due to the glass sections being quite exposed, it's crucial to take a little care when carrying the device around or using the included box to provide some extra padding.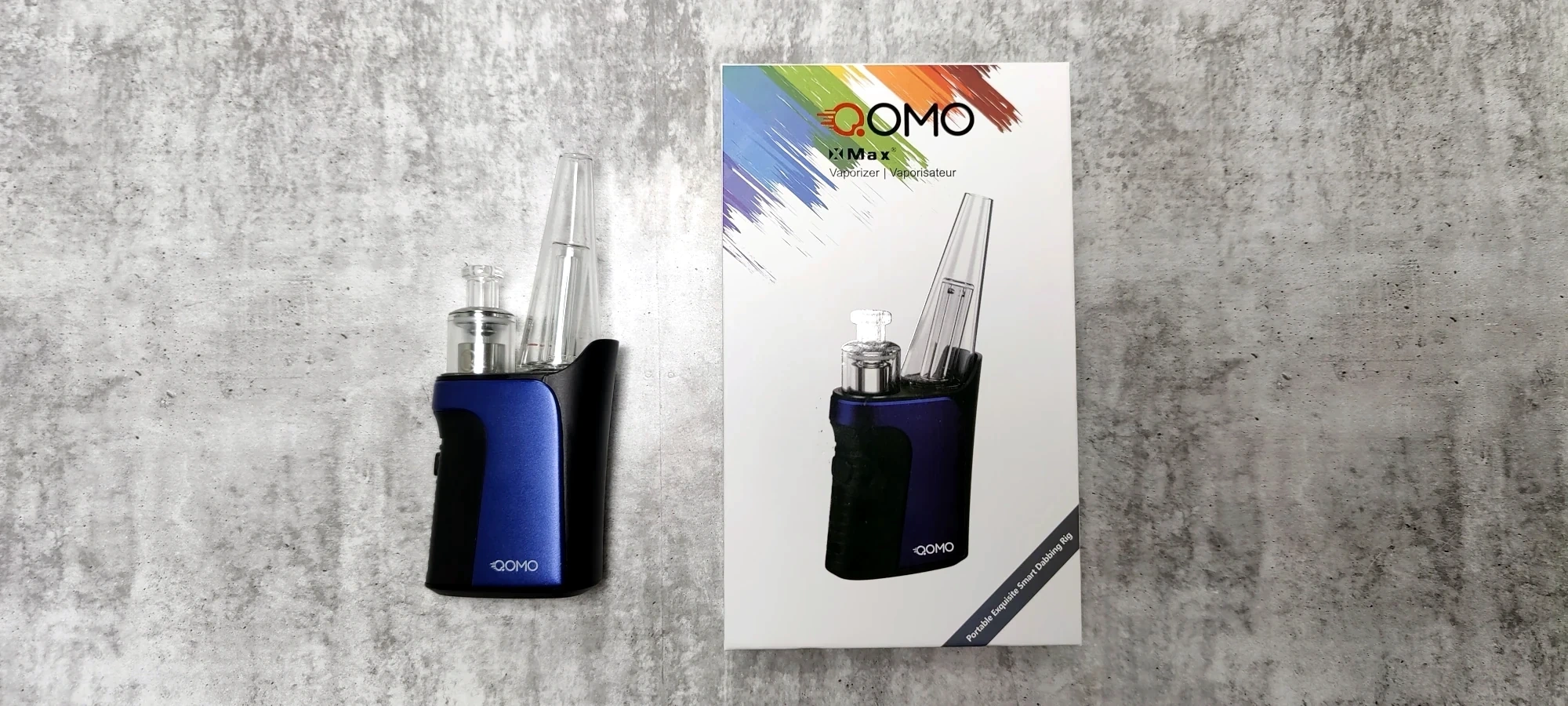 Can the XMAX QOMO Produce Good Vapor?
The first time you see this device, your expectations aren't huge, but this first impression is shaped mainly by its smaller size. However, it does actually perform quite well, especially when you take into account the price. The QOMO is a surprisingly little device that can provide some surprisingly solid hits. Provided you have reasonable expectations, given the limitations of this tiny device, and aren't looking for extreme clouds, the QOMO should suffice and may even surprise you in some cases.
Is the XMAX QOMO Good for Microdosing
When you think of concentrates, you don't always think of microdosing. However, some people opt to use concentrates to minimize the amount of material they are ingesting, which can go hand in hand with microdosing.
As the size of the QOMO is relatively small, it makes a fantastic option for someone who likes to have small dabs of concentrate. So if you're into microdosing but still like to dabble with concentrates, the QOMO might suit you nicely.
Is the XMAX QOMO Good for Beginners?
If you're just starting to experiment a little with concentrates and don't want to break the bank just to get started, the QOMO could be the answer. While premium e-rigs can often provide a really polished experience, the QOMO still manages to do quite a bit for a lot less. It can also be a good option for those that want to have something handy on the go but don't want to risk carrying around their more expensive vaporizers.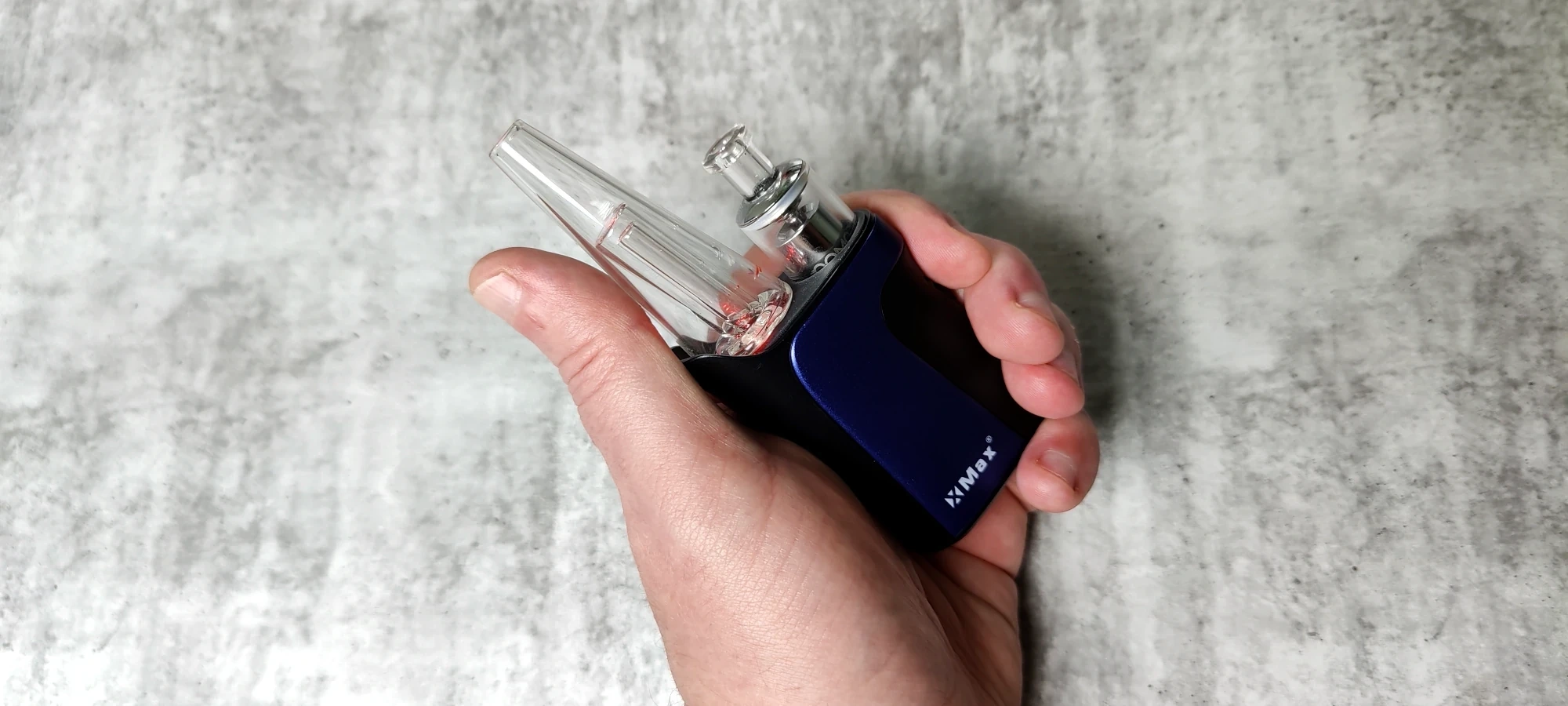 XMAX QOMO Pros
Fast heat-up time (~20 seconds)
Small enough to be comparatively discrete
Battery life is quite good
Easy to use
XMAX QOMO Cons
Single-button control isn't always a great experience
Lacks precision temperature control
Bubbler doesn't hold much water
Silicone in the vapor path
Is the XMAX QOMO Worth Buying?
The QOMO is a well-priced and surprisingly effective little e-rig that could be a useful addition to many collections or a great entry into concentrates for a beginner. While this won't satisfy every concentrate user, for many, it's a great little device worth considering and becomes quite the steal if you can catch it on sale.