XMAX V3 Pro Review
15 May 2022   •   12 min read
You've likely seen at least a few people recommending the XMAX V3 Pro if you've been shopping for the best value dry herb vapes. Is it all it's claimed to be, or are there trade-offs and corners cut? Let's find out if it really is the leader in budget vapes or just another misfire into the lower end of the market.
XMAX V3 Pro Features
Easily replaceable 18650 battery
30-second heat up time
Easy to read OLED display
Aluminum outer shell
USB-C charging
Haptic feedback
How to Use the XMAX V3 Pro
If you have just unpacked the device, don't load it just yet. It's best to run through an empty cycle without any material in the device or inhaling. At the same time, set to the highest temperate setting (220C/428F) to enable the device to burn off any remaining residue or stray contaminants from the factory that may be in the heating chamber or vapor path. Once you've let it run through a complete session while empty and it has cooled down, you're good to go.
Make sure your battery is fully charged and ready to go
Load the chamber with some loosely filled medium-finely ground material
Press the power button three times, and the device will turn on and begin heating.
Adjust the temperate using the up and down buttons to set the desired temperature.
Once the device has reached the set temperature, it will vibrate briefly.
Inhale from the mouthpiece, ideally with long slow breaths.
To switch between session and on-demand mode (requires holding the power button while taking a hit), press the up and down buttons simultaneously, or to change the temperature measure between Fahrenheit and Celsius, simply push the power and down button simultaneously. After 30 seconds of inactivity, the device will enter sleep mode and then power down after 2 minutes of inactivity.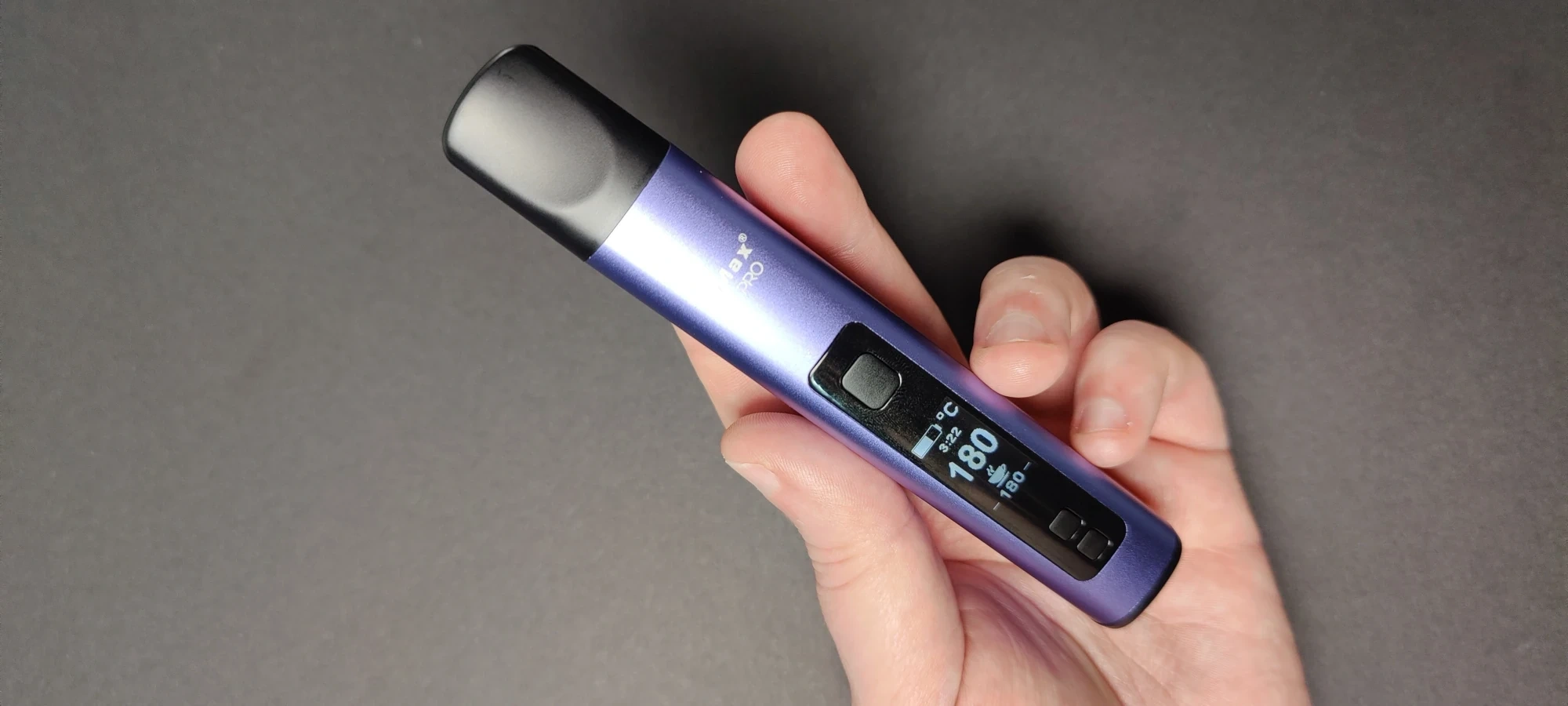 How much does the XMAX V3 Pro Cost?
One of the biggest reasons this device is gaining quite the following is the price. So often, when you're exploring the lower-priced devices on the market, you're missing out on a lot. Not so much the case here with the V3 Pro being such a capable device. It can be commonly found for around $109 USD and is widely found in Australia at about $150 AUD.
While you may be tempted to wait for sales to pick this one up, especially if you're a budget vape enthusiast, don't feel too bad if you can't hold off, as the price is unlikely to fluctuate much with such a low price point already. With some of the better sales, you're only likely to find you can save around $20 USD. Beyond that, there won't be much meat left on the bone for the retailer. So there isn't a wrong time to snag yourself one of these vaporizers if they suit your needs.
Is the XMAX V3 Pro Well Built?
It'd be hard to say the V3 Pro is poorly built, but it's not perfect either. The body is made from matte aluminum that holds up pretty well to fingerprints and should be durable enough for most vapers. This finish should also help it hold up to the occasional knock or short drop, at least from an aesthetic standpoint. The OLED screen is bright and easy to ready, making it hard to fault either. The buttons aren't high-end but should hold up reasonably well, provided you aren't too rough with the device.
The mouthpiece and battery cover are held in place with magnets, which means you can worry less about wear and tear over time. Still, it does mean that you may not have the snuggest of fits which can result in a bit of play as the tolerances won't always be perfect in a device at this price point, nor should you be expecting premium manufacturing either. However, it is up to par with what most will consider acceptable.
What Comes in the Box?
The V3 Pro is not one to have you in awe of the included accessories; in fact, there is barely anything beyond the essentials. You get the device with a preinstalled battery, a charging cable, manual, wax cup, alcohol pads, some cotton swabs, and a brush in the box. So even though this dry herb vape isn't dripping with add-ons or accessories, there is enough to get you running the moment you have it in your hands.
Suppose you're looking for a water pipe adapter or other accessories. In that case, you'll find they are typically quite cheap, which is great to see and, unfortunately, can make maintaining or expanding other devices quite costly in some cases.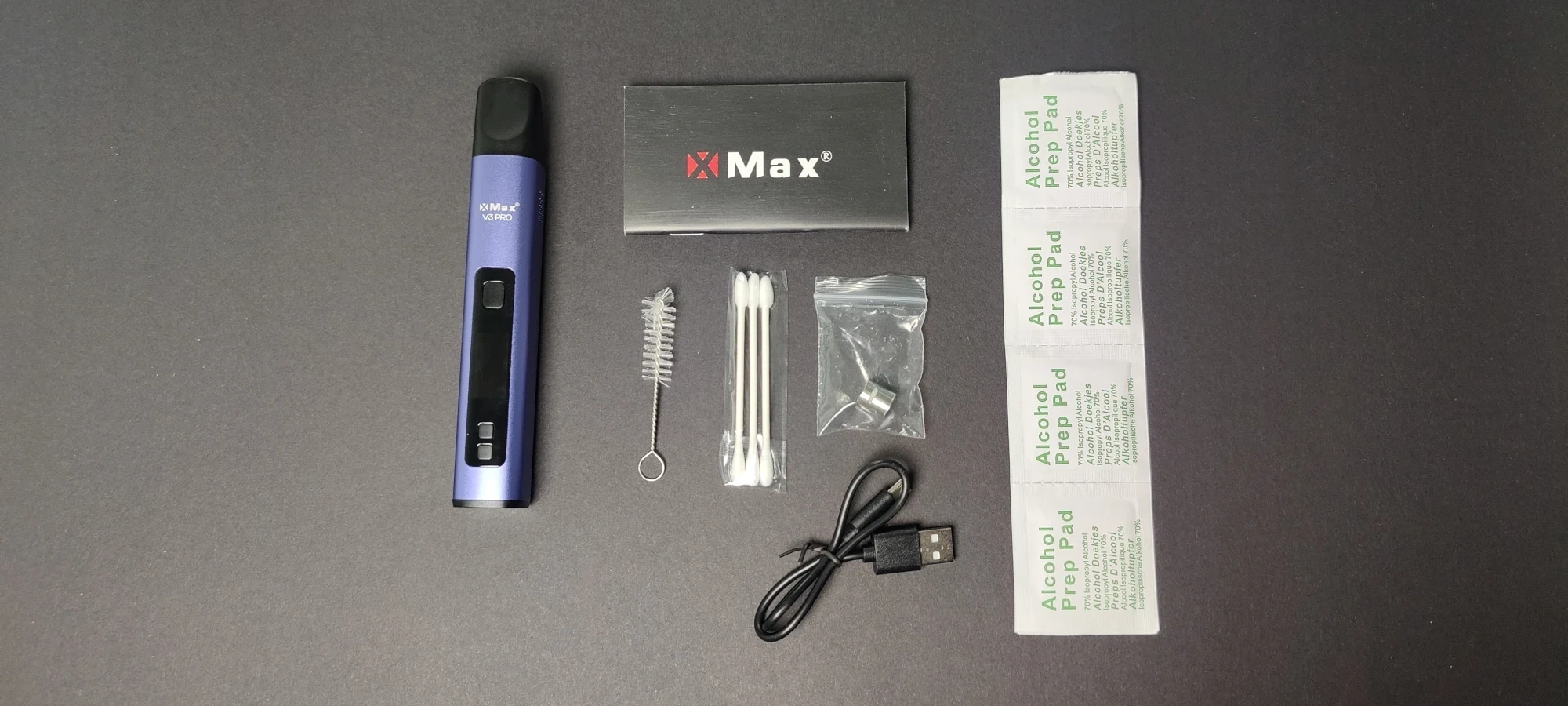 XMAX V3 Pro Accessories & Consumables
XMAX V3 Pro Glass Water Pipe Adapter
XMAX V4 Pro Silicone Water Pipe Adapter
XMAX V3 Pro Glass Mouthpiece
XMAX V3 Pro Filter Screens
XMAX V3 Pro Mouthpiece Replacement
XMAX V3 Pro Water Bubbler
XMAX V3 Pro Ceramic Cooling Unit
XMAX V3 Pro Concentrate Cup
XMAX V3 Pro Battery Door
XMAX V3 Pro Dosing Capsules
While there has recently been an official launch of dosing capsules for the V3 Pro they aren't easy to find quite yet outside of the official source. Thankfully, it has the same chamber dimensions as the POTV One and is cross-compatible with the dosing capsules available for that device. In addition, many retailers of the V3 Pro are choosing to stock these dosing capsules even if they don't offer the POTV One due to the popularity of this budget-friendly dry herb vaporizer. As such, you shouldn't have much trouble sourcing a set of XMAX V3 Pro compatible dosing capsules if you are one of those vapers that like to plan ahead.
Can you use the XMAX V3 Pro with a Water Pipe?
There is some good news for those out there who prefer to have a bubbler to cool your vapor. While the V3 Pro doesn't come with a water pipe adapter (WPA) out of the box, they are commonly available from most stores/sites selling the device. Better yet, for those that prefer to keep things more portable but still like a bit of water cooling, you can also pick up the XMAX V3 Pro Glass Bubbler, which is a small portable bubbler that comes as an attachment for the top of the mouthpiece section of the V3 Pro.
Is the XMAX V3 Pro Portable?
When it comes to portable devices, there's quite a bit of range in both size and form factor, there are ultraportables like the Dynavap range that are barely bigger than a cigarette, and there are those that fit snuggly in the average pocket. The XMAX V3 Pro lands somewhere just above that.
While it's a pretty small device overall, especially when you wrap your hand around it, it's unlikely to fit nicely in your pocket without swaying side to side or awkwardly handing out the top with its relatively tall height. It's hard to argue about it being portable, but is it pocket-friendly? Not so much. If you're looking for a discrete dry herb vape, you can throw it in your pocket while out and about; there are some better options if that's a strong priority.
Does the XMAX V3 Pro have Good Battery Life?
The battery that comes with the unit should keep you going for around five or six sessions (30-45 minutes), which can vary depending on your temperature and use preferences. Still, one area where the V3 Pro shines is in its replaceable battery. For those with a lot of vapes kicking around, you'll likely have at least a couple of spare 18650 batteries, given how common they are, and this can make it easy to keep this device going and going without any downtime should you have a spare battery charging while you're using the device.
Another benefit of the manufacturer opting for 18650 batteries is that they are relatively inexpensive. You can pick up a fresh battery from a reputable company for your device for $10 to $20. It's also possible to increase the device's battery capacity by replacing the preinstalled battery with a higher capacity battery; just ensure you are only buying genuine batteries from manufacturers known for producing high-quality batteries (LG, Samsung, etc.).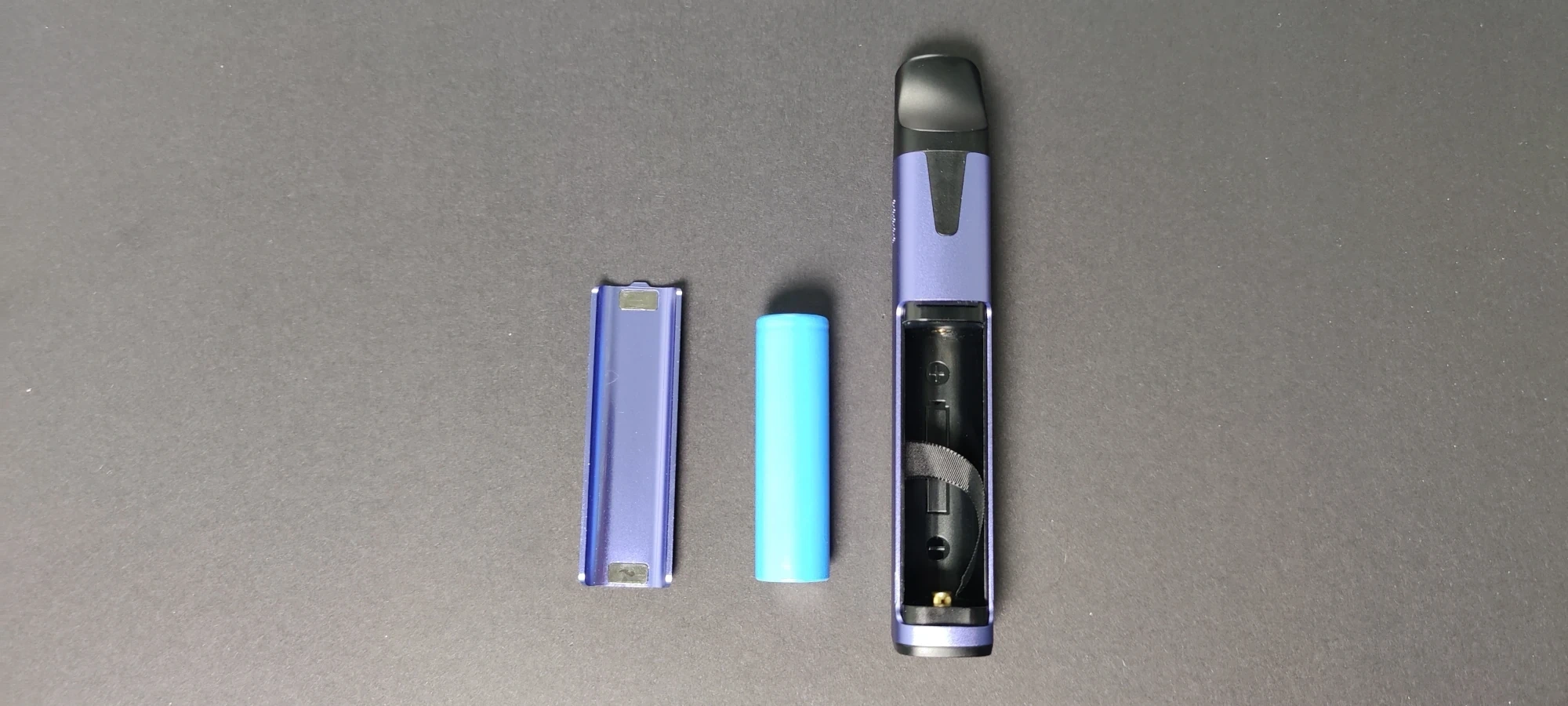 Can the XMAX V3 Pro Produce Good Vapor?
Thanks to its convection approach (which a touch of hybrid support, to what extent isn't super clear), you can expect some fantastic vapor from this device, but it does come at a cost. Most users of this device find it requires long slow draws to receive a good amount of vapor, so if you're more of a sipper, it's worth looking at some conduction devices instead.
As it's a convection device and has a relatively small heating chamber, you shouldn't worry too much about heating your material fairly evenly. However, if you're pushing the limits of what comfortable fits into the device (around 0.1g), you may wish to stir it before your last couple of inhales. Still, those lightly filling the chamber and using the higher temperature settings can rest assured that their material will be utilized relatively efficiently.
While the short vapor path can result in some excessive warmth or even vapor that can get a little too hot sometimes off the tip, it does a great job extracting the volatiles from your material. Flavour is also solid enough to keep the average vaper happy and can be especially pleasant at lower temperatures.
Is the XMAX V3 Pro Easy to Clean?
The heating chamber is relatively easy to swab out with a cotton button and a little isopropyl alcohol, or even some alcohol wipes if that's all you have handy or prefer to use. If you empty the chamber while it's still slightly warm and use the small included brush to get any stray bits and pieces out, you can keep it reasonably clean for quite a long time. Although, things become a little more challenging when cleaning the upper portion of the device.
While it's suggested to just rinse the mouthpiece with some alcohol as soaking it is advised against, you may struggle if you like your devices to be spotless after cleaning. However, maintaining the device in a reasonable state shouldn't be too challenging. If this bothers you, some of the aftermarket mouthpieces which can be had relatively cheaply (such as the glass mouthpiece) make this a lot easier.
How to Clean the XMAX V3 Pro
After using the device, use the stirrer attached to the mouthpiece to empty the chamber. This is best performed while the device is slightly warm but not burning hot.
Use the included brush to remove any remaining vaped materials left in the chamber. If the device requires further cleaning, use isopropyl alcohol wipes or soaked cotton buds to clean out the chamber and mouthpiece. To fully clean the mouthpiece, rinse it in some isopropyl alcohol. Ensure that all alcohol has evaporated before resuming use.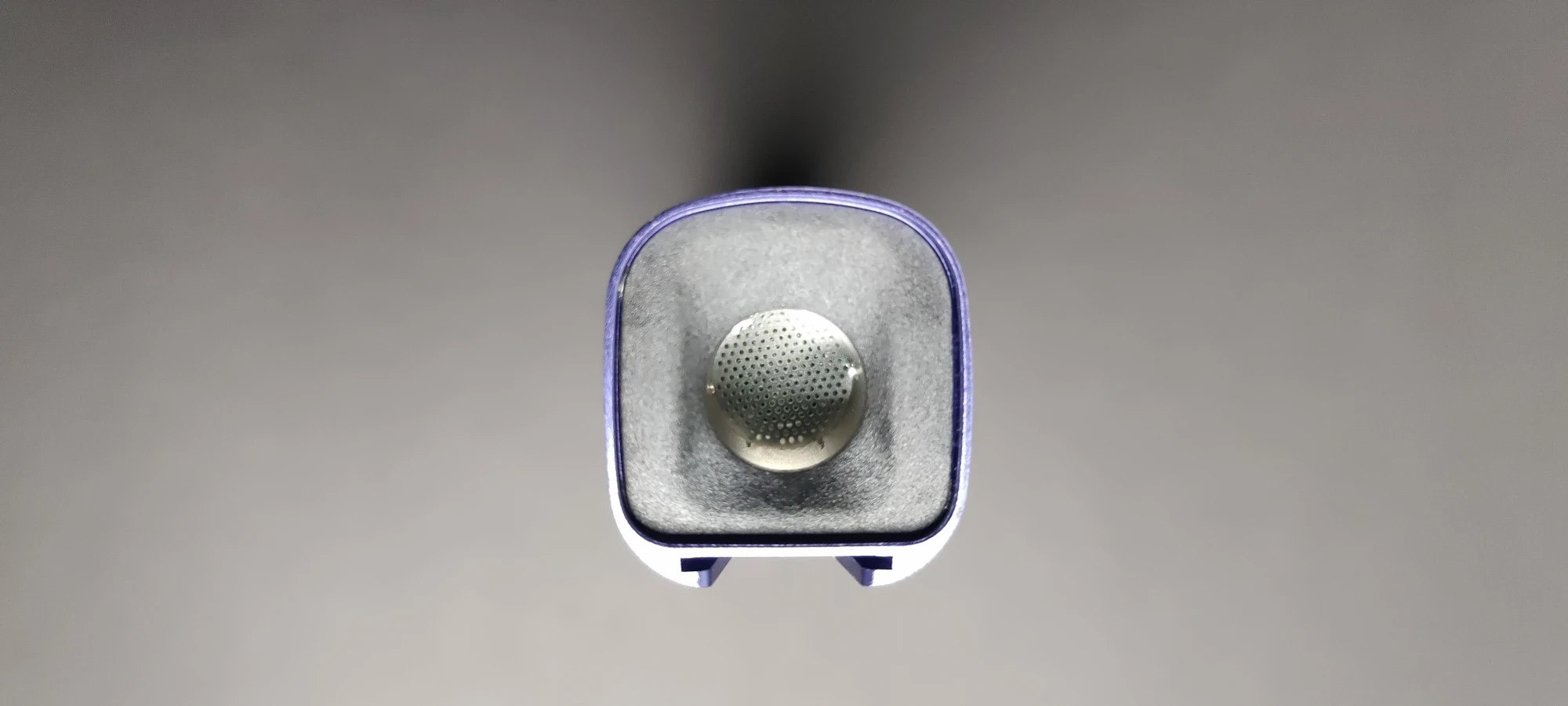 Does the XMAX V3 Pro Support Concentrates?
Yes, though it does have its limitations. You'll find a wax cup in the box that allows you to vaporize concentrates in the device. However, this isn't an area where the V3 Pro shines and feels like a bit of an afterthought, that's not to say it won't do in a pinch, but if you're primarily a concentrate vaper, you should consider looking elsewhere. Nevertheless, it is a nice inclusion. Suppose you don't find yourself reaching for concentrates very often or have other devices better suited to the task. In that case, this isn't something to worry much about, especially given the exceptionally reasonable price point.
When vaping concentrates in the XMAX V3 Pro, it's recommended to use the higher temperate settings to ensure the best possible experience.
Is the XMAX V3 Pro Worth Buying?
As with all vapes, it comes down to your preferences and budget, but there are a few easy questions you can ask yourself with this one.
Do you want a device that provides convection vapor fast?
Are you looking to get the most value for a modest amount of money?
Do you want a replaceable battery and value the convenience of USB-C charging?
If the answer to at least two of these questions is yes, the XMAX V3 Pro could be worth putting some money down on, and thankfully you won't have to put much on the line for this one.
Is the Cuboo Stick the Same as the XMAX V3 Pro?
Yes, the Cuboo Stick appears to just be a rebranded XMAX V3 Pro that is sold primarily in Europe. It seems to only be available in some regions so was likely a partnership deal or a rebrand to avoid a potential trademark conflict of some kind. Either way, if you have a a Cuboo Stick, it's basically the same thing outside of the different name. There should be no issue using this device with any other XMAX V3 Pro accessories, replacement parts, and dosing caspsules, or at least no issues have been commonly reported.
XMAX V3 Pro Pros
Easy to use digital control
Heats up fast (15-30 seconds)
On-demand and session modes
User-replaceable battery (18650)
Great value at or below RRP
USB-C charging
Easy to fill chamber
Pass-through charging
XMAX V3 Pro Cons
Mostly Plastic mouthpiece
Long inhales are required for efficient use
Not the most pocket-friendly device
Chamber could be larger
No additional accessories
Better devices out there for concentrates
The short vapor path can result in a warm vapor