Arizer ArGo Review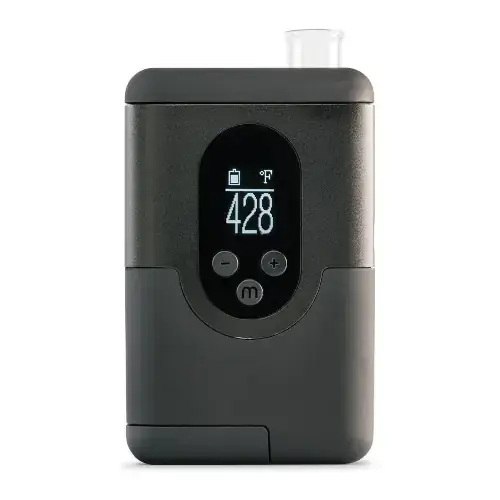 9 July 2023   •   11 min read
The Arizer ArGo, crafted by the reputable brand Arizer, is a portable vaporizer that aims to offer both convenience and performance for on-the-go vaping enthusiasts.
Arizer ArGo Highlights
Hybrid heating
Glass vapor path
Replaceable battery
What is the Arizer ArGo?
The Arizer Argo stands out as the most portable option within the renowned Arizer lineup of vaporizers. Its hybrid heating system and glass stem ensure a delightful and flavorful vaping experience. Adding to its convenience, the ArGo is powered by a removable 18650 battery.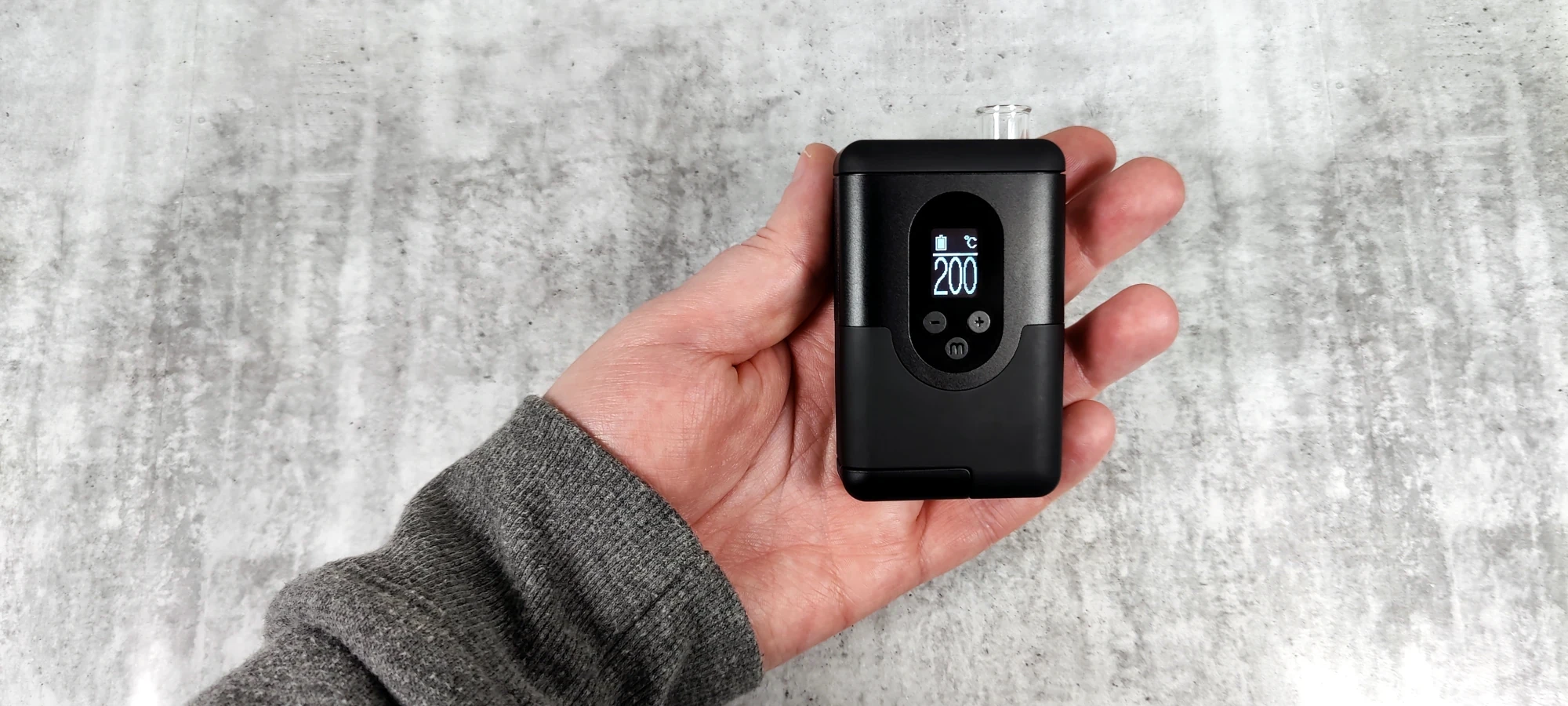 Using the Arizer ArGo for the First Time
When you begin your vaping session, the first thing that catches your attention is the impressive taste produced by the glass vapor path. The ArGo's design ensures a flavorful experience. Experimenting with different inhalation techniques reveals that long, slow inhales tend to yield the best results.
As the session progresses, finer grinds may allow some material to pass through the glass screen built into the stem. However, this issue can be easily resolved by using the included stainless steel screens.
Overall, the ArGo offers an enjoyable vaping experience with its great taste and user-friendly features.
What Comes in the Box?
Arizer ArGo Vaporizer
Stainless Steel Filter Screens (x4)
Glass Aroma Tube (x2)
Silicone Stem Caps (x2)
Belt-Clip Carry Case
Stainless Steel Stirring Tool
USB Charger
18650 Battery
Owner's Manual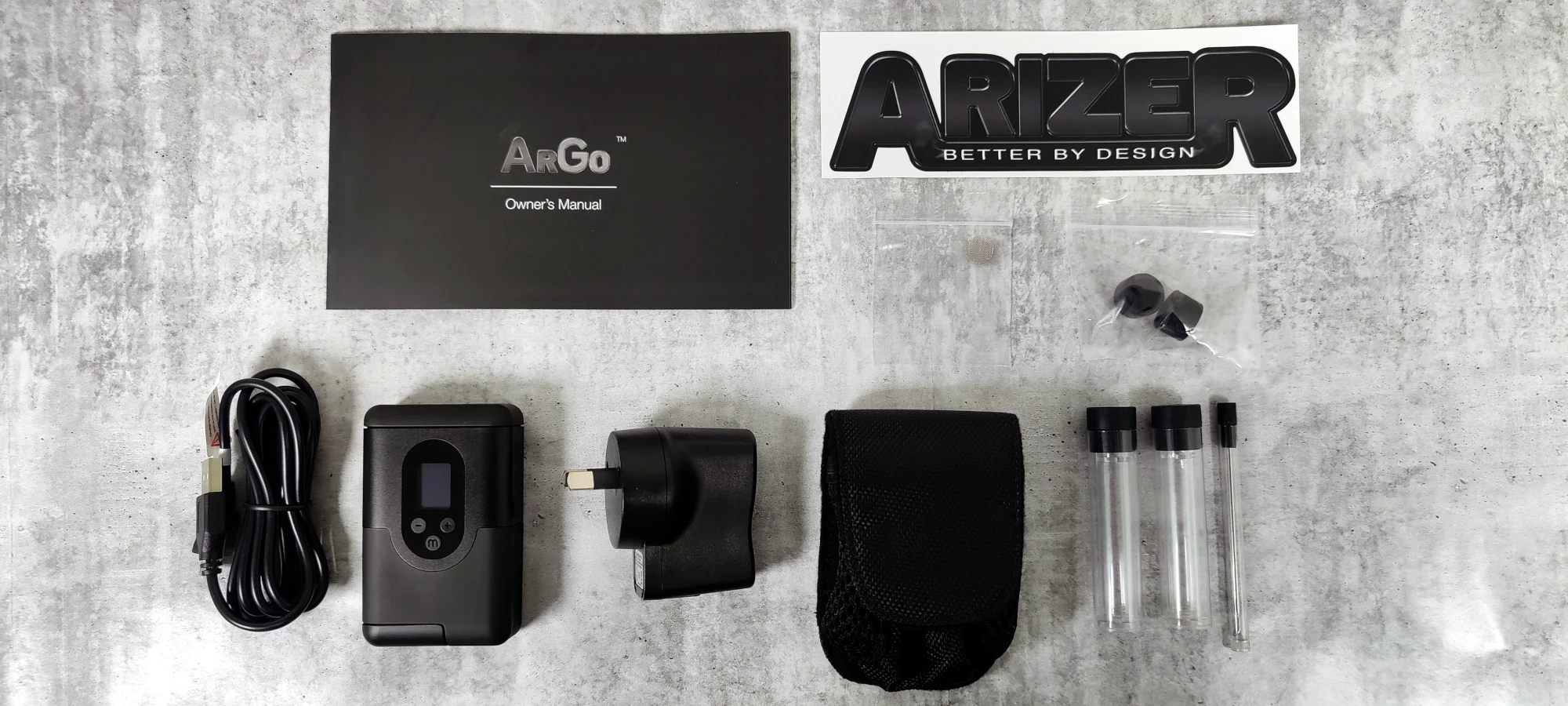 Changing Arizer ArGo Settings
Changing the settings of the Arizer ArGo is a straightforward process that can be done while the device is powered on. By pressing the menu button, you can easily cycle through the available options. The menu allows you to make essential adjustments such as session time and temperature unit (Celsius or Fahrenheit).
One notable feature is the ability to set the time required to hold the two buttons that power on the device when pressed together, which is particularly useful when using the ArGo on the go. Increasing the time required to turn it on can minimize the chances of accidentally activating the device.
How much does the Arizer ArGo Cost?
Previously, the Arizer ArGo had a retail price of around $270 USD, but it has seen a noticeable price drop recently. This price reduction has increased its appeal, as the original retail price may have seemed a bit steep for some. However, if you come across the ArGo priced at $150 or less, it becomes an option that is definitely worth considering. Therefore, watching for sales and exploring different retailers before purchasing is advisable. Doing so increases your chances of finding a great deal on the Arizer ArGo.
Is the Arizer ArGo Well Built?
Although the ArGo incorporates plastic in its housing, it doesn't compromise on design or build quality. While it's fairly simple to look at and almost looks a bit retro, this helps it be discrete, which is always nice for a vaporizer focused on portability like this one.
The pop-up top effortlessly clicks into place, offering a reassuring mechanism to protect your glass stems while on the move. It could be a little smoother when being pushed back down, but it's sufficient and seems to be fairly reliable. The battery door is also secure and won't come loose or open unintentionally. Opening the battery door can be a little fiddly, but it is by no means hard.
Overall it's a decently built device with a reliable heater and mature look that, while not a standout, will appeal to some people for that very reason.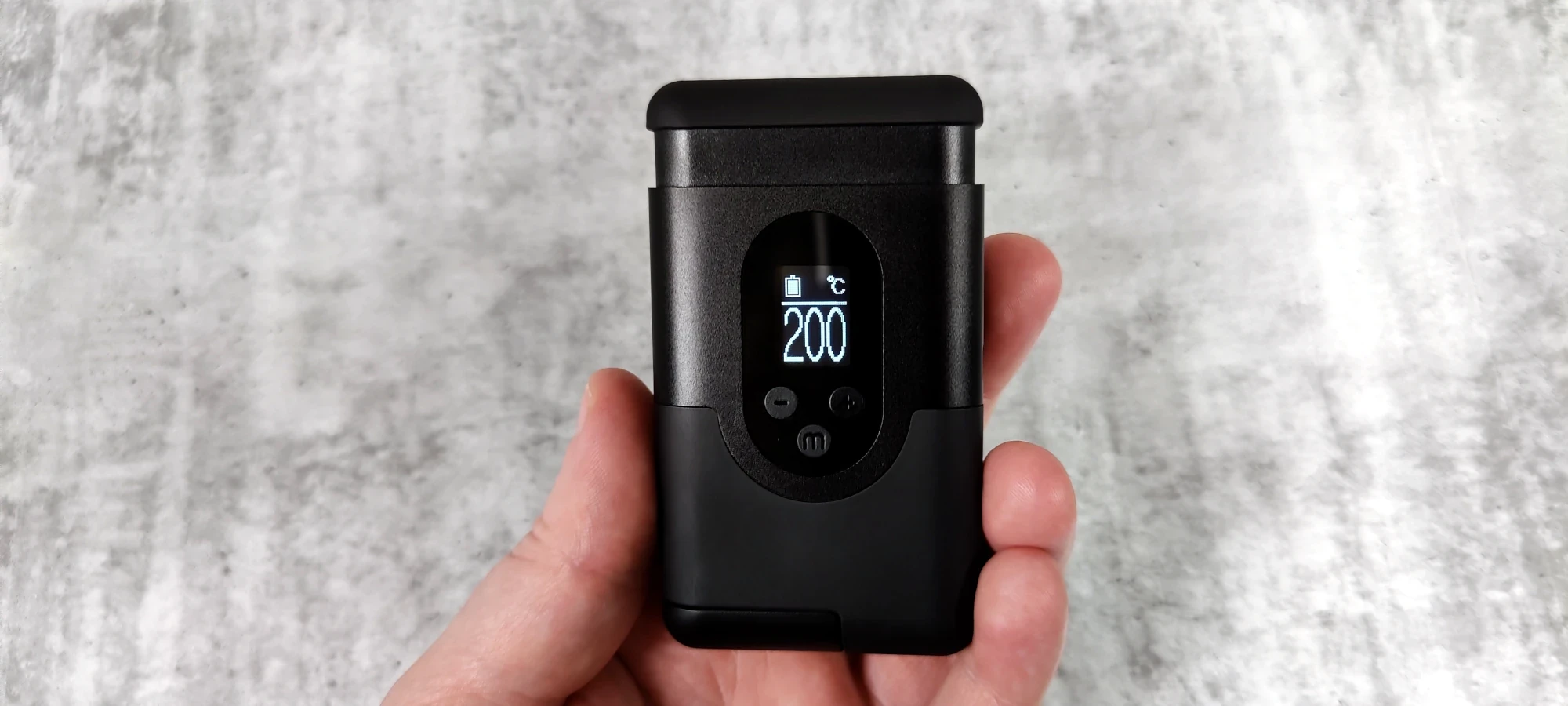 Loading the Arizer ArGo
If you're familiar with other Arizer portable vaporizers, you'll find the experience of using the ArGo similar. Though slightly smaller in diameter, the stems can hold up to 0.3g of dry herb. It's important not to overpack the stems as it will impede airflow. Press your material into the stem, ensuring it stays in place when held upside down.
To enhance the vaping experience, the ArGo includes screens that can be inserted into the stems before loading. While optional, these screens help prevent small particles from reaching your mouth, especially in the latter parts of a session. Although they slightly reduce airflow, the impact is minimal. It would be nice if the screens fit more neatly, but they generally stay in position reasonably well once pressed into place.
While a medium to coarse grind is recommended for the ArGo, you can load larger pieces. Note that this may result in uneven vaporization and not provide the best experience. A softly packed, slightly coarse grind typically delivers the most satisfying results. However, it's still worth experimenting to find the best loading technique for your preferences.
Can you use the Arizer ArGo with a Water Pipe?
Although using a water pipe or bubbler straight out of the box is not supported with the ArGo, Arizer offers a water pipe adapter (WPA) that can be purchased separately. While this may not be the ArGo's primary strength, it can still serve the purpose if you prefer that route. However, if you specifically seek a vaporizer from Arizer that is compatible with a water pipe, the Air Max is likely your best choice.
Is the Arizer ArGo Portable?
Portability is both the focus of the ArGo and something it manages to do quite well. It comes with a case that allows it to be stored alongside a stem or two and chucked into a bag or even attached to your belt if you're so inclined. While the case is a little retro, it's also a nice inclusion and relatively discrete. Like the ArGo itself, the case design doesn't exactly scream vaporizer.
While a slightly faster heat-up would amplify its convenience for on-the-go use, it's not terrible either, so unless speed is an extreme priority, you should have no major issues there. It's quite discrete, and unless you know what you're looking at, it doesn't even really look like a vaporizer, especially with the top up and covering the glass stem from most viewing angles.
One thing to note is that while it's focused on portability, it's not the smallest dry herb vaporizer, especially with some of the releases in the last couple of years. So if you're looking for something ultra-portable, this may not be small enough for you.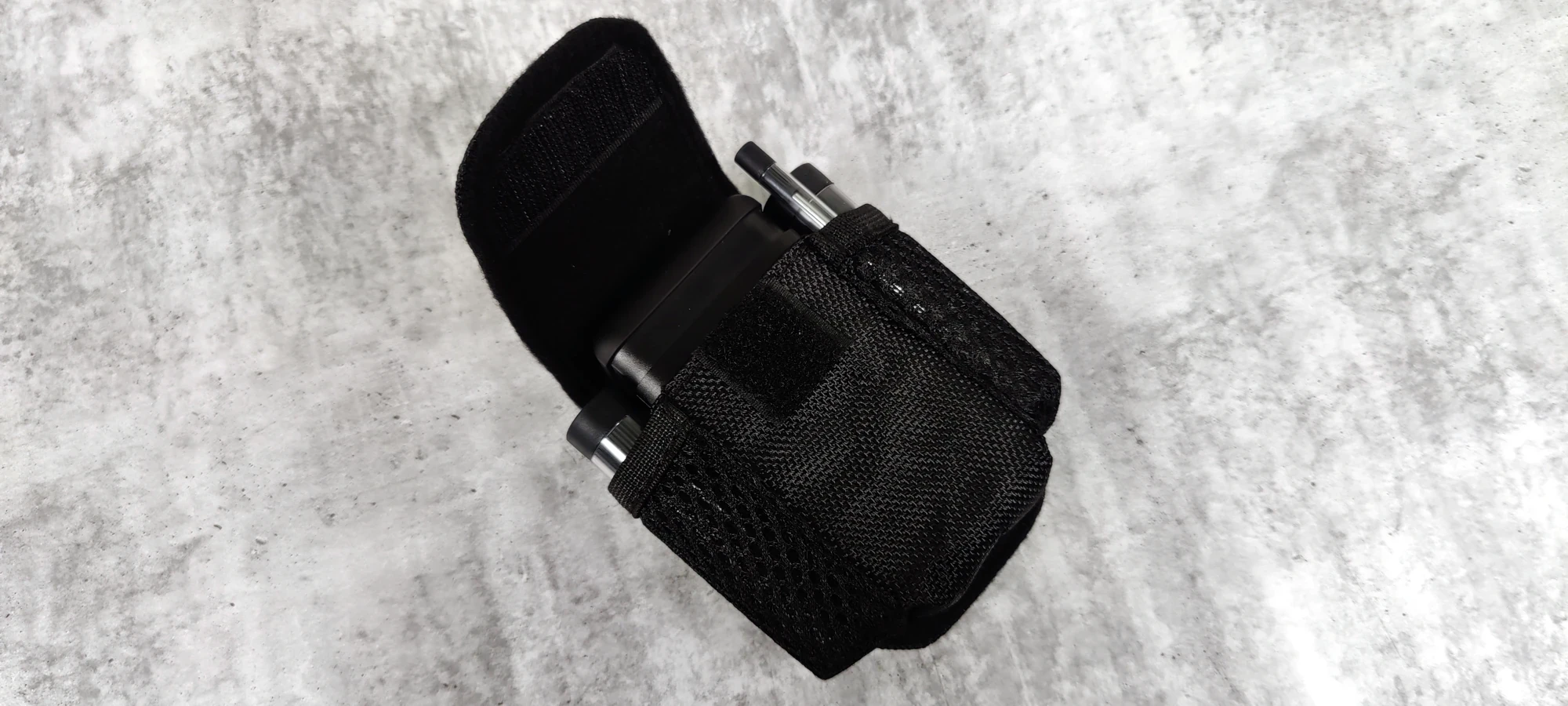 Can the Arizer ArGo Produce Good Vapor?
If you're a fan of flavorful vapor, the Arizer ArGo won't disappoint. Like other Arizer vaporizers, the initial puffs are bursting with wonderful flavors, and the ArGo stays true to that experience. While the first few draws of a session may be milder, once the stem and material heat up sufficiently, it takes the vapor production up a notch. It tends to work best when used at higher temperatures, provided you don't mind a slightly warm vapor.
However, it's worth noting that running the ArGo at hotter temperatures can cause the device to become quite warm near the oven area, it won't burn you, but it may surprise you if you grab it too close to that area. So, it's important to be mindful of this while using it.
For the best vapor production, longer direct lung inhales are recommended. The inhale tends to be a little restrictive, but there's enough airflow it's not uncomfortable, even while using a screen, provided you don't overpack. But even if you prefer shorter, more shallow puffs, the ArGo's hybrid heating system still delivers a decent vaping experience. Whatever your approach shouldn't expect fast extraction here; the typical session will last a few minutes. Even with those longer inhales, it's much more of a sipper than a ripper, but still plenty satisfying.
The heater keeps up reasonably well, but if you take bigger hits, give it a few seconds to catch up before the next hit for the best results. It's not as powerful as most of the other vaporizers offered by Arizer, but it keeps up enough to not be disconcerting either.
Does the Arizer ArGo have Good Battery Life?
When it comes to battery life, the ArGo offers a solid runtime of around 90 minutes on a full charge. It's worth noting that when pushing it at high temperatures, the battery life may fall short of that. However, even in such cases, it still delivers multiple satisfying sessions without significant issues.
One advantage of the ArGo is its removable 18650 battery, allowing easy battery replacement. This feature means you can easily carry spare batteries, ensuring uninterrupted usage during a big day. Just remember to safely store the spare batteries in a suitable case to prevent any accidents (battery safety is always important). This removable battery feature adds an extra layer of convenience and portability to the ArGo, making it a reliable choice for on-the-go vaping enthusiasts.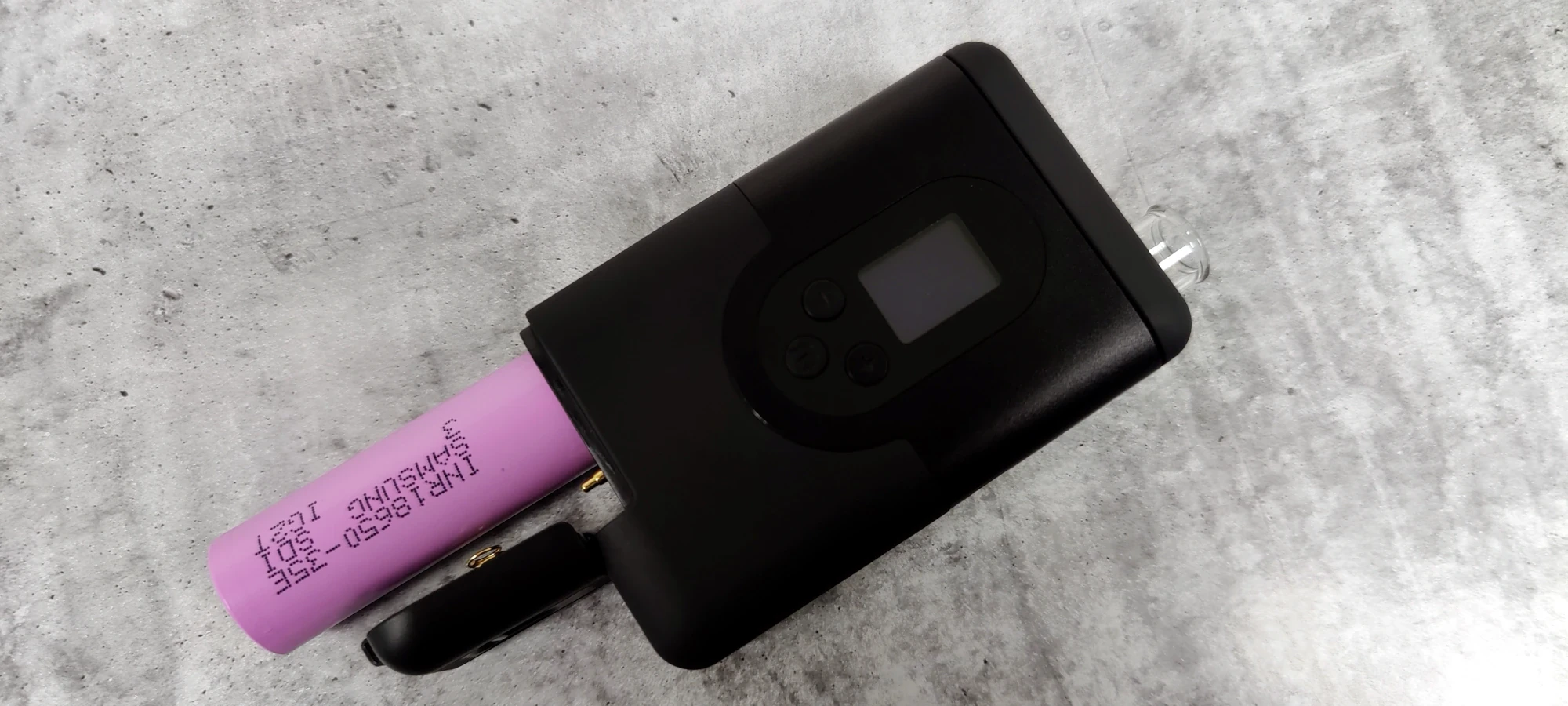 Is the Arizer ArGo Easy to Clean?
When cleaning the ArGo, the main focus should be on the glass stems. The simplest method involves placing them in a zip-lock bag with some isopropyl alcohol and gently swirling it. As for the rest of the device, it's generally best to leave it at a gentle wipe-down using a damp cloth. Fortunately, the oven of the ArGo tends to stay relatively clean during use, so it usually doesn't require much attention unless you've been excessively pushing the device's limits.
Can you use Concentrates with the Arizer ArGo?
The Arizer ArGo is not designed for using concentrates. While it is possible to add a small amount of concentrates to dry herbs, it is unlikely to offer an optimal experience. If you primarily use concentrates, exploring other devices specifically tailored for concentrate use would be more beneficial. The market now offers a range of reasonably priced concentrate devices that better cater to your needs. Considering a dedicated concentrate device or using one alongside the ArGo would ensure a more satisfying and efficient concentrate vaping experience.
Is the Arizer ArGo Good for Microdosing
If you're a casual vaporizer user or prefer smaller, scheduled doses, the Arizer ArGo can be a solid option. For precise and preset amounts, weighing them out with a small scale and capping the stem until ready for use is recommended. To have multiple doses readily available throughout the day, purchasing extra stems or opting for the pack of ArGo stems with a case that Arizer offers can make this approach more convenient and practical.
For those who prefer even smaller doses, the included stirring tool can be used while still in its container to help pack smaller loads. This approach allows for gently packing smaller amounts into the stem when it's too tiny to pack using just your fingertips.
Overall, if you fall into the category of casual users or prefer utilizing small amounts at a time, the Arizer ArGo is a suitable choice to consider. It offers the versatility and convenience that make microdosing a viable and enjoyable experience.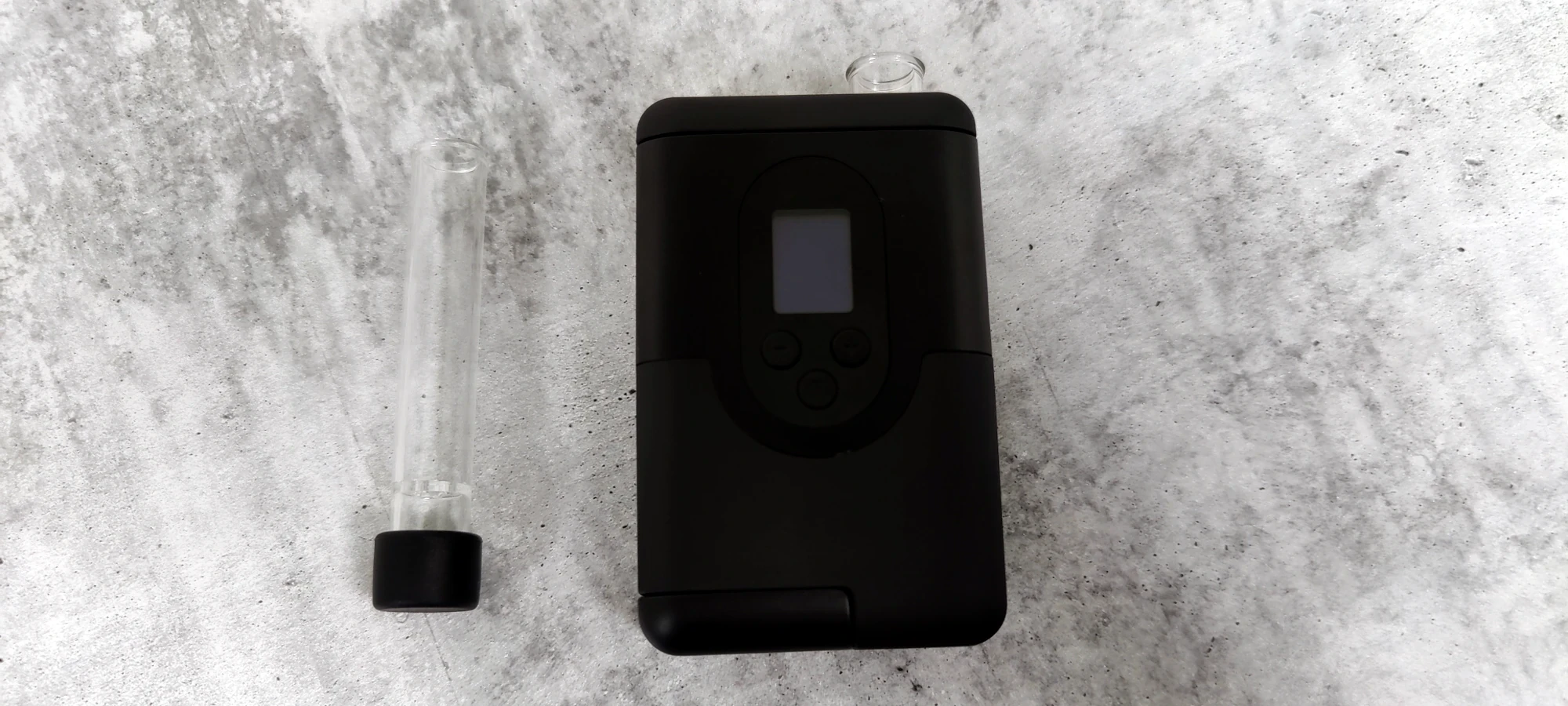 Is the Arizer ArGo Good for Beginners?
Getting familiar with the Arizer ArGo is a straightforward process that doesn't involve any overly technical aspects. It effectively vaporizes dry herbs and offers fairly decent performance overall. While it may require a few tries to find the perfect packing technique and temperature settings that suit your personal preferences, the ArGo remains an accessible vaporizer for beginners to begin their vaping journey with. Its user-friendly nature makes it easy to use and get started with, ensuring a hassle-free experience for newcomers.
Arizer ArGo Pros
Discrete look
Swappable battery
Hybrid heating
Included case
Arizer ArGo Cons
Heat-up could be faster
It can get quite warm at high temps
Not the smallest portable vaporizer
Is the Arizer ArGo Worth Buying?
If you're searching for a portable vaporizer that combines discretion with ease of use, the Arizer ArGo is a reasonably good choice. However, if physical size is not a concern, consider grabbing the Solo 2 from Arizer, which is available at a similar price. The Solo 2 offers faster heat-up times and impressive battery life. Alternatively, the Air Max is also worth considering if you're willing to spend a bit more.
While the ArGo may not be the standout device in the Arizer lineup, it still performs competently and becomes more appealing if you prioritize a compact and discreet vaporizer, particularly if you can find it on sale. It embodies many of the qualities that make Arizer's portable vaporizers great, although slightly toned down in comparison.
Overall, the Arizer ArGo is a solid option for those seeking a small and discreet vaporizer. However, if you're open to considering larger options within the Arizer range, the Solo 2 or the Air Max offer enhanced features and performance. It ultimately depends on your priorities and budget.