XMAX Daboo Review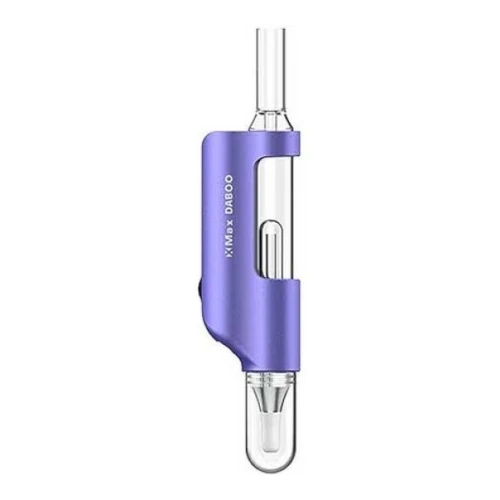 19 September 2022   •   7 min read
If you've been thinking about grabbing yourself a nectar collector but aren't sure if it's a good fit for you, the Daboo could be the solution. The Daboo provides 2-in-1 support for both concentrates and 510 cartridges making it flexible while still coming in at a very budget-friendly price.
XMAX Daboo Highlights
510 cartridge support
Concentrate support
Built-in water cooling
On-demand use
USB-C charging
How to Use the XMAX Daboo
Press the power button three times to turn on the Daboo, and the light will flash.
Press the button twice again to cycle through the three different heating options.
To use it with draw-activation, simply inhale as desired. Hold the power putting while the device is already turned on for on-demand mode.
Turn off the device after use by just pressing the power button three times.
Using the Daboo is quite simple; if you've ever used a standard 510 battery, you shouldn't have any trouble upgrading to this device. With the pretty simple one-button operation, you'll be vaping in no time.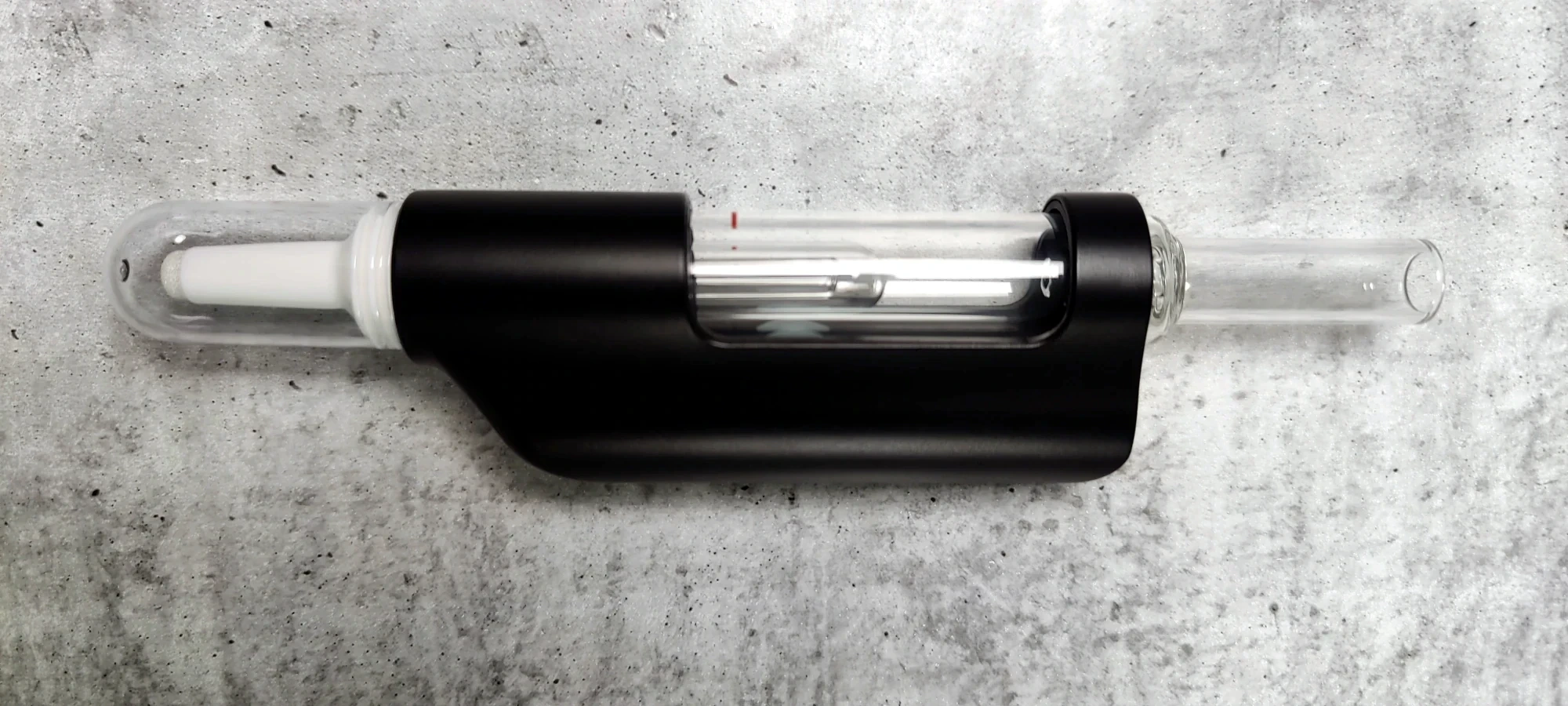 How much does the XMAX Daboo Cost?
You can find the Daboo for as low as $49 USD. However, you'll often find resellers selling it for around $20 more, which still keeps this well into the budget-friendly category. If you're not looking to spend a lot while wanting something with a bit of extra flexibility, the Daboo does well here as you're getting support for both carts and concentrates, and given it's under $100; you can't really go too wrong giving it a try.
Is the XMAX Daboo Well Built & Designed?
When looking at the quality of the Daboo, the first thing to consider is the glass which makes up a significant portion of the device and is essential to its operation given the design. Thankfully, the glass seems reasonably well made, and while you shouldn't expect extremely high-quality glass given the low price of the Daboo, it isn't bad and out of the box appears to have no nicks, chips, or scratches, pointing to a respectable level of care during manufacture and quality control or at least in some units.
The 510 threading is nothing to write home about but is also perfectly serviceable. It's not buttery smooth, but you won't cringe while screwing a cart into it either. Furthermore, the housing seems quite good as well, there are no weird gaps anywhere, and it's got a nice heft about it that you'll notice while handling it even when the glass section is removed. One edge is a little sharp near the top of the device, but it's not something you'll be exposed to during use as it sits against the glass insert, so it is of little concern, but it is still worth mentioning.
Can you use Concentrates with the XMAX Daboo?
If you've used a nectar collector before, you're getting the same with the added benefit of 510 support that isn't always offered. The Daboo is designed for you to literally dive straight into concentrates. It should support most 510 carts without issue and many types of concentrates for direct use with the quarts heating tip.
The one thing you won't be able to use with the Daboo is dry herbs. There's no support here for that, but it's clearly not something that makes much sense here either, so it's not an issue, and there are plenty of great alternatives for that on the market already.
What Comes in the Box?
XMAX Daboo body
USB-C charging cable
Spare quarts heating tip
Spare O-Rings
User manual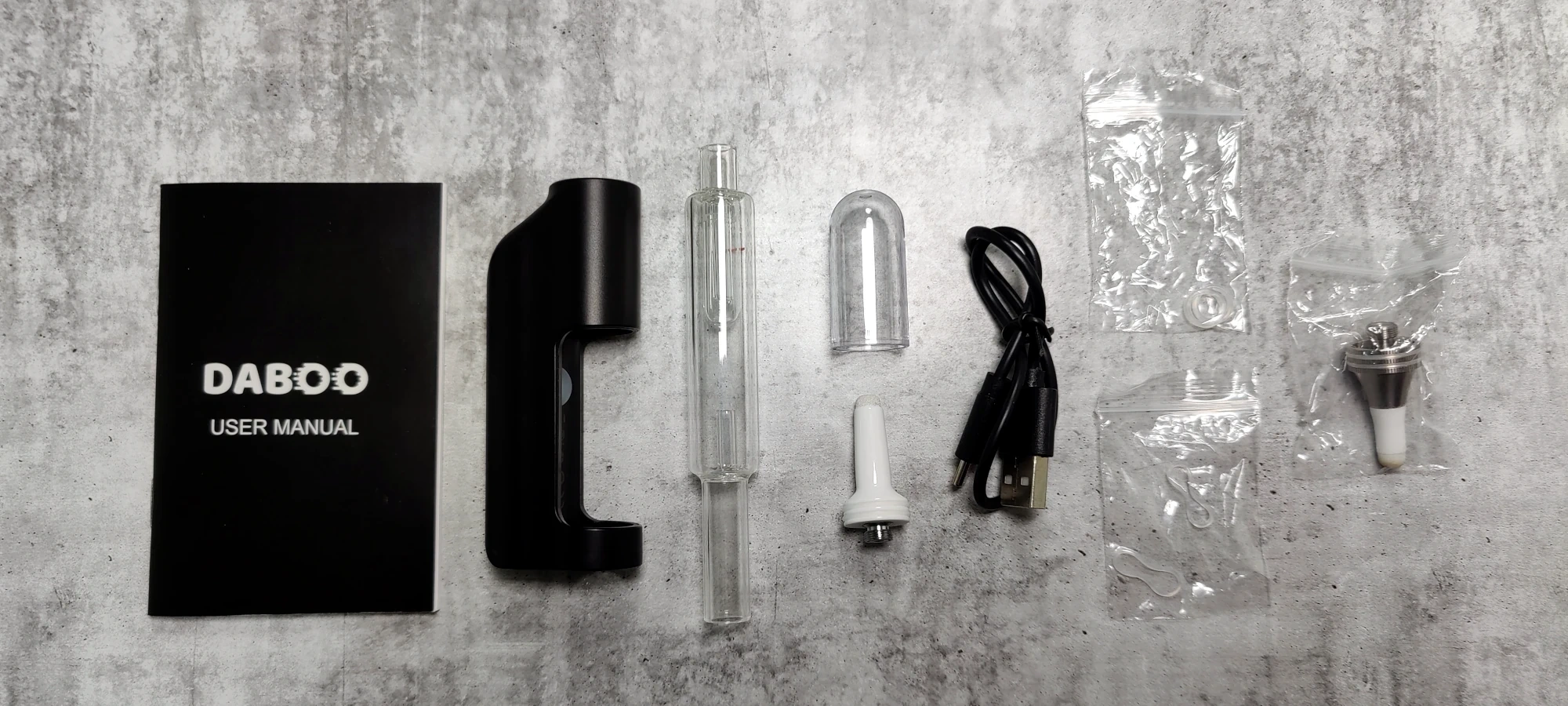 Can you use the XMAX Daboo with a Water Pipe?
While you can't use the Daboo with your own glass (at least unless you're willing to get a bit creative), it does come with a built-in bubbler, so if you prefer a little water cooling, you can still have that here. However, it's worth noting that it doesn't hold a significant amount of water, which results in the vapor path through the water being somewhat limited, so if you're extra sensitive to heat, keep this in mind.
Is the XMAX Daboo Portable?
Its small size makes it easy to transport. However, there are a few things to keep in mind. Firstly, given the glass components, you'll want to be a little careful about how you carry it. Additionally, you'll probably want to empty it before taking it anywhere. The best way to transport it is in the original box or a suitable vape case with some padding and a bottle of water to fill it up as needed. So while it's not the easiest thing to throw in your pocket, it's still easy enough to take with you, so in terms of portability, there are a few caveats but nothing too problematic.
Does the XMAX Daboo have Good Battery Life?
With only a 650mAh battery, you may be forgiven for assuming that you won't get far with that. However, given the type of vaporizer, you can get plenty of use out of a single charge. As the vaporizer isn't heating a large surface area due to the device's design, you shouldn't find yourself tied to the wall or running to the charger too often.
For heavier users, you should find you can make it through the day most of the time, and for lighter users, you'll probably find yourself being able to take the occasional hit throughout the day for several days. Overall, battery life is fine here and comparable to many pen-style 510 batteries that also tend to provide similar battery capacity.
Can the XMAX Daboo Produce Good Vapor?
The Daboo is surprisingly capable of producing a rather good amount of vapor when using the quarts heating tip. As for when using it with 510 carts, your mileage will, of course, vary depending largely on the quality of carts you are using which is naturally to be expected.
The design of the water cooling could be slightly better and can result in some hotter than ideal vapor in some cases, but if you experience that, running it at one of the lower settings or putting a little cool water in it should suffice to get things under control and relatively pleasant.
Is the XMAX Daboo Easy to Clean?
The Daboo is only made up of a few parts, and this makes it quite easy to maintain and clean the device. Additionally, given the device is for concentrate use, you shouldn't find yourself getting it too dirty as long as you're giving it a clean now and then to keep things under control.
Is the XMAX Daboo Suitable for Microdosing?
Even though when you think of concentrates, you generally think of strong products, often concentrates make a suitable option for microdosing, and due to that, so does the Daboo. You can quickly have a small single hit and continue with your day, so yes, the Daboo is a perfectly valid option for microdosing and would also be paired well with things like CBD cartridges. As it's also usable in draw-activated mode, you shouldn't find yourself wasting too much material either.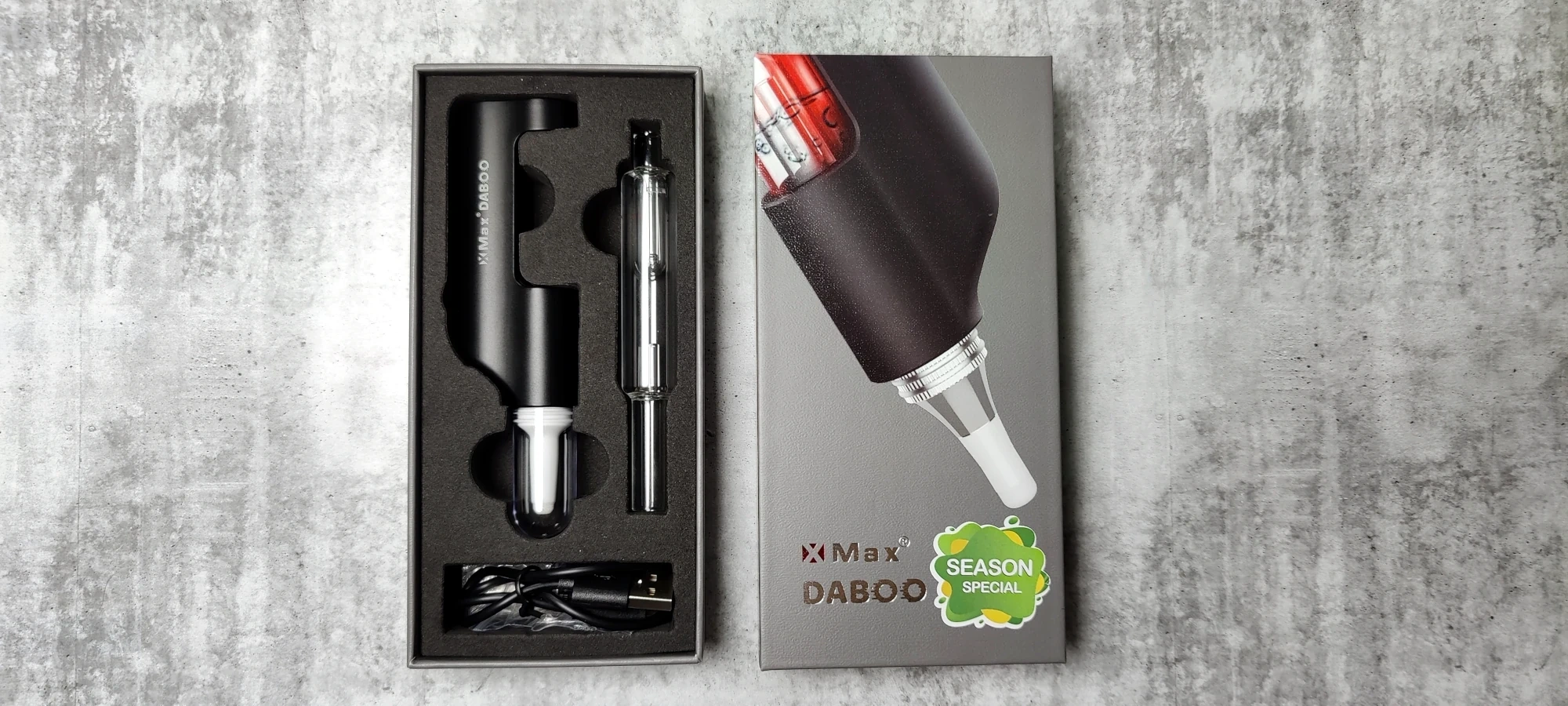 XMAX Daboo Pros
510 cartridge support
Water cooling out of the box
Included spare quarts heating tip
USB-C charging is always nice
Decent battery life
Easy operation
XMAX Daboo Cons
Not particularly pocket-friendly
It can't be used without the glass section
Precision power adjustment would have been nice
Lots of glass breakable glass to worry about
Water cooling could be more efficient
Is the XMAX Daboo Worth Buying?
The Daboo ticks enough boxes to make it a good buy at its price point. You really can't go too wrong if you're in the market for a device like this one. Like some of the other recent products launched under the XMAX brand, TopGreen is doing a great job of producing affordable options and competitive prices, and they've done that again here.