Tinymight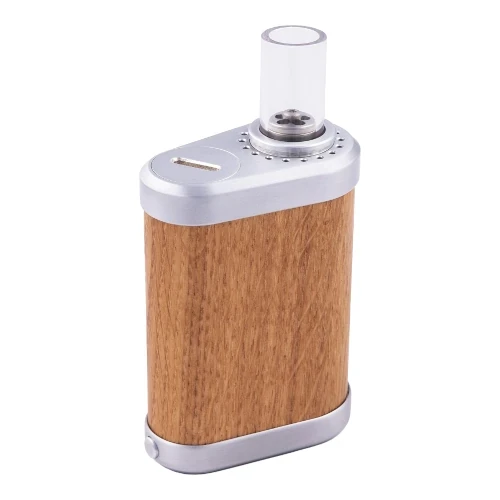 Tinymight Description
The Tinymight provides an impressive convection experience in a portable format with a premium aesthetic thanks to its natural wood grip. Additionally, a fast warm up of only around two seconds and a user replaceable 18650 battery make this an interesting choice.
Tinymight Features & Traits
Portable
Convection
Electronic
Premium
Battery Swap
Microdosing
What Comes with the Tinymight?
Tinymight Dry Herb Vaporizer
55mm Glass Tube
Cooling Unit
Molicel P26A Battery
Instruction Manual


Tinymight Pricing
Below are approximate prices for the Tinymight in various different currencies. These numbers are based on the average market rate for the device and are updated as regularly as possible.
$269 USD
$445 AUD
€269 EUR
$387 CAD
$481 NZD
£234 GBP
Tinymight Retailers
Looking to buy the Tinymight? Check out our list of Tinymight retailers. Note that some links may be affiliates, supporting us at no extra cost to you. Compare different retailers to ensure you always get the best price for the Tinymight!
Tinymight Specifications
Find out what you can expect if you decide to pick up the Tinymight
Manufacturer
JTJS Products OY
Charge Connector
Micro-USB
Power Adjustment
Modular - 10 Stages
Temperature Range
120 - 240°C
Body Material
Natural Wood
Tinymight FAQs
Does the Tinymight work with smaller amounts?
Yes, the Tinymight is quite flexible in the amounts used. The device will work fine if you want to use a tiny amount of material or fully load the heating chamber. This flexibility makes the Tinymight an excellent option for microdosing.
Can you use the Tinymight as an on-demand vaporizer?
Absolutely, due to the fast warm up time of the device, it can be used as an on-demand vaporizer. However, it also supports session mode if you prefer to take your time and have longer sessions.
Tinymight Ratings
Loading Ratings...