FENiX Pro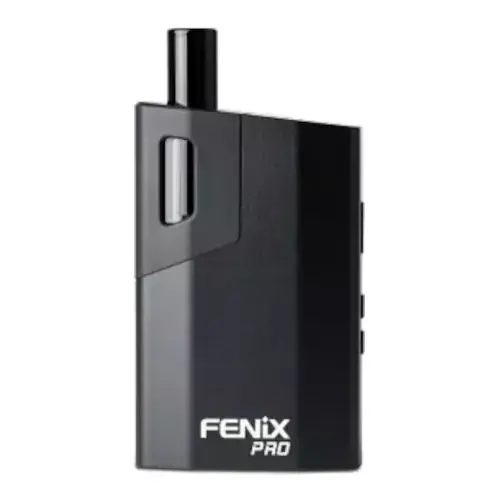 FENiX Pro Description
The FENiX Pro is a compact vaporizer that leverages convection heating and an easy care airpath to provide an easy to maintain and performant vaporization solution. With a completely accessible air duct, this vaporizer is easy to keep clean, which many other devices struggle to achieve. Additionally, with its pricing commonly slipping into the budget-friendly range, this vaporizer can provide a reasonable value proposition for those that find it matches their preferences.
FENiX Pro Features & Traits
Portable
Convection
Electronic
What Comes with the Fenix Pro?
FENiX Pro Vaporizer
Mouthpiece O-Ring & Screen
Airpath Clean Brush
Chamber Clean Brush
Chamber Stick
User Manual
USB Cable


FENiX Pro Pricing
Below are approximate prices for the FENiX Pro in various different currencies. These numbers are based on the average market rate for the device and are updated as regularly as possible.
$135 USD
$223 AUD
€135 EUR
$194 CAD
$241 NZD
£117 GBP
FENiX Pro Retailers
Looking to buy the FENiX Pro? Check out our list of FENiX Pro retailers. Note that some links may be affiliates, supporting us at no extra cost to you. Compare different retailers to ensure you always get the best price for the FENiX Pro!
FENiX Pro Specifications
Find out what you can expect if you decide to pick up the FENiX Pro
Manufacturer
South Reed Technology Co
Battery Capacity
2300 mAh
Temperature Range
160°C - 221°C (320°F - 430°F)
Chamber Capacity
0.2 - 0.3 grams
Charge Connector
Micro-USB
FENiX Pro FAQs
What is ECA Technology?
When talking about the FENiX Pro you may often hear about a feature referred to as ECA or ECA Technology. The ECA is an abbreviation for "easy clean airpath", and the goal of this is to ensure the device can be easily cleaned, even after more extensive usage.
FENiX Pro Ratings
Loading Ratings...