Sticky Brick Runt Review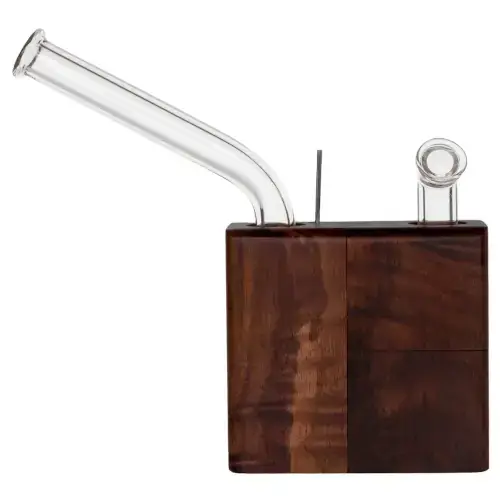 20 February 2023   •   12 min read
The Runt from Sticky Brick Labs is a powerful portable vaporizer that has quickly become a popular choice for vaping enthusiasts looking for an analog vaporizer.
Sticky Brick Runt Highlights
Various high-quality wood options
Battery-free operation
Powerful vapor production
What is the Sticky Brick Runt?
The Sticky Brick Runt is a portable vaporizer designed primarily for use with dry herbs, with some concentrate support. It is made by Sticky Brick Labs, a company known for producing high-quality vaporizers with a focus on wood construction and practical designs.
The Runt does not require an external power source, instead using a butane torch lighter for heating via pure convection, which enables you to customize the experience to your liking. Additionally, the Runt is built to last, with its sturdy construction and high-quality materials.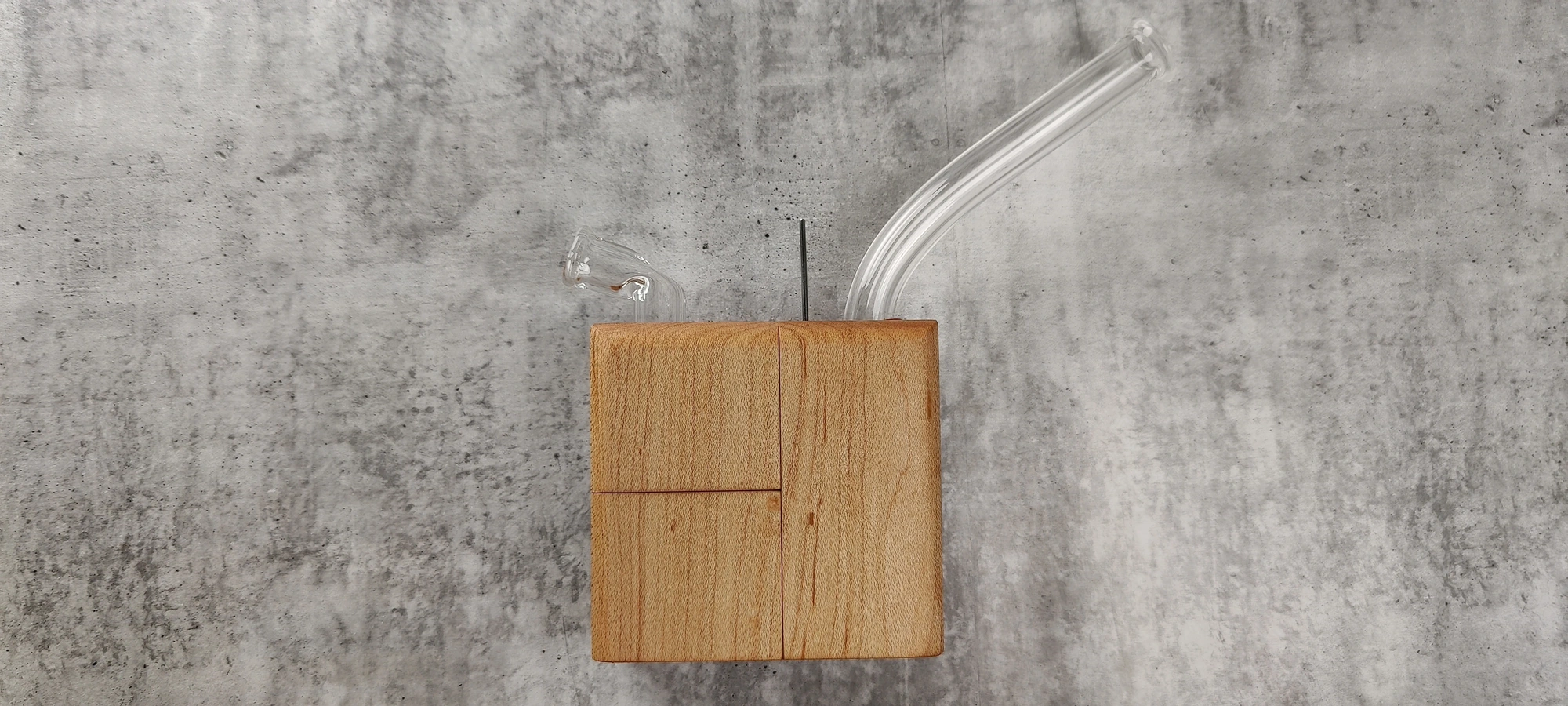 Using the Sticky Brick Runt for the First Time
Using the Sticky Brick Runt for the first time can be an exciting and somewhat intimidating experience. In addition, the Runt's unique design and use of a butane torch lighter for heating may seem unfamiliar and daunting to those used to more common electronic vaporizers. However, the Runt can offer a gratifying and enjoyable vaping experience with patience and practice.
When using the Runt for the first time, the first step is to grind your dry herbs to a medium-fine consistency. Once you've done this, you can open the Runt by separating the wooden sections held by magnets and exposing the heating chamber. Then, you can load the chamber with your ground herbs, being careful not to overfill it to ensure sufficient and even airflow.
Next comes the heating process, which can be the most challenging part for first-time Runt users. Using a butane torch lighter, you must angle the flame 45 degrees towards the air intake for several seconds while slowly inhaling to draw the heated air through the heating chamber and the vapor path carrying the vapor to you. This process can take some practice to get the technique and intensity right, but once you do, the Runt can produce large, flavorful vapor clouds.
The general experience of using the Sticky Brick Runt for the first time can be both exhilarating and challenging. The Runt's fantastic design and flame-powered heating system make it a distinct and enjoyable vaporizer that provides a high-quality vaping experience. While it may take some practice to get the hang of the heating and inhaling technique, the end result is well worth the effort.
How much does the Sticky Brick Runt Cost?
You can find the Runt available for around $146 USD. Considering you're getting a vaporizer made from high-quality material that could last a long time with a bit of care, it's a reasonable price point. While some of the other Sticky Bricks can start to push into higher price brackets, the Runt manages to squeeze nicely into that lower price bracket, making it a lot more approachable. So while it's not a budget device, it's still rationally priced.
Is the Sticky Brick Runt Well Built?
The Runt's wooden pieces are meticulously crafted, carefully sanded, and finished, resulting in a smooth and polished feel in your hand. The wooden parts fit together snugly and are held together with strong magnets that are very satisfying to fiddle with, making it easy to take apart for cleaning and loading. Additionally, there are some nice little touches including corks that can be used to block the carb if you prefer and a hole that can be used for your stir tool, which conveniently leverages one of the magnets in the device thanks to its thoughtful positioning.
Wood options are also excellent, with the Runt available in at least four different high-quality wood types and some exotic and special edition variants from time to time. The glass is also of decent quality and doesn't feel cheap or mass-produced, which helps the whole unit feel polished and well-made.
In general, the Sticky Brick Runt is a very well-built vaporizer that is designed to withstand daily use and last for years with proper care. The high-quality materials and careful craftsmanship ensure that the Runt is not only visually appealing but also a reliable and functional vaping tool that can really be an excellent addition to your collection.
What Comes in the Box?
Runt Vaporizer
Restrictor Disk (x2)
Wooden Stir Stick (x2)
Honest Torch Lighter
Stainless Stir Stick (x2)
Stainless Steel Screens (x6)
Carb Cork (x2)
Concentrate Pad (comes with most units)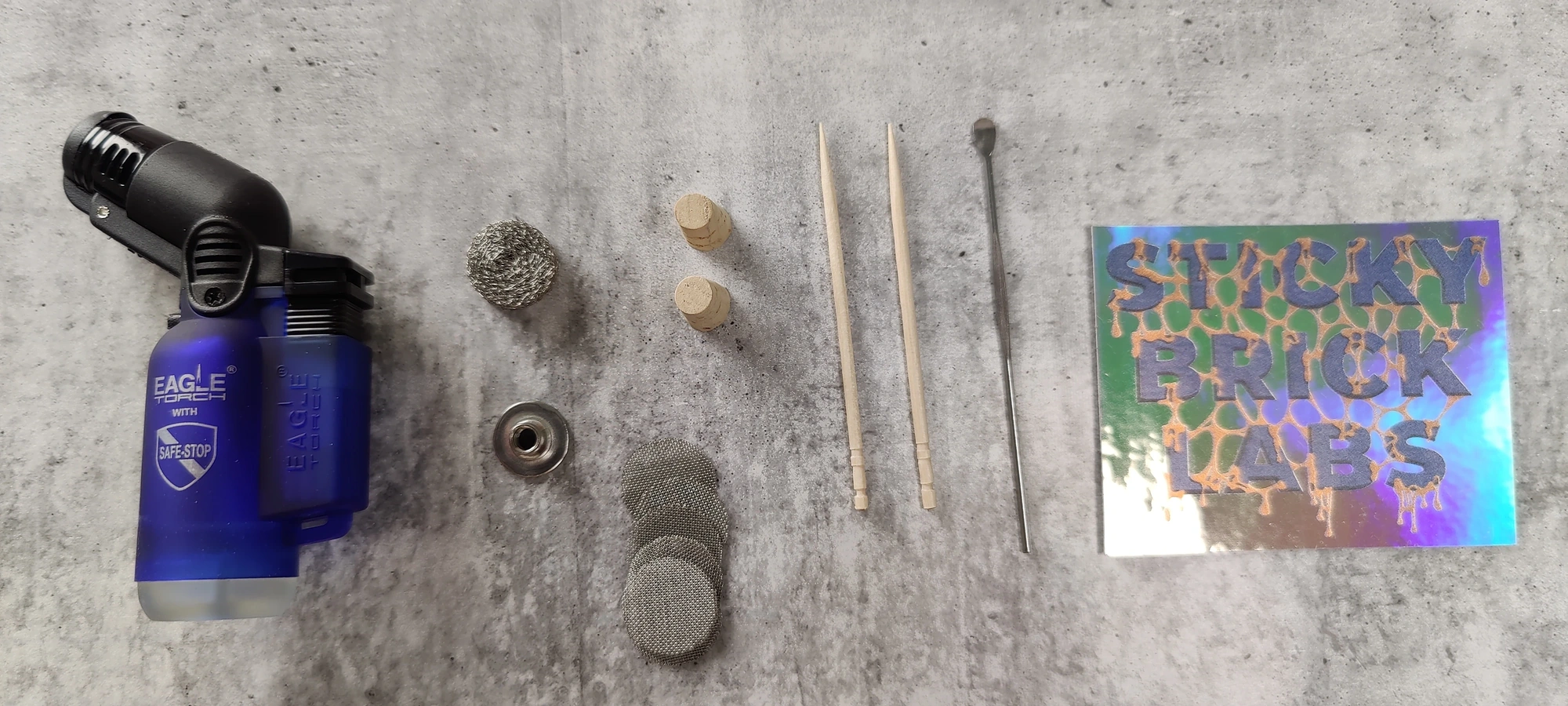 Can you use the Sticky Brick Runt with a Water Pipe?
Yes, the Sticky Brick Runt can be used with a water pipe with an additional accessory, the Sticky Brick Runt 14.4mm U-Joint WPA (Water Pipe Adapter). Using the Runt with a water pipe can offer a smoother vaping experience, as the water helps to cool and filter the vapor before it reaches your lungs.
The WPA is a small accessory that allows you to connect the Runt to a water pipe, providing additional filtration and cooling for the vapor. To use the Runt with a water pipe, you'll need to attach the WPA in place of the Runt's mouthpiece and then insert the other end of the WPA into the down stem of your water pipe. You can then heat the Runt and inhale through the mouthpiece of the water pipe or bubbler.
The WPA is a simple and easy-to-use accessory that can provide additional versatility and functionality for your Runt vaporizer. However, if you're looking to use your Sticky Brick with a bubbler primarily, you'd likely be better off opting for a Flip Brick, which has a pure focus on this type of use case; it is also smaller and less expensive.
Is the Sticky Brick Runt Portable?
While the Runt is not the most compact or lightweight, it is still relatively easy to take with you on the go. It's not really pocket friendly but will fit easily into a small bag. Additionally, the Runt is powered by flame, so there's no need to worry about finding an electrical outlet or charging the battery, provided you have a full torch handy.
One downside, though, in terms of using the Runt on the go is that the Runt is not a discreet vaporizer. Anyone seeing you using it will assume you are using some strange type of water pipe or something like that. So while it can still be used in public or outdoor settings, it may easily draw more attention than many people would be comfortable receiving.
For those that just like to take a vape to a friend's house for a session or on other little adventures where discretion isn't necessary, the Runt is certainly portable; it just isn't the sort of portable that some people will need from a vaporizer.
Is the Sticky Brick Runt Easy to Clean?
The Sticky Brick Runt vaporizer is a breeze to maintain, just like most of the Sticky Brick range. To keep the water piece adapters, restrictor discs, and screens in top condition, simply soak them in isopropyl alcohol. However, it's important to avoid using alcohol on the wooden sections of the device. Instead, the wood should be treated like a traditional wooden pipe, using pipe cleaners, brushes, or a damp cloth to remove any excess buildup.
If you're looking for a low-maintenance device, the Sticky Brick Runt is an excellent option. You won't have to spend much time cleaning it to enjoy its outstanding performance without any hassle.
Can the Sticky Brick Runt Produce Good Vapor?
Sticky Bricks, in general, are known for being able to produce some quite powerful hits, and the run is no different in this regard. The key to getting good vapor from the Runt is to use the proper technique when heating and inhaling. It's essential to heat the Runt evenly and consistently and inhale slowly and steadily to achieve the desired vapor production. Once you have mastered the technique, the Runt can produce large, thick clouds of vapor full of flavor. Is the Sticky Brick Runt Good for Microdosing? The Sticky Brick Runt can be a good option for microdosing for some people, but it really depends on your personal preferences and requirements.
Because the Runt is a butane-powered vaporizer, it can be relatively easy with a bit of experience to control the size and intensity of each hit, allowing you to take small, roughly measured draws. However, the Runt isn't a vaporizer well suited to precision vaporization due to its analog nature and strong reliance on exactly how you use it each time you pick it up. Furthermore, you won't find things like dosing caps for this device which microdosing enthusiasts commonly use and can be necessary for some people.
Overall, while the Runt may not be the most obvious choice for microdosing, it can still be a good option depending on how particular you are when microdosing. For example, suppose you like to take small hits from a single session over a more extended period or use relatively small amounts each session. In that case, the Runt will be fine, but if you're more into precise dosing or looking for precision temp control, look elsewhere.
Can you use Concentrates with the Sticky Brick Runt?
The Sticky Brick Runt is primarily designed for use with dry herbs. Still, it is possible to use concentrates with this vaporizer using stainless steel concentrate pads lovingly called Sticky Pads, which may or may not come with your brick depending on when it was manufactured. If you didn't have any included with your device, they are inexpensive and can be purchased for just a few dollars from Sticky Brick Labs and other retailers of their products.
To use concentrates with the Runt, you'll need to place the mesh pad into the vaporizer's heating chamber, then place a small amount of concentrate onto the pad. You can then heat the Runt with a torch lighter as you would with dry herbs and inhale the resulting vapor. Using concentrates with the Runt can be trickier than using dry herbs. It may require some additional practice and experimentation to get the technique right, even if you're already experienced using your brick with dry herbs.
Where the Runt primarily shines is when vaping dry herbs. So if you're primarily interested in using concentrates, other vaporizers on the market are better suited to your needs. However, for those that like to just dabble a little here and there with some concentrates, this might still be alright with the Runt, but it mostly comes down to what you're looking to achieve and having reasonable expectations.
Is the Sticky Brick Runt Good for Beginners?
While the Sticky Brick Runt may appear intimidating at first glance if you're only used to using electronic vaporizers, it can still be a good option for beginners willing to take the time to learn how to use it properly.
One of the Runt's biggest strengths is its ease of use thanks to its simple design. However, it's not the most intuitive to a new user as it uses a torch lighter for heating, so it does require some practice and patience to get the hang of the timing, intensity, and technique necessary for consistent heating and vapor production.
The device includes two restrictor discs; these are fantastic for when you're getting used to using the device as they both lower the risk of combustion and smooth out the heating as they act as a heating buffer. Some people opt to remove the disc once they get familiar with using their Sticky Brick, but many people just leave them in out of preference.
In short, the Runt is a good option for beginners who are willing to put in the effort to learn how to use it properly. It may take some trial and error, but once you get the hang of it, the Runt can offer a very impressive vaping experience that can trade blows with just about any portable electronic vaporizer, albeit with less precision due to its analog nature. With a bit of patience and experimentation, the Sticky Brick Runt can become a favorite vaporizer for seasoned vaping enthusiasts and newcomers alike.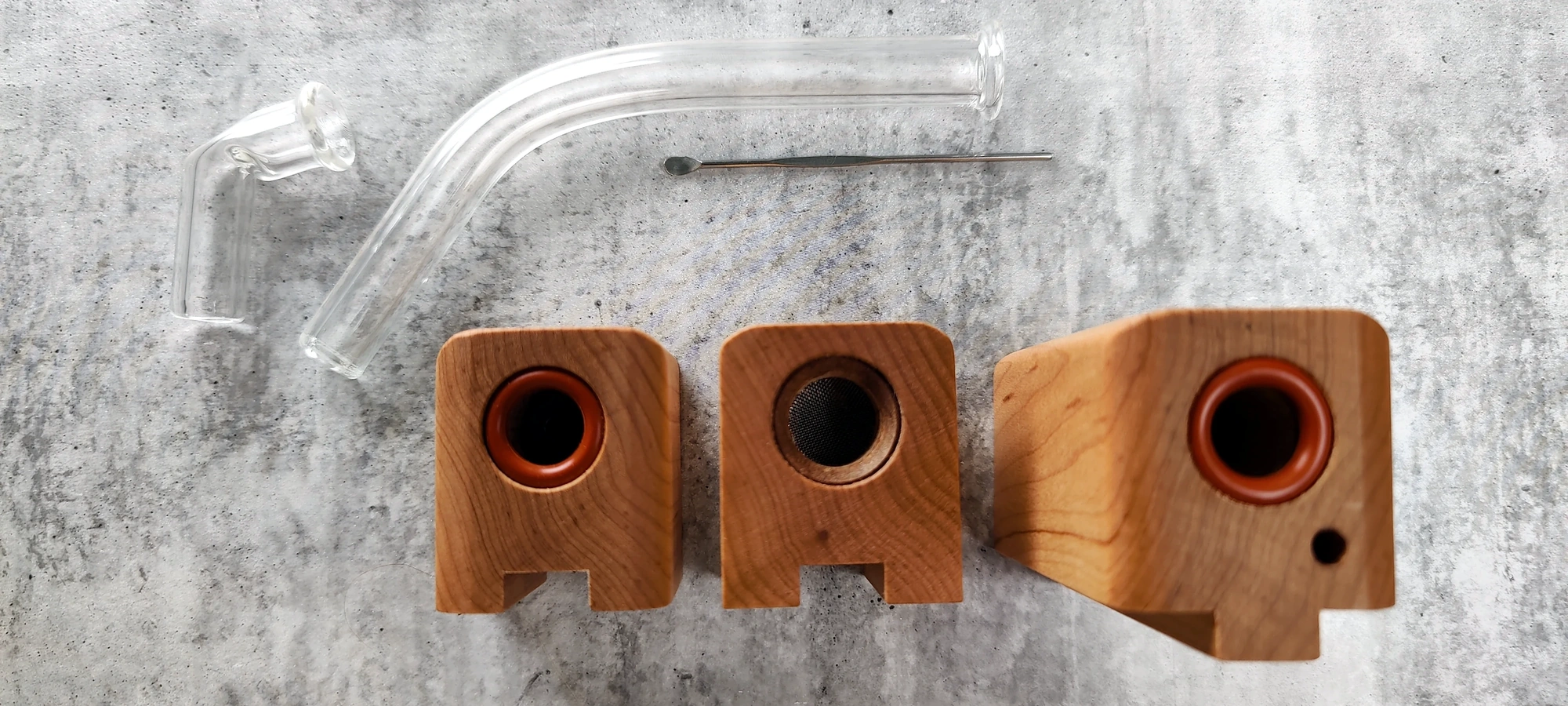 Sticky Brick Runt Pros
Made from high-quality materials
No batteries required
Powerful vapor production
Wonderfly simplistic design
Sticky Brick Runt Cons
Bit of a learning curve to achieve optimal performance
Potential for combustion if pushed too hard
Is the Sticky Brick Runt Worth Buying?
The Runt is also built to last, with its sturdy construction and high-quality materials ensuring that it can withstand daily use for years to come, provided you don't give the glass sections too much of a bump and literally smash them. This resilience makes it a good investment for those looking for a long-term vaping solution, provided you aren't too clumsy with your gear.
While there are many options in the Sticky Brick range, the Runt is just the perfect fit for many people. It takes a lot of what makes the OG Brick great and scales it down to a fantastic size that doesn't result in a performance loss. As a result, it has undoubtedly become one of the favorites in the Sticky Brick range.
Overall, the Sticky Brick Runt is an excellent vaporizer worth considering if you want to keep things simple but still flexible, especially for those who value simplicity and battery-free operation. While it may require some practice to get the hang of, the Runt can offer everything from a large face-melting hit to a gentle microdosing session resulting in an experience that is hard to complain about.