DaVinci MIQRO-C Review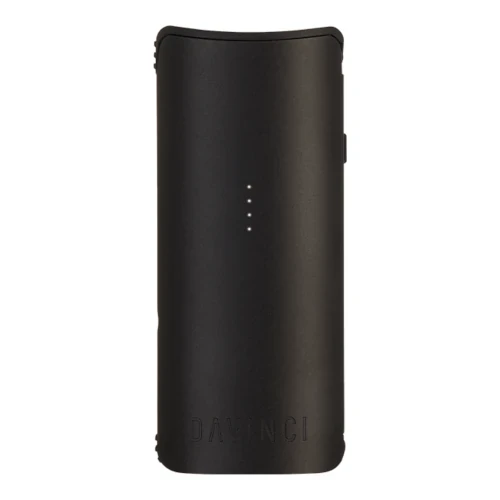 6 February 2023   •   11 min read
The smallest offering in the DaVinci lineup is an interesting option for those on a budget looking for a portable vaporizer.
DaVinci MIQRO-C Highlights
Smart paths
Conduction heating
Replaceable 18350 battery
What is the DaVinci MIQRO-C?
The DaVinci MIQRO-C is a compact, portable vaporizer produced by DaVinci that leverages conduction heating to produce vapor. It is designed for use with dry herbs and features a ceramic zirconia vapor path for improved taste and vapor quality. In addition, the MIQRO-C has adjustable temperature control, a rechargeable battery, and an oven that can be packed with a smaller amount of material for solo use.
The device is equipped with smart path technology and an LED interface for easy operation. The MIQRO-C is also equipped with haptic feedback to indicate when the device has reached its desired temperature.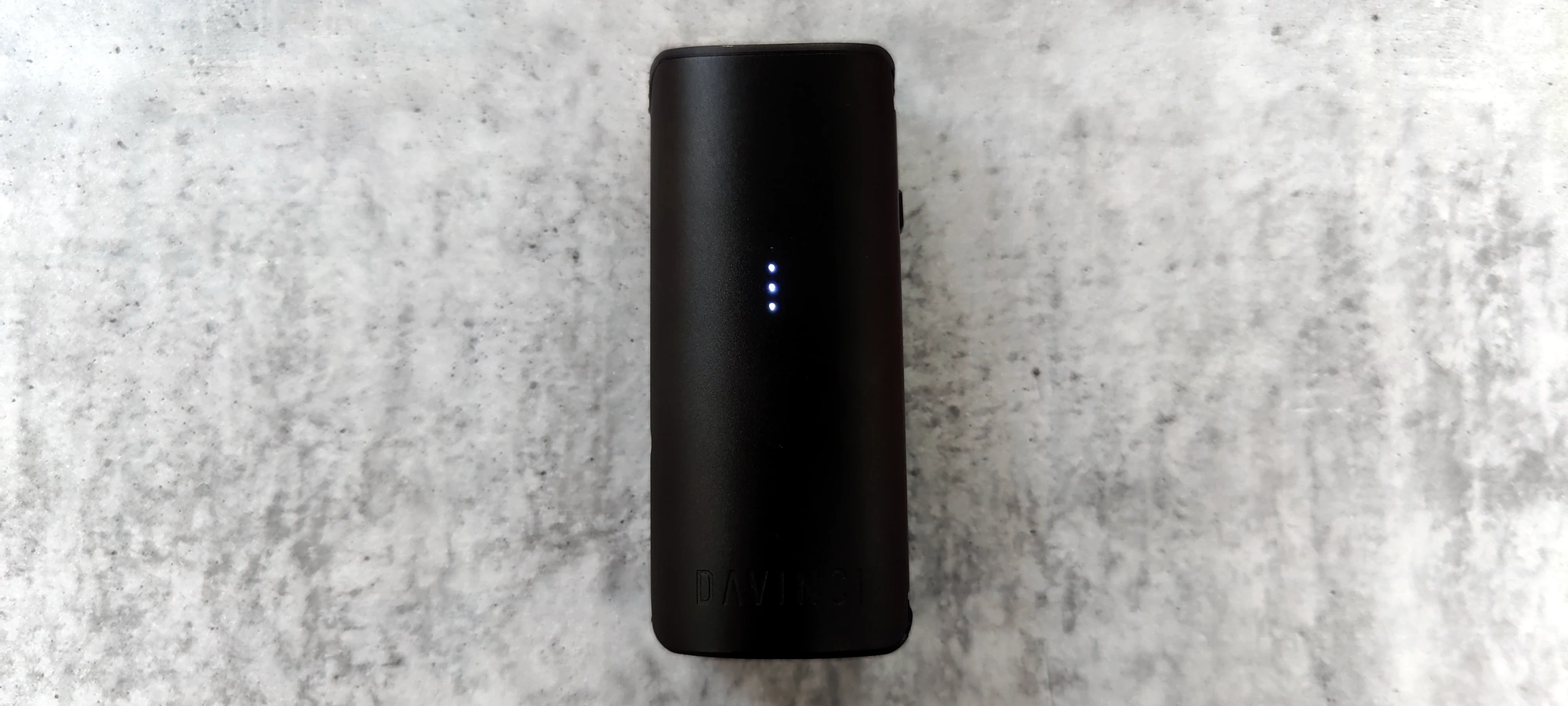 Using the DaVinci MIQRO-C for the First Time
Using the DaVinci MIQRO-C for the first time can be a smooth and satisfying experience. The device is compact and easy to handle, making it a good choice for on-the-go vaping. To start, make sure the device is fully charged. Then fill the oven with dry herb material. Next, turn the device on by clicking the power button five times, and select your preferred smart path.
Smart paths are an interesting concept that increases the temperature slowly within a specific range over 5 minutes. While other DaVinci vaporizers that support this feature typically offer advanced customization via an app and Bluetooth connection, that isn't the case with the MIQRO-C, as the values are hardcoded and can't be changed. However, they are set quite sensibly, and given the ranges aren't incredibly wide, you should be able to find something suitable for your needs within the four presets without much difficulty. So, while this feature may sound complicated, in practice, it's straightforward, it purely comes down to selecting one of four intensity settings, and you're good to go.
The MIQRO-C will start hitting useful temps in around 40 seconds, and when it reaches the selected smart path starting temperature, the device will vibrate to indicate it is ready to use. Inhaling slowly and steadily through the mouthpiece will produce vapor. In addition, the simplified LED interface on the device will show the currently selected smart path or battery life. At its highest temp setting the device starts to feel quite warm, but this is common with portable conduction vaporizers.
In short, the DaVinci MIQRO-C offers a user-friendly experience with minimal support for customization and a surprisingly satisfying vaporizing experience, especially given its small stature.
What Comes in the Box?
DaVinci MIQRO-C vaporizer
18350 battery
Silicone mouthpiece
10mm water pipe adapter (WPA)
Pearl post and gasket
USB-C charging cable
Pick tool
Alcohol swab (x3)
DaVinci sticker (x2)
Manual
Registration card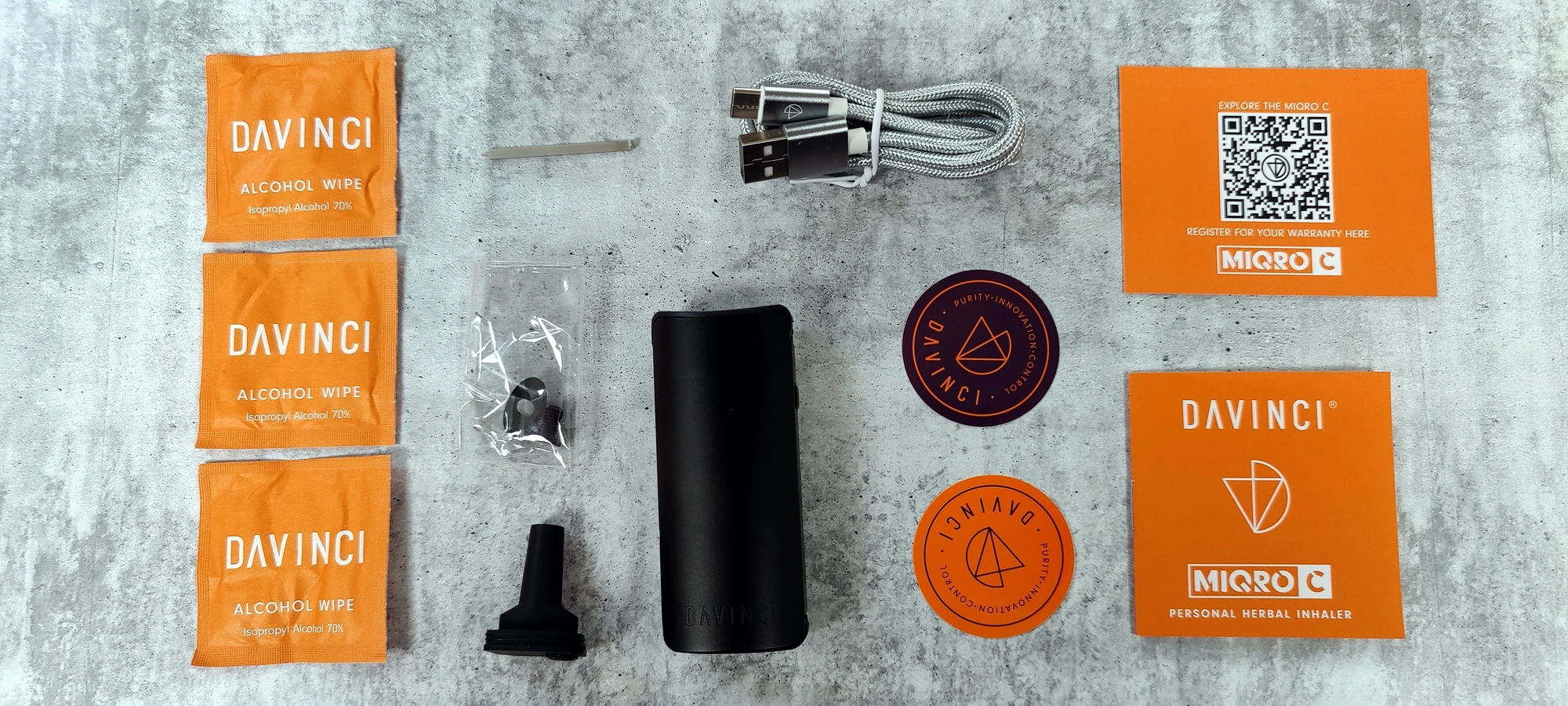 Can the DaVinci MIQRO-C Produce Good Vapor?
Even with its relatively small stature, this device is capable of producing fairly decent vapor, it won't provide the fastest extraction around, and you'll struggle to produce larger amounts of visible vapor. However, it will still provide a relaxed session that can yield substantial effects from your dry herbs. Nonetheless, the device is designed to be reasonably efficient, producing consistent and smooth vapor with minimal waste, which is helped by its smaller oven capacity compared to some other conduction vaporizers.
Loading the DaVinci MIQRO-C
To get started loading the MIQRO-C is just a matter of grinding your dry herb material to a medium consistency. Avoid grinding too finely, as it may pass through the holes in the oven and into the vapor path above.
Once your material is ready, it's just a matter of opening the bottom door, gently packing material into the chamber, adjusting the pearl by twisting it if there is any remaining space, and closing the door again.
Try and ensure there is no extra space in the oven when loading to ensure the oven can work efficiently, as conduction vaporizers perform best when the oven is full. However, thanks to the adjustable pearl that can be screwed in and out to fill empty space in the oven, you can reduce the oven's capacity (~0.25g) by up to 40%, which is helpful when you are on your last session or just want a smaller session.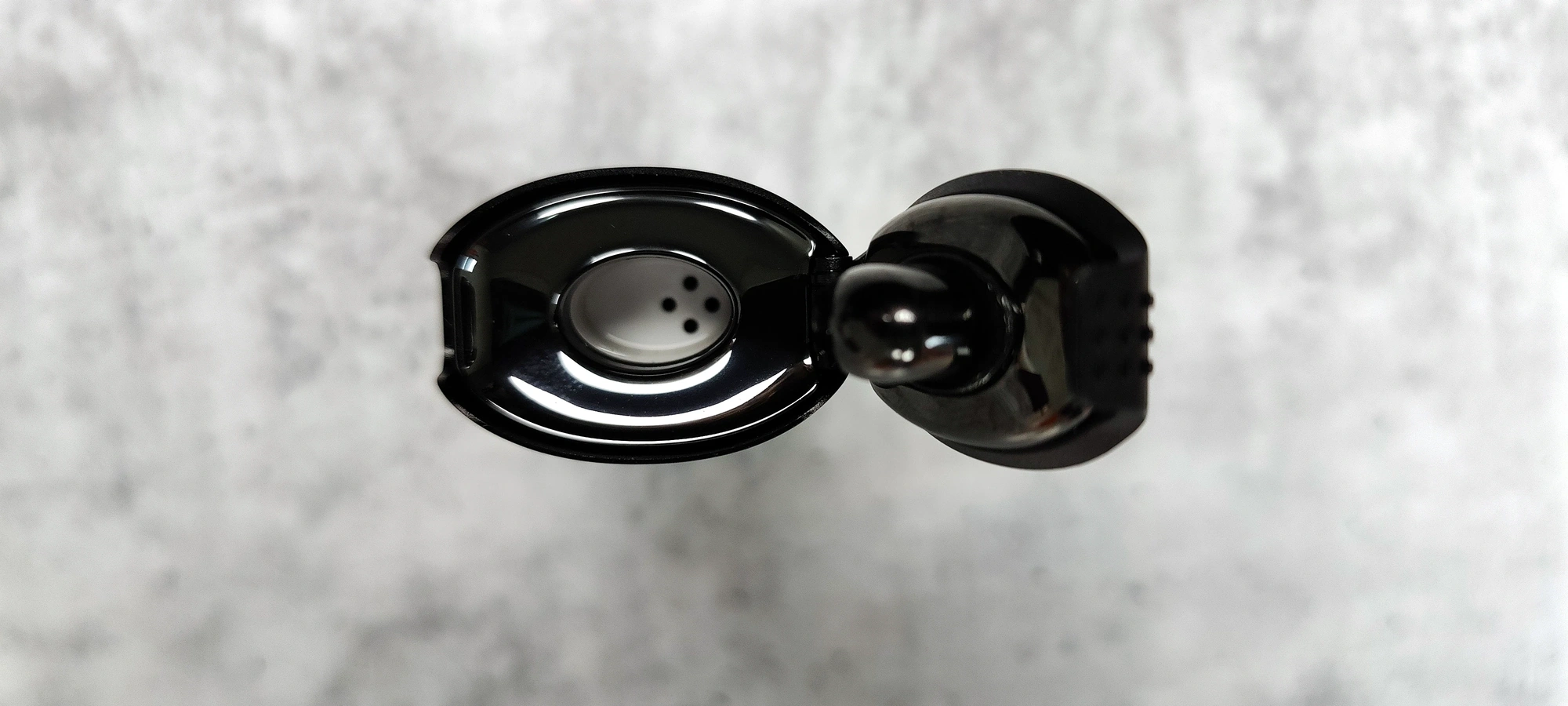 How much does the DaVinci MIQRO-C Cost?
The DaVinci MIQRO-C's $99 USD price point is good for those looking for a budget-friendly portable conduction vaporizer. At this price point, the MIQRO-C is relatively affordable compared to many other portable vaporizers on the market and offers many of the features and capabilities of more expensive devices, albeit at a much smaller size.
Overall, the DaVinci MIQRO-C's price point is quite suitable for those willing to compromise on some advanced features and a larger oven capacity for a more straightforward and user-friendly device with a tiny form factor.
Is the DaVinci MIQRO-C Well Built?
DaVinci is a company that is known for making respectably high-quality products and taking a lot of care that the materials they use are safe. So even though the MIQRO-C is their most budget-focussed device, it doesn't drop the ball on providing the same degree of quality you can expect to see from their other devices.
The design is both discrete and modern, making it an excellent choice for those that aren't looking to draw too much attention. It looks and feels great in hand, and the lack of harsh edges is also a nice touch. Tolerances are also great; there are no janky hinges or odd gaps, showing effort has been extended into the production, and quality control is of a high standard as well.
All-in-all, there's really nothing to complain about in terms of build quality. This vaporizer can sit proudly alongside the other vaporizers in the DaVinci range and not stand out negatively, which is not always the case with the budget options in a vaporizer lineup.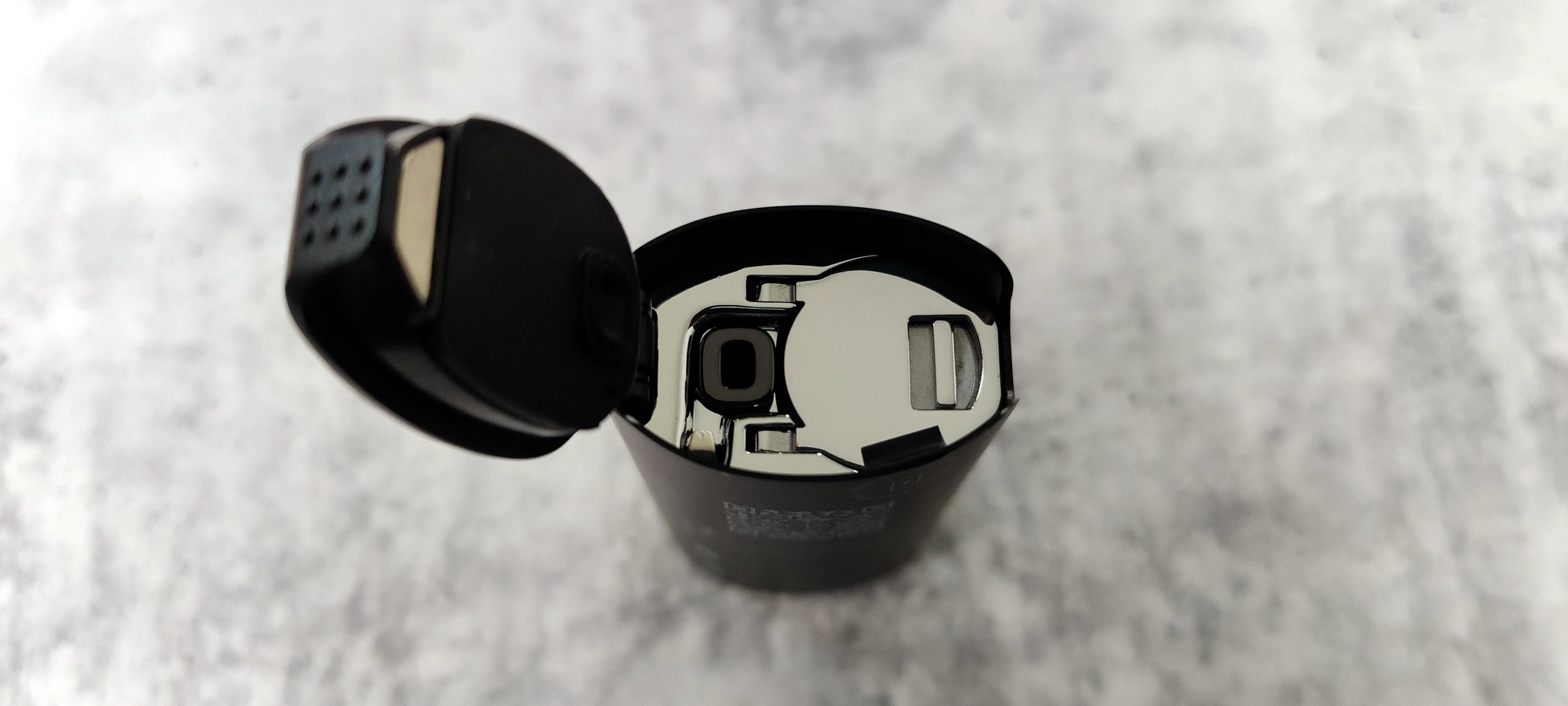 Is the DaVinci MIQRO-C Good for Microdosing?
The DaVinci MIQRO-C is well-suited for microdosing, which involves using small amounts of dry herb material for a less intense vaporizing experience. The device features adjustable temperature control (4 presets) and a compact size, making it easy to use small amounts of material and fine-tune your experience.
Its evenly heated oven also helps to produce consistent vapor, even with smaller amounts of material. Furthermore, the MIQRO-C's compact size and discreet design make it a good choice for those who prefer to microdose in public or on the go. Overall, for many types of people that enjoy microdosing, this vaporizer is an interesting option, especially if you find yourself vaping on the go and portability is a big concern for you.
Can you use the DaVinci MIQRO-C with a Water Pipe?
The DaVinci MIQRO-C comes with a 10mm silicone water pipe adapter that can also be used as an alternative raised mouthpiece, which enables you to use the device with a water pipe for cooler and filtered vapor. This adapter allows for easy integration with a bubbler, provided you have something on hand that sports a 10mm fitting. Still, if not, you can always use an inexpensive small glass adapter to convert it to other popular formats, such as 14mm and 18mm.
Another option for adding some water cooling to the MIQRO-C is the Hydrotube from DaVinci which is compatible thanks to the included 10mm raised mouthpiece with the unit. The Hydrotube is a spill-resistant bubbler that can help cool and filter your vapor. However, given it's close to the price of this vaporizer, it's primarily worth considering if you have other vaporizers in your collection that you could also pair with it just to get a little extra value out of it.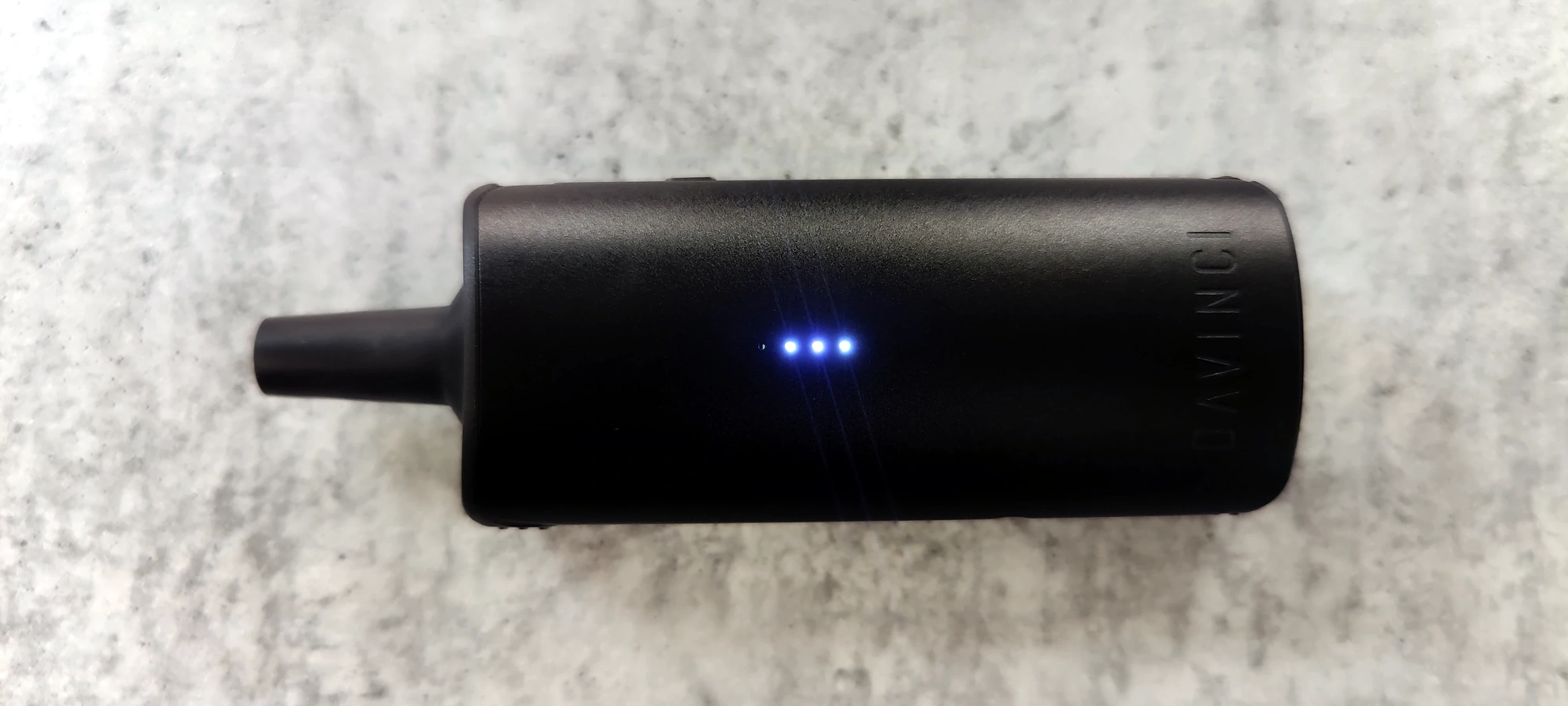 Is the DaVinci MIQRO-C Portable?
Yes, the DaVinci MIQRO-C is portable. It is a compact and lightweight vaporizer that can be easily carried and used on the go. Its small size makes it easy to fit into pockets or bags, making it a convenient option for those needing a practical and portable vaporizer. Additionally, the rechargeable battery allows for use without access to a power source, making it even more convenient for on-the-go use.
Does the DaVinci MIQRO-C have Good Battery Life?
Total battery life is around 30 minutes, and given that quick sessions can be completed in just a few minutes, you should be able to get several sessions out of a charge, provided you aren't leaving the device on for too long at a time. While this isn't as much as some other portable vaporizers, it is somewhat of a necessary compromise, given its tiny size. Additionally, the battery in the MIQRO-C is a replaceable 18350, which makes it easy to pick up an extra battery or two to take with you on those hectic days or when you're worried you may not have access to a charger.
Charging via USB-C takes around 90 minutes, so if you use this device heavily, an extra battery and an external charger can reduce the risk of downtime. In addition, Passthrough charging is supported, but at a much slower rate to protect against overheating.
The exact battery life will depend on factors such as the temperature setting selected and usage frequency. Still, most casual users that would opt for this kind of device should find that the MIQRO-C provides ample battery life to get them through the day.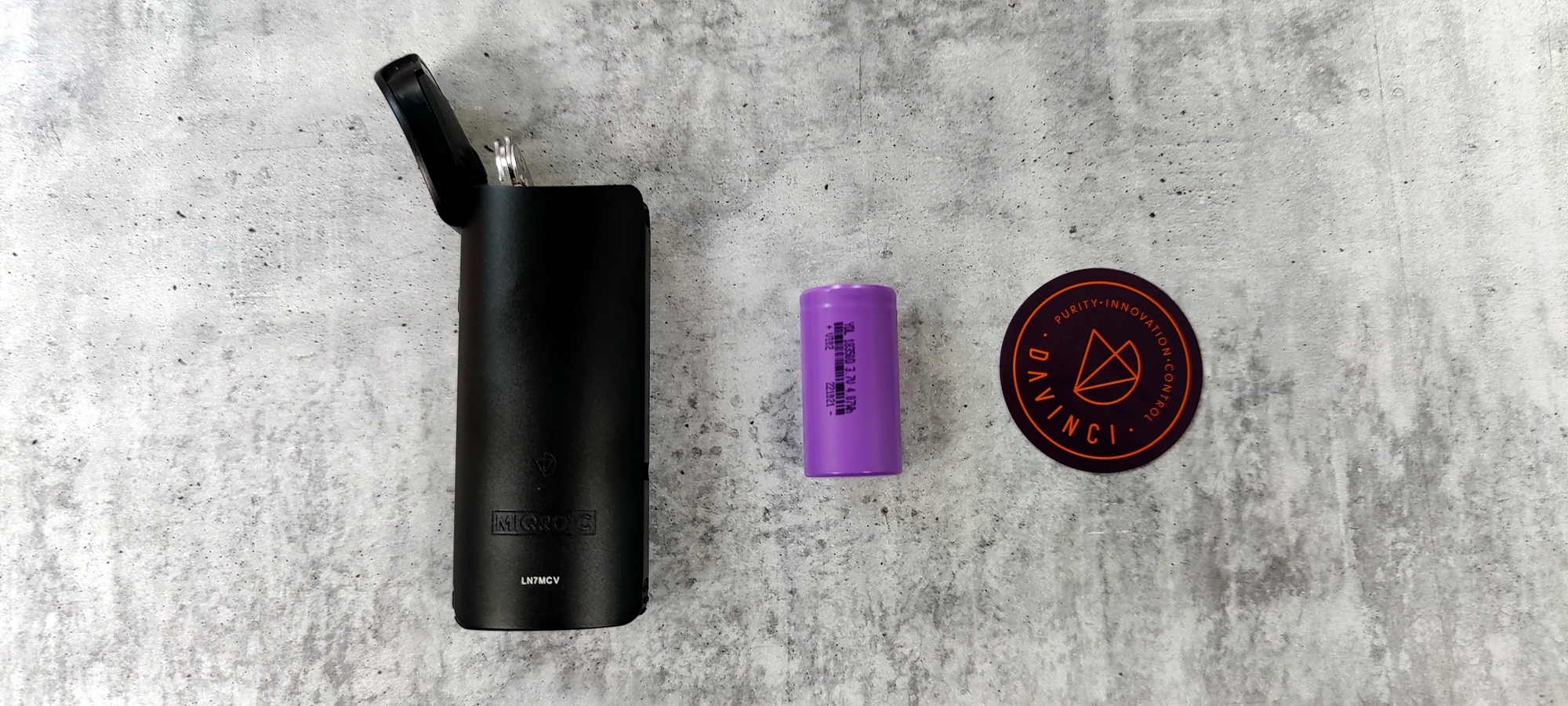 Is the DaVinci MIQRO-C Easy to Clean?
The DaVinci MIQRO-C is relatively easy to clean compared to other vaporizers. Its compact size and simple design make it straightforward to disassemble and clean. The device can be easily cleaned with a q-tip and isopropyl alcohol or alcohol swabs to remove any residue build-up in the oven and vapor path.
The ceramic zirconia vapor path is also resistant to buildup, making it easy to keep clean and maintain. Regular cleaning will help ensure that the device continues to produce high-quality vapor and is also an important part of maintaining the overall performance of the DaVinci MIQRO-C.
Overall, cleaning the MIQRO-C does take a few minutes of your time, but it is easy enough that anyone without dexterity issues shouldn't have any major issues getting it clean and fresh again.
Can you use Concentrates with the DaVinci MIQRO-C?
Using concentrates with the MIQRO-C is not supported, and while you can certainly add a tiny bit to your dry herbs, it's unlikely to result in a great experience. As far as concentrates go, this simply isn't the device for them; there are plenty of other alternatives if that's what you're looking to do.
Is the DaVinci MIQRO-C Good for Beginners?
The DaVinci MIQRO-C is a good choice for beginners new to vaporizing dry herbs. However, there may be better options than this vaporizer for those experienced with dry herbs but not vaping and have larger tolerances. If that sounds like you, but you like the look of this device, consider picking up a larger vaporizer from the DaVinci lineup, such as the IQ2.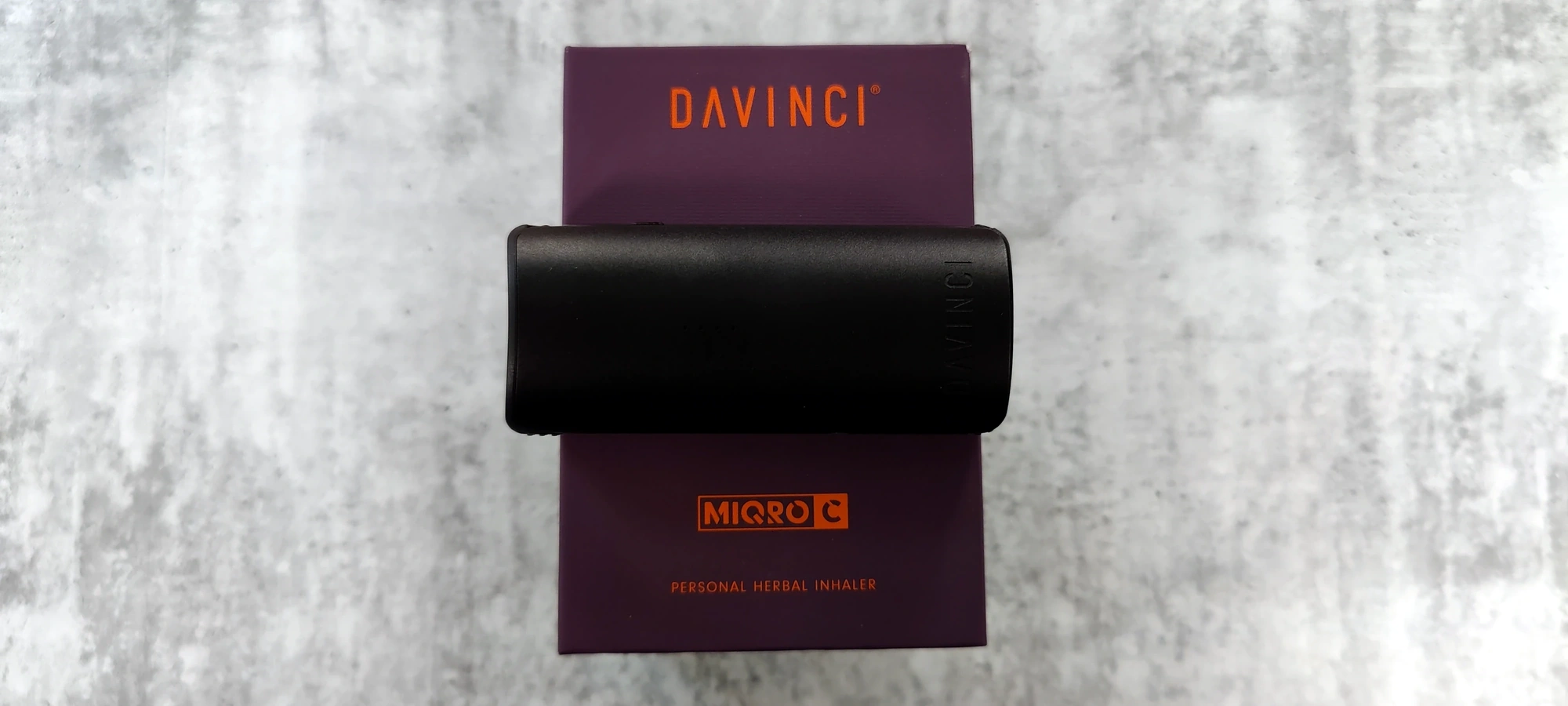 DaVinci MIQRO-C Pros
Discrete modern design
Zirconia vapor path
Even heating
Swappable battery
DaVinci MIQRO-C Cons
Small oven capacity (relative to other conduction vaporizers)
Battery life may not be long enough for all users
No precision temperature control support
Unable to disable smart paths and just use fixed temps
Is the DaVinci MIQRO-C Worth Buying?
Not everyone is well suited to the MIQRO-C, but for those that are, this little vaporizer can be a welcome piece of kit to have on hand. It's easy to forget that not everyone is looking to blast through large amounts of material or wants to carry around a chunky device just to have a quick session now and then, and for those people, the MIQRO-C is quite an excellent choice.
While there are certainly some trade-offs to keep the cost down while still keeping the quality high, especially in terms of customization and more advanced functionality, such as the lack of precision temperature control, it really comes down to precisely what you are looking to get out of a portable vaporizer. Sometimes all you need is something you can trust to be ready and good to go when you need it without getting in your way, and the MIQRO-C certainly covers your bases there.