DaVinci IQ2 Carbon Review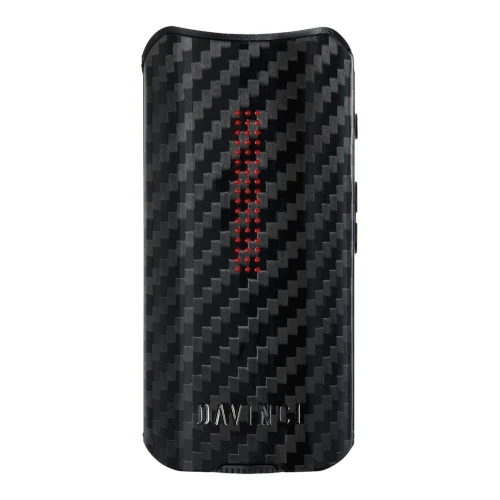 12 March 2023   •   9 min read
The DaVinci IQ2 Carbon is a limited edition refresh of the popular IQ2 vaporizer, featuring a distinctive carbon fiber shell. In this review, we'll investigate the IQ2 Carbon to help you decide if it's worth the investment.
DaVinci IQ2 Carbon Highlights
Real carbon fiber shell
USB-C charging
Extras galore
What is the DaVinci IQ2 Carbon?
The IQ2 Carbon is a limited edition refresh of the well-known portable conduction heated vaporizer, the IQ2. It is equipped with significantly faster USB-C charging, a fantastic real carbon weave shell, and a bunch of accessories packed into the box to expand your experience. If you're looking for the original IQ2 check out our complete IQ2 review.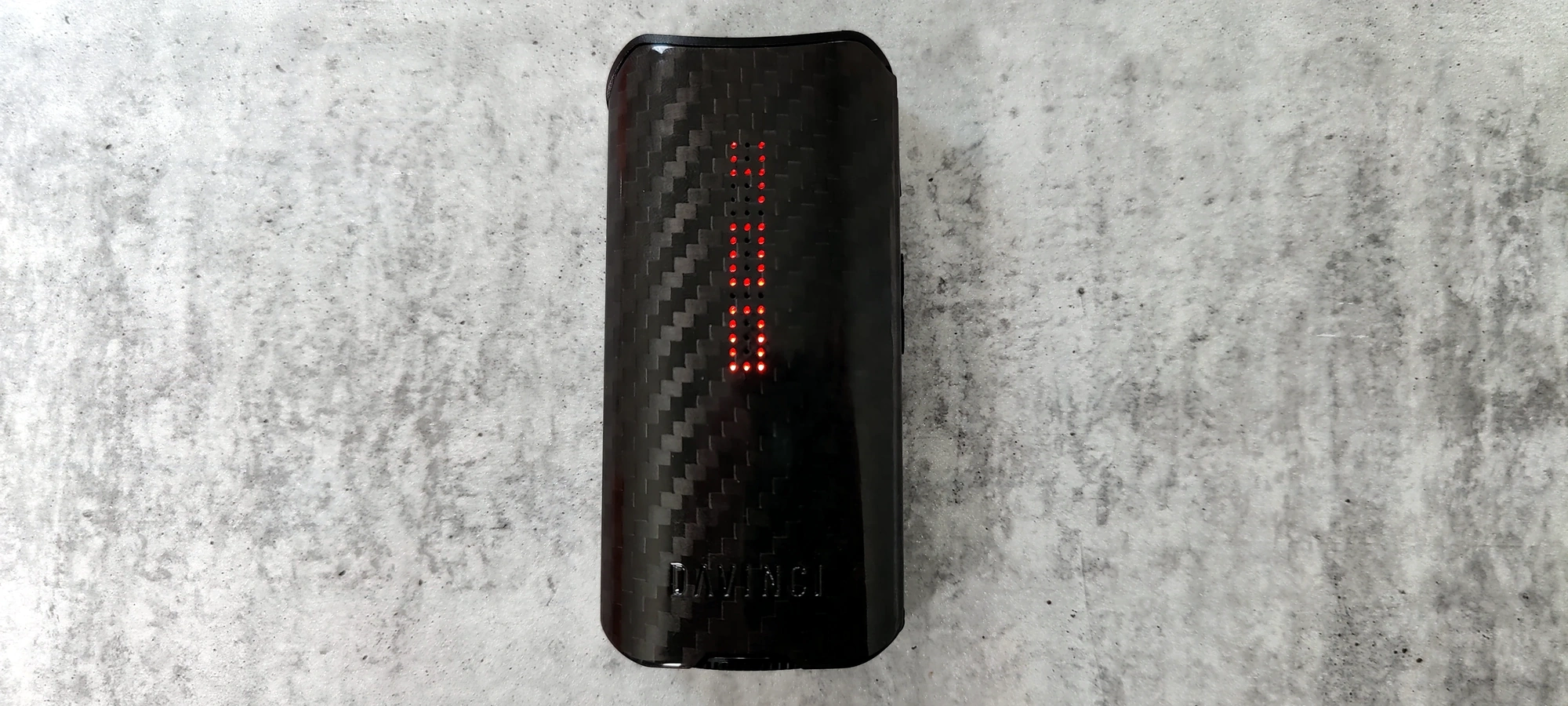 How much does the DaVinci IQ2 Carbon Cost?
Let's address the elephant in the room - the IQ2 Carbon has a hefty price tag of around $499 USD. However, when you consider the included accessories, it starts to make more sense to opt for the Carbon edition over the standard IQ2.
Although the price may seem steep, the comprehensive kit and upgraded features included in the Carbon edition may provide value to those seeking a luxurious vaporizer experience. It is undoubtedly geared towards a more upscale market, but if you're willing to splurge a little, the IQ2 Carbon may be the perfect choice for you.
While other options are available for those on a budget, if you're looking for something a little more extravagant, the Carbon IQ2 could be just what you need. In short, while it may not be the most affordable option, the IQ2 Carbon is a stylish and well-equipped vaporizer that could be a great fit for those looking for a luxurious vaping experience.
Is the DaVinci IQ2 Carbon Well Built?
The DaVinci IQ2 Carbon is a well-crafted device with an excellent design consistent with the brand's signature style. While the IQ2 Carbon's design is largely similar to the original IQ2, adding a carbon fiber shell gives it a luxurious and satisfying feel, although it is prone to fingerprints.
Regarding accessories, the IQ2 Carbon comes with several well-designed and nicely machined components. The dosing cap holder, in particular, stands out for its sleek design and satisfying functionality. While it would have been a nice touch to have a custom dosage pod holder with a carbon fiber finish included, the standard version is still an excellent addition to the kit.
The IQ2 Carbon also comes with stainless steel dosing caps, which are some of the better caps you'll come across, and a dosage grinder that can be used to fill multiple caps at once quickly. This grinder can also function as a standard grinder for those who prefer not to use the caps or just like to keep things simple.
Another noteworthy inclusion in the IQ2 Carbon kit is the Hydrotube, which feels substantial and well-made, adding to the overall high-quality feel of the device.
In summary, the IQ2 Carbon is a well-built device with a sleek design and high-quality accessories that make it a pleasure to use.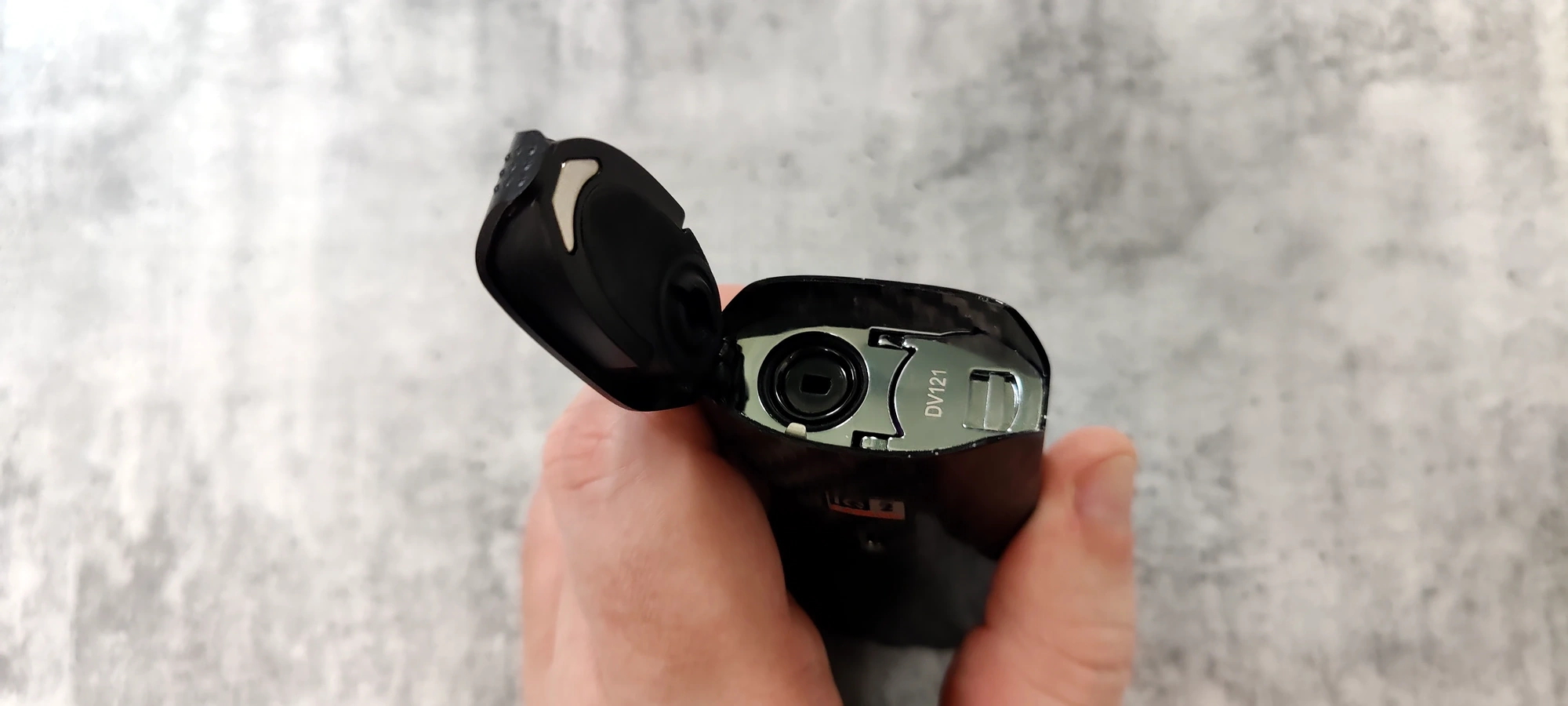 What Comes in the Box?
IQ2 Carbon Vaporizer
Battery (18650)
10mm Mouthpiece
USB Charging Cable
Ceramic Extract Disc
Pieces Organic Cotton (x9)
Alcohol Swabs (x9)
Extra Pick Tool
Dosage Pod Holder
Dosage Grinder
Hydrotube
Engraved Keychain
Stainless Steel Dosing Pods (x6)
Owners Manual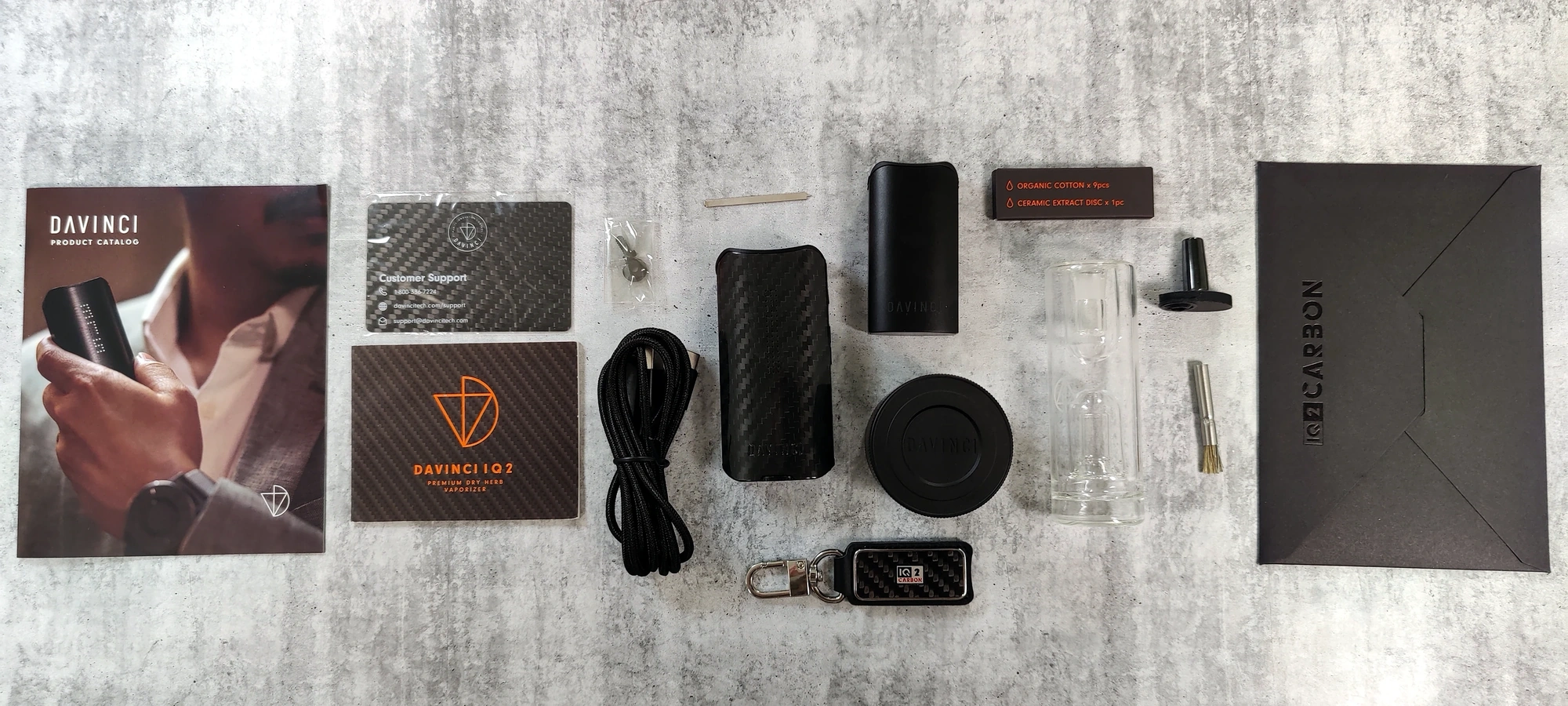 Can you use the DaVinci IQ2 Carbon with a Water Pipe?
While the IQ2 Carbon comes with a water pipe, you can also use the included 10mm mouthpiece to pair it with any other bubbler with a 10mm joint. Additionally, you can use an inexpensive adapter to connect the device to different types of bubblers (e.g. 14mm or 18mm water pieces).
The Hydrotube, included with the IQ2 Carbon, is designed to be spill-resistant and feels solid in the hand. It's perfect for those looking to take bigger hits or enjoy group sessions. However, due to its weight and the small footprint of the IQ2 Carbon, it's important to remove the Hydrotube before setting down the vaporizer, as it can cause it to topple over.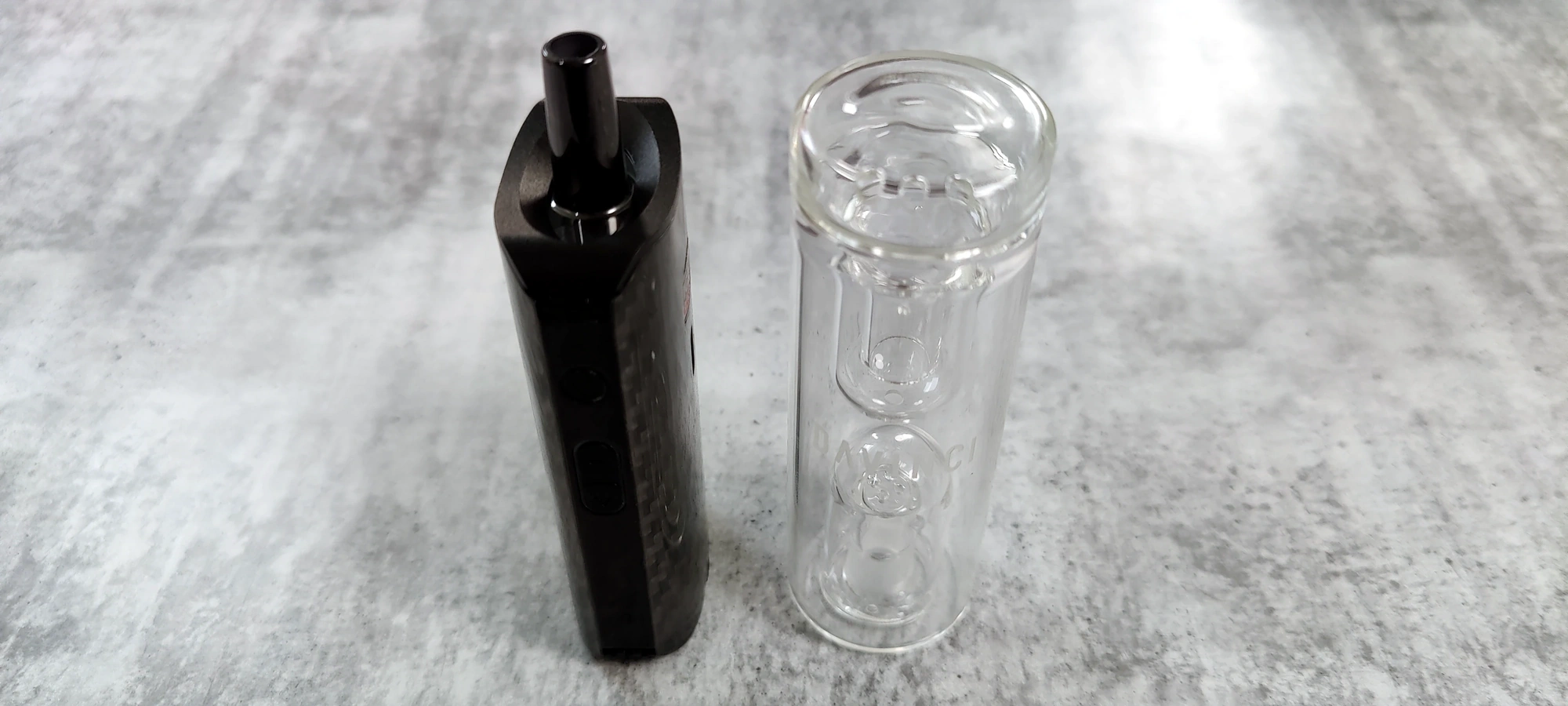 Is the DaVinci IQ2 Carbon Portable?
The IQ2 Carbon boasts excellent portability, making it easy to carry anywhere. It can easily fit into your pocket or bag, and its discreet design won't draw unwanted attention, even with the new carbon fiber wrap.
Whether you're running errands or hanging out with friends, the IQ2 Carbon is a great companion vaporizer. It's highly portable and easy to use, so that you can enjoy a relaxing vaping session on the go without any hassle. All in all, the IQ2 Carbon is an excellent choice for anyone who values portability and convenience in their vaporizer.
Does the DaVinci IQ2 Carbon have Good Battery Life?
The IQ2 Carbon features a removable 18650 battery that provides long-lasting performance for extended vaping sessions. The battery delivers around 1 hour of sustained use with a full charge. Adding USB-C charging to the Carbon edition and some changes to the charging system means that the device can now be fully charged in approximately 2 hours, a significant improvement over the 6-hour charge time required for the original IQ2.
Carrying a spare 18650 battery or two is easy for those who need extra battery life, but make sure to store them safely in a battery case. The IQ2 Carbon's removable battery, alongside the improved charging capabilities, solved one of the most significant issues of the original IQ2, which was its lengthy charge time. So when it comes to battery life, there's not much to complain about here.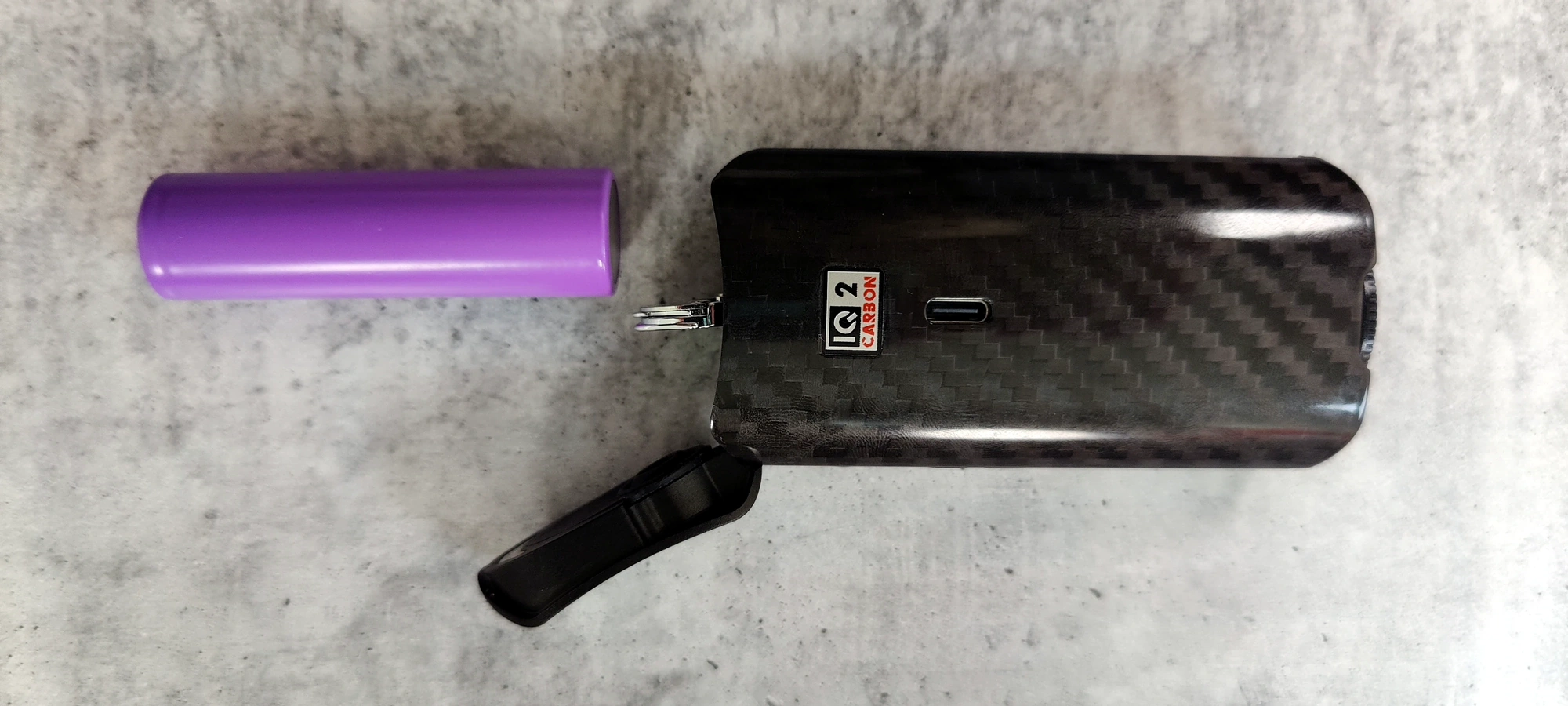 Can the DaVinci IQ2 Carbon Produce Good Vapor?
The IQ2 Carbon is a portable vaporizer that, like its predecessor, uses conduction heating. This heating method makes it more suited to sipping-style vaping, perfect for those who prefer a more relaxed, slower vaping experience.
The bottom airflow control makes it easy to find the perfect resistance and airflow for your preferred type of inhale. So whether you're looking for a relaxing session with friends or want to take bigger hits with the Hydrotube, the IQ2 Carbon's versatile design allows you to customize your vaping experience to your liking, just remember after all, it is still a conduction vaporizer, so if you're someone that just prefers convection heated vaporizers, this one might not be for you.
Is the DaVinci IQ2 Carbon Good for Microdosing?
If you're considering purchasing an IQ2 for microdosing, the IQ2 Carbon is a sensible choice over the original model. The Carbon edition comes with a dosage grinder, dosage cap case, and high-quality stainless steel dosing caps, providing an excellent experience for microdosers right out of the box.
The DaVinci app enhances the experience even further by allowing you to track your usage and, with some basic information about your material, estimated THC/CBD dosages. The Carbon IQ2 kit is an all-in-one option for microdosers, providing everything you need to get started with precise and controlled dosing.
Overall, the IQ2 Carbon is an excellent choice for those looking to enhance their microdosing experience. When it comes to these accessories, DaVinci does a great job; they don't feel cheap or come across as an afterthought, as can often be the case.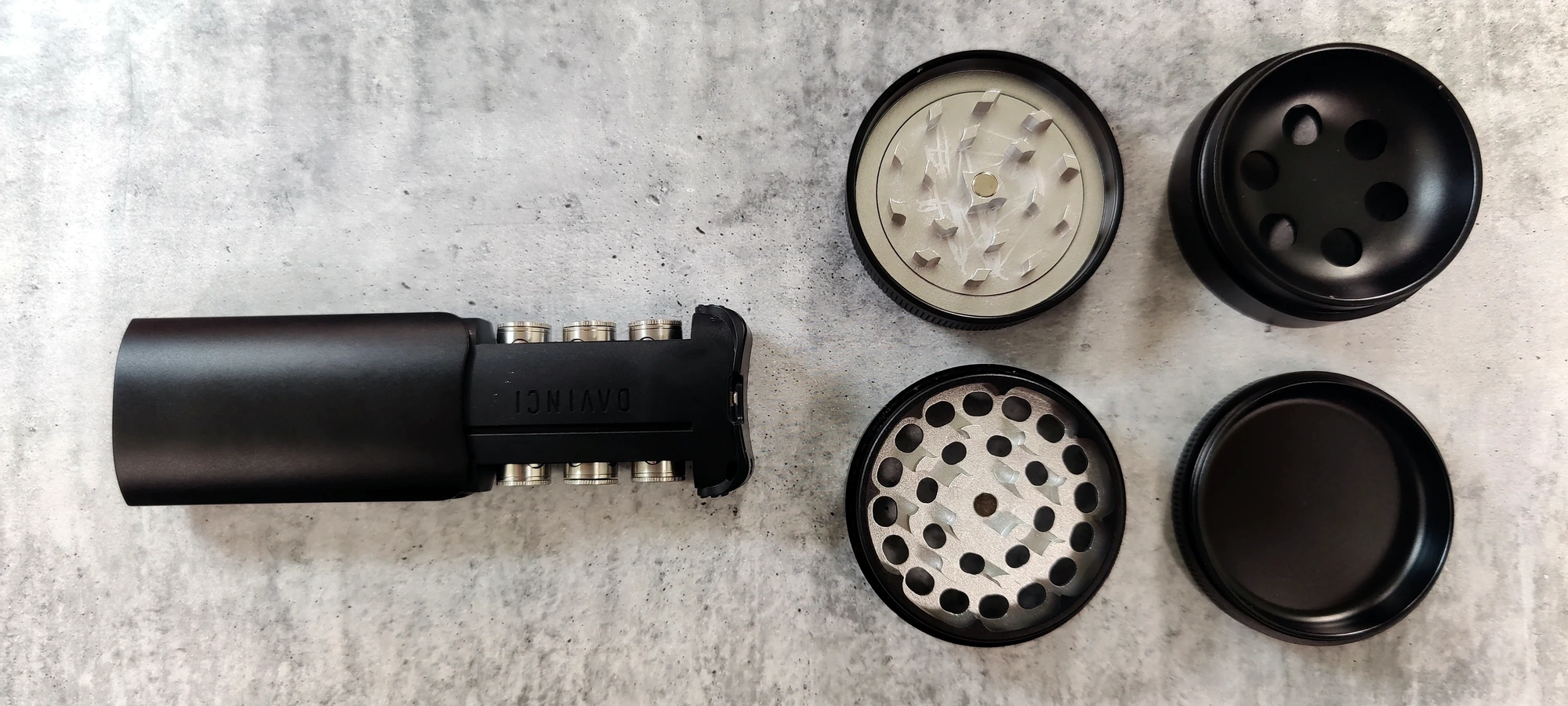 Can you use Concentrates with the DaVinci IQ2 Carbon?
While the DaVinci IQ2 Carbon is designed to work with both dry herbs and concentrates, it's important to note that it's not primarily focused on concentrate use. However, the device does come with a concentrate disc that you can insert into the heating chamber to use with small amounts of concentrates, which is a nice feature for those who enjoy occasional concentrate use.
While the concentrate support works relatively well, concentrate enthusiasts may find the device less than ideal for their specific needs. It's just important to manage your expectations and keep in mind that the DaVinci IQ2 Carbon is best suited for dry herb vaping. Nevertheless, the inclusion of concentrate support is an excellent addition that adds versatility to the device, making it a great choice for those who enjoy both dry herbs and concentrates.
Is the DaVinci IQ2 Carbon Good for Beginners?
If you're new to vaping and are okay with spending a bit more, the IQ2 Carbon might be a good choice. However, it's important to remember that the device uses conduction heating, which may not suit everyone's vaping style.
Before investing in the IQ2 Carbon, it's a good idea to try out a conduction heated vaporizer to see if it's a good fit for you. This experience will help you determine whether the IQ2 Carbon is right for your vaping needs. Overall, while the IQ2 Carbon is a high-quality vaporizer, making an informed decision based on your vaping preferences and habits is essential, especially given the high cost involved.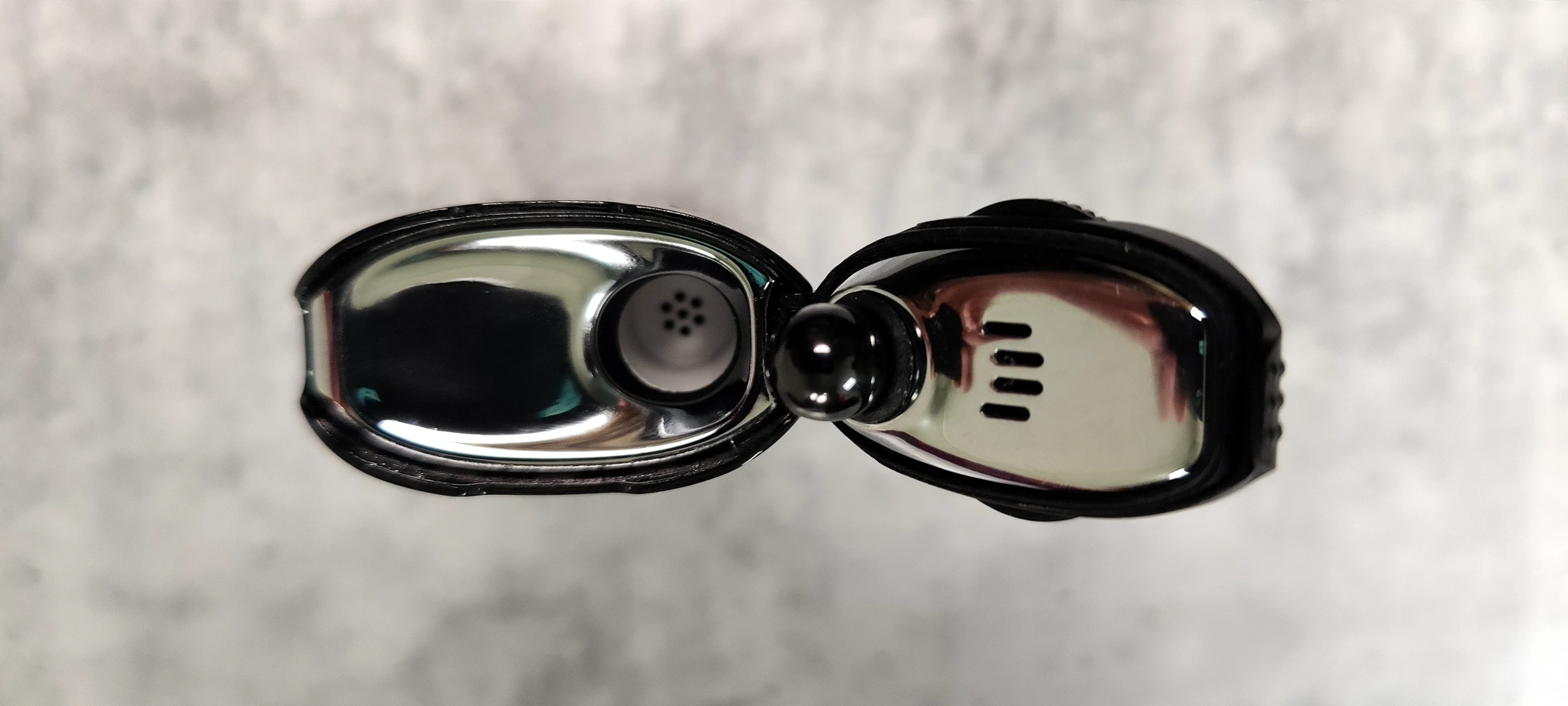 DaVinci IQ2 Carbon Pros
The carbon fiber shell looks and feels great
Included accessories provide a well-rounded experience
Faster charging than the original IQ2
DaVinci IQ2 Carbon Cons
Quite expensive
Not a huge amount to differentiate from the original IQ2
Is the DaVinci IQ2 Carbon Worth Buying?
Determining whether the IQ2 Carbon is worth buying largely depends on your personal preferences and budget. With its relatively high price point, it's important to consider both the vaporizer itself and the accessories that come with it and whether they provide enough value to you personally to justify the cost.
For some, it may make more sense to opt for the original IQ2 or even the more recently released IQC, which offers similar charging capabilities to this model. However, if the IQ2 Carbon seems like a good fit for your needs and you can comfortably slot it into your budget, it's a high-quality vaporizer with great accessories, providing a polished vaping experience.
Ultimately, it's crucial to carefully consider your options before making a purchase. Furthermore, while the IQ2 Carbon is a great device, there may be better choices for some. By taking the time to weigh your options, you can make an informed decision that will provide the best vaping experience for you.