XVape Aria Review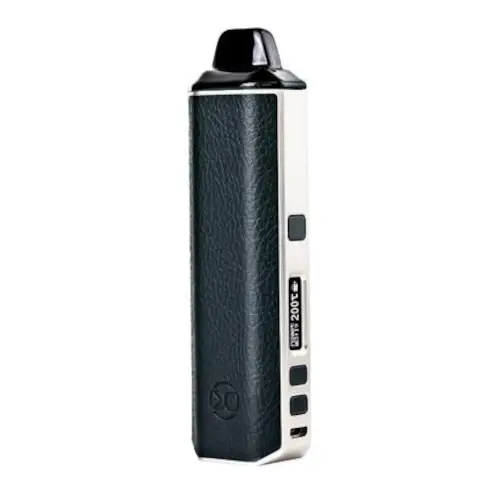 18 July 2022   •   6 min read
Have you wanted to try out a conduction vaporizer but don't want to spend a fortune? Then, the Aria might be what you're looking for in a vaporizer.
XVape Aria Features
Soft touch housing
Conduction heating
Haptic feedback
Pass-through charging
Fast heat up
What is the XVape Aria
The Aria is a portable conduction vaporizer created by XVape. It is commonly available and sold by most established vaporizer retailers.
How to Use the XVape Aria
The Aria is quite easy to use. If you can operate your smartphone, you should have no problem wrangling the Aria with a few minutes of reading the manual or just diving in and exploring.
Remove the magnetic cap and lightly pack the chamber with ground material
Put the cap back on and press the power button three times
Adjust the temperature with the two lower buttons; it will vibrate once the temperature is reached.
Once you're finished with the device, simply press the power button three times to turn it off again.
The Aria is relatively easy to use. For other minor adjustment settings, consult the included manual for guidance, but overall there isn't much to this device in terms of operation.
How much does the XVape Aria Cost?
The base model Xvape Aria costs around $79 USD. However, it can be a little cheaper if you look around, especially if you catch a good discount. Additionally, a more recently released Tommy Chong Aria kit costs $129 and comes with a much brighter design and a few extra bits and pieces.
Is the XVape Aria Well Built?
Considering the price point, the Aria is reasonably well-built. It has respectable tolerances, and everything slots together quite nicely, including the magnetic cap, which is quite nice. Of course, if you're looking for that premium luxury feel, other similar vaporizers can provide much more of that, but it's still a respectable device that's well built and feels good in the hand; it just lacks that high-end feel.
What Comes in the Box?
XVape Aria vaporizer
Micro USB charging cable
Wax cup for concentrates
4x Mesh screens for the mouthpiece
Cleaning brush
3x Some alcohol wipes
2x mouthpiece covers
Instruction booklet
XVape Aria Accessories & Consumables
Ceramic Water Pipe Adapter
Filter for mouthpiece
Dab tool
Ceramic mouthpiece
Mouthpiece screens
Silicone mouthpiece caps
Waxy cup
Is the XVape Aria Portable?
The XVape Aria is quite a pocket-friendly little device. It's flat enough it should slot nicely into most pockets and be easy to take out and on the go with you. With it only weighing around 135 grams, it won't be dragging you down either. If portability is a concern, you should have nothing to worry about with the Aria.
Does the XVape Aria have Good Battery Life?
With the built-in 2600mAh battery, the Aria can provide a good amount of run time. You can get as many as 8 sessions from a charge in the best-case scenario; more commonly, expect around half that. Additionally, USB-passthrough charging is supported via a micro USB charging port, so there's no need to worry if you're running a little low on charge, provided you've got a USB charger handy.
Is the XVape Aria Easy to Clean?
Only the mouthpiece and the chamber are likely to build up residue, so cleaning the Aria isn't much of a hassle. While it's not as easy to clean as something like the Arizer Air Max, where the vapor is passed directly through a glass tube, it's still tolerable and shouldn't be something you feel the urge to put off doing when the time comes.
How to Clean the XVape Aria
Remove the cap and take off the screen; these can be cleaned with a cotton swab dipped in isopropyl alcohol or with alcohol wipes.
Cleaning the filters is best performed in a small glass container with the screen submerged in a small amount of isopropyl alcohol. If this isn't available, you should be able to do a reasonable job with some alcohol wipes and a bit of persistence.
Clean the heating chamber with an alcohol wipe or cotton bud soaked in isopropyl alcohol. Just don't submerge the device.
Can the XVape Aria Produce Good Vapor?
The Aria can produce some great vapor. However, it's important to remember that this is a conduction vape, so it does have some caveats. The first couple of hits will be where most of the flavor is extracted, that's not to say you can't still get some very effective and pleasant vapor following this, but if you're a flavor nut, this might not be for you.
Additionally, the XVape Aria does get quite warm during use, so if you're sensitive to heat, you may find this a problem. Still, again this is something pretty typical of conduction vaporizers, especially with this one having a very short vapor path. Hence, it is expected to some degree in such a portable form factor.
Can you use the XVape Aria with a Water Pipe?
The Aria does not support using a water pipe or bubbler out of the box (unless you pick up the new edition Tommy Chong Xvape Aria). However, you can pick up an Aria ceramic water pipe adapter from the manufacturer or via other third-party retailers that stock them.
Does the XVape Aria Support Concentrates?
You can vape concentrates with the Aria thanks to its included concentrate screen. You simply place it into the chamber and add a small amount of concentrate to the screen. It's best to start small to ensure you don't put too much in you aren't able to vape it properly.
While the device supports concentrates, if you are a heavy concentrate user, consider a device more targeted at this kind of use case. However, if you like to mix things up once in a while, this shouldn't be a reason to turn you off.
XVape Aria Pros
Decent battery life
Concentrate mesh included
Fast warm up time
Pass-through charging
XVape Aria Cons
It can get quite warm
Short vapor path
USB-C would be nice
Is the XVape Aria Worth Buying?
If you're looking to jump into conduction vaporizers but want to avoid the cost of something like the PAX 3, the Aria could be a great option. Given the low price point, the device is fairly easy to consider for anyone looking for a conduction vaporizer.