Arizer Air Max Review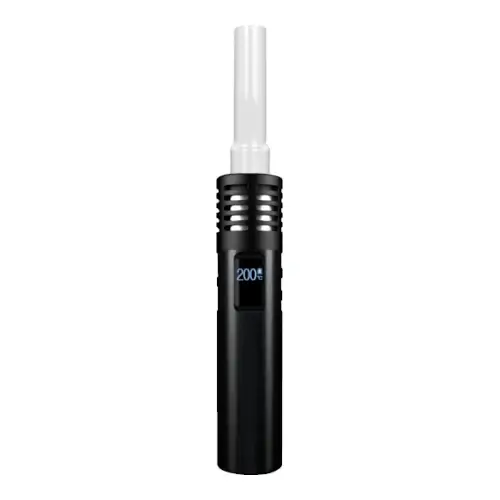 17 June 2022   •   7 min read
The third entry to the Air series of vaporizers from Arizer brings a lot of polish to an already incredible range of devices. It's time to find out if the Air Max brings enough to the table to have you upgrading or looking to this as your next portable vaporizer purchase.
Arizer Air Max Features
Replaceable high-capacity 26650 battery
USB-C charging port with pass-through charging
Glass vapor path for great flavor
Hybrid heating
How to Use the Arizer Air Max
Lightly pack or scoop your ground material into one of the included glass stems
Carefully place the stem into the top of the device by pushing it in
Hold the M and + buttons for 6 seconds to turn on the device
Adjust the temperature with the + and - buttons to your desired setting
Wait for the device to reach your preset temperature
Screens are provided with the Air Max. However, depending on your preferences and how finely you grind your material, you may find these unnecessary. If you'd prefer to use one, simply put it into your glass stem before loading it with your material.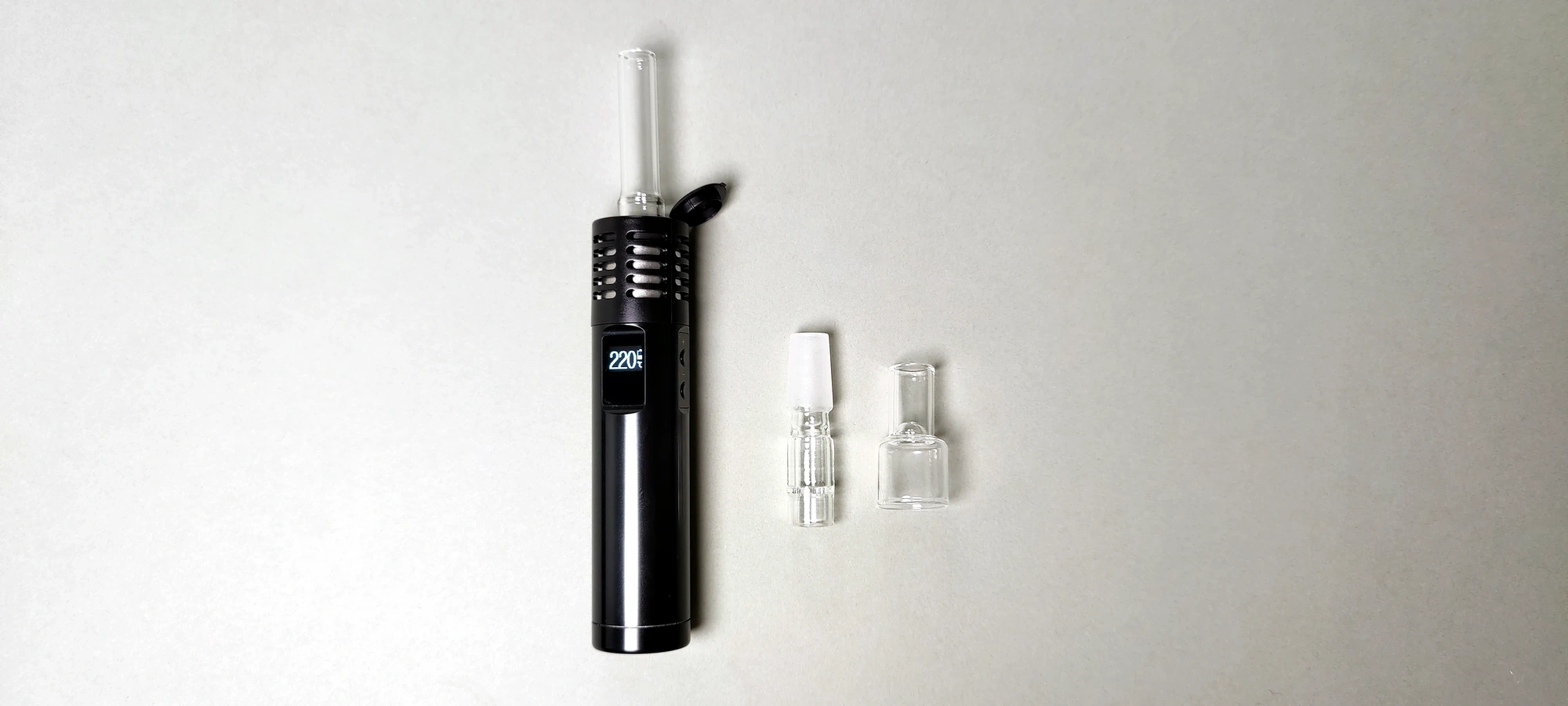 How much does the Arizer Air Max Cost?
In the USA, you can pick up an Air Max for around $200 USD for our Australian readers though you can expect to see pricing more in the range of $350 AUD, which does bring the price of this device well into the mid-range but only just.
You shouldn't have much trouble finding stock for this device. It seems to be available from most established vaporizer retailers and is in stock essentially across the board, thanks to the popularity of Arizer devices.
Is the Arizer Air Max Well Built?
While the borosilicate glass stems can be a weak point for more careless (or simply unlucky) owners that accidentally drop the device, the device itself is quite well built. As a result, it stands up to the usual quality you can typically expect from Arizer.
If you're concerned about the battery in the device being well-built, you can rest assured that it can be swapped should it start to let you down in the future. Thanks to the relatively common 26650 battery used in the device, you can pick up a replacement or spare batteries for extremely cheap. However, the battery provided with the device is perfectly fine.
What Comes in the Box?
Air Max device
26650 battery
Glass stem (7cm)
14mm Frosted glass water pipe adapter (WPA)
Mesh screens (x4)
Metal stirring tool
Travel tubes (x2)
Glass aromatherapy dish
Silicone stem covers (x2)
Power adapter
USB-C charging cable
Owners manual
Botanical sample (removed in some regions)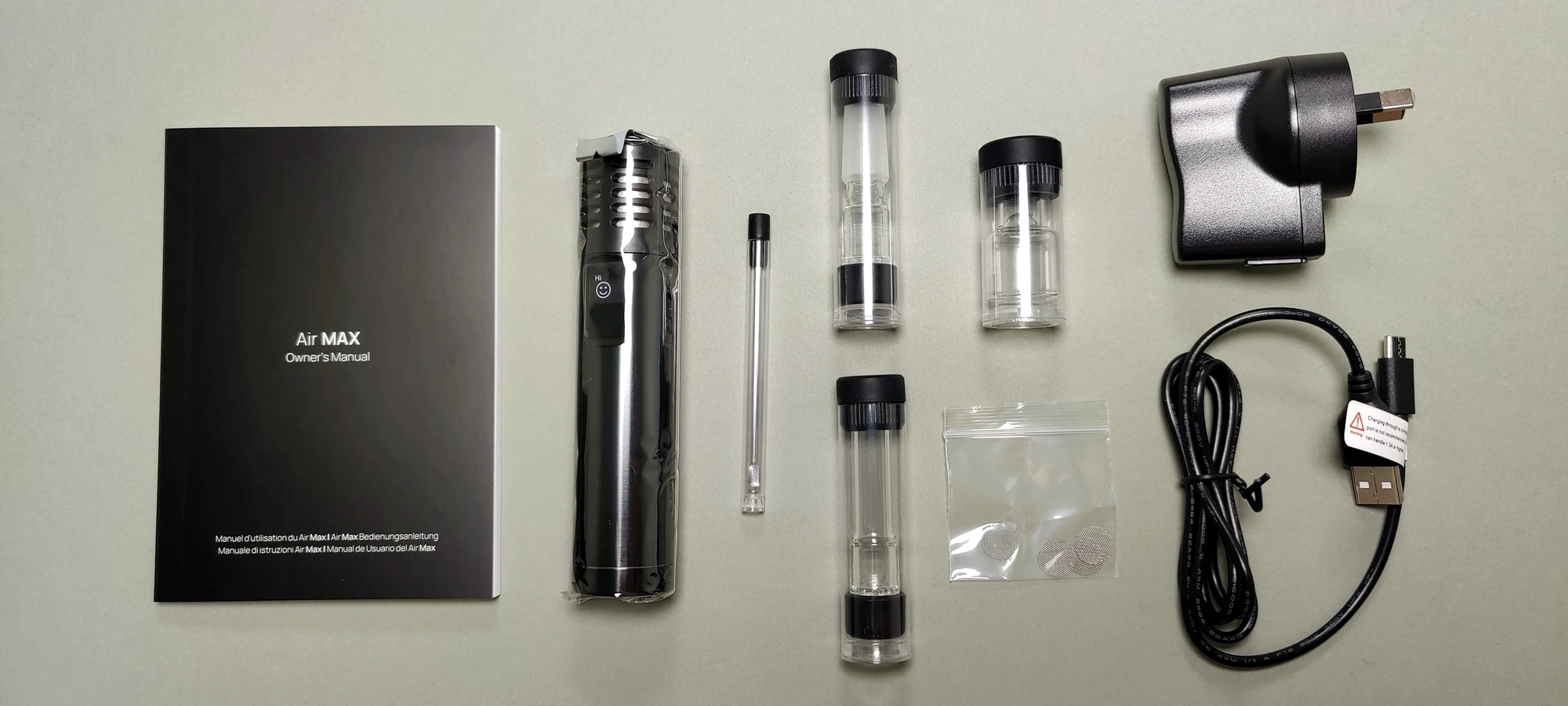 Arizer Air Max Accessories & Consumables
Stirrers, battery chargers, and other accessories less specific to this device are also available. You may also find a range of third-party accessories if you have a little dig around, but the range available from Arizer themselves is already quite broad. Also, with the device including a WPA, you're unlikely to find yourself immediately looking for Air Max add-ons. Below is a list of popular items that are available for the device.
Glass reducers and expanders
Glass aroma tube
Curved glass aroma tube
Tipped glass aroma tube
Mouthpiece tip
Frosted glass aroma tube
Glass aroma dish
Stem caps
Screen pack
Can you use the Arizer Air Max with a Water Pipe?
You can use the Arizer Air Max with a water pipe using the included 14mm water pipe adapter (WPA) included with the unit. If you need an 18mm or similar, you will need to source a new fitting or simply use a suitable adapter, as this is a common size. However, in most situations, you will have no trouble finding parts to make it work with your water pipe, provided it allows adequate clearance for the device itself when in use.
Is the Arizer Air Max Portable?
While not the most portable of devices, you shouldn't have much trouble packing up your device to take to a friend's place. However, it's not the most pocket-friendly of devices, so if you're looking for a discrete device for regular on-the-go use, maybe look at another vaporizer, perhaps even the ArGo that Arizer also makes, which may be better suited due to its form factor.
Thankfully, if you want to make this part of your portable vaping kit, the included stem caps and other containers make it quite manageable. So while it doesn't drop the ball on portability, it's just a little hard to consider it "highly pocketable" given there are a lot of alternatives that you can just load up and throw in your pocket for the day. In short, is it portable, yes! Could it do a little better in this regard? A little, sure.
Does the Arizer Air Max have Good Battery Life?
If you're looking for a device with solid battery life, you'll like the Air Max. Thanks to the hefty 26650 battery, you can expect over two hours of use from a charge. Of course, exactly how long you get can depend on how hot you are running the device and other factors. In any case, the device has a more than respectable run time and very decent battery capacity.
Is the Arizer Air Max Easy to Clean?
You can expect quite a bit of residue to begin building up in your glass stems from heavy use. However, the stems and general design ensure minimal residue is likely to build up elsewhere. Your heating chamber will start gathering a little residue, but this can be managed quite easily, especially if you regularly clean it.
Compared to other devices with complex multi-part mouthpieces that can accumulate residue in many places, the Air Max isolates most of the mess in the stem, making it very easy to clean.
How to Clean the Arizer Air Max
Separate the stem from the device if you haven't already
Using a cotton bud wet with a bit of isopropyl alcohol or an alcohol wipe, clean the walls of the heating chamber to remove any built-up residue
In a similar fashion, wipe out or rinse your glass stems with isopropyl alcohol or, in a pinch, some warm water
Ensure the heating chamber and the stem are completely dry before using the device again. It is also a good idea to run the device briefly without any material to help reduce the risk of missing a little moisture or alcohol left over from the cleaning process.
Can the Arizer Air Max Produce Good Vapor?
The Air Max produces excellent and plentiful vapor. One of the things Arizer is known for is making excellent portable vaporizers that leverage hybrid heating, and this is exactly what you'll experience yourself when using the device. While vaporizers utilizing conduction heating often struggle with limited airflow, this isn't something you're going to experience with the Air Max due to the mixed hybrid approach.
Can you use Concentrates with the Arizer Air Max?
You can't use concentrates or extracts natively with the Air Max. However, if you're just looking to occasionally add a small amount of concentrate with some ground material, you shouldn't have much of a problem. Just be sure to include enough material to safely absorb the concentrate to avoid it falling through the chamber into other parts of the device.
For those wanting a device for regular concentrate or concentrate-only use, look elsewhere, there are plenty of options out there, but this just isn't the best one for you.
Is the Arizer Air Max Worth Buying?
If you crave battery life and are looking for a reasonably portable conduction vaporizer that produces great vapor and even includes water pipe support out of the box, the Air Max might suit you well. While it was a little more expensive at launch, the average price has reduced slightly, making it a more appealing purchase.
If you've used an Arizer device in the past, or you're looking to upgrade an older model with something new, the Air Max could be excellent for you. However, if you're looking to get the most bang for your buck, there are other options to consider, but if you can catch this one on sale for a decent discount, you might just get yourself a steal on an excellent mid-range conduction vaporizer.
Arizer Air Max Pros
Glass vapor path results in clean & tasty vapor
Massive battery life with USB-C charging
Easily replaceable/swappable batteries
Arizer Air Max Cons
Glass stems can break with a bit of misadventure
Portable but not pocket-friendly
Slightly more appealing when it's on-sale