Sticky Brick OG Brick Review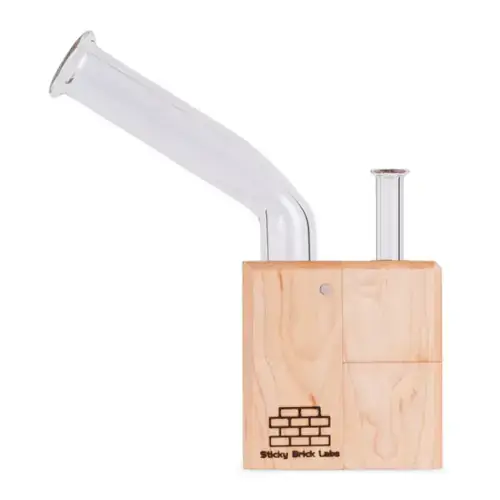 26 November 2022   •   9 min read
The OG Brick offers an intriguing alternative to electronic vaporizers and boasts a wonderfully simplistic design, but does this result in an excellent vaping experience? Let's find out.
Sticky Brick OG Brick Highlights
Pure on-demand convection vapor
Made from high-quality wood in the USA
No batteries needed
What is the Sticky Brick OG Brick?
The OG from Sticky Brick Labs is an on-demand analog vaporizer that has all the class that comes with high-quality wood and small-batch craftsmanship. It is made in the United States from a range of fantastic woods. Instead of being powered by electronics, as is the case with most vaporizers, Sticky Bricks produce vapor by heating your material indirectly with a butane-powered torch.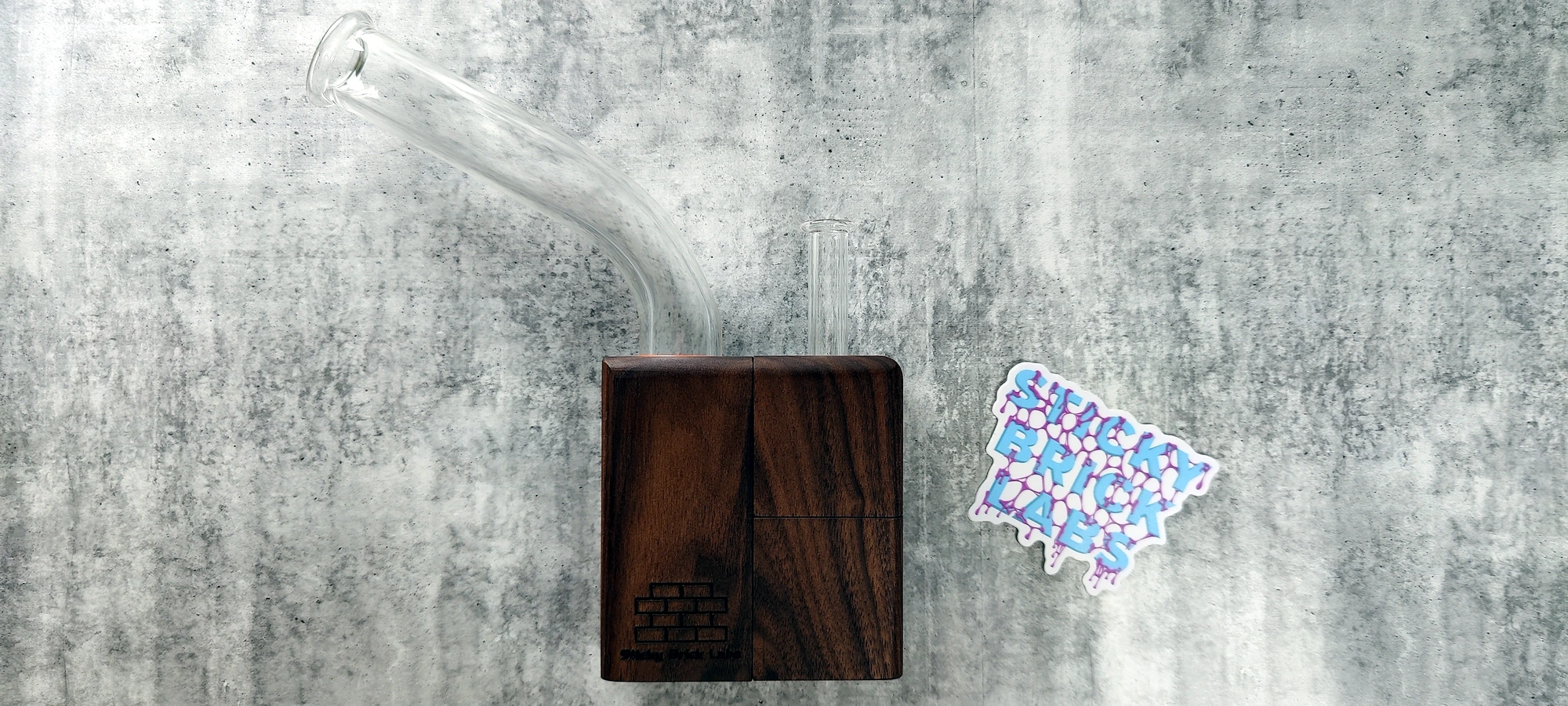 Using the Sticky Brick OG Brick for the First Time
The first time you use a Sticky Brick, you can expect a little taste from the natural wood to cross over into your vapor. Still, it's not overwhelming and more akin to breaking in an old-fashioned wooden pipe than anything you're likely to find unpleasant.
When getting ready to vaporize your first load, it's easy to get a little nervous about combusting, but the included restrictor disk makes things much more forgiving. By keeping your torch flame to around one inch in length and not being too aggressive, you'll quickly start to get some tasty vapor production. After a session or so, you'll begin to get a feel for how inhalation speed and other variables affect the experience.
Using the OG Brick for the first time is a rather fun experience. It's really nice to see what the device is capable of, and it's somewhat surprising how a relatively simplistic design like this can perform quite well off the bat and even better once you spend some more time with it.
Loading the Sticky Brick OG Brick
To get the OG Brick loaded up and ready for use, it's just a simple matter of removing one of the blocks held by magnets to expose the bowl and loosely loading it with ground material. The OG Brick can comfortably fit around 0.3 grams of material in the chamber; you can use less, but for the best results covering the screen is ideal even when using small amounts. Once loaded, place the block back into position, and you're good to go. Avoiding excessive packing helps promote good airflow and even vaporization, as does staying below the inner ledge, which will help prevent overfilling the chamber. As the screen is a reasonably fine mesh, you can use a rather fine grind if you wish, but a medium grind is best suited to the OG Brick.
What Comes in the Box?
Sticky Brick OG Brick Vaporizer
Replacement Screens (x6)
Illuminated Tweezers
Torch Lighter
Cork Plug (x2)
Stirring Tool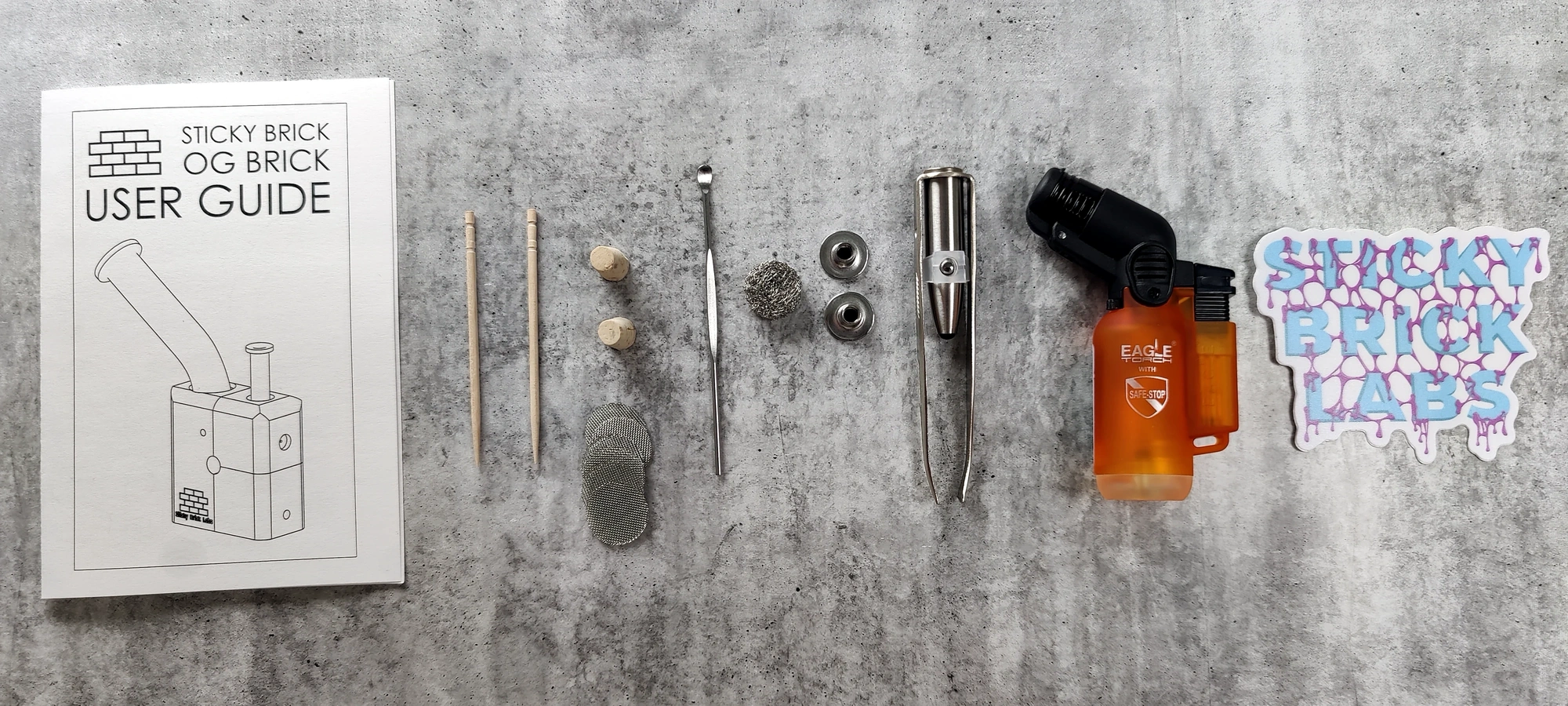 How much does the Sticky Brick OG Brick Cost?
You can pick up the Sticky Brick OG Brick for around $180 USD. While not the cheapest vaporizer on the market, it's one that has no electronic parts that can fail and, with a bit of care, can last you years. The most significant danger to your OG Brick is yourself if you manage to drop it and break one of the glass pieces; beyond that, if you keep it clean and wax the wood from time to time, this thing could certainly pay for itself a few times over.
The price is reasonable for an American-made vaporizer that leverages high-quality wood and decent-quality glass and shouldn't put you off grabbing one of these beautiful vaporizers. Furthermore, there are also cheaper Sticky Brick models that are similar in design, so you could always check out the rest of the Sticky Brick range if you're looking for something a little more budget-friendly.
Is the Sticky Brick OG Brick Well Built?
The design and build quality of the OG Brick is excellent. The edges are smooth, and the cuts are precise, making it a joy to look at. It really is a wonderful-looking vaporizer that would mesh well aesthetically with high-end furniture.
One thing to pick it that was a tiny issue with the device we tested was the mouthpiece was bent a little too low, and while it still sealed and worked fine, due to this, it was a bit too easy for the o-ring to slip out of place if you were adjusting the mouthpiece's position. However, this was likely just a quirk with this individual unit, and it didn't affect the performance; it was a minor gripe at most.
The magnets that hold the various blocks together feel strong, and everything snaps together in a pretty satisfying way. The glass looks and feels of good quality, and it doesn't appear to be mass-produced or overly thin, so it should hold up pretty well to everyday use. The OG Brick is a nicely made device that is also a joy aesthetically if that's something you value.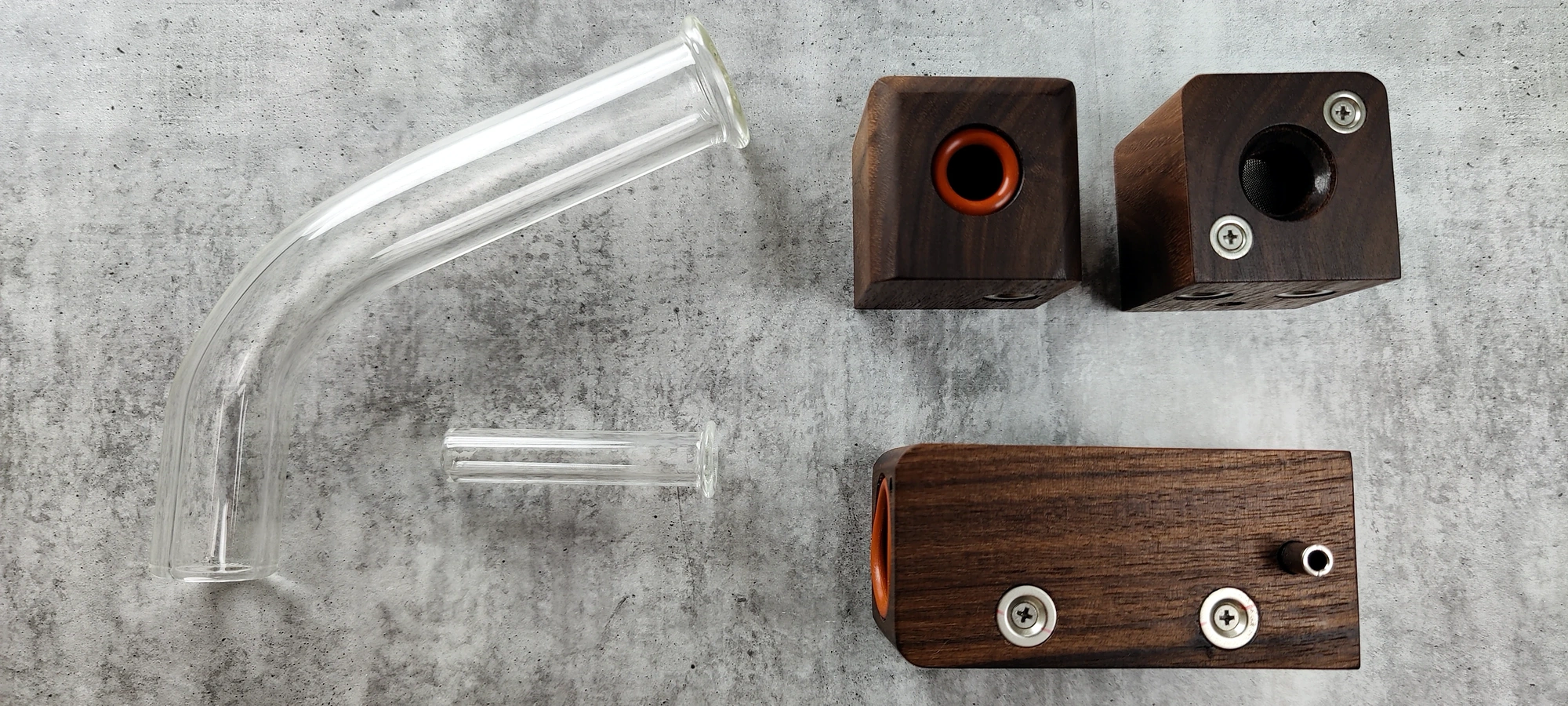 Can you use the Sticky Brick OG Brick with a Water Pipe?
While out of the box, the OG Brick doesn't provide water pipe compatibility, you can purchase a Hydro Add-On that allows you to use your OG Brick with your favorite water pieces. Additionally, other models in the Sticky Brick lineup provide or focus on water pipe compatibility. As such, you may find some different variants more suited to your needs if this is a crucial priority for you.
Is the Sticky Brick OG Brick Portable?
You won't be fitting the OG Brick in any of your pockets, but you can easily put it in a bag, chuck it in your car, or do just about anything else you could do with something like a small waterpipe. Provided you aren't too rough with it, the OG should travel reasonably well and makes a relatively easy device to take to a friend's house or anywhere else. Especially given it lacks a requirement for electricity. It will even make an excellent camping buddy if that's your kind of thing, as all you'll need is your OG Brick, a torch, and some material to vape.
Can the Sticky Brick OG Brick Produce Good Vapor?
The Sticky Brick can produce some exceptional vapor with its pure convection heating. While you may find a bit of a learning curve to get the precise results you are looking for, once you do, you'll find yourself getting into a pleasant grove with this vaporizer. You can take some absolutely face-melting hits once you get confident using the OG Brick, so if you're worried about getting the most out of your material, you certainly can with this Sticky Brick.
Is the Sticky Brick OG Brick Good for Microdosing?
Due to the way Sticky Bricks operate, they are an interesting choice for those looking to microdose. While most electronic vaporizers retain a lot of heat, resulting in your bowl staying hot when you turn it off after a partial session. In comparison, the OG Brick enables you to take quick hits whenever you like without your session cooking away and reducing the quality of the remaining material. So for those that enjoy taking it slow, there's nothing to stop you from loading up your OG Brick and just taking a hit as you please throughout the day.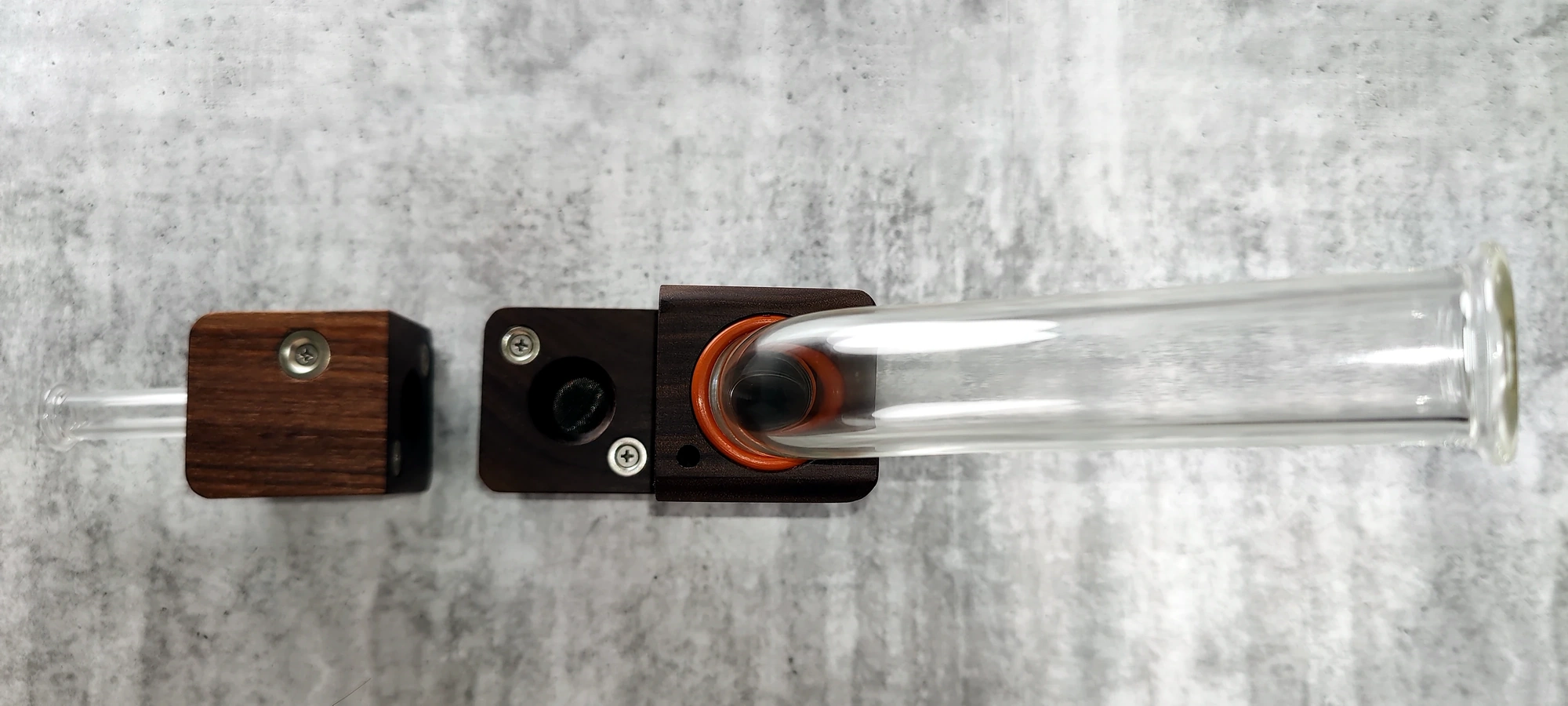 Is the Sticky Brick OG Brick Easy to Clean?
While when cleaning a vaporizer, you usually go straight for the isopropyl alcohol, that's not what you want to do here. Removing and cleaning the glass parts of the OG Brick with alcohol is fine, but the wood should be treated with a little more care and only cleaned with a damp cloth, pipe cleaner, or similar. Essentially, the wooden portions of your Sticky Bricks are best treated as you would a traditional wooden pipe, delicately and with just a little water and friction.
Can you use Concentrates with the Sticky Brick OG Brick?
A concentrate pad is included with the OG Brick that enables using small amounts of concentrates with the device. While Sticky Bricks are better suited for dry herb use, you can absolutely use concentrates with them. If you don't mind a slightly slower vaporization than a typical concentrate-focused device, you can still have a great time using concentrates with the OG Brick.
Is the Sticky Brick OG Brick Good for Beginners?
Analog vaporizers somewhat live and die by preference, but if you're someone that enjoys that more hands-on aspect of a device like this, you should take to it quite easily. Likewise, suppose you are coming from combustion. In that case, you'll likely find it a fairly easy transition as it has a similar routine to many things you'll already be familiar with. Many people find it hard to give up those rituals, and here you don't really need to; it's a little different, but there's a lot of overlap.
Sticky Bricks are easy to use in the general sense. Still, you can expect to spend a little time getting your approach just right to produce the sort of vapor production you are looking for, and it's not an unpleasant experience experimenting to find what works for you.
Overall, absolutely the OG Brick is a good choice for someone looking to move to a vaporizer but want's something that doesn't lose that manual approach that commonly comes with many approaches to traditional combustion.
Sticky Brick OG Brick Pros
Excellent craftsmanship
Fantastic for microdosing
It's a battery-free vaporizer
Strong magnets
Wonderful wood
Sticky Brick OG Brick Cons
No spare o-rings included
A curved intake would have been nice
Minor mouthpiece issue on the tested unit
Is the Sticky Brick OG Brick Worth Buying?
For those of you that can't live without things like precision temperature control, analog vaporizers like the OG Brick won't likely be for you. However, for just about everyone else, the OG Brick is an excellent vaporizer that provides an exceptional experience once you get familiar with it. So if you're looking for a showpiece or an everyday driver, the OG Brick could fit the bill, and we certainly recommend checking out the Sticky Brick range in general. The OG Brick is an excellent place to start if you haven't explored analog vaporizers yet, and for those that have, you'll likely love this as well.