XMAX Starry V3 Review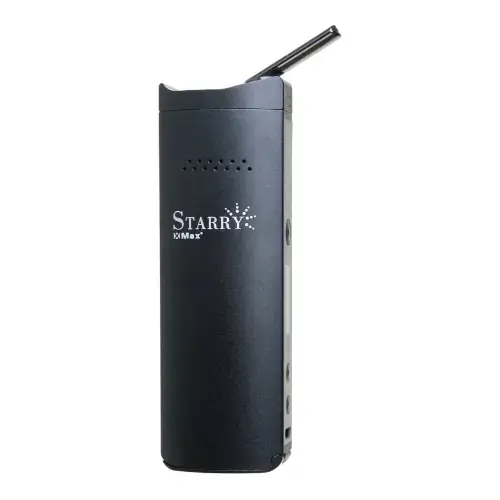 5 December 2022   •   9 min read
Are you looking for a portable conduction vaporizer that is easy to use and affordable? Perhaps the XMAX Starry V3 could tick enough of your boxes to make it a worthy contender.
XMAX Starry V3 Highlights
Zirconia mouthpiece
Replaceable 18650 battery
Conduction heating
Haptic feedback
What is the XMAX Starry V3?
The Starry V3 is a portable conduction vaporizer from XMAX (TopGreen) that is relatively affordable with its budget-friendly pricing. It's quite widely available and should be easy to source in most regions. You can also find white-label versions of this device, which tend not to stray much from the original.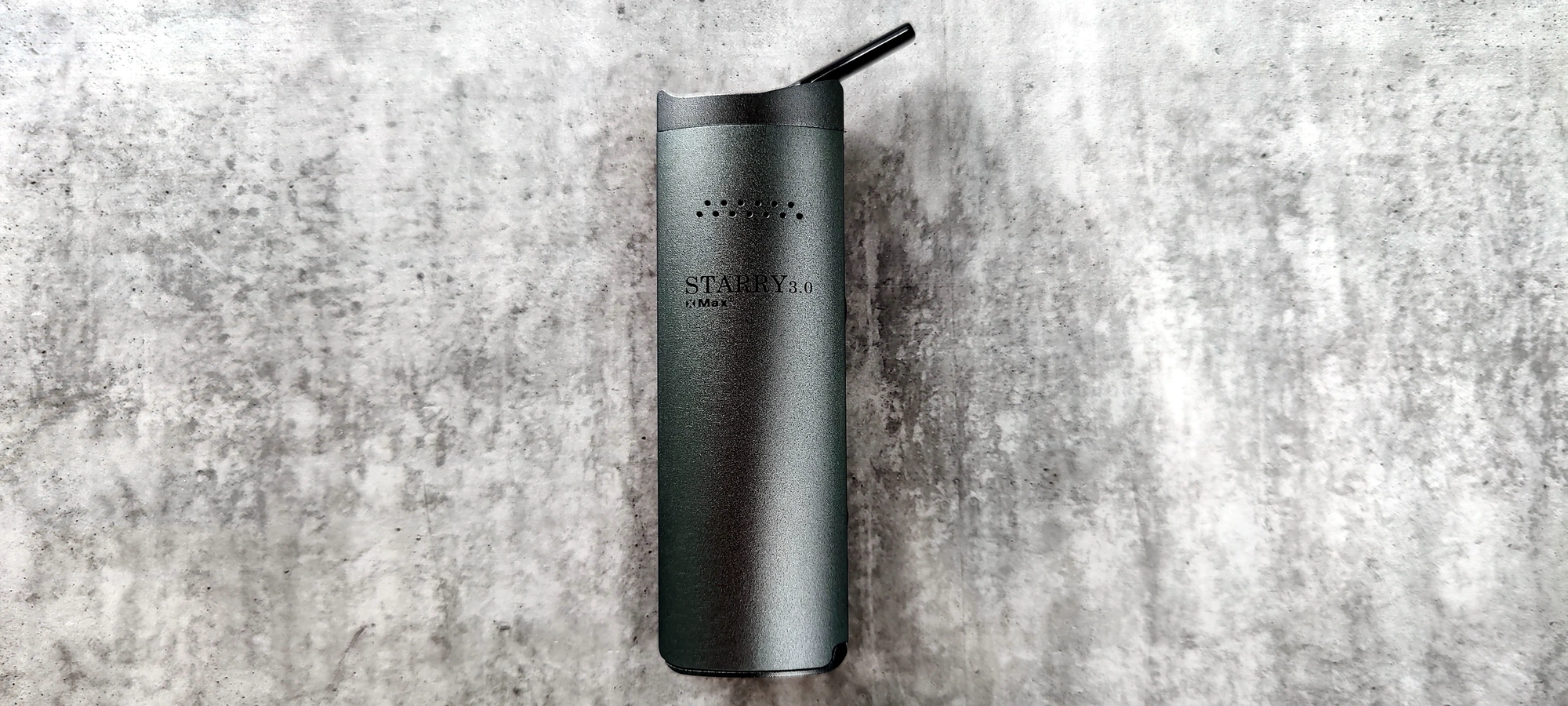 Using the XMAX Starry V3 for the First Time
When you first pick up the Starry, getting it up and running is straightforward. Load up the chamber, hold the power button for 5 seconds, and it'll turn on, ready to go. When the device is turned on, the desired temperature can be set with the other two buttons. It's a very easy-to-operate vaporizer; once you spend five minutes with it, you'll have no problem getting the hang of it. The haptic feedback is a nice addition to let you know when it's reached temp or turning off, but it certainly isn't the nicest sounding vibration; still, it's better than nothing. Heat-up is no problem at around thirty seconds to reach temp, so there's nothing to complain about here in that regard either.
Loading the XMAX Starry V3
Packing the chamber in the Starry V3 is quite easy, thanks to the mouthpiece being held in place with a magnet. Just remove the mouthpiece, fill the chamber with ground material (a medium grind works best), and replace the mouthpiece. Avoid overpacking the chamber to ensure sufficient and even airflow for consistent vaporization, but it's also best to avoid using smaller amounts as conduction vaporizers like the Starry responds best to the material being in full contact with the walls of the oven.
How much does the XMAX Starry V3 Cost?
At around $100 USD, the Starry is reasonably priced. Competition at this price point is increasing, so when looking at the cost of the Starry, it's hard to get excited by the price, but it's certainly not a bad thing to have another option that is more approachable to those on a budget.
Is the XMAX Starry V3 Well Built?
When it comes to devices in this price range, you can't expect a premium product, but you still should expect a device produced with a reasonable level of quality, and that's what you get here. The design is relatively simple but practical, and the materials are pleasant but lack that premium polished aesthetic.
Overall, the device is fine, and the materials (at least those visible) seem decent enough for what you're paying. The aluminum shell isn't bad either and is always nice to see, as opposed to the plastic that many budget devices heavily rely on for housing.
What Comes in the Box?
XMAX Starry V3 Vaporizer
Micro-USB Charging Cable
Chamber Screens (x2)
Mouthpiece Screen
Mouthpiece O-Ring
Mouthpiece Silicone Cap
User Manual
Cleaning Tool
Wax Cup
Spoon
Brush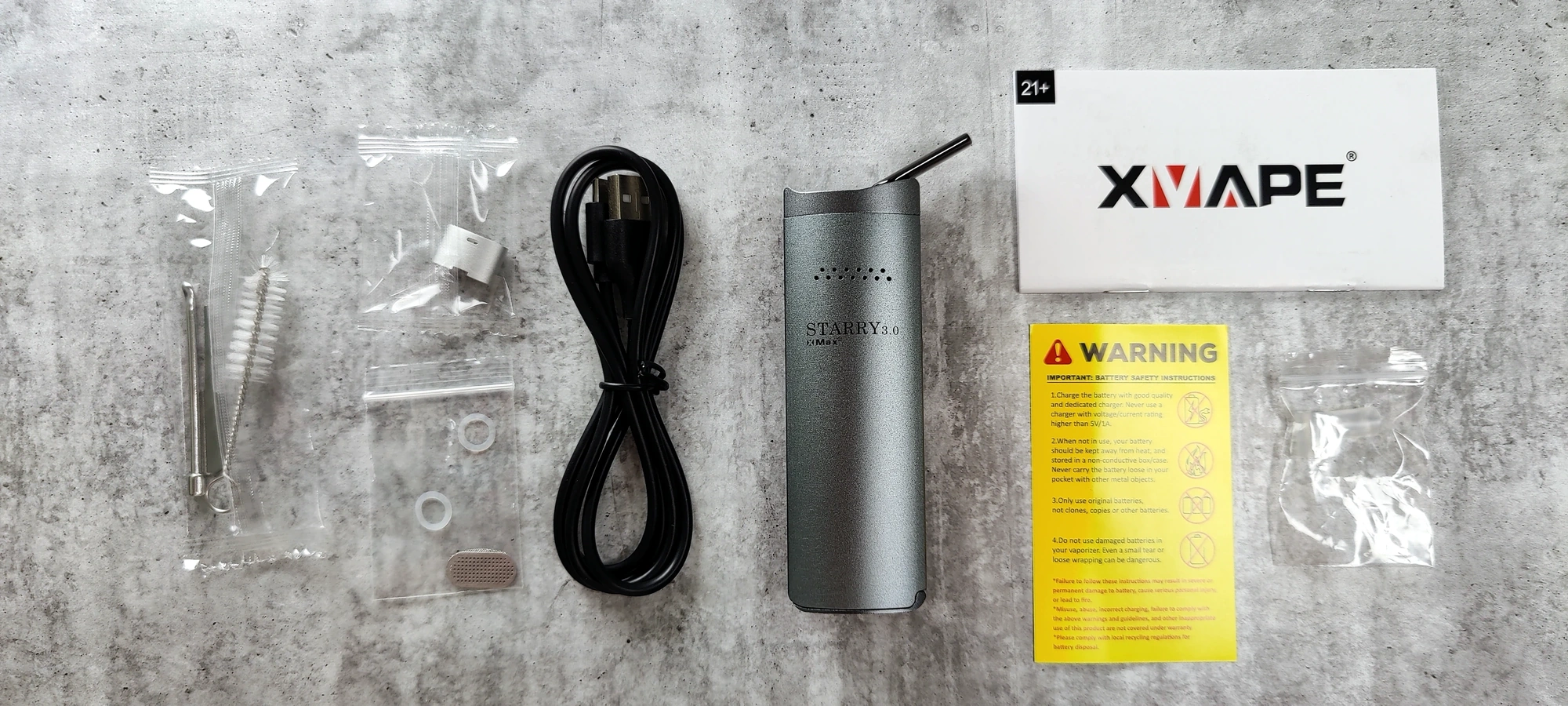 Can you use the XMAX Starry V3 with a Water Pipe?
Out of the box, the Starry is not compatible with waterpipes. However, a water pipe adapter is readily available. So if you're looking to pair this with your bubblers, it's worth picking one up. While a vaporizer like this isn't incredibly well suited to being used with a water piece, it helps reduce the harshness that can occur when using this vaporizer at higher temps.
Is the XMAX Starry V3 Portable?
The Starry is quite portable, and the mouthpiece can easily be rotated out of the way to make it nice and pocket friendly. With a bit of discretion, you can easily get away with using this one in public without drawing unnecessary attention to yourself, at least unless someone catches a whiff of something interesting. It's not super heavy, and its form factor makes it a winner for portability, you should have no trouble slipping this one into a bag, pocket, or just about anywhere else you may want to stick it.
Does the XMAX Starry V3 have a Good Battery Life?
One of the big things that the Starry does right is providing a removable 18650. So not only can you pack a couple of spares for a trip or a busy day, but it also makes it easy to replace the stock battery with a higher capacity and more premium option (visit a reputable vape store for some suggestions on this). The option to remove and replace the battery really does provide a lot more longevity for vaporizers, especially given that's the first thing that often starts to go on older vapes.
With the provided battery, you can get a decent amount of use from a full charge, and you should clear an hour of use without a problem. So if you're quick with your sessions, you should manage to get several out of a single charge. The battery is charged via micro USB, which, while not the most modern option, is palatable and should be pretty easy to find a spare in your junk drawer if you manage to lose the included charging cable. Charge time is also reasonable at 90-120 minutes.
Is the XMAX Starry V3 Easy to Clean?
The chamber is easily swabbed with a q-tip dipped in isopropyl or an alcohol wipe. However, the mouthpiece can be a little more fiddly to get into some of the smaller sections. Nothing too problematic; it can just be a little challenging to get the mouthpiece thoroughly cleaned out.
Can the XMAX Starry V3 Produce Good Vapor?
If you like casually sipping warm vapor, you'll find yourself at home with the Starry. Given the temperature range ramps all the way up to a level that can result in combustion, you can certainly push things to the limits of what's possible with a conduction vaporizer. Still, at hotter temperatures, the vapor can start to get quite harsh and isn't well-tamed by the mouthpiece at these levels.
At lower temps, you can produce some rather decent vapor. However, the lowest temps are a bit redundant with how low they are in terms of being able to vaporize active components of your material. You could probably use them for decarbing small amounts of material in a pinch, but it's not a really practical use case. However, it's not like having too many options is bad; in this case, it's just important to have a basic understanding of viable temperatures to make the most of this vaporizer.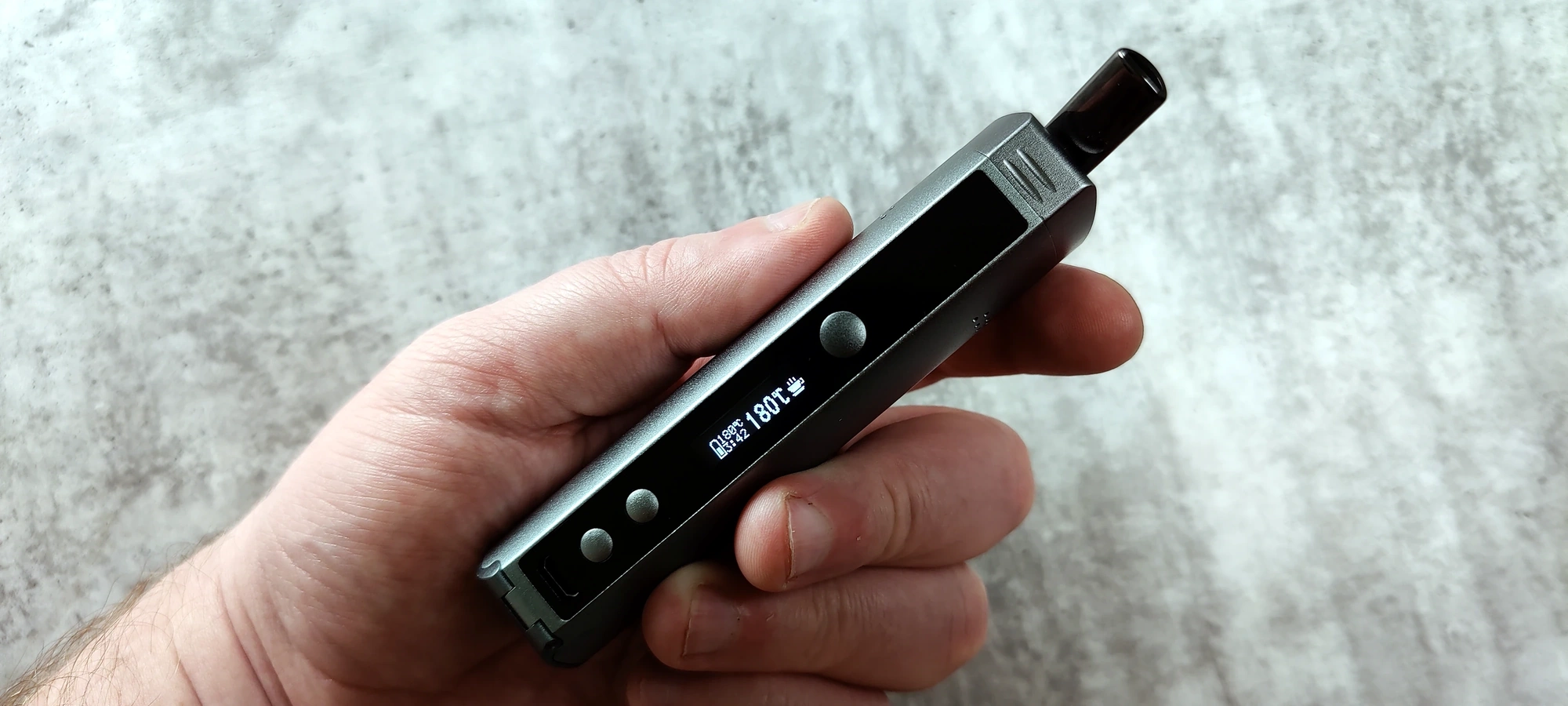 Is the XMAX Starry V3 Good for Microdosing
Even though the Starry is certainly more for the "sippers" than the "rippers", it's not overly well suited to microdosing. When in use, the device can get rather warm at times, and the chamber seems to retain quite a bit of heat, making it challenging to enjoy part of a session and return to it without it getting a little worse for wear in the meantime.
Suppose you're someone coming from a slower form of combustion. In that case, you'll probably like a conduction vaporizer like this, but there are certainly better options if you're looking to use very controlled small amounts. Some conduction vaporizers manage to pull this off a little better than others, but it's hard to justify the Starry as a microdosing option. However, it would perform well for using larger amounts of milder material.
Can you use Concentrates with the XMAX Starry V3?
A wax cup is included with the Starry. However, like most vaporizers that primarily support dry herbs, it's a bit of an afterthought. If you find yourself using concentrates regularly or have a dedicated concentrate vaporizer, you probably won't find yourself taking advantage of it. On the other hand, if you only use concentrates once in a while, this should do the job, but again it's not going to compete with a device built with concentrate use as the focus.
Is the XMAX Starry V3 Good for Beginners?
If you're just making a move to vaporizers, this isn't going to blow your mind, but if your budget is pretty tight and you're looking for something that leverages conduction heating, it's not a terrible option if you can pick it up for a good price. If a friend picked one of these up from a local store to check out vaping, you shouldn't be too concerned, and it may just get them on a path to more adventurous options after spending a little time with it. However, at a similar price point to the rather popular XMAX V3 Pro, it's hard to recommend the Starry over it unless there's a clear preference for conduction over convection.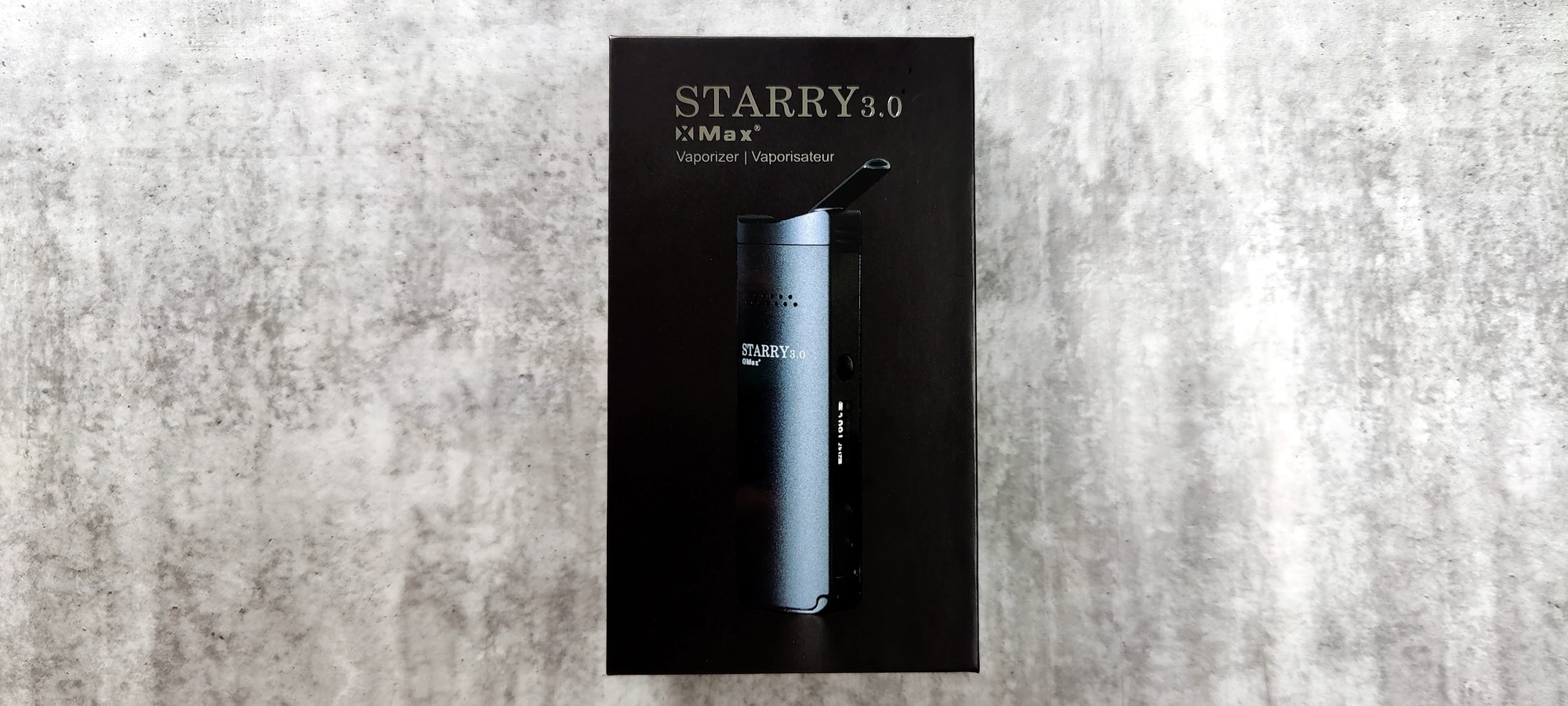 XMAX Starry V3 Pros
Reasonable pricing
Zirconia mouthpiece
Strong magnetic mouthpiece
Capable of thorough extraction
Replaceable 18650 battery
XMAX Starry V3 Cons
It gets a little too hot during use
The temperature range isn't ideal
It can be harsh at higher temps
Is the XMAX Starry V3 Worth Buying?
When looking at the Starry V3 Pro, it's easy to find yourself thinking about competing options. A growing number of devices around this price point (even some from the same manufacturer) make it hard for the Starry to stand out from the crowd. However, it's hard to fault too much at the price point. It produces pretty strong vapor, warms up quite quickly, has a replaceable battery, and even sports a nice zirconia mouthpiece which you don't often see at this price point.
The main thing that lets it down is how warm it gets at higher temps, especially at its highest setting, though it's hard to say if this is primarily due to the housing being metal and absorbing a lot of heat as opposed to anything actually concerning.
If you've got some spare cash or catch this thing on sale at your local vaporizer store and want to check out a conduction portable, you won't be too mad you picked it up; just don't expect a high-end experience.