G Pen Hyer Review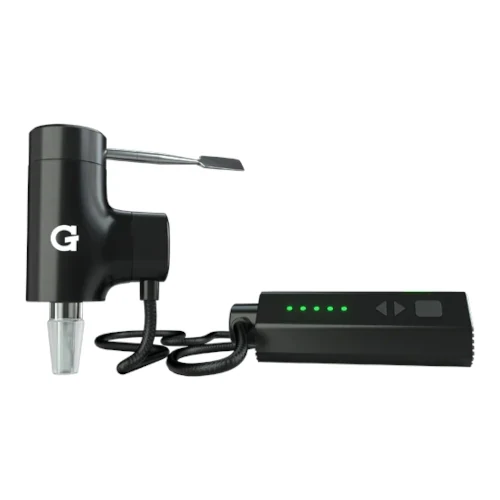 20 November 2022   •   13 min read
Suppose you're looking to pick up a new e-rig but don't like being locked into the water piece that is often built into the unit, or you simply don't want to give up your glass collection just to switch to vaping. In that case, the Hyer could be just what you are looking for to explore both dry herbs and concentrates.
G Pen Hyer Highlights
Pair with almost any glass
Massive battery capacity
Full quarts chamber
Optional dry herb support
What is the G Pen Hyer?
The G Pen Hyer is a dual-use vaporizer from the team over at Grenco Science that supports concentrates out of the box and dry herbs when paired with an optional atomizer that can be purchased separately. It can be paired with essentially any glass that has a 14mm female adapter. Additionally, 10mm and 18mm pieces are supported via optional adapters.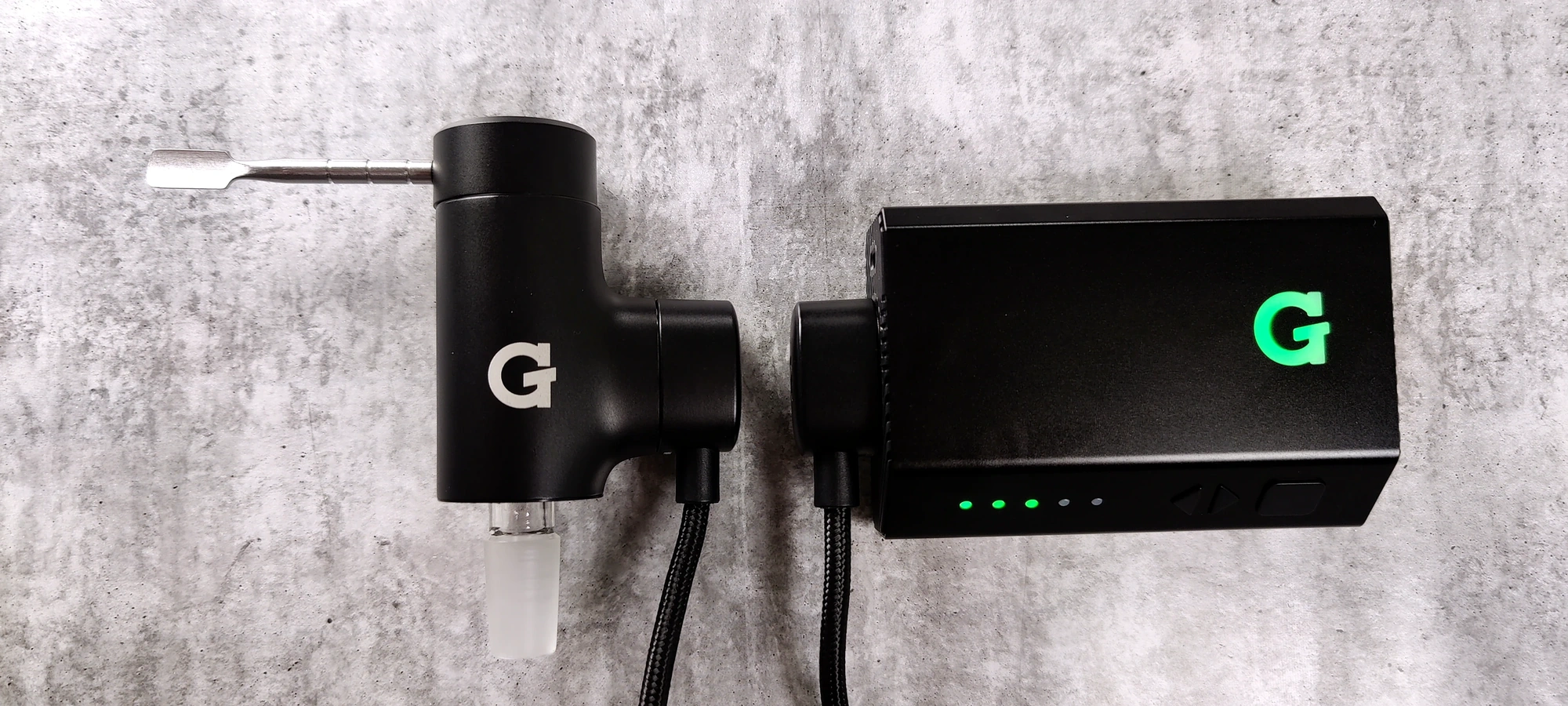 Using the G Pen Hyer for the First Time
Getting the hang of using the Hyer is quite a simple process. With even the provided instructions consisting of a single quickstart card slipped into the travel case, it's easy to see there's not much you need to know to get started.
You start by finding a water piece or other glass with a suitable connector. Then it's just a matter of ensuring the Hyer is charged up via USB-C, connecting the cable from the control unit to the tank, and turning on the device by holding down the square power button for 5 seconds. Once the Hyer is turned on, you can switch between the preset temperatures by pressing the left and right buttons to cycle through them and toggle the heating by pressing the square button twice.
Swapping tanks is no problem either if you decide to pick up the optional dry herb tank. It's just a matter of removing the cap, unscrewing the installed tank using your fingers, and replacing it with the other. Again, using the Hyer is pretty intuitive and easy to get a handle on. You should have no problem being up and running in just a few minutes.
What Comes in the Box?
G Pen Hyer Battery/Control Unit
G Pen Hyer Quarts Tank for Concentrates
Tank to Control/Battery Unit Connection Cable
G Pen Hyer Concentrates Tank Cup
G Pen Hyer Tank Housing
14MM Male Glass Adapter
USB-C Charging Cable
Stainless Steel Wax Tool
Hemp Travel Case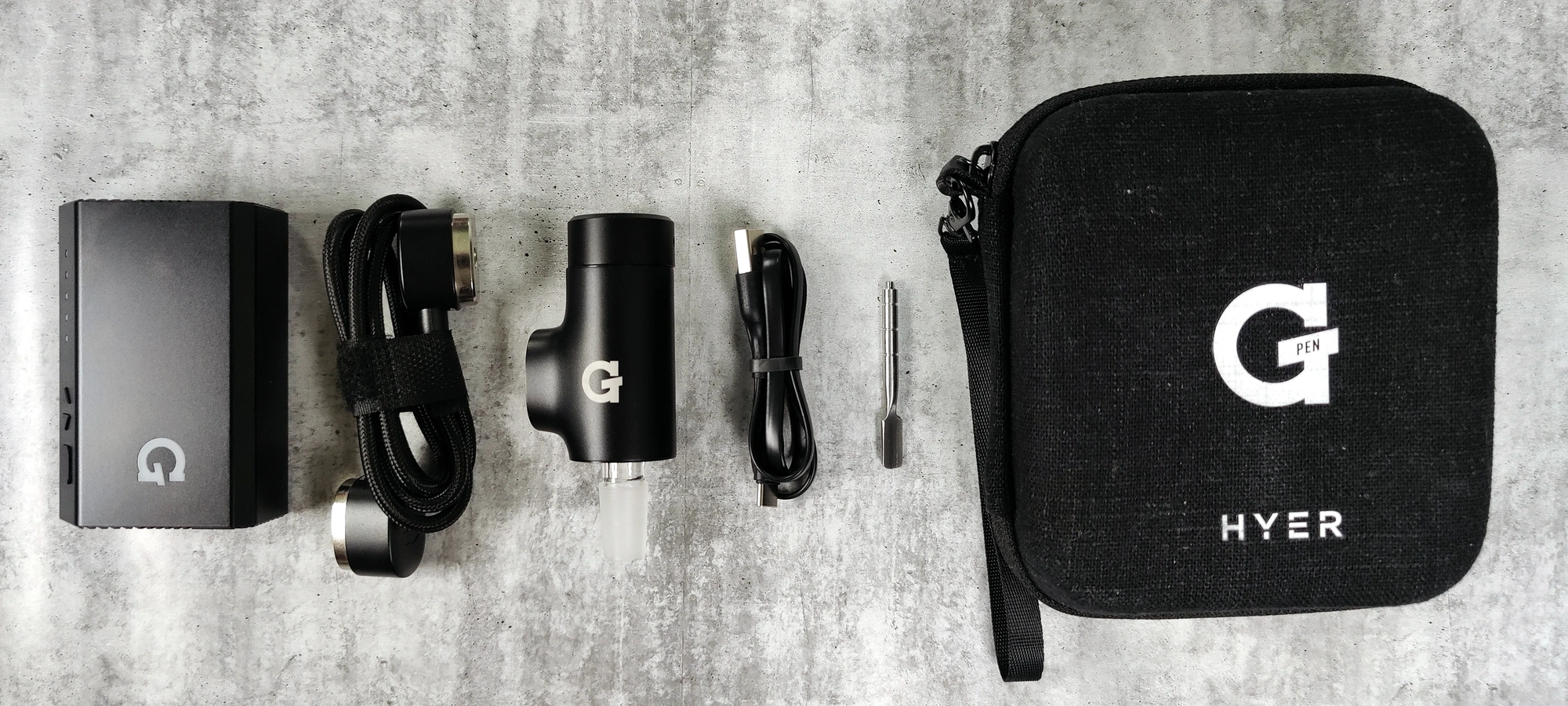 Using the G Pen Hyer with Dry Herbs
When you hear a device that primarily supports concentrates has some form of dry herb support, you should typically come at this with some degree of skepticism as most of these devices just slap something together to say that support is there, but rarely is it a good experience. However, the optional Hyer dry herb tank stands well on its own, and it wouldn't be surprising to see the Hyer sold in the future with only this tank in the form of a "dry herb edition".
The dry herb tank completely swaps out for the concentrate tank, so you aren't just throwing in a mediocre insert or something along those lines that kind of works. Instead, you're getting a quality conduction heated vaporization experience that pairs quite well with water pieces. Also, even though the temperature settings on the Hyer are modular, the presets align nicely with commonly used temperatures when the dry herb tank is inserted, so well done in this regard.
If you're worried that the dry herb tank is just an afterthought, don't be. Even if you only had this tank without the concentrate atomizer, it'd still be a good vaporizer. If there's one tiny thing that would be a nice little touch, it'd be a stirring tool integrated with the cap in the same way the dab tool is with the concentrate tank, primarily just to make it more convenient to empty as it doesn't require a lot of stirring if packed well, but you probably already have something laying around that will work just fine.
Changing G Pen Hyer Settings
The Hyer doesn't enable much in the way of settings customization, but given the type of device, you don't find yourself feeling much is missing. It seems to be helped oddly by the fact it doesn't have a screen and relies on a series of individual LEDs to provide a minimalistic display. If it had a display, suddenly you'd want to have features like switching between Fahrenheit and Celsius or adjusting display brightness, but that's just not necessary here, which is a benefit of its relatively minimal design.
Features like precision temp control would undoubtedly have been a big plus with this device. Still, if there were two models and one provided a few of these extras for a higher price, this one would probably still look like the better option unless you have money to burn, so take that for what you will.
Other than turning on and off the device and adjusting the temperature preset in use, the only settings you can actively change are the session timer or disabling the audio alert (which is a little loud). To change session time while the device is powered on, you just hold the left and right buttons simultaneously, and the lights will begin to flash. Toggling the audio alert is easily done with a triple press of the square button.
Loading the G Pen Hyer
To load the concentrate tank, just lift off the magnetic lid, drop some concentrate into the quartz insert, put the lid back into position, and away you go. If the unit is already warm, use the dab tool that can be screwed into the top cap to lift it without getting your fingers too close to the heat.
The dry herb tank is just as easy to get vaping. Simply remove the magnetic lid, load in some ground flower, and gently pack it as evenly as you can to help with even airflow through the material.
How much does the G Pen Hyer Cost?
The base price for the unit is right around $250 USD. However, that doesn't include the dry herb tank, which will run you around $50 extra. It's not the cheapest vaporizer around, that's for sure, but it kicks a few really nice goals. It's well-built and has decent battery capacity, so it just goes and goes.
If you're only using concentrates, no worries, save yourself the $50 on the dry herb tank, but if you're someone who likes to do both, it becomes pretty compelling. If you were to try and buy something with comparable performance for both dry herbs and concentrates individually, it would be easy to spend more than this, and you may not even end up with two higher-quality devices unless you are careful with your purchases.
What it comes down to is that it's not a value-orientated vaporizer, but it does bring some strong value in its own way for many that would be inclined to pick up a device like this one, especially if you already have a killer glass collection.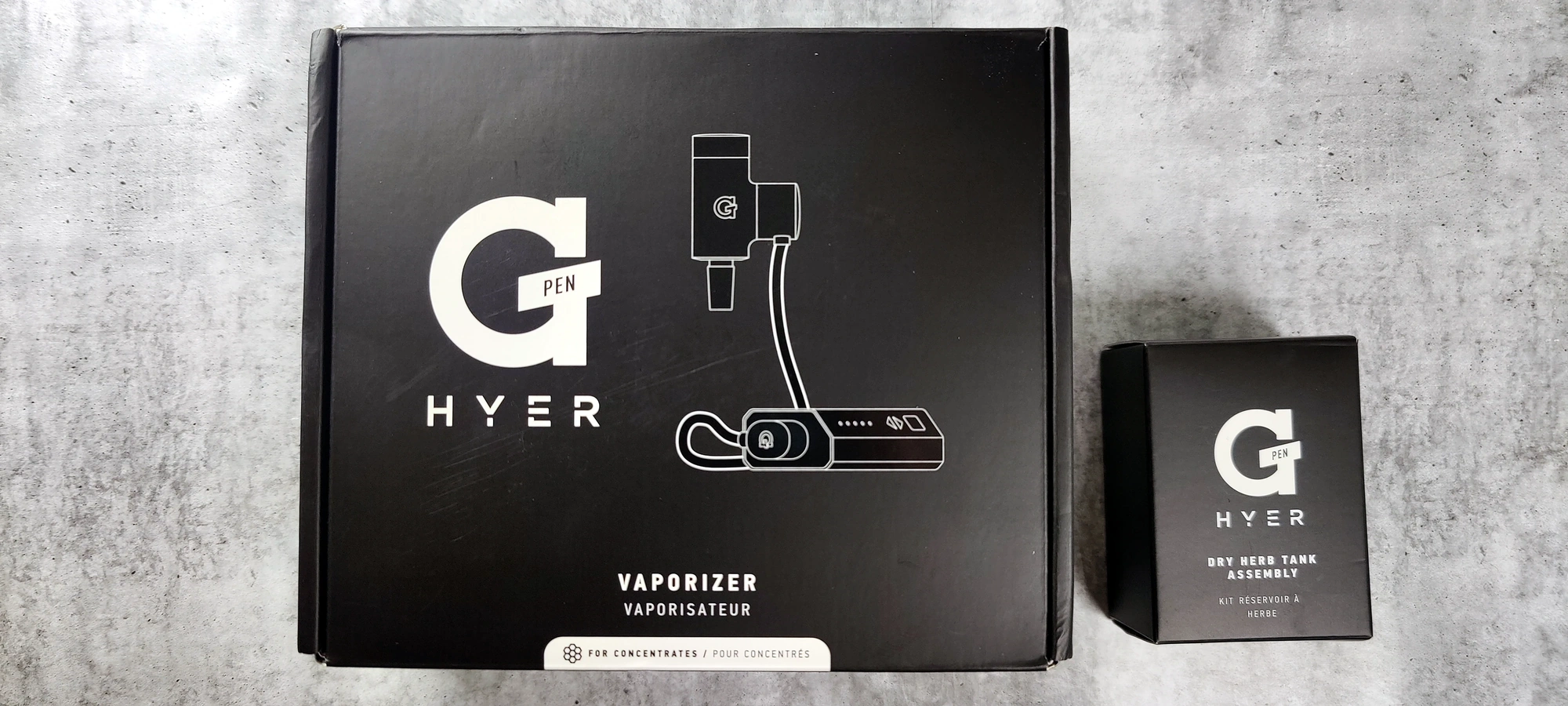 Is the G Pen Hyer Well Built?
Across the board, the G Pen Hyer does quite well in design and build quality, especially for something produced at scale for a mainstream audience. It's clear a lot of effort was put into ensuring that the device was well-considered in both form and function.
The braided cable to connect the tank and the control unit has a fantastic magnetic connector that removes many issues associated with a cable-connected two-part design like this one. The housing is also nice; it's made from die-cast aluminum and makes the Hyer feel a lot more structurally sound, and at the end of the day, the less plastic you're dealing with in a vaporizer, the better. Furthermore, the dry herb tank comes across just as well built as the concentrate tank that comes stock with the unit, which could have been a really weak point had they dropped the ball there.
Even the hemp carry case is rather well designed, and not even obviously hemp, which is often a downside with hemp-based products. A dedicated section for the dry herb tank would have been excellent here, but it makes sense why they didn't, as it would be a gaping hole for all those that didn't purchase it, though you should be able to squeeze the second tank into the mesh section if you are careful about it.
The design of the Hyer isn't flawless, but it does well to avoid anything significantly off-putting. Hence, it's hard to put a finger on any noteworthy flaws or to give it a hard time about anything in particular. Instead, it just rides the line quite well when it comes to mainstream appeal, high-production volume vaporizers, and practical functionality.
Does the G Pen Hyer have Good Battery Life?
It's not often you see battery capacities above around 3500mAh in a portable vaporizer, but this thing amps it up with 6000mAh. As a result, you can power through around 30 concentrate sessions and with dry herbs as many as 50, depending on how rapidly you're vaping.
The Hyer battery is excellent; if there's one minor thing to pick at, removable batteries would be nice to ensure you can get the longest life possible out of the unit as the capacity starts to drop a little with age and extended use naturally. However, given you're starting at an excellent capacity, even as it starts to reduce with time, it still should be plenty useable, unlike units that begin with a much lower capacity where this is a lot more of an issue. But, again, it's a minor gripe and more of a wishlist item than a necessity, so maybe we'll see that show up in a future model.
Charging is performed via USB-C, which is always great to see, and the battery can be charged in around 3 hours from empty. While that isn't super fast, given the battery capacity, it's pretty good, and you should find a single charge lasting you a relatively long time, depending on your usage.
Is the G Pen Hyer Portable?
The question of portability here has a bit of nuance, but at its core, the Hyer is indeed portable. However, it's not the type of thing you'll be taking for a walk to the park with you, at least not without raising concerns from passers-by and maybe some unwanted attention.
For those that often find themselves vaping at other houses, this is where the portable aspect shines. So if you're regularly heading to a friend's house, work (for the lucky ones), or wherever else and end up fumbling together some kit for the day, you can now just grab the included Hyer travel case and a water piece of your choice and you're good to go. In a pinch, you could even pair it with a j-hook or something similar and even run it dry at lower temps; while this isn't the ideal use case, it will work just fine.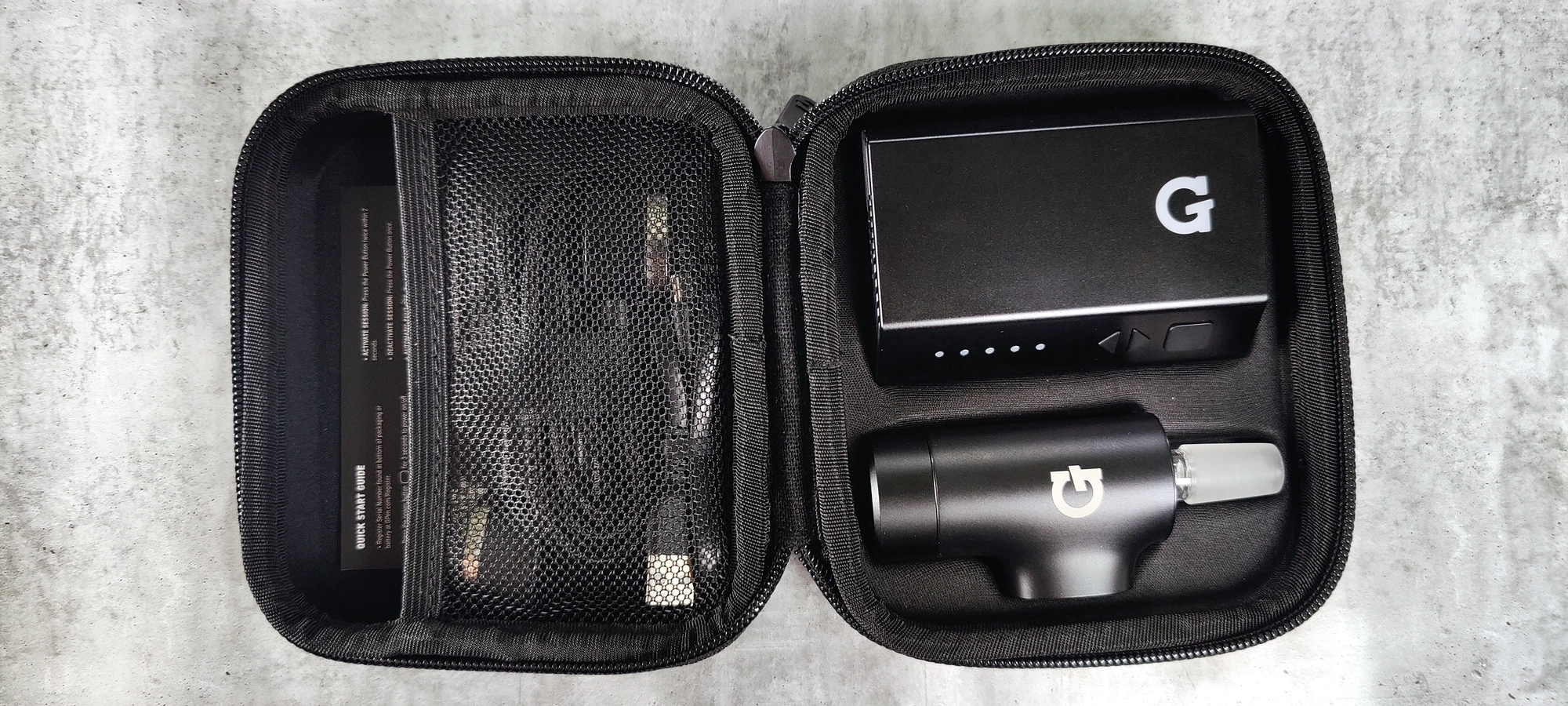 Is the G Pen Hyer Easy to Clean?
The Hyer breaks down easily into a few pieces. Unscrew the tank, remove the cap, pull out the water piece adapter, then attack it with some q-tips or alcohol wipes and you'll be back up and running in a few minutes. Maintenance is quite good with this device. You won't find yourself reaching into a series of awkward spots trying to remove residue when it's time for a thorough clean, and if anything, you may just find cleaning your water piece is the more challenging part of the process.
Can the G Pen Hyer Produce Good Vapor?
Even at lower temperatures, the concentrate tank will produce visible vapor that is quite tasty. So, for most people, you'll likely find something in the first three presets that works well for you. However, if you're one of the few that like it overly hot, the Hyer can do that too and can get pretty intense at up to 842°F/450°C.
Using the dry herb tank is an enjoyable experience, starting with whisps of wonderful flavor and ramping up to visible vapor as the chamber reaches thorough heat saturation. The presets for the dry herb tank differ (356°F/180°C to 428°F/220°C over five presets) but are very rational and in line with what most people would find sensible. At the higher end, you shouldn't get any combustion but still experience dense vapor once you get going, and even at the lowest preset, you can have an excellent flower session.
Overall, vapor production is very good, and even with the limitations of modular temperature control, the settings are rational enough not to get in your way or make you feel frustrated.
Is the G Pen Hyer Good for Microdosing?
At lower temps, the concentrate atomizer works well with smaller dabs of concentrate and should avoid vaporizing it before you get a chance to enjoy it. So for microdosing concentrates, the Hyer works just fine; just keep those temps low.
With the dry herb atomizer, microdosing works relatively well too. However, you'll likely find better results when gently packing smaller loads rather than returning to the same load in between multiple cool-down cycles, especially given the large chamber that can fit around half a gram of flower. Like most vaporizers, the flavor dissipates quite early in the session, so this is just an excellent way to have small hits while keeping things tasting great, it's just slightly more effort, but it's worth it.
Is the G Pen Hyer Good for Beginners?
Using the Hyer is quite easy. It comes with a fairly simple quickstart guide that is literally just a single card, and that's enough to have you familiar with the device and to have it up and running. The usability here is quite good, it's not a vaporizer with a high learning curve or is challenging to maintain, so in terms of beginners or just those that like to keep things as convenient as possible, the Hyer does quite well in this regard.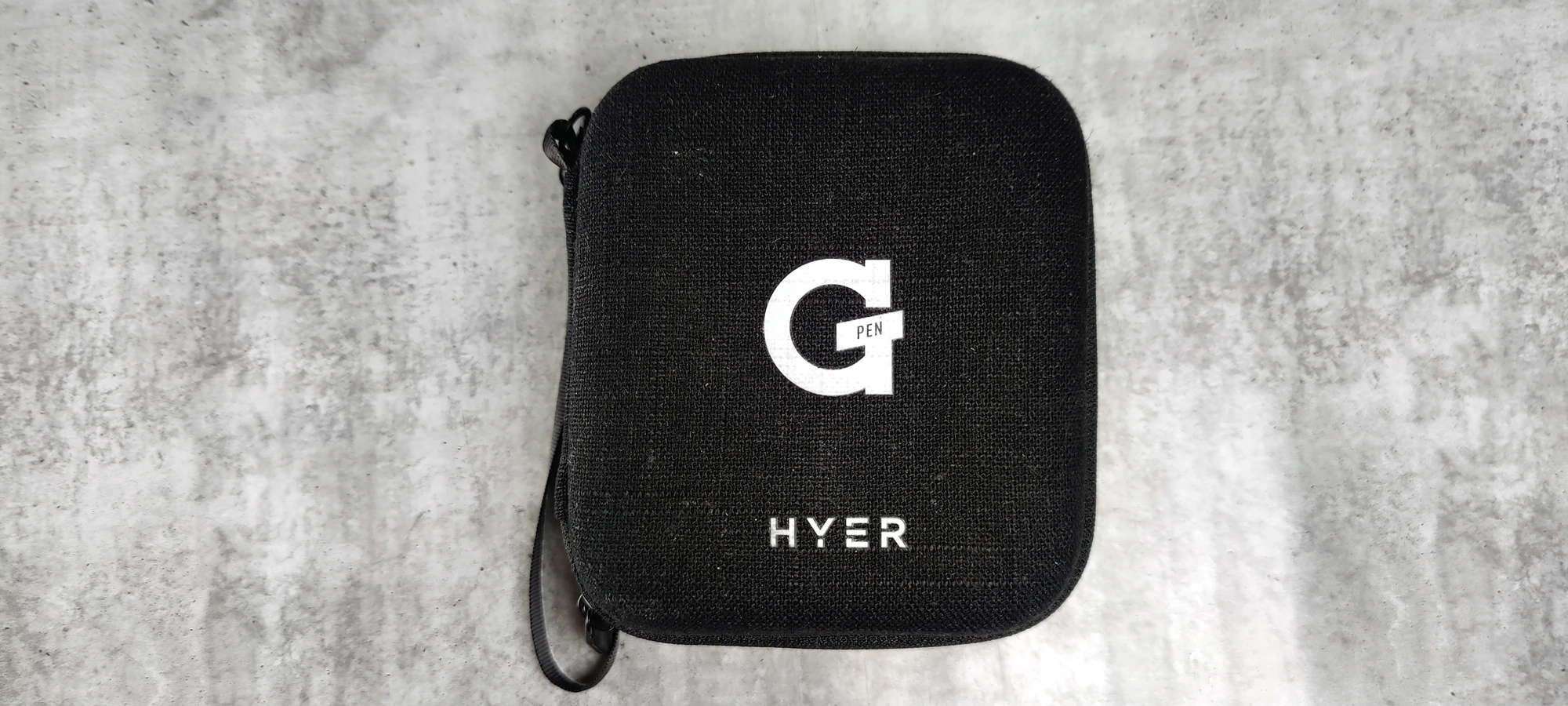 G Pen Hyer Pros
Nicely designed and well built
Dry herb and concentrate support
Large battery capacity with USB-C charging
Easy to maintain and clean
Rapid heating (15 - 45 seconds)
G Pen Hyer Cons
No precision temperature control
The dry herb tank has to be purchased separately
The connection cable can be a bit awkward at times
It doesn't appear to have a volume control for the audio alerts
No removable battery
Is the G Pen Hyer Worth Buying?
Grenco Science has been improving their vaporizer quality and design with recent releases. It's great to see the line evolving, and this is an excellent addition to their range. If you're someone who hoards a bunch of glass and wants to enjoy it, the Hyer is a great way to do that. Furthermore, combined with the optional dry herb tank that manages to stand on its own well, it's just a good all-rounder.
While it's not the cheapest option around, it leverages a hefty battery, is well-built, and performs quite well, so if it's in your budget, maybe consider picking it up, it's a rather nice device. It's also a significant upgrade if you're a G Pen Connect owner looking to upgrade to something more premium. To summarize, this is a pretty solid release and certainly one to check out if it ticks your boxes.