Sticky Brick Flip Brick Review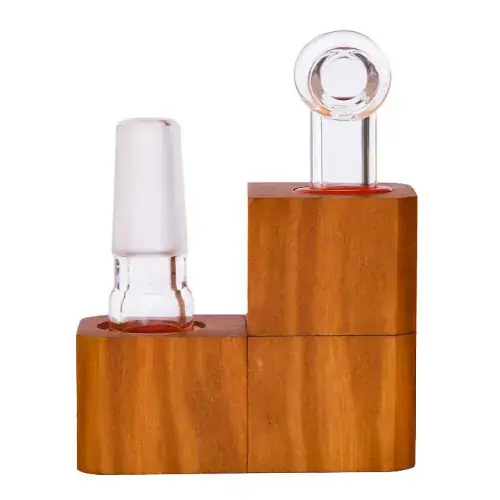 8 December 2022   •   8 min read
The Flip Brick is one of the smallest entrants in the Sticky Brick range, but it's also one of the most flexible thanks to its easy connectivity and flexibility.
Sticky Brick Flip Brick Highlights
Made in the USA from high-quality wood
No batteries or electricity required
Pairs with almost any water piece
What is the Sticky Brick Flip Brick?
The Flip Brick is an analog vaporizer from the team over at Sticky Brick Labs that doesn't require batteries or use any electronic parts. Instead, a combination of heat from a butane torch and suction is used to heat and vaporize material loaded into its chamber. It is designed with a clear intention of being paired with various types of water pieces, but it can also be used in other ways thanks to the commonly utilized 14mm and 18mm adapters provided with the unit.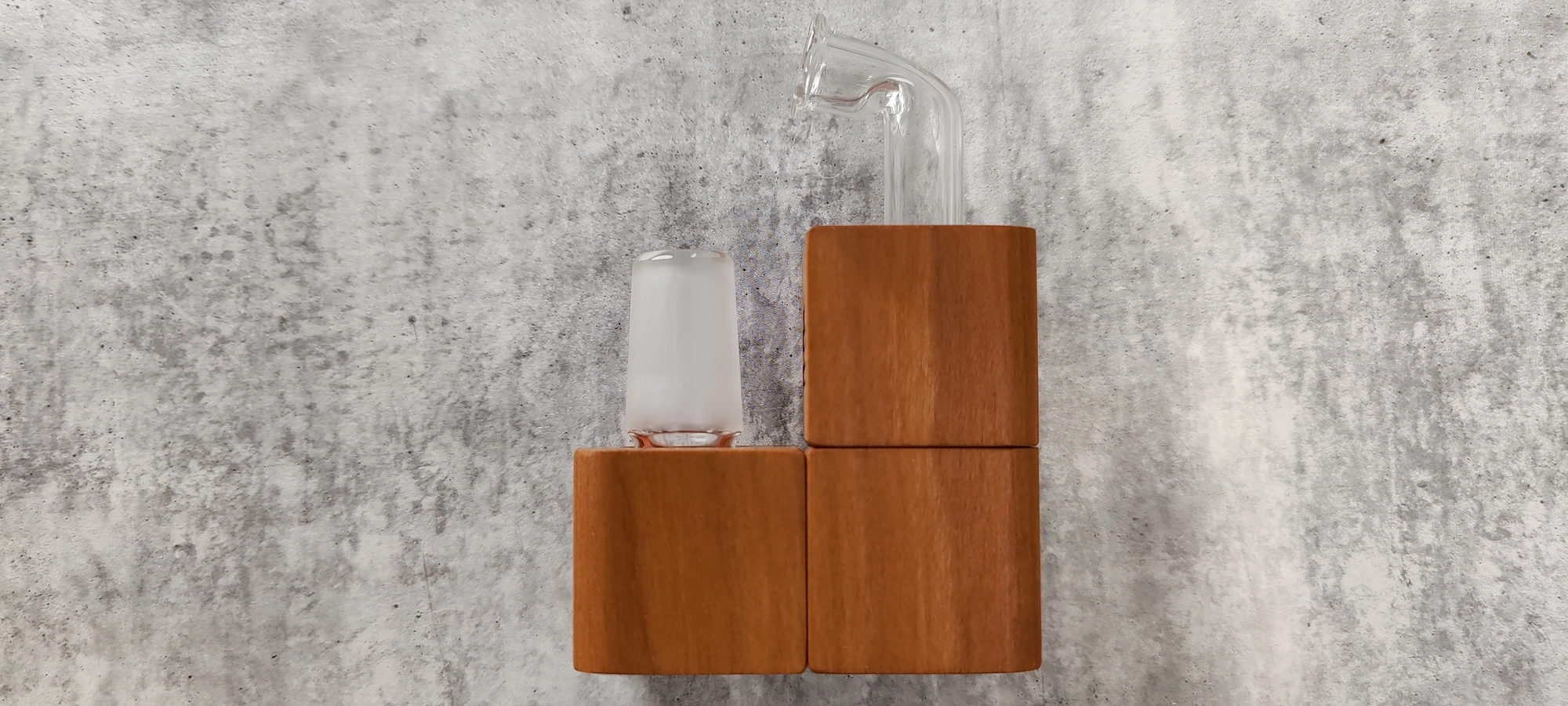 Using the Sticky Brick Flip Brick for the First Time
When you first pull the Flip Brick out of the box, it's easy to find yourself surprised by how minimal it is, and this comes across when you use it for the first time as well. While it naturally takes a little trial and error to find the best technique to produce vapor in a way that suits your preferences, it's a fun experience from the get-go.
Loading the Sticky Brick Flip Brick
Packing the Flip Brick is easy. You simply remove the top section covering the chamber that is held in place with a magnet, or thanks to the well-considered magnet placement, just rotate it out of the way. Once the chamber is exposed and checking the screen is in the correct position at the bottom of the bowl, loosely load it with ground material and put the top section back into place to start vaping.
How much does the Sticky Brick Flip Brick Cost?
You can pick up the Flip Brick for around $100 USD, and while there isn't much to the unit in the physical sense, it does include some nice additions, such as both 14mm and 18mm adapters and a butane torch. Additionally, it's manufactured in the USA from high-quality wood, so you really are getting what you pay for in this case. Could it be cheaper? Sure, maybe, but at this price point, it's tough to argue much with what you get for the money, especially given how well it can perform.
Is the Sticky Brick Flip Brick Well Built?
Both the minimal yet functional design, materials, and overall design, in general, are excellent. There's nothing much to complain about, and provided you take care of your Flip Brick; it could easily end up lasting you years. Not often simplicity pays off when it comes to vaporizer design, but it does work well here. Furthermore, as I'm sure we'll end up mentioning several times, the wood used as the foundation of this device is just fantastic.
What Comes in the Box?
Sticky Brick Flip Brick Vaporizer
Stir Sticks (x2 Wooden & x1 Stainless Steel) (x3)
Male Glass Connectors (18mm and 14mm) (x2)
Restrictor Discs (x2)
Handheld Torch
Screens (x6)
User Manual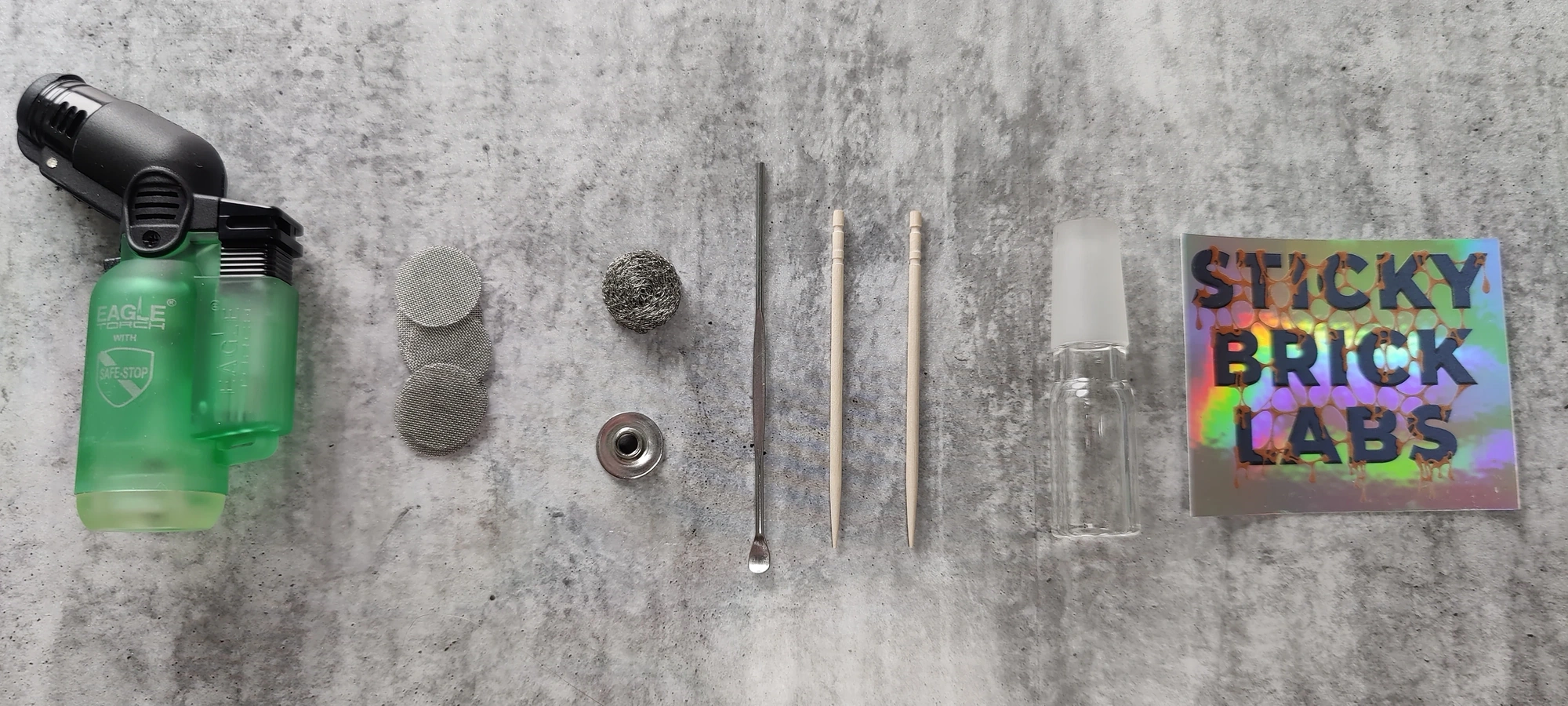 Can you use the Sticky Brick Flip Brick without a Water Pipe?
While you may assume that the only way to use a Flip Brick is with a water piece or bubbler, you can get a little creative and use it with other things. One obvious example is a J-hook. You could also use it dry with a water piece which some people find they prefer. You really only need to find something that provides a suitable fitting and places some distance between you and the Flip Brick to let the vapor cool down sufficiently prior to inhalation.
Vaporizers like the Flip Brick are great for experimenting with different combinations of glassware and other suitable utensils. You can really have some fun with it and create something that suits your preferences. Of course, in a pinch, you could hit it directly, but it would undoubtedly produce vapor that is a little warm.
Is the Sticky Brick Flip Brick Portable?
The Flip Brick is quite probably. It's easy to chuck in your bag with a small water piece, or if you want to keep things simple, you could pair it with something like a J-hook.
When it comes to portability, in this case, it mostly comes down to what you are pairing it with, as that will likely be far more of a consideration as to how easy it will be to carry, as the Flip Brick itself isn't much of a hassle to take out and about with you. So, in short, points for portability, just factor in what you intend to match it with if this is extremely important for you.
Is the Sticky Brick Flip Brick Easy to Clean?
Most of the Sticky Brick range, the Flip Brick included, are easy to maintain. The water piece adapters, restrictor discs, and screens can all be soaked in isopropyl alcohol. However, you shouldn't use alcohol to clean the wood sections of the device. Instead, the wood is best treated like a traditional wooden pipe using pipe cleaners, brushes, or a damp cloth to remove any excess buildup. So if you aren't big on cleaning a bunch of tiny parts, the Flip Brick might suit you well, as you won't have to put a bunch of time aside just to keep it in good shape.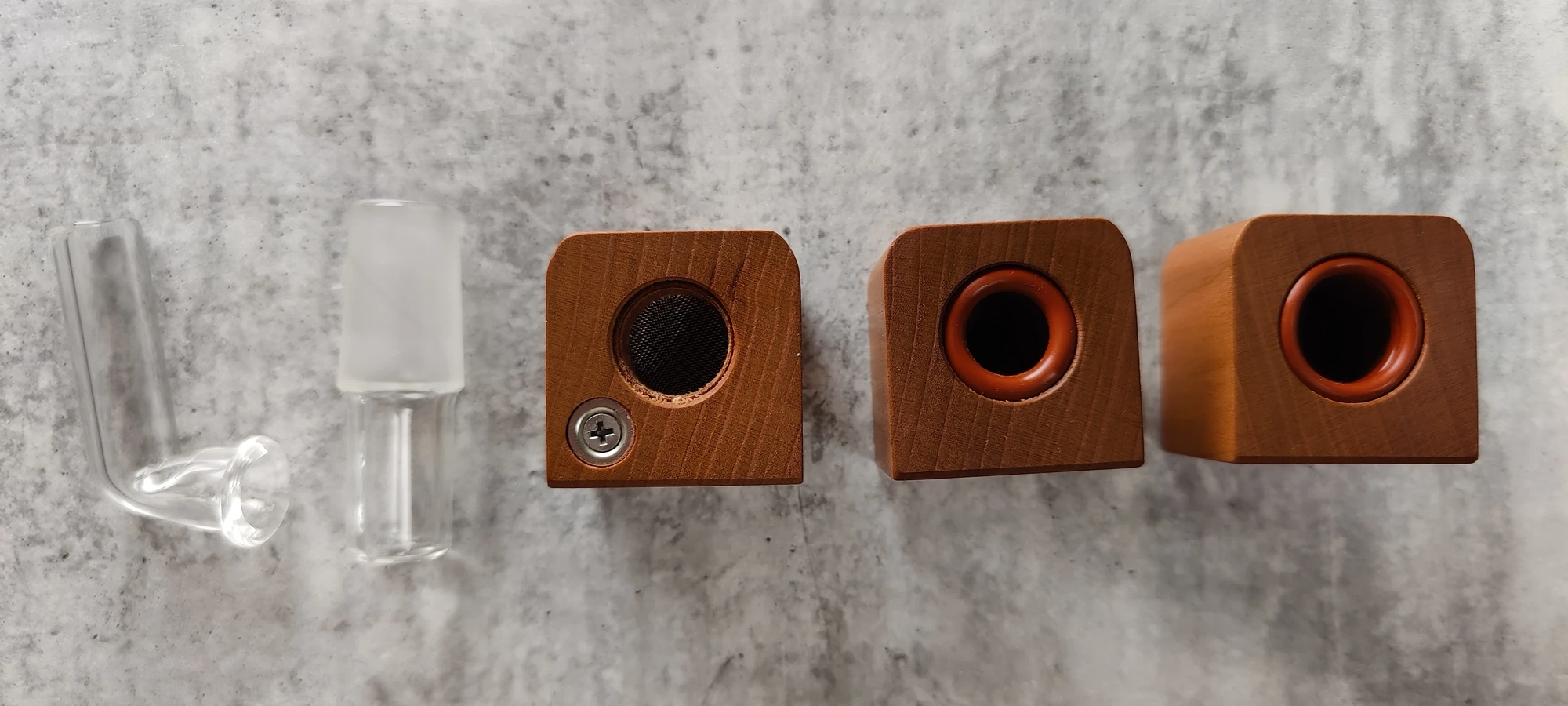 Can the Sticky Brick Flip Brick Produce Good Vapor?
Using the Flip Brick is quite the joy. It provides exceptional vapor production and really does remind you how powerful simplistic designs like this can be as opposed to the overly engineered electrical vaporizers that are so common these days, not to say they both don't have a place. You can produce face-melting hits with this thing, or take it easy and take a bunch of hits off the same bowl. It primarily comes down to how you approach it in terms of heating technique with your torch, timing, and suction.
Is the Sticky Brick Flip Brick Good for Microdosing
One area where Sticky Bricks shine is flexibility, including for those looking for more moderate dosing or stretching out a session for as long as possible. You can absolutely microdose with a Flip Brick, and one of the reasons it works so well for this is that the moment you turn off your torch, the vaporization stops essentially instantly. So if you keep your flame low and moderate your inhales with a bit of extra care, you can have a gentle experience with this vaporizer, made even better when paired with a smaller water piece.
Can you use Concentrates with the Sticky Brick Flip Brick?
A concentrate pad is provided with the Flip Brick, so you can indeed use it to vaporize concentrates. It does quite a good job once you get the hang of delivering just the right amount of heat and suction, which like anything with a Sticky Brick, just takes a little time and experimentation to get a handle on. Just beware not to drown your concentrate pad; starting with a minimal amount is best to avoid oversaturating the pad and wasting some of your concentrate if it melts through.
Is the Sticky Brick Flip Brick Good for Beginners?
When switching to vaping, many people find it hard to find vaporizers that provide both a comparable experience and a natural transition that provides similar rituals, which can be surprisingly imperative to move away from combustion successfully for some people. Something like the Flip Brick makes an excellent way to transition, but it isn't just a stepping stone either.
The Flip Brick can be just as effective for someone new to vaping or even an experienced vaporizer enthusiast. It's also easy to get familiar with; even though the technique can take a few attempts to get the results you are looking for, the simple design makes it approachable by just about anyone. It's also brilliant for those with an existing glass collection, as it can be used with most mainstream glass without issue.
Sticky Brick Flip Brick Pros
Powerful vapor production
It fits most glass without issue
Simple yet effective design
Made from high-quality materials
No batteries required
Sticky Brick Flip Brick Cons
Requires using a torch
New units impart quite a bit of wood taste
Practice is necessary to get predictable results
Is the Sticky Brick Flip Brick Worth Buying?
The Flip Brick is a great little device. It can fiercely perform or produce a relaxed experience depending on your needs. If you don't mind using a torch and have a nice water piece to pair with it, this can be a fantastic addition to any vaporizer collection. So if you've only used electronic vaporizers in the past or are looking for something a little more analog in aesthetics and design, check the Flip Brick out; it can certainly surprise you.