Deezy Review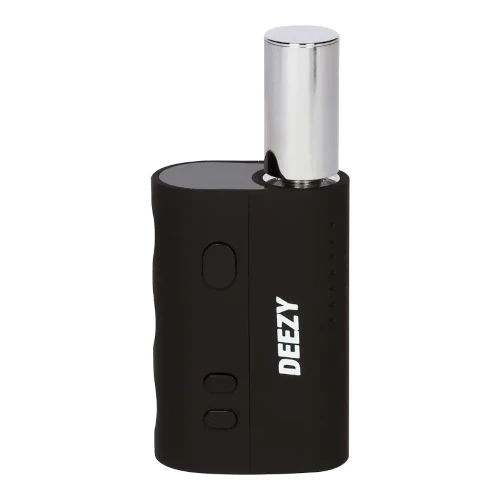 4 January 2023   •   8 min read
If you've ever wanted a vaporizer you can just throw in your bag for those times that you might want to sneak in a quick session, well The Kind Pen Deezy might be the answer.
Deezy Highlights
Tiny size
Haptic feedback
Conduction heating
What is the Deezy?
The Deezy is a portable vaporizer from the team over at The Kind Pen. It leverages conduction heating to produce vapor while fitting essentially in the palm of your hand. When including the mouthpiece and cap, it stands less than 10cm tall and only around 4cm wide.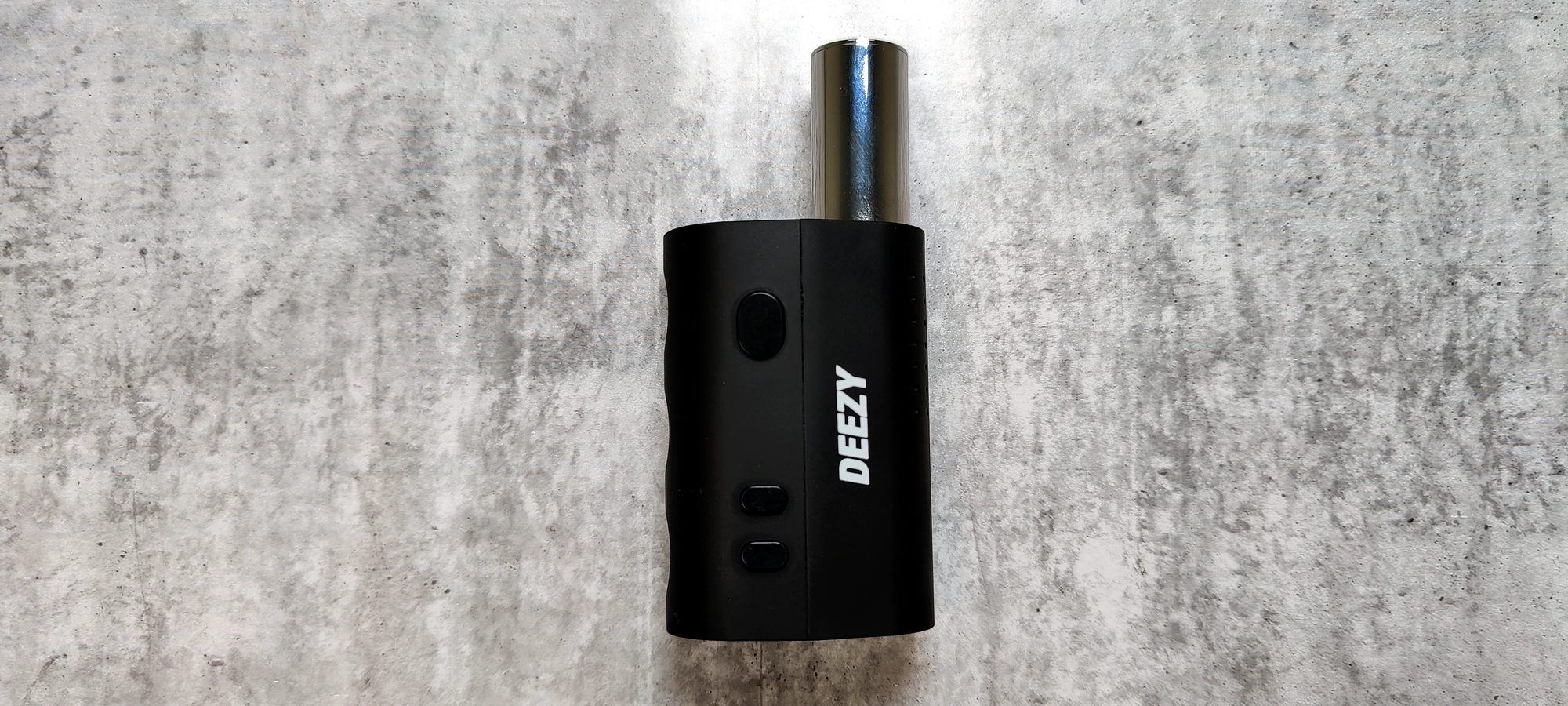 Using the Deezy for the First Time
When you first see the Deezy, you find yourself wondering if it's just a novelty, but it's actually a functional vaporizer that is more than a little pocket-friendly and may even surprise you with what it's capable of doing. In addition, once you pick it up, you immediately start to appreciate its size and the potential that comes with it.
It's simple to operate with five presses of the primary button to turn it on, temps are adjusted via the up and down buttons, and to trigger heating, it's just a matter of holding the primary button for a couple of seconds until it vibrates. So really nothing to it; even if you skip reading the instructions, there's not much complexity here, and with a device like this, that's a good thing.
Warm-up time could be better, but it's certainly acceptable. At around 30 seconds, you should be able to reach moderate temperatures. While it's not bad, it feels slow enough to take some of the fun out of spontaneous use while on the go, but it's certainly not enough to be a deal breaker, and this would be a reasonable stat for most portable vapes. However, if this device managed to heat up about twice as fast, it would be a big bonus for a vaporizer like this.
Taking your first hit rewards you with classic conduction-fueled vapor with a reasonable amount of flavor and density. It's not mind-blowing, but it's sufficient enough to have a good time using, especially if it's the only thing you have on hand.
How much does the Deezy Cost?
You can find the Deezy on sale for around $99 USD, which for any half-decent vaporizer is a reasonable price. However, with competition around this price point steadily increasing, it'd be worth trying to catch this one on sale if you're looking to grab one. On the other hand, for those who really want a tiny conduction heated portable, it's still not a bad price; it's just getting harder to be impressive at these prices with many other options hitting the market, even though you won't find much this small capable of vaping dry herbs.
Is the Deezy Well Built?
The build quality of the Deezy is fine. There are no rough edges, the housing, while plastic, seems of sufficient quality for this kind of device, and even the mouthpiece is well designed considering the limitations of building something with such a small footprint. In short, you get what you need and nothing more. The plastic housing also has a matte finish which helps avoid fingerprints, a minor yet nice touch.
What Comes in the Box?
Deezy Vaporizer
Micro-USB Charging Cable
Cleaning Brush
Packing tool
User Manual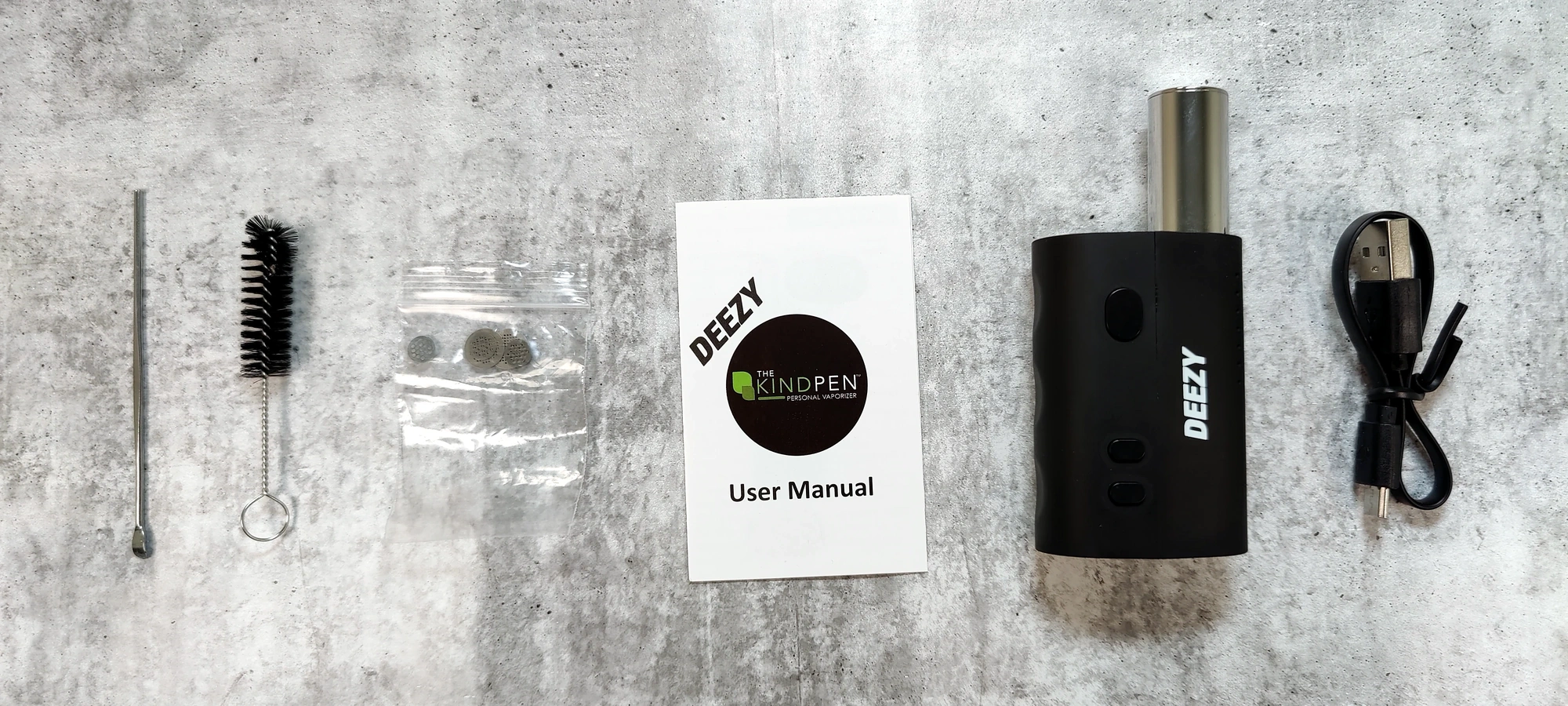 Can you use the Deezy with a Water Pipe?
No, the Deezy isn't a suitable vaporizer for a water pipe. Even if you could find a water pipe adapter for this one, it's just not a vaporizer that makes a lot of sense to combine with a bubbler. It's a small device with a small mouthpiece and not a significant amount of airflow. If you're looking for something to pair with a water piece, there are plenty of other options to consider that will be much more practical.
Is the Deezy Portable?
One area where the Deezy really shines is portability. If there's a pocket you have you can't fit it in, then you probably shouldn't be calling it a pocket in the first place. Furthermore, the cap that covers the mouthpiece serves two jobs which assist with making this device portable. Firstly, the cap helps avoid breaking the glass mouthpiece, but it also provides excellent protection from pocket lint, dust, and other less-than-pleasant things that can find their way into an exposed mouthpiece.
Does the Deezy have Good Battery Life?
With an inbuilt 1100mAh battery, the Deezy manages to get around half a dozen sessions out of a single charge, this will vary a bit depending on how hot you are running and how long you take to finish a session, but overall this isn't too bad. It's a small device, so with that in mind, it's pretty good.
One thing that would have been nice to see was USB-C charging, but unfortunately, the Deezy is stuck with a micro USB port, which at least will likely be compatible with a few of those cords that most of us have lurking in a tub or junk drawer. Overall, battery life is sufficient and is nothing to complain about, especially if you're using it for those just-in-case sessions when on the go.
Loading the Deezy
Packing the Deezy with dry herbs is quite easy. Simply remove the magnetic lid and unscrew the mouthpiece to expose the heating chamber. Ensure the loose screen is positioned flat across the bottom of the chamber, and then load it with ground material. Avoid overpacking, but for best results, try to fill the chamber to ensure a good amount of material makes direct contact with the chamber's walls to enable effective heat transfer. You should be able to fit as much as 0.3 grams of material in the chamber, but avoid pushing your luck too much as you don't want to restrict airflow.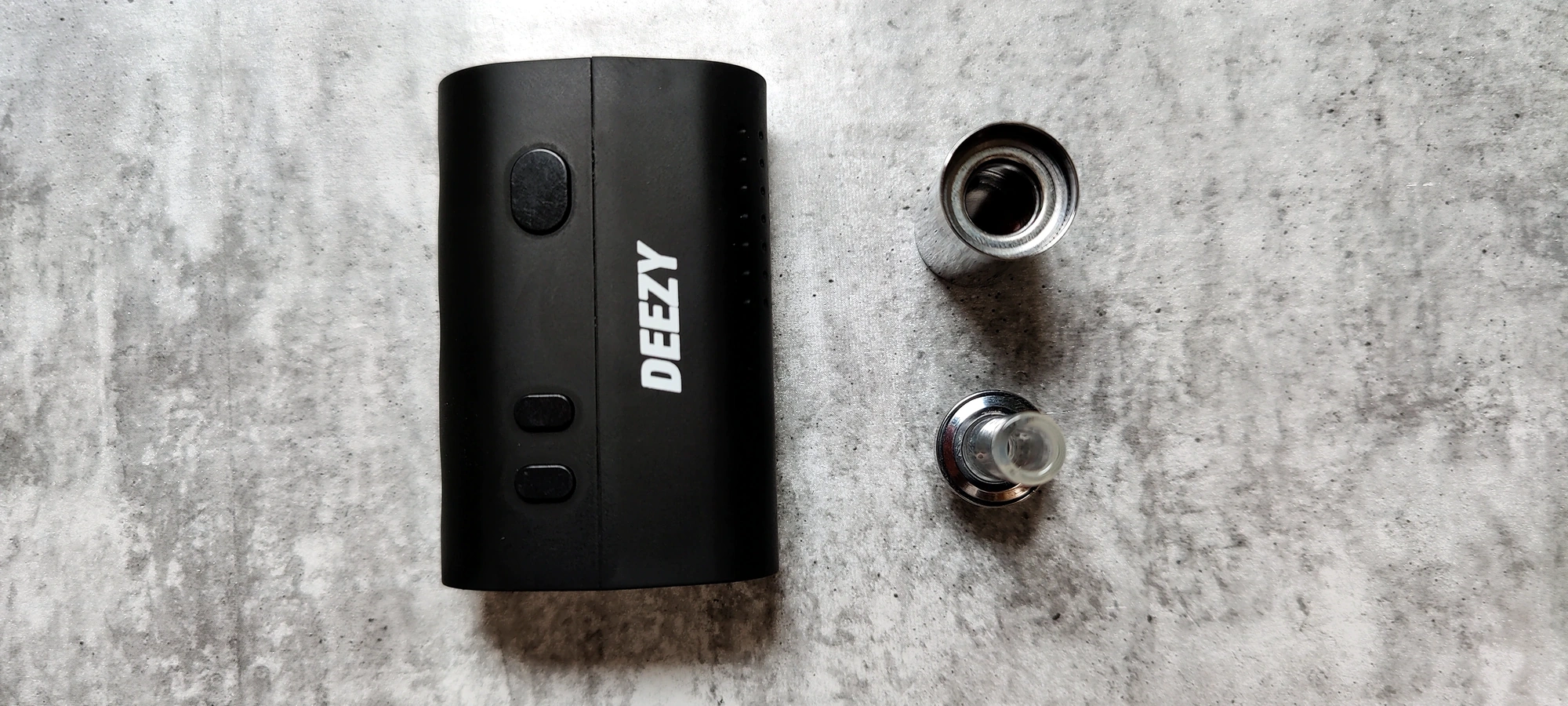 Is the Deezy Easy to Clean?
One of the downsides of a tiny device like this one is you run into some compromises in terms of accessibility, especially when it comes to the heating chamber. You won't be slipping a finger in there, so that makes it slightly harder to clean, as even pushing an alcohol swab around in there isn't the easiest thing to do effectively. However, it's not incredibly hard to clean either, and given the mouthpiece unscrews nicely into several sections, it's not a massive inconvenience; you'll just want to be reaching for the q-tips dipped in isopropyl alcohol for this one as there's not much else that will make the job approachable.
Can the Deezy Produce Good Vapor?
The vapor production from the Deezy is good for its size, and it's not too bad for a portable vaporizer in general. At higher temps, things can get a little harsh, but given the fairly minimal vapor path, this is to be expected, so pushing this vaporizer to the max isn't going to provide the best experience. You'll have a much better time starting at a temp on the lower end and pushing up toward the end of your session to finish it off.
Is the Deezy Good for Microdosing
The chamber size offered by the Deezy is quite moderate, supporting between 0.2-0.3 grams at a time. So it's not a massive chamber, but it's not minuscule either and sits somewhere in the middle of what you will see from other portable vaporizers. So for more casual users or those looking to microdose you can use the Deezy, but you may want to turn it off in between hits as you don't want your material roasting away if you aren't going to finish the session in one go.
Can you use Concentrates with the Deezy?
Concentrates aren't supported with the Deezy, that's not to say you can't spike a little dry herb with something extra, but you can't expect much if you decide to go that route and should undoubtedly keep any extra additions to your bowl to a bare minimum.
Is the Deezy Good for Beginners?
While the Deezy is unlikely to blow anyone away with its performance, for certain people, the Deezy can make a lot of sense. If you're someone who prioritizes portability and isn't a heavy vaper, it could be a great option. It's also reasonably priced, making it a good way to explore vaping, but you may find you outgrow it after a while.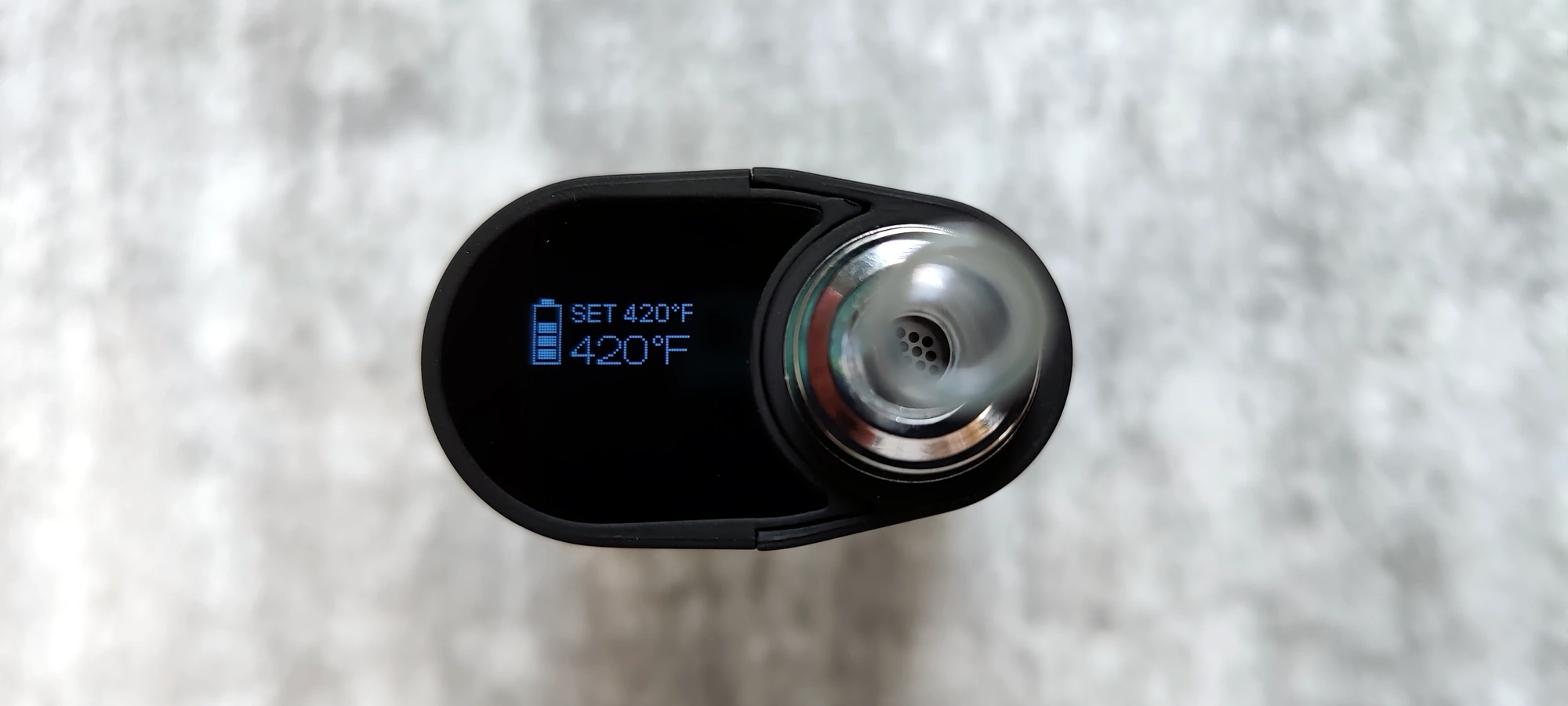 Deezy Pros
It's tiny
Pricing is reasonable
Lifetime warranty
Haptic feedback
Deezy Cons
Heat-up time could be faster
It gets pretty warm during use
Chamber is deep, making it challenging to empty
Is the Deezy Worth Buying?
Like most vaporizers, it depends on what you're looking for as to whether or not the Deezy is for you. It's an odd little vaporizer with a design that grows on you and would certainly make a handy backup for when you're out and about. Furthermore, it's very much a "just enough" vaporizer that won't blow your mind but can make for a nice little session and might just save the day in a pinch.