Arizer Air SE Review
23 July 2023   •   12 min read
Busting in with a budget offering is one of the most established dry herb vaporizer brands, but should you dive on it?
Arizer Air SE Highlights
Hybrid heating
Budget pricing
Replaceable 18650 battery
What is the Arizer Air SE?
The Arizer Air SE is a portable vaporizer that offers a unique blend of performance and affordability. As a well-established brand, Arizer has built a reputation for delivering high-quality vaporizers, and the Air SE is no exception. What sets it apart is its focus on providing a budget-friendly option without sacrificing performance.
The Air SE utilizes hybrid heating and is powered by a 18650 lithium-ion battery, making it an excellent choice for those who want a reliable and efficient vaporizer at a lower price point.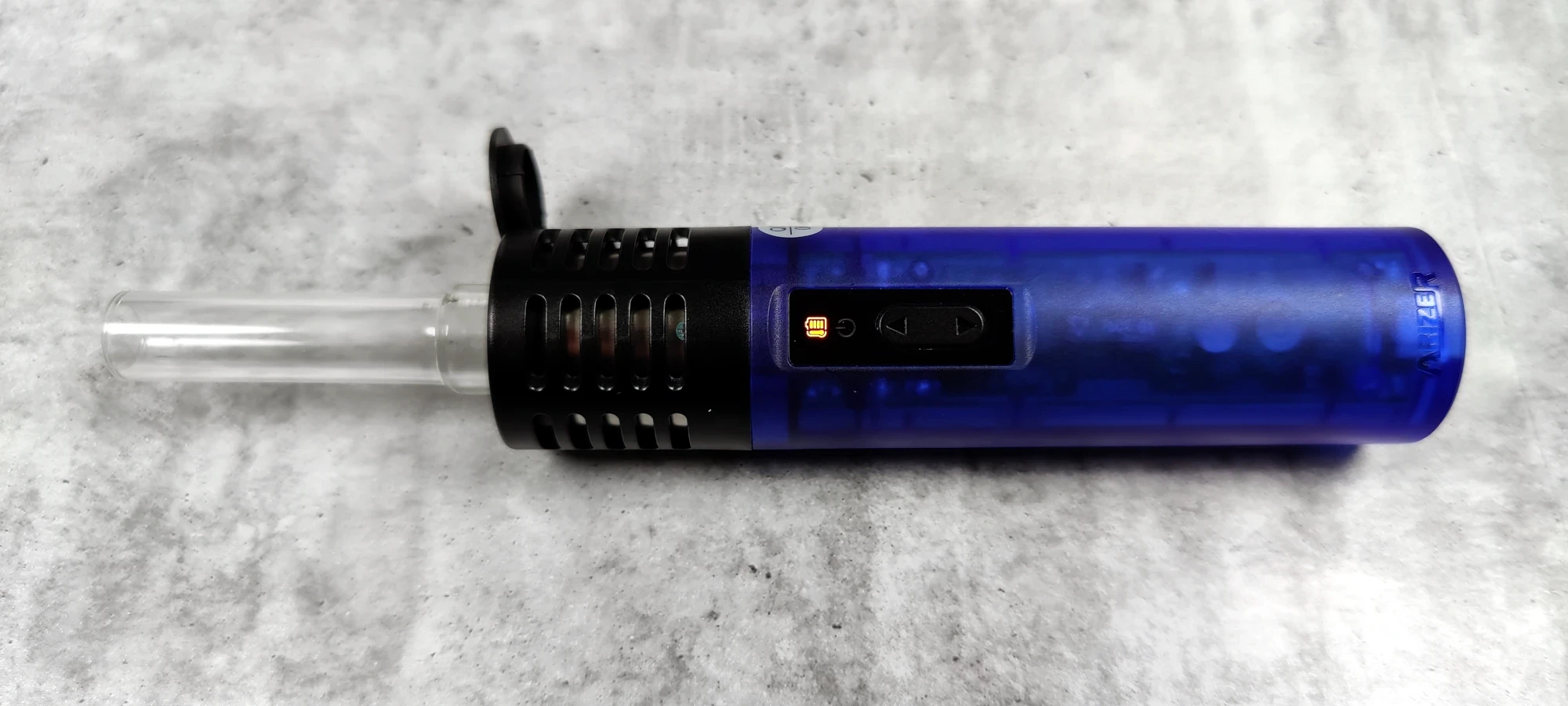 Using the Arizer Air SE for the First Time
When you first use the Arizer Air SE, you'll notice that the packaging is less elaborate than what Arizer typically provides with their other devices. However, it still includes everything you need to start vaping. One cost-saving measure was not including a USB charger and only providing a USB charging cable. But given that most of us have a drawer full of USB wall chargers or a computer, this shouldn't be a problem.
The device feels a bit strange in your hand due to the combination of the heavy battery and lightweight plastic casing, but this is just an observation and not a significant concern. The two-button control is simple to use - hold both buttons for a few seconds to switch on the device, cycle through the preset temperatures, and enable the heater. It's worth reading the quick start guide to understand which temperatures each preset targets since this information isn't displayed on a screen.
Once the device is warmed up, take a few moments to let the glass stem heat up fully for the best experience. If you start vaping too quickly, the first couple of inhales may be less potent. The heat-up process takes around a minute, which is a bit slow, but it's not a big issue for a session vape like the Air SE, which is clearly designed for more relaxed experiences. Sessions with the Air SE are delightful, and taking it easy while giving the heater time to catch up between hits results in a fantastic mellow experience that can be delicious, thanks to the glass vapor path. The stem gets a little warm, especially at higher temps. However, if this is enough to bug you, it's cross-compatible with stems from most of the current Arizer portable range, so it's easy to find a longer stem or something with some extra cooling.
What Comes in the Box?
Arizer Air SE Vaporizer
Glass Aroma Tube
Micro USB Charging Cable
Silicone Stem Cap
PVC Travel Tube
Mesh Screens (x4)
Metal Stirring Tool
Quick Start Manual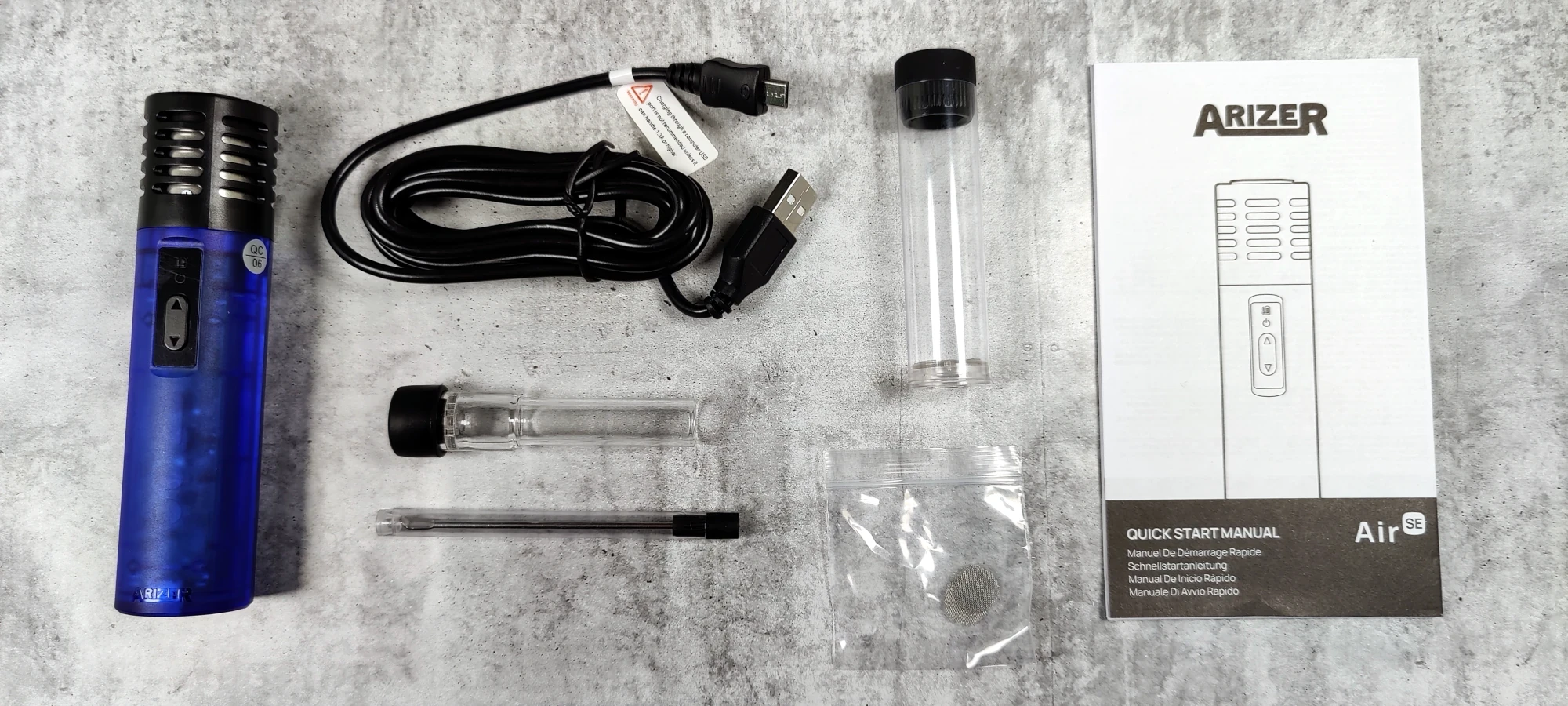 Loading the Arizer Air SE
Unlike many vaporizers where the goal is to load the oven, instead, the glass stem that comes with the Air SE is where you'll be packing your material before placing that into the oven.
Performance can vary depending on how much you pack; you want to keep it to a slight tamp as anything more will impair the results. All you really want to do is ensure you aren't overpacking and you're only packing it just tight enough that pieces won't fall out when you hold it upside down.
Once you've done it a couple of times, you'll find it easy to get a good result consistently; there's not a huge learning curve.
Changing Arizer Air SE Settings
The Air SE doesn't offer much at all in the way of customization options, and you're limited to five preset temperatures. However, the presets are reasonable, and given the device's simplicity, you won't feel like you're missing out on much. While precision temperature control and a screen would be nice, they're not essential for everyone. The lower price point makes these omissions less of an issue, but they could still be deal-breakers for some users who have specific requirements for their vaporizer if they don't mesh well with the available options.
How much does the Arizer Air SE Cost?
The Air SE is available for around $90, making it an excellent value for those seeking a portable vaporizer on a budget. Finding a decent vaporizer in this price range for a long time was challenging, but the Air SE definitely delivers.
It's a great option for those who want a reliable and portable vaporizer without breaking the bank. And if you're lucky enough to catch it on sale, it's an even sweeter deal.
Is the Arizer Air SE Well Built?
The Arizer Air SE is well-built, but the housing materials are less premium than those on other Arizer portable vaporizers, such as the Air Max. However, the lower price point makes up for this trade-off.
Some users may find the battery door challenging to remove at first, but it becomes easier after the initial use. When pressing on the casing, there may be some creaking in certain spots, but this is unlikely to be a problem during everyday use.
Overall, the build quality is good and meets Arizer's typical standards, despite some sacrifices to achieve a lower price point. The company has done a great job balancing performance and affordability.
What Colors does the Arizer Air SE Come in?
Two color options are available for the Air SE: "Reefer White" and "Blue Haze." The white model may be prone to marks and scratches over time, but it still looks surprisingly good in the short term. It's an unusual choice, as one might expect a black option instead. However, the Blue Haze color scheme has a retro tech vibe that's quite appealing. If you're unsure which to get, grab the blue, it has a fun aesthetic.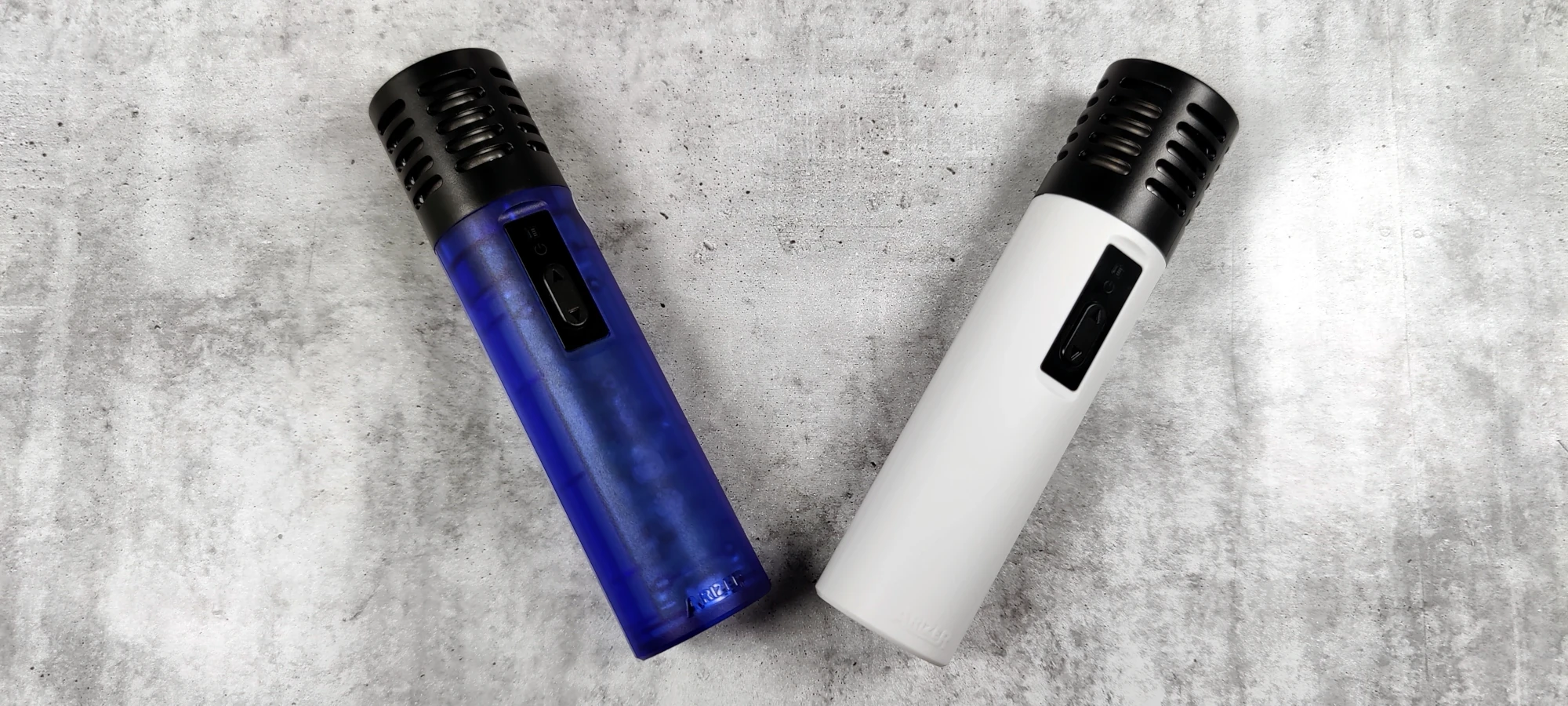 Can you use the Arizer Air SE with a Water Pipe?
The Air SE is a straightforward and simple vaporizer that comes with everything you need to get started, but it doesn't include a water pipe adapter (WPA) like some other Arizer models. This limitation means the Air SE can't be used with bubblers or water pipes out of the box. However, you can easily find a compatible WPA for a few dollars by looking for one designed for the Solo 2 or Air Max. Once you have a suitable WPA, you can expand your Air SE's capabilities and enjoy it with your favorite water pipe or bubbler.
Is the Arizer Air SE Easy to Clean?
Keeping your Air SE in top condition is a straightforward process. When your stem starts looking a bit too oily, clean it with some isopropyl alcohol, and you're good to go. The oven tends to stay clean with minimal intervention, making maintenance a breeze.
While it can be a bit fiddly cleaning deep in the stem, swooshing it around in some alcohol really simplifies matters. Provided you have some alcohol on hand, keeping the Air SE clean and ready to go is quite simple.
Can the Arizer Air SE Produce Good Vapor?
While the design shows a lot of familiarity with the original Arizer Air, it would be a mistake to write this off as just a rebadged relaunch when its performance is much closer to something like the Solo 2, which is still a very popular device.
While there's not a tremendous amount of variance between the Arizer portable range, you'll notice a few little differences. For example, even though the Air SE performs quite well, it seems to require a few seconds to rebound to the set temperature after longer hits. There are limitations to how far you can push a single 18650 battery, and this is likely part of the reason for the slower heat-up and time taken to rebound after long hits.
You shouldn't expect extremely fast extraction, as with most of the Arizer lineup, this vaporizer is more of a relaxed session vaporizer. It's at its best when you're kicking back and watching TV or doing a little work on the computer. In general, the vapor production from the Air SE at max temp can still be pretty impressive if you get the pack just right and give it a little extra time to ensure the stem is sufficiently warmed up to assist the vapor production with additional conduction heating.
Is the Arizer Air SE Portable?
Portability is rather a mixed bag when it comes to the Air SE. Being a cheaper option, it will undoubtedly appeal to those looking for something to take with them on the go. However, due to the glass stems used, it's not always ideal to just chuck it in your pocket. Additionally, even though the heater looks somewhat discrete, once you've got the stem in there, it starts to look a little odd, making it not the best option for public use unless you really aren't sensitive to the occasional curious passerby.
With all that said, provided you keep your stem stored in its protective tube, you should have no significant issues keeping the Air SE in your bag or even in your pocket with some care. What it comes down to really is it's plenty portable; it's just not super pocket friendly, nor is it the most discrete-looking vaporizer.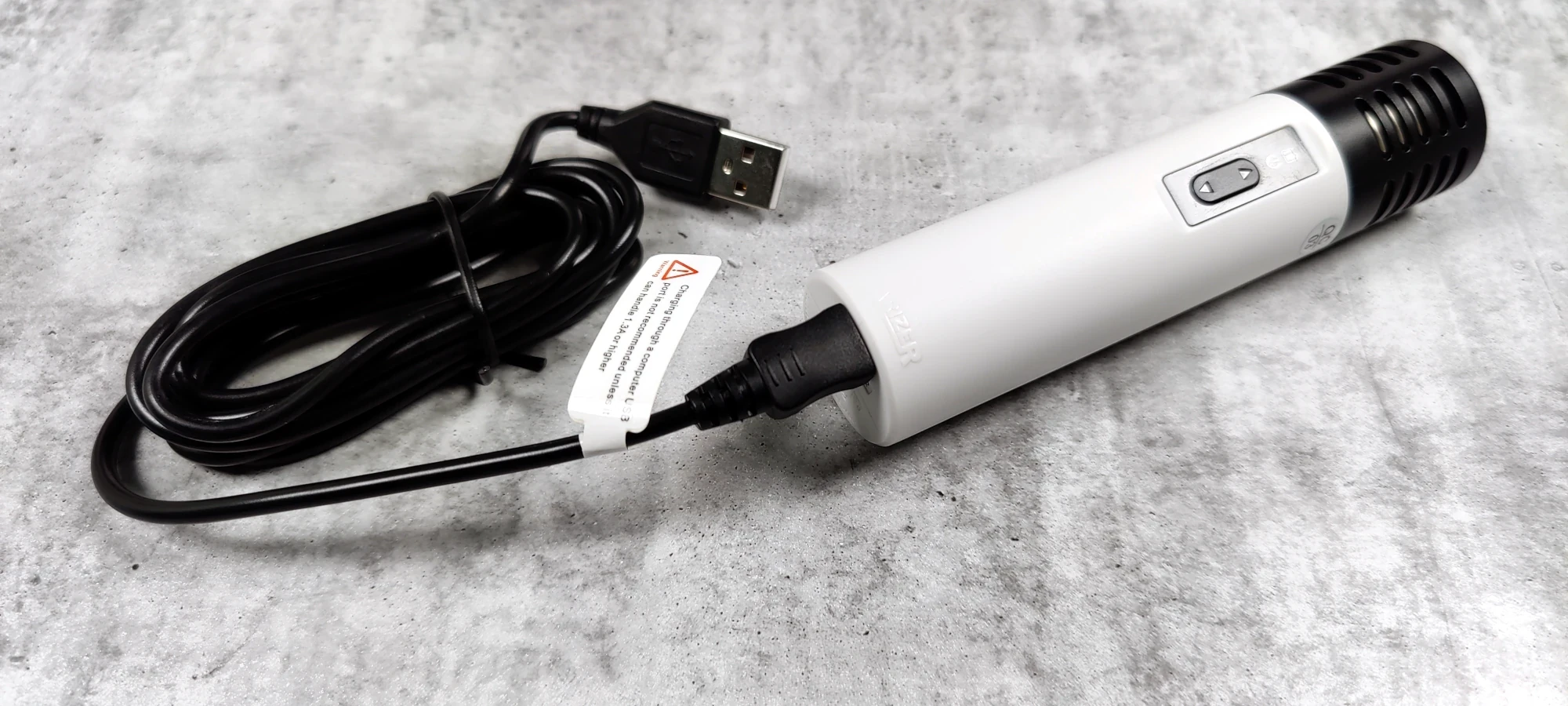 Is the Arizer Air SE Good for Microdosing
The stem of the Air SE can hold up to 0.25g of material (comfortably 0.2g or less), a relatively middle-of-the-road capacity. You can use smaller amounts, but you'll still need to pack it gently to avoid falling out into the oven. To make the most of this vaporizer, buying a few extra stems and stem caps is best if you plan to have fixed pre-made doses throughout the day. This way, you can pre-fill them and easily swap them out as needed.
While the Air SE may not be perfect for microdosers due to the lack of dosing caps, it still works well for many people. The slower extraction also makes for a more relaxed session, which is great for lower-dose users.
Can you use Concentrates with the Arizer Air SE?
Like other Arizer portable vaporizers, the Air SE isn't designed for concentrate use. While you can blend tiny amounts of concentrate with dry herbs, be cautious not to overdo it, as excessive concentrate use can damage the device. Leaks into the device can also occur when attempting that, so it's best to stick to dry herbs when using the Air SE. The maximum temperature is also too low for concentrates, so dry herbs are the optimal choice anyway.
Does the Arizer Air SE have Good Battery Life?
The Air SE offers up to 80 minutes of run time, but a more realistic estimate is around an hour, depending on how you use it. If you vape more aggressively or run it at a higher temperature, the battery life will be shorter. However, for most people, an hour of battery life is plenty. If you need more run time, it's easy to carry extra 18650 batteries with you. Just be sure to store them safely in appropriate cases to avoid any potential risks. This way, you can enjoy extended use of your Air SE without worrying about running out of power, whether you're out and about or have access to a charger.
Arizer's decision to use micro-USB for charging the Air SE is a slight disappointment; at this point, if you're releasing a product with USB charging, just use USB-C. Moreover, the device doesn't come with a wall charger, only a cable. While this may be a turn-off for some, most people likely have a few spare chargers lying around, making it less of an issue.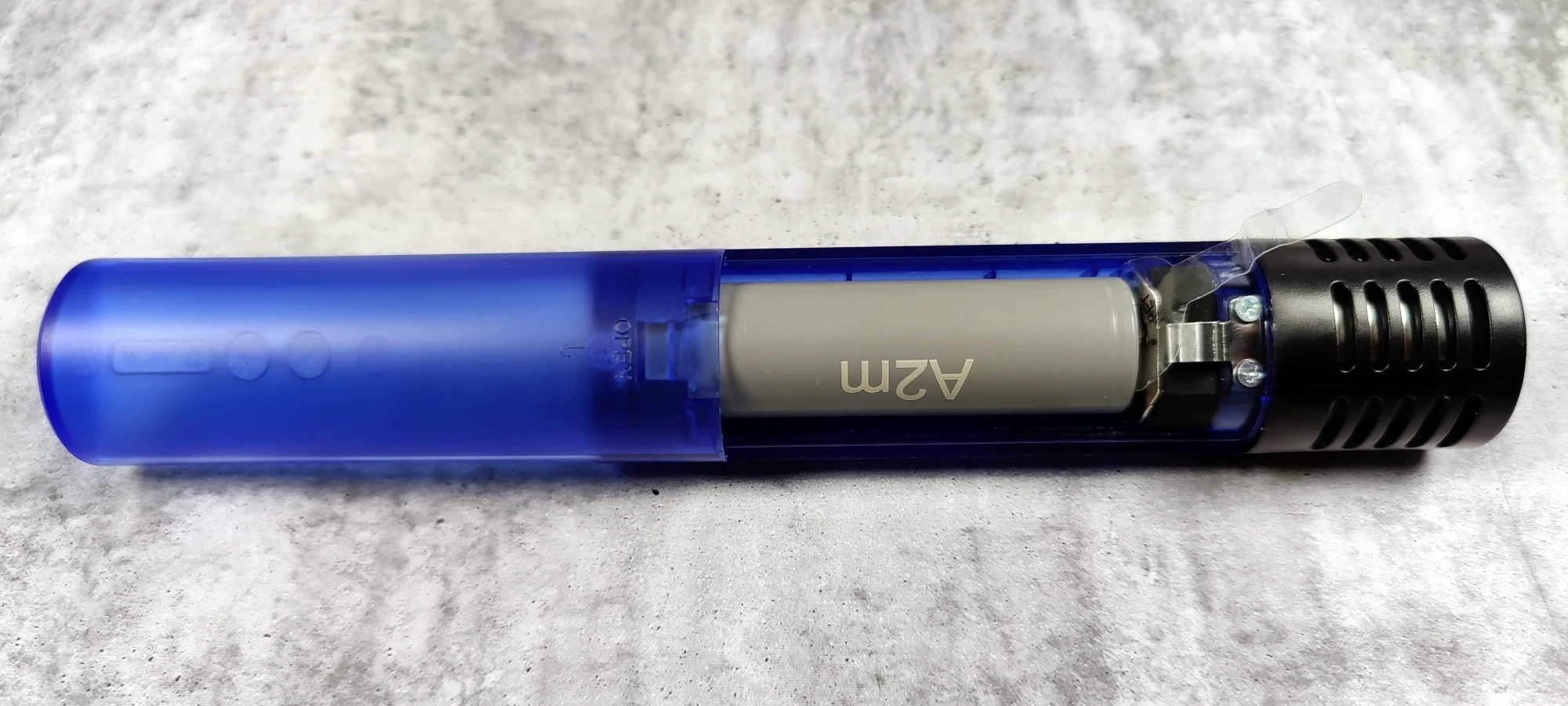 Is the Arizer Air SE Good for Beginners?
Finding the right vaporizer for a beginner can be challenging, but the Air SE from Arizer is an excellent choice. It's an affordable option that offers a user-friendly experience, making it easy for those new to vaping to get started. Arizer vaporizers are known for their consistency, reliability, and ease of use, and the Air SE is no exception. With minimal configuration options, there's little to be confused about, making it an excellent choice for less tech-savvy users. Overall, it's a good place to start your vaping journey.
Arizer Air SE Pros
Simple to use
Budget-friendly
Easy to clean
Swappable battery
Arizer Air SE Cons
Plastic housing
Heat-up time could be better
Preset temps only
USB charger not included (only the cable)
Is the Arizer Air SE Worth Buying?
Typically when companies add a budget vaporizer to their range, it's severely limited in some way that impacts the user experience compared to their higher-end devices. However, Arizer has done a great job here at giving you just enough of what matters and cutting some costs on things that, for many people, won't make a huge difference.
Frankly, they've done a great job at finding something that slots nicely into the Arizer range but enables even more people an opportunity to pick up one of their devices while even providing a great option for beginners.
If you've already got another Arizer portable that is one of the current models, you aren't going to find this an upgrade. Still, for those that have been sitting on the sidelines, maybe this is the perfect time to see why so many people enjoy using Arizer vaporizers.