Is the TableTop Bong the Best Water Pipe for Vaporizers?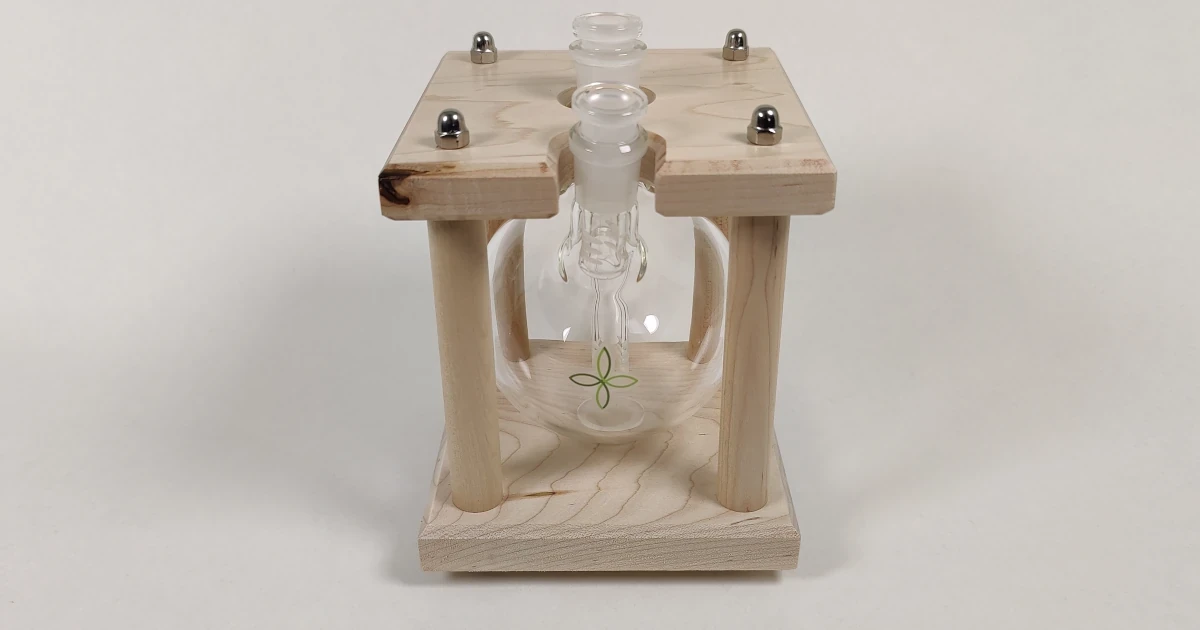 26 January 2023   •   8 min read
While there's a mountain of water pipes dedicated to smokers, there are not many that really hit the mark for vaporizer enthusiasts. However, the TableTop Bong certainly is an interesting option for anyone that wants to step up their vaping experience and something that might just become a daily driver should you consider picking one up.
What is the TableTop Bong?
The TableTop Bong, as you can imagine, is a water piece well suited for static in-home use. At its core is a spherical glass bubbler with a round bottom, surrounded by an excellent quality wood enclosure that provides stability and adds significantly to its charm.
It can be purchased with various wood options, a variety of downstems, and it is even available in a couple of different sizes. Hence, finding something that suits your vaping approach and style preferences is easy.
Service & Support
TableTop Bong is a Canadian-owned and operated company. The owner Lee is extremely passionate and knowledgeable (and you should definitely check out his excellent YouTube channel), so if you aren't sure where to start, he'll get you on track fast.
If you're unable to receive water pipes at your location, be sure to check out their sister site, TableTop Vase, which is an identical product with a different use case that may just be what you need. We're starting to see these units popping up around the world, as their team will happily work with you to provide competitive international shipping rates. So you should have no trouble getting your hands on one of these should you be interested. Furthermore, shipping is relatively discrete, so there are no worries about your postman giving you any weird looks when it arrives either.
In short, you certainly shouldn't be too worried about being left out in the cold should you run into any issues before or after picking up one for yourself.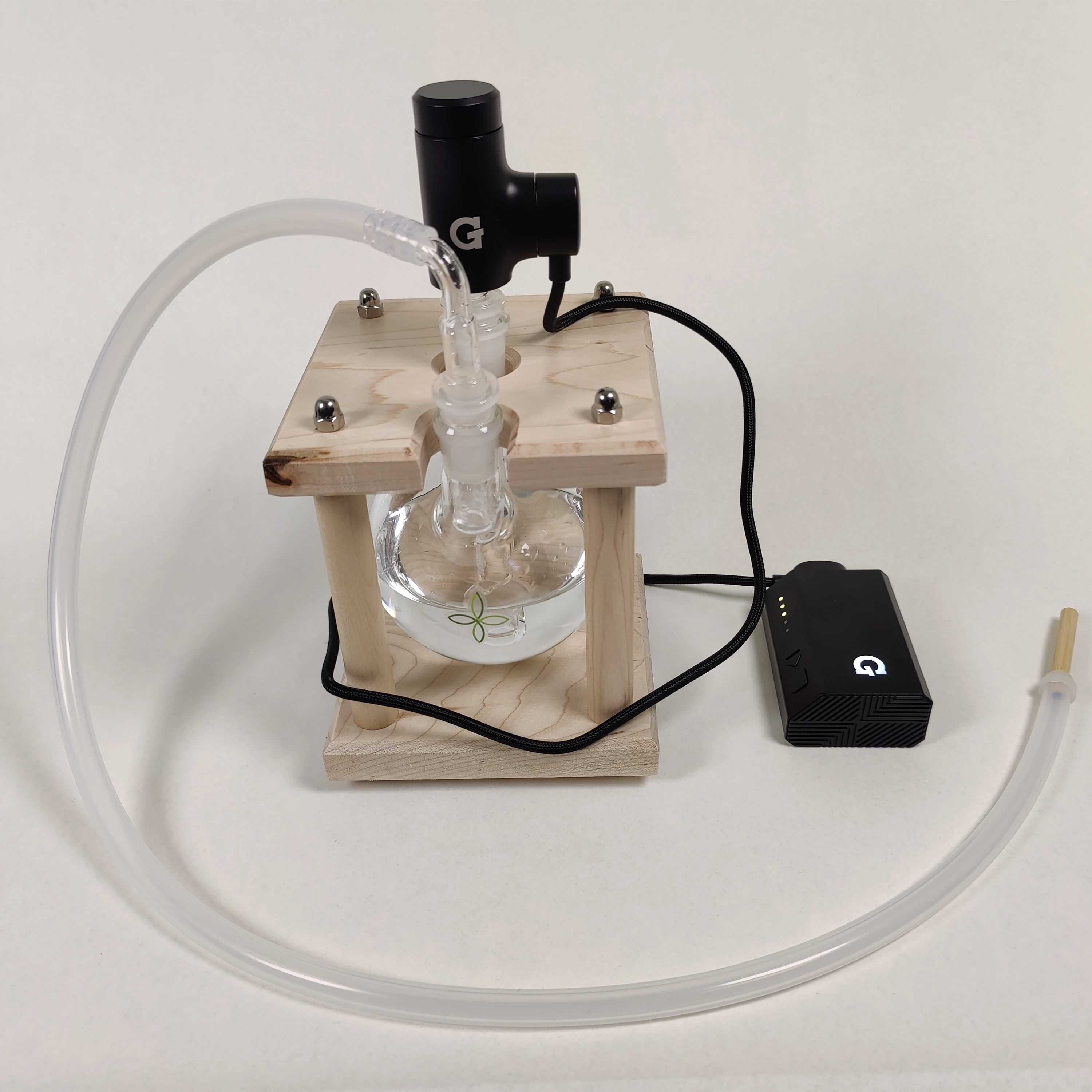 Performance
The TableTop Bong can be used both wet and dry. Naturally, the best experiences can be had when using water. Still, you can certainly get some decent cooling just from the vapor mixing with the ambient air in the chamber prior to inhalation if you prefer to run it dry.
The default stem provided with the unit isn't just your typical open-ended downstem that you'll typically find with a water piece. Instead, they include a series of holes that enhance percolation, something they've clearly put thought into with their other downstem options too.
Everything from an XMAX V3 Pro that leverages pure convection to a G Pen Hyer that is primarily conduction works excellently. Even pairing a Dynavap tip with a water pipe adapter or other analog vaporizers like the Flip Brick makes for a fantastic time with the TableTop Bong.
The 500mL capacity is perfect for vaping. It's a really nice amount of space, but if you find it a little too big for your liking, you can get away with being pretty aggressive with the amount of water used, which will reduce some of that extra space if you prefer.
The whip is also excellent; it doesn't easily kink and is of a decent length, ensuring you can kick back and enjoy. However, it doesn't take much for those who like a shorter vapor path to get the scissors out and trim it up either. If there's one thing we didn't really like about the whip, it's the bamboo mouthpiece which is very much a love or hate thing, but even if you aren't a fan of wood tips, it's straightforward and inexpensive to find an alternative to swap it out with should it bug you. It'd be fantastic to see a glass whip tip offering from TableTop Bong directly in the future.
Cold water will, of course, work, but due to the round bottom glass and the wooden stand, you run the risk of dripping condensation all over the wood, which won't do it any favors and may even mark it. However, you shouldn't find this necessary anyway, the cooling performance is great, and the whip helps as well due to the extra-long vapor path.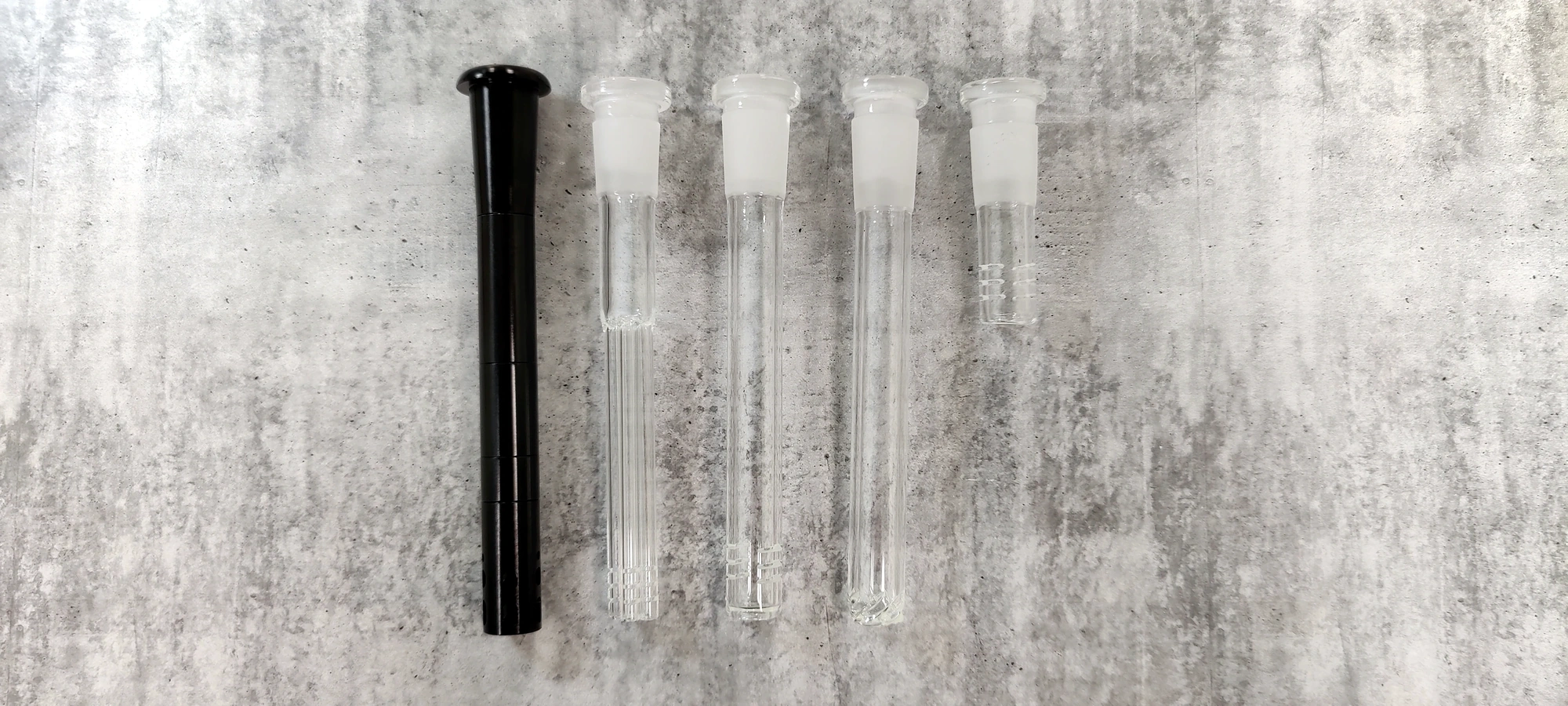 Pricing
The average cost of a TableTop bong is $200 CAD or roughly $150 USD. Given the high-quality materials, the pricing is quite reasonable. If you're looking for some cheap China glass, there are other options available. Still, even if you go that route, once you factor in a stand, downstem, whip, etc., you'll end up close to this price point anyway, so why not go for the higher quality option and get yourself something with a bit of care should last you years.
Some of the different wood and finish variants add some additional cost, but it's relatively minimal at around $25 CAD extra for some of the more expensive options. Additionally, if you opt for the smaller DeskTop Bong (250mL vs. the 500mL of the TableTop Bong), you can save a few dollars as well, but given the cost, the difference is quite minimal. You should have a good think about what best suits your needs, and if in doubt, the larger option is the one we'd recommend as it will be the most flexible.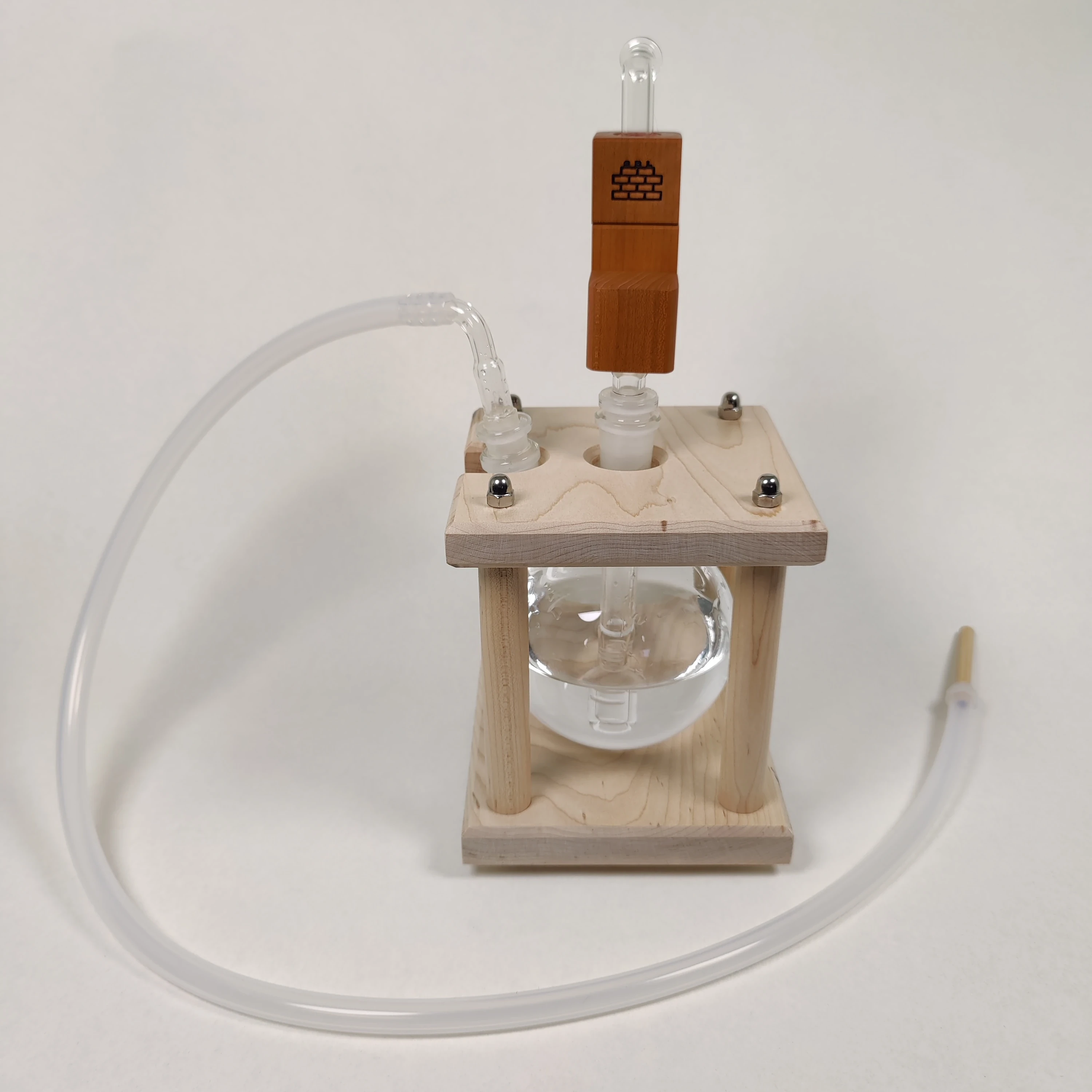 Cleaning
Maintenance is something that can undoubtedly be tiresome when it comes to vaping, especially given the increasingly fiddly cooling system designs of many modern portable electronic vaporizers. Hence, it's understandable that you probably don't want to add another cleaning problem to your routine. Thankfully, the TableTop Bong is quite easy to keep clean with a little isopropyl alcohol rinse followed up with some water to get it nice and shiny again.
Given the only openings are relatively small and can be covered with a finger, you can even throw a little isopropyl alcohol inside, cap the holes with your fingers and give it a careful shake if you like. Cleaning whips are always a bit hit-and-miss, and at a certain point, the tubing is best replaced. Still, it's easily sourced and is commonly available from vaporizer retailers and medical supply companies.
Customization
The TableTop bong comes fitted with 2x 18mm female joints and includes a Glass Out-Stem insert that can convert them to 14mm, making it easy to find compatible parts to tweak your experience, even beyond that offered by TableTop Bong themselves.
It's great to see they opted for a standard size, as this provides a lot of flexibility to get it working exactly how you like it. It's especially helpful for those buying these outside of Canada, as you should be able to find compatible whips and other addons relatively inexpensively without having to worry about international postage (if applicable in your case) just on a new whip or other small part.
One fun way to customize the TableTop Bong we explored was adding a glass stem mouthpiece in place of the whip and using a sidestep adapter to get a bit of extra distance between the two joints; this results in a really nice experience for those who prefer full glass on glass.
Several different downstems are offered for the TableTop Bong, and while you don't expect this to change the experience much, it is actually quite surprising. It's well worth grabbing an extra stem or two if you can budget for it, especially if you're planning to try several vapes with it, as you'll find some mesh better with certain downstems than others, especially when comparing both convection and conduction vaporizers. The default downstem option is perfectly fine, but if you're more of an enthusiast type, the options help bring a little extra refinement to the experience when you find a combo you really like.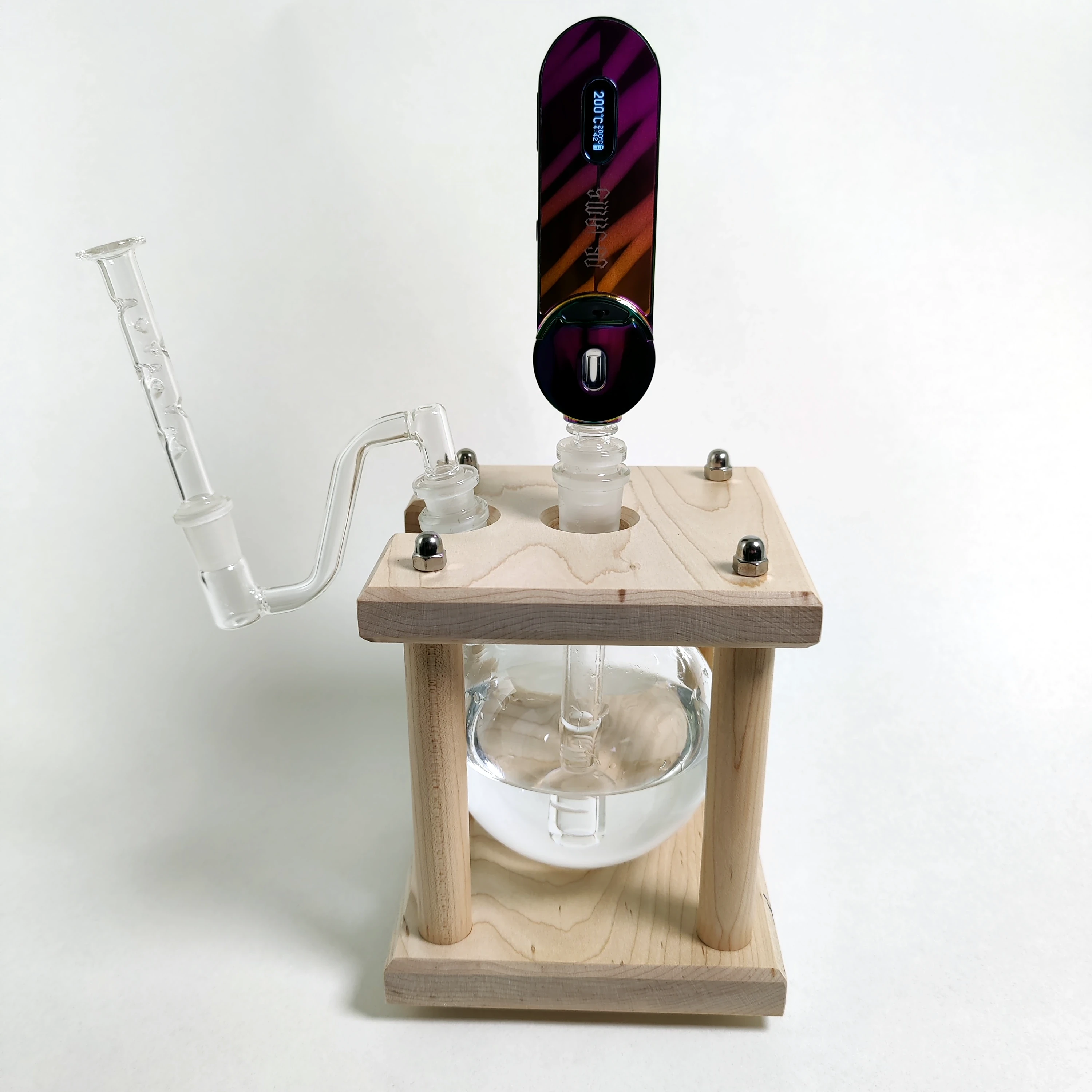 Conclusion
The TableTop Bong is an excellent piece of kit. Whether you're just looking for something to take the edge off a vaporizer that struggles at higher temps or you want something to daily drive, you can't really go wrong here. Not only can you achieve some silky smooth yet absurdly powerful hits with this thing, but it also does it in style. It's just an excellent-looking water pipe and is the type of thing you'll be excited to break out when you have guests around.
While it's not the cheapest option around, glass is one of those things that, if you're careful with it, can serve you a long time, so it's well worth spending a little extra on something higher quality if you're going to be using it for years potentially. Furthermore, given that the stand provides rather good stability, you'd be hard-pressed to find yourself breaking the TableTop Bong unless you manage to literally rip the thing off a table.
It's not often we find water pipes that get us excited enough to want to cover them. But, frankly, the TableTop Bong is just an exceptional product across the board, from service to material quality. We highly recommend you check this one out and see for yourself!
To find out more about the TableTop Bong head over to our profile here or visit tabletopbong.com