Dynavap 2021 M Review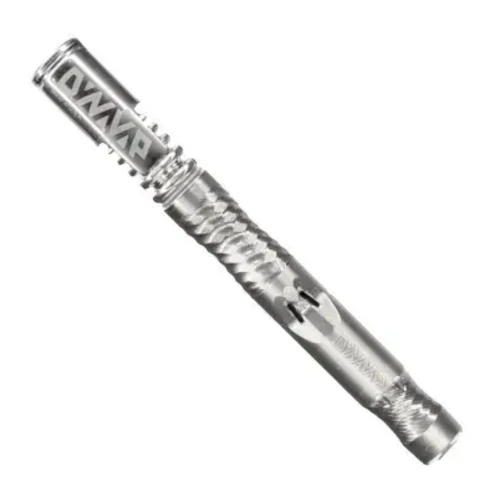 30 May 2022   •   10 min read
If you've never seen a Dynvap before, you'd be forgiven for thinking it looked like a good old-fashioned one-hitter, but it's actually a lot more interesting. The most well-known in the Dynvap lineup is the model 'M,' thanks to its approachable price point and positive feedback from the community.
Dynavap 2021 M Features
Battery-free operation
Adjustable bowl (2 positions)
10mm tapered mouthpiece
Tactile grip for easy rotation
Made entirely in the USA

How to Use the Dynavap 2021 M
Remove the cap and load the bowl with material
Place the cap back on and grab a torch (or similar)
Heat the cap while rotating slowly until you hear a click
Inhale through the mouthpiece without covering the holes
Heating lower on the cap will result in a longer heat-up and warmer, thicker vapor. Heating higher near the top of the cap will result in a faster heat-up with less vapor and more flavor. Experimentation is the best way to find out how far down feels good for you; just be sure to stop once the cap clicks to avoid accidentally combusting your material after overheating the cap.
The first time you do this is likely going to feel a bit awkward and rushed, but after a few attempts, you'll probably find that you find your groove and can have a great time using the device. Of course, you may find watching a video demonstration or two before you dive in yourself helps you get comfortable, but it's just something you'll naturally get the hang of with experience. With that said, it's not that bad by any means; it's just a little unusual if you've never used a "butane powered" vaporizer like this before, and if you have, you'll likely find yourself adjusting to it's nuances even quicker.
How much does the Dynavap 2021 M Cost?
The base pack with just the Dynvap M 2021 will run you around $79 USD and can easily be found in Australia for about $100 AUD. If you want a colored Dynvap (Azurium, Rosium, Obsidium, or Verdium), you'll pay around $10 more than the plain version.
If you want to make sure you're more than covered and want to grab a starter pack, you'll have to spend around $130 USD or about $170 AUD. However, there's also a starter pack version for concentrate lovers that includes a DynaCoil for approximately $15 USD more, which is an excellent value add if you intend to use it.
Is the Dynavap 2021 M Well Built?
Suppose you've been disappointed in the past by some cheaper devices being poorly manufactured. In that case, you'll be happy with the Dynvap 2021 M. It's nicely engineered and manufactured entirely in the USA to very decent standards and respectable tolerances. The cap can be a little finicky if it's not perfectly fitted, but with a careful squeeze, you can get it into shape without too much hassle; just don't be too aggressive when doing it.
What Comes in the Box?
The standard Dynvap 2021 M pack is quick, a simple one, the package itself could even be considered pocket friendly, so it would also make an excellent gift if you're looking for a discrete vaporizer to gift in a small package. You simply get the Dynvap 2021 M inside a recycled cardboard packet in the standard pack.
While you can use the model 'M' out of the box, you'll likely find a better taste and a nicer first impression if you give it a good wash first, even if you just use some nice hot water as it can be a little greasy, Although it appears this somewhat oily first impression is just a result of the beeswax they suggest using and sell for keeping the seals fresh and seem to use when assembling the devices themselves at the factory.
Additionally, you can also grab the "Dynvap 2021 M Starter Pack," which contains some extra items if you don't mind spending a little more. For example, you can find a starter pack containing a relatively good torch, a wooden Dynastash that is actually quite nice, and a bunch of maintenance materials and spares for your Dynvap that should keep you going for a while. It even comes in an interesting box designed to remind you of the Dynvap, which is a nice touch and is definitely a fair bit showier than the standard pack.
Dynavap 2021 M Accessories & Consumables
Dynavap DynaCoil
DynaStash (various wood options)
DynaWax
SnapStash
Wood cap stand
The DynaMag
DynaKit (spare parts/maintenance kit)
Replacement CCDs (stainless or titanium)
Beyond the list above, there is a growing market for third-party/aftermarket accessories and add-ons. Just about anything you could think of and then some available for the Dynvap 2021 M. Given that the Dynvap is relatively modular in design, you'll find alternatives for essentially every part of the device if you want to start getting more adventurous or just looking to replace a specific piece for whatever reason.
Can you use the Dynavap 2021 M with a Water Pipe?
You may be surprised to hear that you can use the Dynvap 2021 M without additional aftermarket accessories with a water pipe that offers a 10mm female joint. However, realistically 14mm and 18mm are far more common to spot out in the wild or for you to already have in your collection. In that case, you'll need a Dynvap water pipe adapter, but these are typically easy to source and aren't super expensive.
If you're one of the lucky ones with a water pipe that offers a 10mm connector, you can simply heat up the Dynvap and slot it right in the socket. While you can attempt to heat it while it's already sitting in the bubbler, it's often awkward, and you'll need to get used to removing it anyway to empty it between sessions.
Is the Dynavap 2021 M Portable?
The Dynavap M is incredibly portable, and if you can't fit it in your pocket, you probably shouldn't be calling it a pocket in the first place. Also, there are plenty of rather good storage options sold by Dynvap directly and created by third parties and community members that can make carrying it around with a little flower even easier.
If anything, when carrying the Dynvap around, the heat source you're using will likely be more of a problem which is an excellent problem to have. Nonetheless, while some all-in-one-pen-style vaporizers can pack everything into a slightly larger package, often these devices lack performance, outside of things like cartridge systems and the occasional Unicorn anyway.
Does the Dynavap 2021 M have Good Battery Life?
No Batteries are required to use a Dynavap. It is considered a "butane powered" or "analog" vaporizer with no batteries, charger, or electrical components. To use a Dynvap, all you need is a heat source, and a simple torch lighter from your local gas station will even do a pretty good job in a pinch.
Is the Dynavap 2021 M Easy to Clean?
While it can feel a little odd taking apart your Dynvap for the first time, once you have, you won't be too worried when doing it again in the future. A few parts are involved, but they all slot together nicely and have good tolerances. The most delicate part you'll face is the CCD (circumferential compression diffuser) which is essentially just a fancy screen. Still, if you take the time to understand how things fit together and aren't too rough, you'll do fine. There are plenty of videos online covering the process that can help if you're hesitant about that first clean.
How to Clean the Dynavap 2021 M
The easiest way to clean the Dynvap is with a quick rinse in isopropyl alcohol with all the pieces separated to speed up the process and make things a bit easier. It's not recommended to soak the Dynvap in isopropyl or anything for that matter, so try and keep it brief. Simply get it apart, give it a rinse, let it dry off for a few minutes, and you'll be good to go again. Depending on how heavily you use your device, you may find you can avoid cleaning it for a while. However, heavier users will still hit a wall pretty quickly when it comes to those sticky and gummy residues we are all too familiar with managing.
Can the Dynavap 2021 M Produce Good Vapor?
One area you will likely be impressed by the Dynavap 2021 M is its vapor production and efficiency, though it's likely to evade you initially. However, after even a day of getting familiar with this device, you will likely have your approach locked in and be having a great time with it. Not only can you achieve formidable vapor from the model 'M,' but you'll also likely be surprised by how efficient it can be. Many users of the device even report reducing their flower consumption after switching to the device, which is rather interesting.
You can fit around 0.1g into the bowl when the CCD is in the default position or around 0.05g when the CCD is moved up into the half-bowl position. While this doesn't sound like a lot, many people are surprised by how effective this little device is at making the most of small amounts of material.
Can you use Concentrates with the Dynavap 2021 M?
If you're just cracking open the box for the first time and are already eying off a jar of concentrate, you may be a little disappointed. Unfortunately, the Dynavap 2021 M is not suited to concentrates on its own, but you should have no trouble spiking a little flower if you aren't too heavy-handed.
However, if you're set on leveraging your Dynvap for concentrates or wax, there is a solution in the DynaCoil. The DynaCoil is an interesting little add-on made from a continuous piece of carefully engineered and rolled titanium that can be used to increase the compatibility of your Dynvap with concentrates by providing something to keep the concentrates in the bowl and help them stay out of your mouth.
Is the Dynavap 2021 M Worth Buying?
If you're yet to try an analog vape, this is a great way to dip your toes in without spending a lot to get started. Even though the Dynavap M range is lower-priced, you aren't left feeling like corners were cut compared to higher-end models like the Omni. Of course, there are differences, but you won't feel disappointed with the M even if you end up trying another model later; odds are you'll just appreciate it a little more.
If you're on a limited budget, like to microdose, hate dealing with batteries, or just want to see what all the Dynavap fuss is about, you can't go wrong picking up a Dynvap 2021 M.
Dynavap 2021 M Pros
Will last years if you take care of it
Minimal parts to maintain and clean
Much cheaper than some other alternatives
Adjustable bowl with two options
Excellent vapor production
No batteries required
Dynavap 2021 M Cons
The CCD can be a little fiddly and delicate
It can look quite weird if you're using it in public
Induction heaters are expensive if you don't want flames
The cap can bend if you're a bit rough/unlucky
Your first time will likely be somewhat awkward
Bowl size isn't enough for some