YLLVAPE Angus Review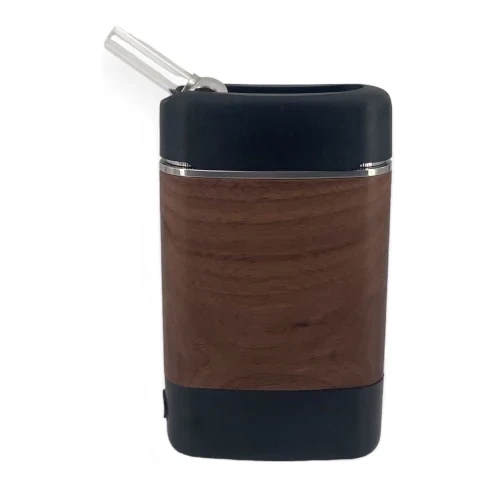 5 November 2023   •   13 min read
The YLLVAPE Angus stands out with an uncommon approach to vaporizing dry herbs, but is it enough to make this vaporizer worth your attention? Let's take a closer look and see whether the Angus is a game changer or whether they have dropped the ball.
Initial Encounter: Introducing the YLLVAPE Angus
When receiving the Angus from YLLVAPE, the packaging is essentially just a plain box with a small sticker vaguely sealing it shut. However, this really is fine. So many vaporizers come in over-the-top packaging where the time and effort really should have been spent elsewhere, so it's nice to see they are trying to let the vaporizer speak for itself. The Angus comes with several useful additions, including a rather nice storage case, some surprisingly helpful tweezers, various spares, a cleaning brush, etc.
The first thing you notice about the Angus is that it gives off Storz & Bickel Mighty vibes. However, this vaporizer takes a different route to producing vapor by utilizing the heat from a halogen bulb. While this isn't the first vaporizer to ever do this, it's one of the only halogen choices that are currently available.
The body is largely made of wood, which is also something that you don't see too often outside of analog vaporizers. Controlling the device is achieved via a single button, which results in a slightly minimalistic appearance. It can be a little fiddly at first to get used to using that button to control the whole experience, but it's not overly complicated at all to understand how it works.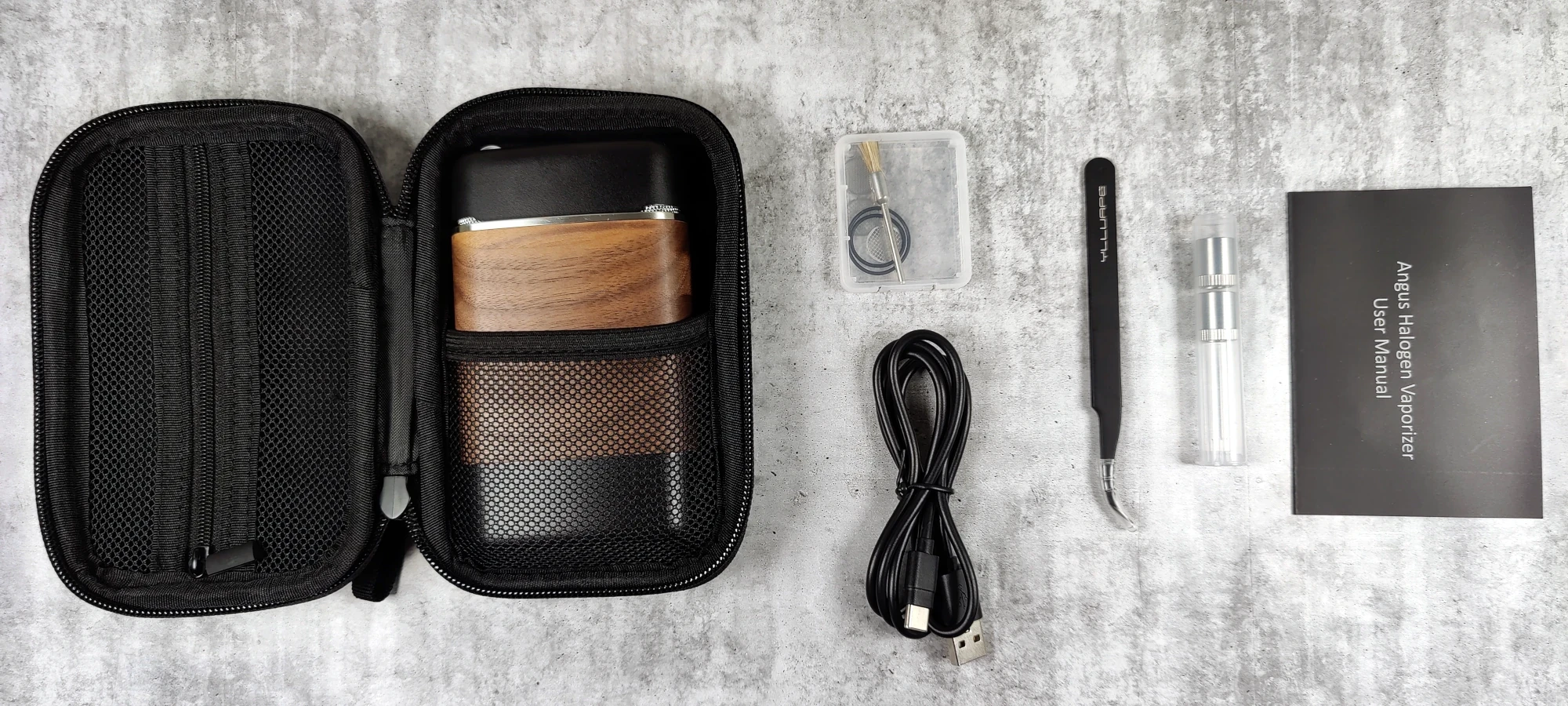 Feature Exploration: What Sets the YLLVAPE Angus Apart?
The Halogen bulb heater is very much the standout feature of the Angus. It provides an unusual but pleasant signature to the vapor produced by this device. Additionally, there are some other nice touches, such as the swappable dual 18650 batteries and USB-C charging, which is always nice to see.
Getting Started: Mastering the YLLVAPE Angus in Minutes
To use the YLLVAPE Angus, start by unscrewing the thumbscrews to insert two 18650 batteries. Activating the device requires a quick press of the side button three times. When the device is on, the same button allows you to select from the temperature presets. Each press advances to the following setting, which is indicated by one of five positions arranged in a circle. Three more button presses will turn it off again when you're finished.
The bowl can be loaded as high as the o-ring. When preparing your material, a medium grind tends to work quite well, but it's important to avoid overpacking, as this will significantly impede airflow and reduce vaporization efficiency. A boost mode can be triggered by holding the button, which increases the temperature above the currently selected preset by ten degrees. The bowl is relatively large and can support up to 0.25g sessions, but the exact amount you can fit comfortably will depend on grind size and other factors.
The Angus can get a bit too hot towards the end of a session. While you may be able to get away with doing back-to-back sessions, it's probably not the best idea; that said, given the capacity of the bowl, you probably won't need to go back for more immediately.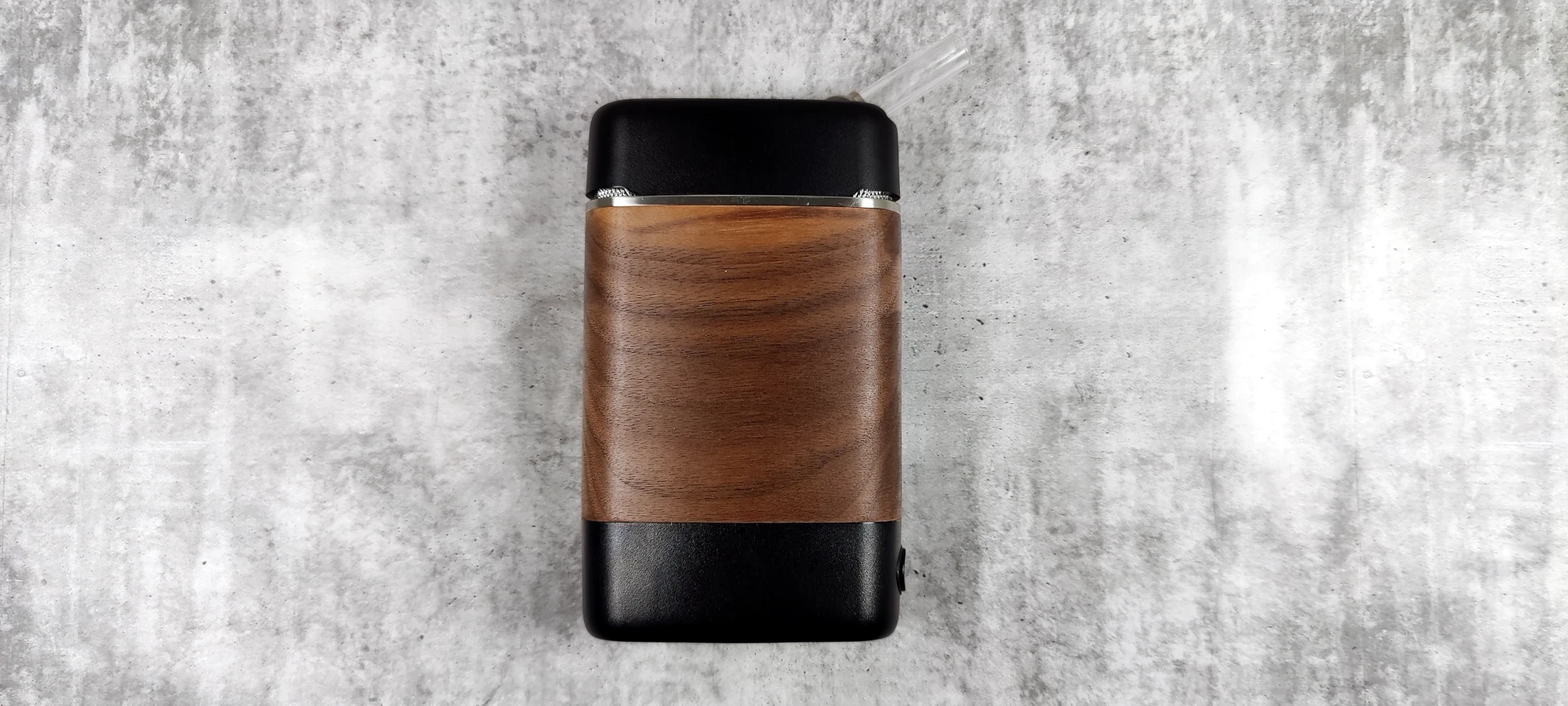 Design and Build: We have some concerns about the YLLVAPE Angus
Build quality and design is where things get a little problematic. At first glance, the Angus is a somewhat attractive-looking device, and it performs pretty nicely as well. However, it has had a lot of issues and continues to run into some problems as a growing number of people are using the device. For example, early units had problems with the cooling unit melting in some cases due to the specific type of plastic used and the design.
Even with more recent units, there are still some issues (which we also experienced repeatedly) where sweating of the wood can occur alongside the batteries, which can be really concerning given the type of catastrophic failure that can happen when shorting an 18650 battery. After reaching out to YLLVAPE with a question about the condensation build-up on batteries, they stated the following:
"The current Angus has very thin plastic tube in the battery chamber, to avoid this potential thing. The moisture comes from the wood, and the wood can be not dry 100%, please clean the moisture if it has, it will be gone."
It's positive to hear that the design is being adapted, but the problem is it seems to be getting adjusted on the fly without a model change, making it hard for consumers to stay informed; this can be problematic as, firstly, you need to know there is a problem, then know how the problem was fixed to look for that, and then you still need to find a retailer that is aware of these issues as well or can at least tell you which version they have in stock.
A device like this should have been tested much more thoroughly before public release or only released to a limited audience with a thorough and transparent disclaimer that the design was very much still a work in progress. YLLVAPE also say they are now releasing a slightly different version of the Angus with Ruby balls and a 100w halogen bulb in response to some community feedback. One thing that should be helpful about that update is that it makes it easier to find models in stock that are the most up-to-date, as these changes can be used as a rough indicator of when a specific unit was likely manufactured.
In short, this could and should have been handled much better than it has. It all feels rushed, with an apparent fear of disrupting the distribution of the device, they also seem to have no intention of doing anything about the condensation issue that is likely affecting most existing units out in the hands of users.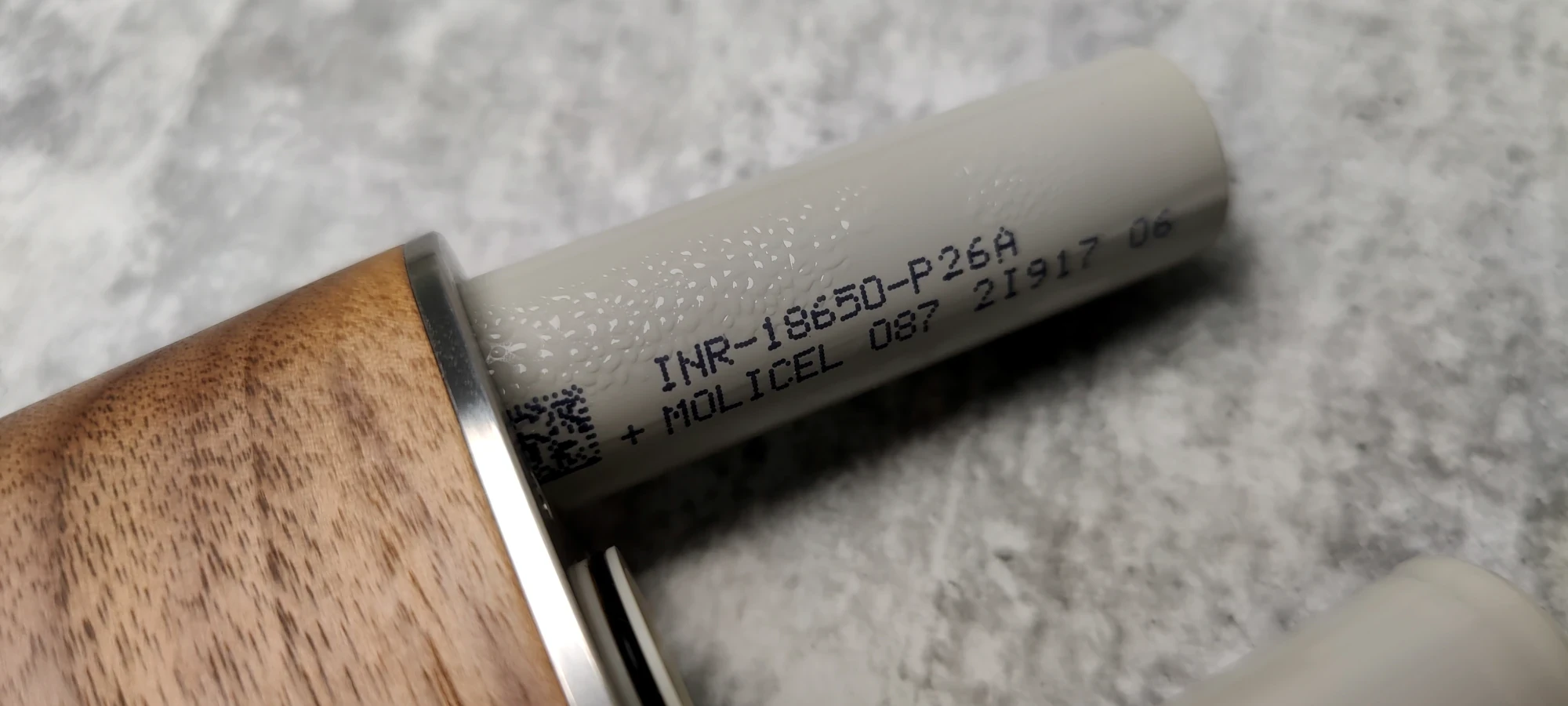 Adaptability Review: Water Pipe Synergy with the YLLVAPE Angus
While using the Angus out of the box with a water pipe isn't possible, you can purchase an optional Angus water pipe adapter (WPA). This WPA is relatively well-designed and rather flexible in terms of how it can be used, with support for various configurations and joint sizes, so if you're keen to use this vaporizer on your favorite water piece, you can, you'll just need a little something extra.
Vaping on the Go: Taking YLLVAPE Angus on an Adventure
The Angus is more than a little chunky; if you're someone who really values portability, there are other devices that will probably be better suited to you. That said, if you aren't looking for something that is pocket-friendly but still can be easily taken with you in a bag or something, the Angus makes a little more sense.
When purchasing the Angus, a relatively decent storage case is included to fit both your Angus and the included bits and pieces, which helps with the portability aspect. However, if you're using the Angus in public, don't be surprised if someone asks about your "flask", as the wood grain and general shape just really gives it that look.
Battery Insights: The Endurance of the YLLVAPE Angus
Battery life will vary significantly depending on the quality of the batteries used and other factors like temperature selected and session times. While at higher temps and longer sessions, you may find yourself looking for a charger towards the end of the day if you're using this vaporizer a lot throughout the day. It's nice that the batteries are user-swappable, so it's pretty easy to just keep a spare set on you (just be sure to store them safely).
It's important to understand that batteries are not included with the Angus and to use it, you'll need a pair of 18650 batteries. Please remember, when purchasing batteries yourself, it's typically good advice to buy them from a vaporizer retailer instead of random battery sellers online, as you're more likely to end up with a genuine high-quality cell.
Again, we'd like to mention that we experienced repeated issues with sweating in the battery compartments when using the YLLVAPE Angus, which raised some significant concerns.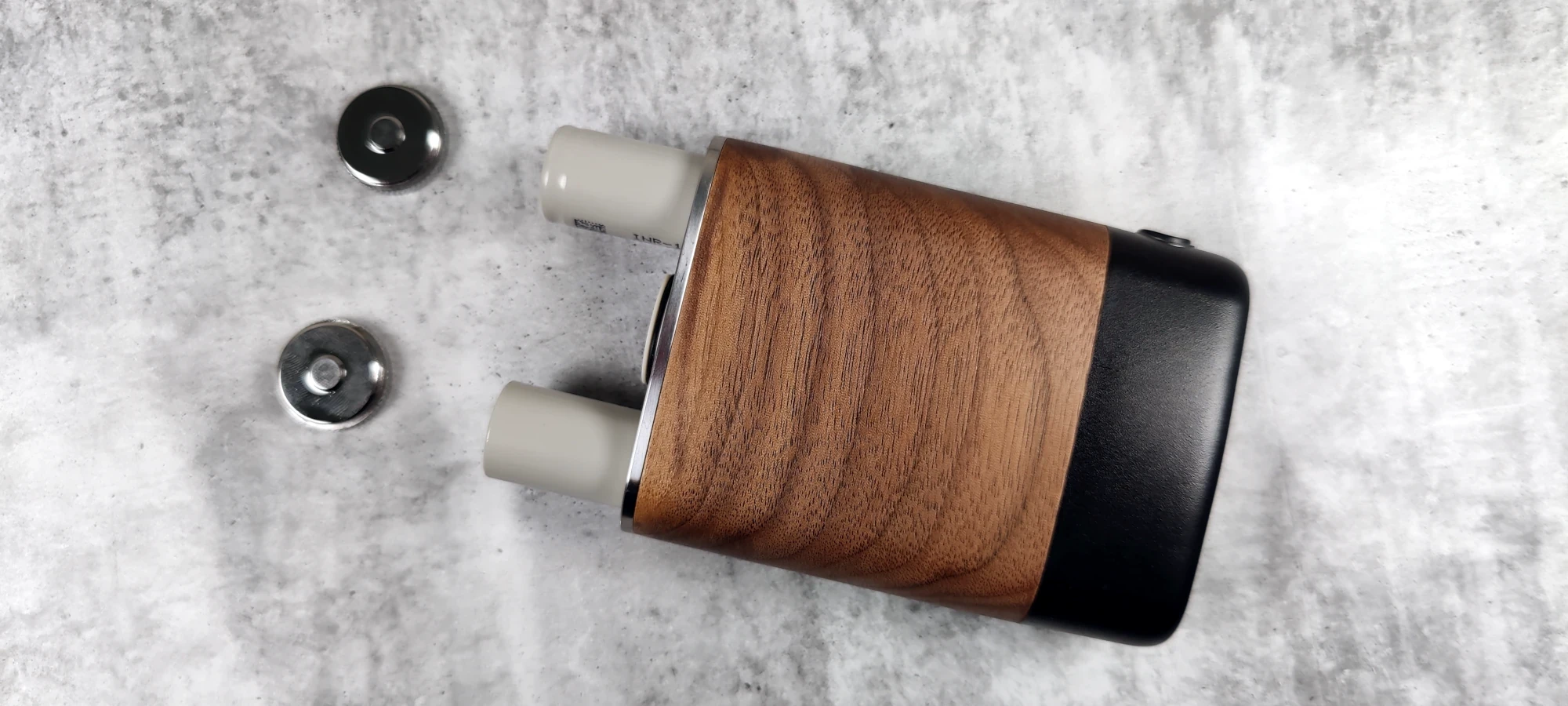 Clean Living: Upkeep for the YLLVAPE Angus
Cleaning the Angus can be a little awkward. Giving the oven a wipe-out is easy enough, but where things start getting a bit fiddly is cleaning out the top section of the device where the mouthpiece, cooling unit, etc, are located. While it's not too problematic to separate this part of the device into its various components, there are a lot of hard-to-reach areas that can accumulate resin.
While it's absolutely not the worst vaporizer to clean, it's certainly a tad fiddly. It won't be a dealbreaker for most, but if you find it hard to keep up with vaporizer maintenance as it is, then it's something to think about.
Shining Bright: How Long Does the Bulb Last?
One concern many people have about the Angus is the bulb. Having a halogen bulb inside your vaporizer is something that isn't common, so this is certainly a fair question. The halogen bulb inside the Angus is rated for around 2000 hours, which, when you factor in the average session time of just a few minutes, is actually a very long time. However, it does feel like a total missed opportunity that the bulb isn't user-replaceable; if they don't attempt to add this option in a future release, it would be extremely surprising. Even though replacing it isn't incredibly complicated, it does require some soldering, which surely could have been easily avoided.
Bulbs have been reported as dying prematurely, even though this seems to be relatively rare, it is still something to consider when choosing where to purchase the device, as you may end up requiring some post-purchase support. That said, there's always a potential for that with any vaporizer.
Value Analysis: Assessing the YLLVAPE Angus's Price Performance
You can pick up the YLLVAPE Angus for around $169 USD. While this price point is becoming quite competitive, the performance provided by the Angus makes it worth talking about, as does the uncommon approach to heating used by the device.
One thing to remember is that the Angus doesn't come with batteries officially. However, some excellent retailers like To The Cloud Vapor Store are offering the Angus alongside some high-quality batteries, which is certainly a great option to consider if you're shopping for your own Angus.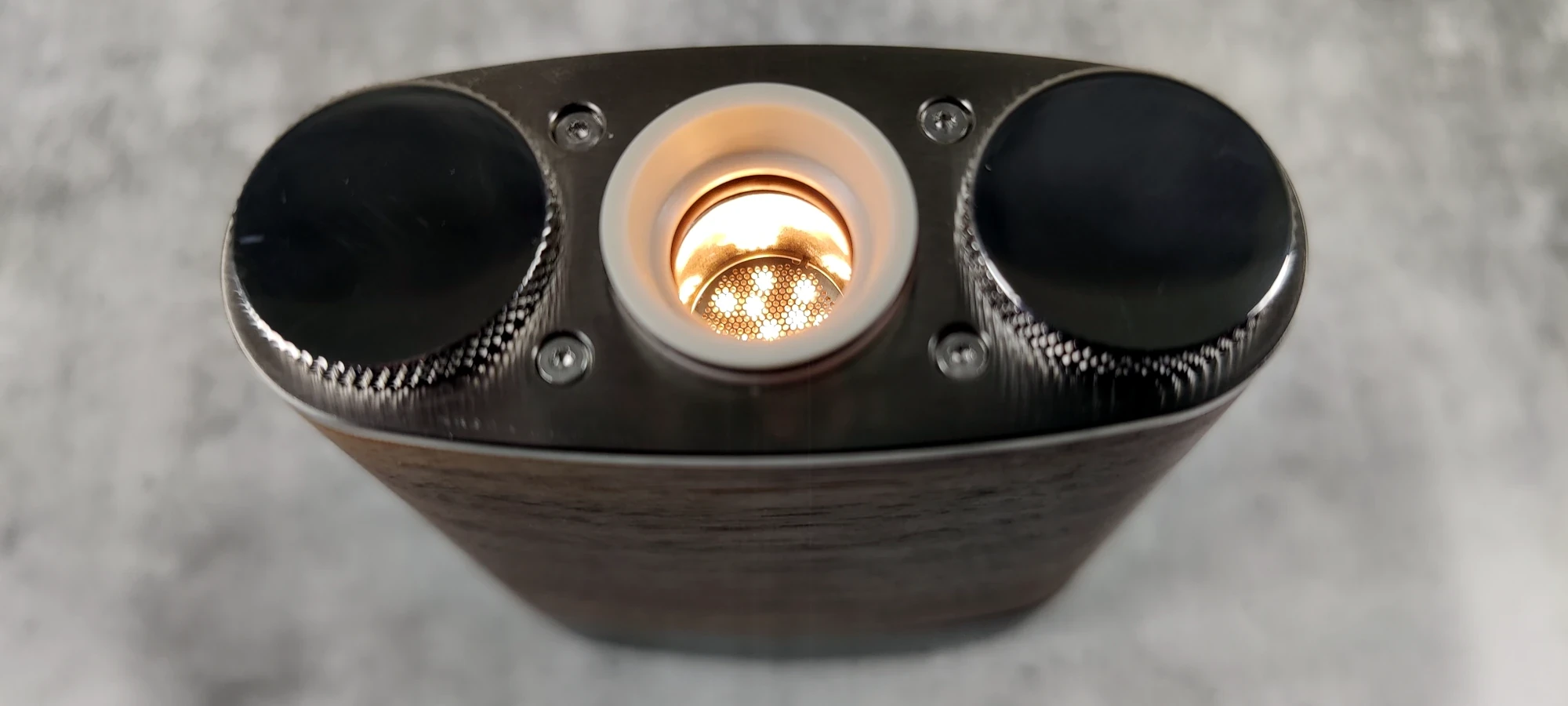 Pushing the Limits: Modding the YLLVAPE Angus
One area where the Angus has some interesting potential is with modding. While this is more for advanced users, it is something that some owners of this vaporizer are exploring.
For example, some people are experimenting with different types of balls to tweak the signature of the vapor produced by the Angus, but this does require some soldering. Hence, it's not super convenient to switch them out, at least with the current design. There's not a tremendous amount of customization potential, but there is a little to explore if you're interested.
The cooling unit will also fit a bunch of balls if you are so inclined, but it does mute the flavor somewhat. However, you may find better results with some of your own experimentation.
Performance Check: The YLLVAPE Angus's Vapor Quality
Off the bat, the flavor here is excellent. One thing the Angus does very well is producing flavorful vapor. The first few inhales after it reaches temp are rather delightful, and unlike some types of vaporizers the flavor doesn't fall off too aggressively either, which is really lovely. There seems to be something about the way the material is heated that appears to result in a more balanced session from start to finish. If you hate that popcorn taste that can come forward really quickly with some vaporizers you may really end up liking the Angus, as it does quite a good job at minimizing that.
At higher temps, there's plenty of visible vapor, and it's not too hard to get some reasonable clouds going. When keeping temps lower, you're just going to find yourself focusing on the flavor, which again is very good. Overall, performance is decent for a portable dry herb vaporizer.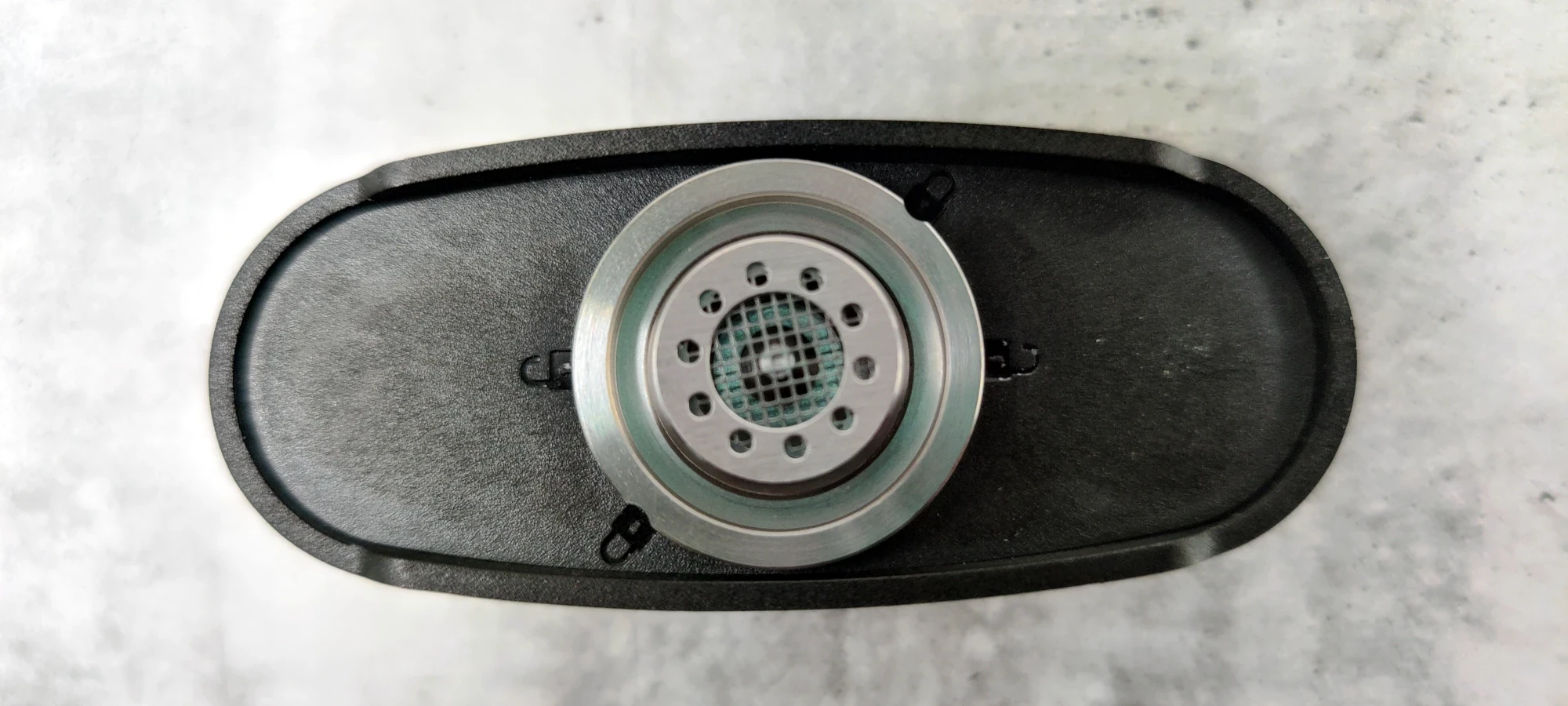 Versatility Test: Mixing the YLLVAPE Angus with Concentrates
The Angus is a dry herb vaporizer that is not designed with concentrates in mind. If you're looking to use concentrates, there are many alternatives that would be much better suited.
Tipping the Scales: The Good and the Bad of the YLLVAPE Angus
Pros:
Great flavor
Good vapor production
Swappable dual 18650 batteries
Mostly wooden body
Halogen bulb heater


Cons:
Moisture accumulation in the battery chambers is quite concerning
It should have been tested much more before release
Frequent changes to the device make purchases confusing
Swapping batteries could be faster
The boost mode feels unnecessary
It can get quite hot during extended use
Slow cold start heat up time (60-90 seconds)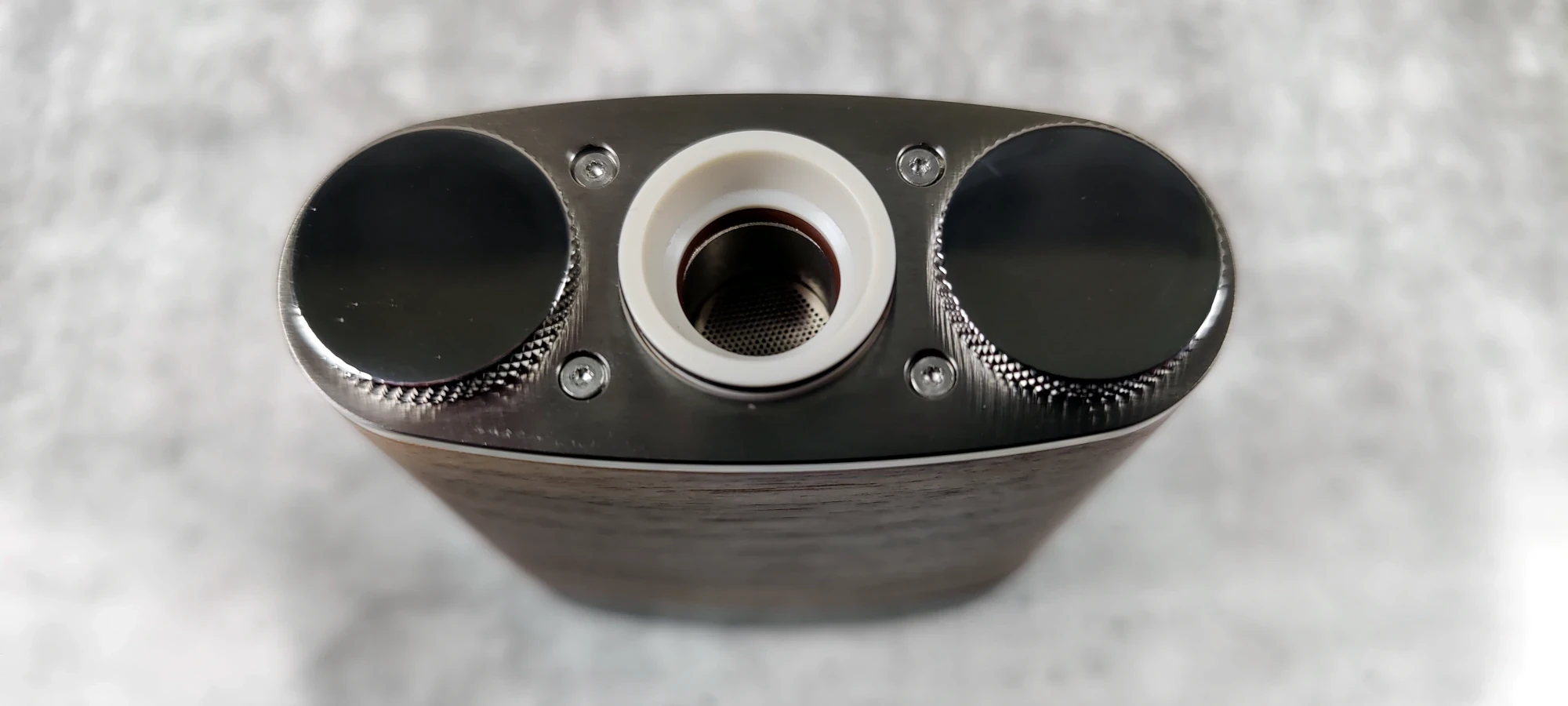 Purchase Consideration: Should You Buy the YLLVAPE Angus?
The Angus is a fascinating device that took a lot of chances to create something different from many of the portable dry herb vaporizers doing the rounds lately, and it does a fair job of providing something with some personality. However, it also feels like this device was released well before it was truly ready.
Again, the Angus is an interesting vaporizer, but it's not without some pretty significant issues. We also have some significant concerns with the potential for moisture in the battery compartments. If you are looking for your first vaporizer, there are a lot of other devices that would be far better suited for a first-timer. Even for enthusiasts, we'd have trouble recommending this as it's unclear if the issues have been entirely resolved, even in the recent units, especially given they've already tweaked the design multiple times. Yet, things still seem to have been overlooked. We'd suggest waiting for a future model that will hopefully be much more polished than the current version.
Suppose you still want to pick one up. In that case, we'd highly recommend speaking with the retailer to understand which version you are getting, especially regarding the cooling unit and whether the battery chamber has a lining to hopefully help prevent moisture accumulation.