Healthy Rips Rogue Review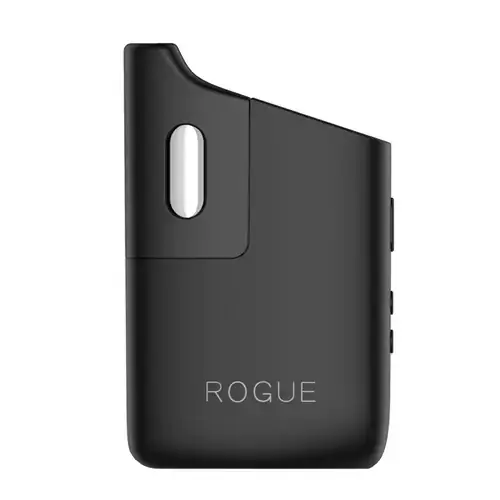 21 May 2022   •   9 min read
Perhaps the Rogue is the answer to providing a premium convection vape experience without the premium price point. It's time to explore one of the best mid-range vapes currently on the market that may surprise you with its performance.
Healthy Rips Rogue Features
Electronic controls
Bright OLED display
USB-C charging
Haptic feedback
Fast heat up
How to Use the Healthy Rips Rogue
Pressing the power button three times will turn on the device. Once the device is turned on, it will begin heating up immediately, and at this stage, you can set the desired temperature with the plus and minus buttons. As the device only has three buttons, it's easy to get familiar with and start using.
If it's your first time using the device, give everything a bit of a clean, turn the temperature up to the maximum setting, and let the device run for a complete cycle to burn off any residues from the factory. However, this is good to do with any new vaporizer.
Pressing the power button once will display the current level of battery charge. However, it does so in a way that isn't incredibly verbose and relies on a reasonably basic battery icon with a few lines to show the charge level.
To rotate the display, you simply hold the power button for three seconds, or to change between Celsius and Fahrenheit, hold the power button and the minus button for two seconds. Finally, the power button and plus button can be pressed together to modify the auto-shutoff timer between 3-8 minutes.
In terms of putting material in the device, you simply remove the mouthpiece by gripping it between two fingers and pulling it away from the device in a bit of a downwards direction; it's somewhat challenging to explain. Still, once you've done it the first time, you'll find it much more manageable. You can use uncut material broken to size or ground material that will work optimally. Avoid packing the chamber with too much material, which will restrict the airflow and reduce the device's efficiency.
For those that prefer smaller amounts, the Rogue won't penalize you if you simply put less in the heating chamber. Even a tiny sprinkle will work reasonably well as the screen will stop the material from flying up into your mouth, making it a reasonable option for microdosing.
How much does the Healthy Rips Rogue Cost?
The average price of the Healthy Rips Rogue seems to sit around $160 USD. You'll often find the device sitting around the 230 AUD mark for those in Australia. Accessories are usually reasonably priced for this unit, so you won't need to drop hundreds if you just want to pick up a few spare screens, dosing caps, or a water pipe adapter.
While the Rogue isn't priced in a way you'd call it a budget vaporizer, it is very well priced for the performance and build quality offered. It doesn't feel like a cheap device, so it is hard to fault when it comes to value. If you can find it on sale for less than RRP, it becomes even better and all the more tempting. The Rogue is a solid contender at the mid-range price point, especially when you consider all the little niceties like USB-C charging and decent battery life.
Is the Healthy Rips Rogue Well Built?
If you like a clean design and soft-touch material, you'll find the Rogue a pleasing device to pick up. Everything feels nicely put together, and the materials used to build the device seem more than adequate. Overall, the tolerances and build quality are pretty nice on the Rogue.
While the Rogue boasts of a Kirksite Alloy Unibody, it's not super obvious that this is the case with its rubbery feel and the pre-fitted mouthpieces appearing to be mostly plastic (except for the removable mesh screen and silicon surrounding it). In addition, the secondary mouthpiece provided with the unit also is mainly plastic, but it does have a nicely fitted glass tube down the center. So if you're looking for something sleek with an authentic metal body look, the Rogue isn't quite what you're after, but the build quality is more than acceptable for most.
The first time you use the Rogue and go to remove the mouthpiece, there's a good chance you'll find yourself worried that you'll break the device. However, this isn't because it's poorly built; if anything, the opposite as it's just very nicely fitted onto the body of the device. Once you do it the first time, you'll quickly get comfortable. Surprisingly, even with a decent amount of use where the mouthpiece clicks into place seems to remain pretty tight and doesn't quickly wear down or become loose, which you may find yourself concerned about the first few times you pull it off.
What Comes in the Box?
HR Rogue vaporizer
USB-C charge cable
Spare o-ring & screen set
Optional glass mouthpiece
Accessories attachment
Protective top cover
Metal stir tool
Tweezers
Cleaning brush
User manual
Can you use the Healthy Rips Rogue with a Water Pipe?
For those who like a little extra cooling with your vaporizers, you'll be pleasantly surprised to know you can easily source a water pipe adapter to use with the device. Thanks to the included accessory attachment that comes fitted with a plain glass stem, it's simple to pick up a water pipe adapter and swap it out if that's your thing. If you're looking for something smaller that still throws a little water into the mix, you can also find some glass bubblers made for the device, which will work quite well. However, using these reduces the portability unless you're happy to carry around some water and empty it each time you put it in your pocket or bag.
HR Rogue Accessories & Consumables
3D Flow Stem
Glass Bubbler
Water Pipe Adapter
Bent Glass Mouthpiece
Glass Mouthpiece
Dosing Capsules
O-Ring & Screen Sets
Travel Case
Is the Healthy Rips Rogue Portable?
The Rogue is a nicely portable device. It has a great shape that should be pocket friendly in most situations even though it's not the most comfortable in hand from an ergonomic standpoint. Nevertheless, it's a great option if you want something to charge up and throw in your bag for the day, especially if you have some dosing caps to make swapping out material that much easier while on the move.
USB-C charging also makes things a little more convenient on the portability front with the growing dominance of this connector on mobile phones, potentially reducing your need to carry around excess chargers or cables or making it just that little bit easier to borrow a charger from a friend when out and about.
An excellent addition is the soft mouthpiece cover that is included for the initially fitted mouthpiece. While this cover seems to be included primarily for reducing suspicious smells to make the device a little more discrete to carry around, the real bonus is you don't have to worry about lint and other undesirables creeping into your mouthpiece while it's floating around in your bag or pocket.
Does the Healthy Rips Rogue have Good Battery Life?
With a 3000mAh internal battery, the Rogue holds itself quite well in terms of run time. You should find yourself able to wrangle up to 100 minutes out of the device on a full charge, but just beware that you will find the device needing a top-up a little sooner at higher temps.
It's not the fastest device to charge at around 90 minutes for a full charge, but if you're just topping it up here and there, this likely won't worry you too much. If you have a compatible phone charger nearby, it's easy to throw it on charge after a few uses to avoid those lengthier full charges.
How to Clean the Healthy Rips Rogue
After excessive use, the heating chamber can build up some residue, but this is easier resolved with some isopropyl alcohol and a few cotton buds or some alcohol swabs. Do not soak the device in alcohol as it's not designed for such aggressive cleaning, nor does it need it.
The mouthpieces can be a little more challenging to clean, but with a bit of patience, some isopropyl alcohol, and a few cotton buds, you shouldn't have too much of a bad time. If you opt for the secondary mouthpiece with the glass tube, maintaining this a little more accessible due to the smaller easier-to-clean vapor path.
Does the Healthy Rips Rogue Produce Good Vapor?
The Rogue can produce some excellent vapor, and if that's important to you, the Rogue should keep you pretty happy. While there are devices that can certainly provide a more intense experience, this one provides a solid amount of vapor and is relatively consistent about doing so whenever you pick it up.
One of the reasons the Rogue has become quite popular is that you typically aren't left wanting much more when it comes to performance. It can compete with similar devices well above its price point, and while you may find better vapor production, you'll likely find it hard to justify throwing more money at more expensive devices.
Can you use Concentrates with the HR Rogue?
While the Rogue isn't optimized for those that consider flower a less attractive option and tend to lean towards concentrates heavily. Even though mixing a little concentrate in with some flower will work fine when using this device at higher temps, there are better options if you're looking for a device that provides a top-tier concentrate experience. On the other hand, if you're just someone that likes to spike your flower now and then with a little something extra, don't let this put you off considering adding the Rogue to your toolkit.
Is the Healthy Rips Rogue Worth Buying?
If you're looking for a convection device with a mid-range price point that performs above what you'd typically expect in this price range, the Rogue can be an excellent choice. It's undoubtedly a vaporizer that leaves you wondering if it's worth spending two or three times as much on higher-end devices, and if you're looking at the Rogue pondering on that yourself, it's probably worth picking up. Healthy Rips has done a great job with the Rogue and it's one of their best products to date.
Healthy Rips Rogue Pros
Easy to operate
Pocket-friendly size
Good flavor and vapor
Decent battery life
Includes optional glass mouthpiece
Healthy Rips Rogue Cons
Not the most comfortable in the hand
Preinstalled mouthpiece could be easier to clean
No pass-through charging
Charging isn't incredibly fast
The battery isn't replaceable