Vaporbrothers VB1 Review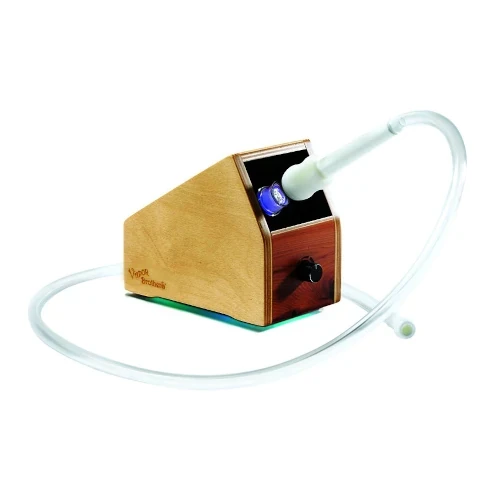 3 February 2023   •   10 min read
An undisputed classic of the vaporizer space, the VB1 has been around for a long time and has inspired many imitations. However, it's still absolutely worth a look today and will likely be for a long time to come. So let's explore this beast of a machine and its fantastic retro look.
Vaporbrothers VB1 Highlights
Pure convection heating
Simple to operate
Designed for whips
Baltic Birch housing
Lead-Free and RoHS certified
What is the Vaporbrothers VB1?
The Vaporbrothers VB1 is a desktop vaporizer used for vaporizing dry herbs. It uses convection heating to produce vapor and is known for its durability and long lifespan. The original version was launched way back in 1999, and with some tweaks and updates along the way, the VB1 is still a more than viable option for the modern vaporizer enthusiast.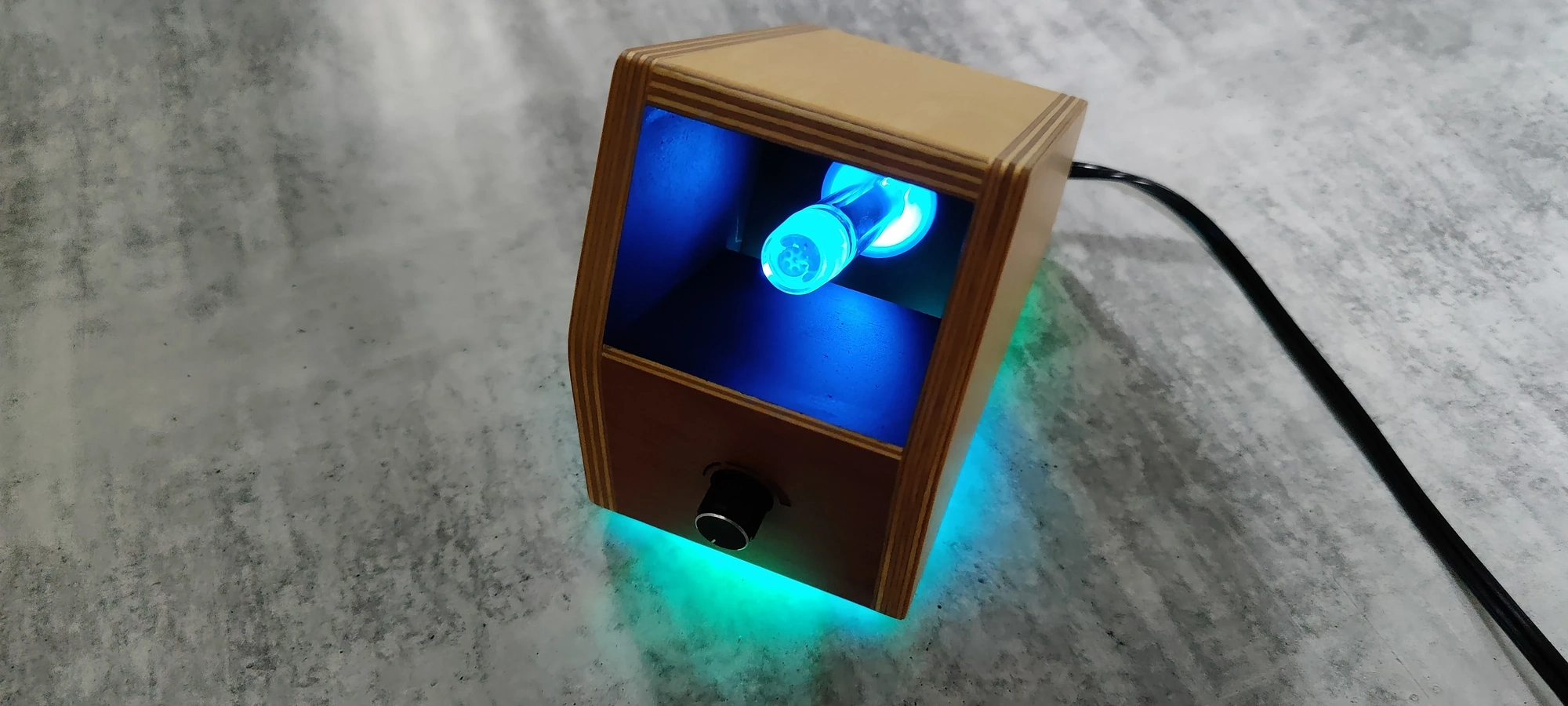 Using the Vaporbrothers VB1 for the First Time
After plugging in the VB1 and turning the temperature dial with a satisfying little click, you are greeted with some quite pleasant LED light emanating from the bottom of the unit and the heater. While it would be nice in some situations to have a toggle for this hidden on the bottom somewhere, it serves two valuable purposes. Firstly, you aren't likely to forget it's turned on and hot, and it also makes it super easy to use in the dark if you're so inclined.
The whips provided by Vaporbrothers come with some user-friendly directions, so even if it isn't apparent to you off the bat what goes where you'll have no trouble getting your whip ready to use while the device is heating up. One minor downside is it's not overly easy to tell when the device has reached temp, but if you're experimenting, start low and leave it for a few minutes to stabilize before testing, as this will help you get a solid idea of what to expect at each setting. However, from a cold start, it warms up quite quickly and reaches a usable temp in around 3 minutes, which is fine for a desktop vaporizer like this.
Vapor production comes down to the temp selected, then how long and fast you inhale. It can produce some monster hits, especially given how well the whip can cool the vapor, given its decent length. Excellent performance can be achieved in the middle of the temperature range; beyond this, things can get a little too intense, so it's certainly worth starting low the first time to find your sweet spot. While this vaporizer won't produce the fastest extraction, it can perform exceptionally well, and the first time using it is quite the treat.
Loading the Vaporbrothers VB1
Getting ready to use the VB1 is quite simple. You start by grinding some dry herbs; a medium grind is best. Then it's just a matter of grabbing the whip and loosely packing some material into the larger end where the chamber is located. It's crucial to avoid over-packing as the VB1 relies on convection heating, which for best results, requires sufficient and even airflow through the material being vaporized.
To ensure a loose pack, you can also place the bowl over your material and use suction to fill the chamber, then just gently tamp it down, which you prefer will come down to pure preference.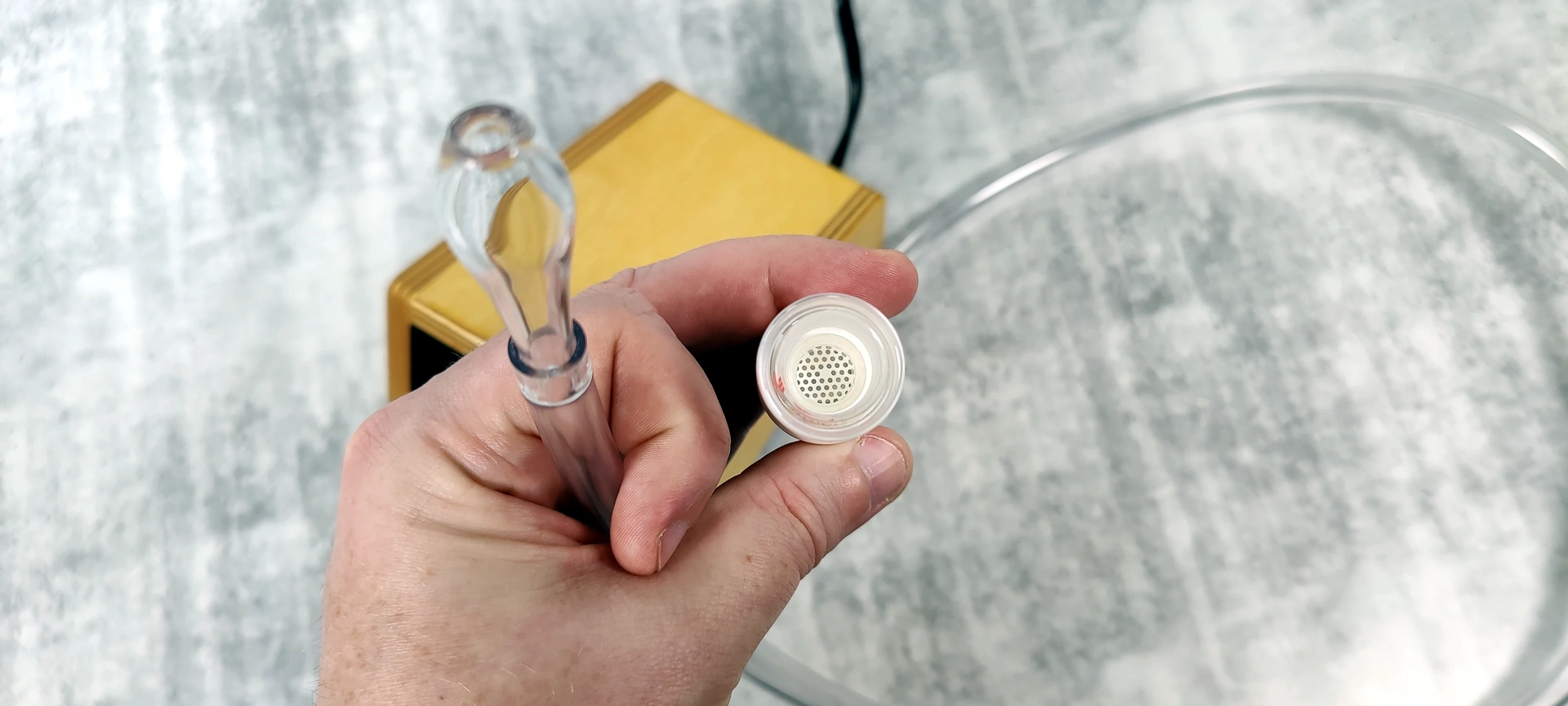 How much does the Vaporbrothers VB1 Cost?
When purchasing the VB1, you have quite a few options, from different types of finishes to varying whips and adapters. As a result, the price can vary depending on your choices, but you can pick up a VB1 for around $280 USD at a baseline.
While this vaporizer certainly isn't the cheapest around, it is a high-quality device that has the potential to last you a long time (commonly reported to last years without issue). In addition, Vaporbrothers offers a decent limited lifetime warranty covering defects and a 3-year warranty on wear and tear, which is quite good.
Is the Vaporbrothers VB1 Well Built?
The Vaporbrothers VB1 is considerably well-built and durable. The device is made from high-quality materials, including a 100% ceramic heating element. It is designed to last many years with proper care and little maintenance other than the whip. It's easy to appreciate the VB1's sturdy construction and simple, elegant design that would look great on any desk or coffee table.
The housing is built primarily from some fantastic Baltic Birch, which adds to this device's wonderful aesthetic while providing a solid foundation for the unit. Additionally, great care is taken when choosing the materials that go into this device to ensure they are safe for use in a vaporizer, including choosing lead-free components and being RoHS certified, which is great for peace of mind.
Over the years since the release of the VB1, many imitations have cropped up. However, the Vaporbrothers unit is still the gold standard for this type of vaporizer and should be your first choice if you're considering buying a vaporizer like this one. Overall, the Vaporbrothers VB1 is a solid and reliable choice for a high-quality tabletop vaporizer.
Is the Vaporbrothers VB1 Easy to Clean?
Yes, the Vaporbrothers VB1 is relatively easy to clean compared to some other vaporizers. Most of the whips can be easily disassembled for cleaning, and the device's simple design means fewer nooks and crannies for the residue to accumulate.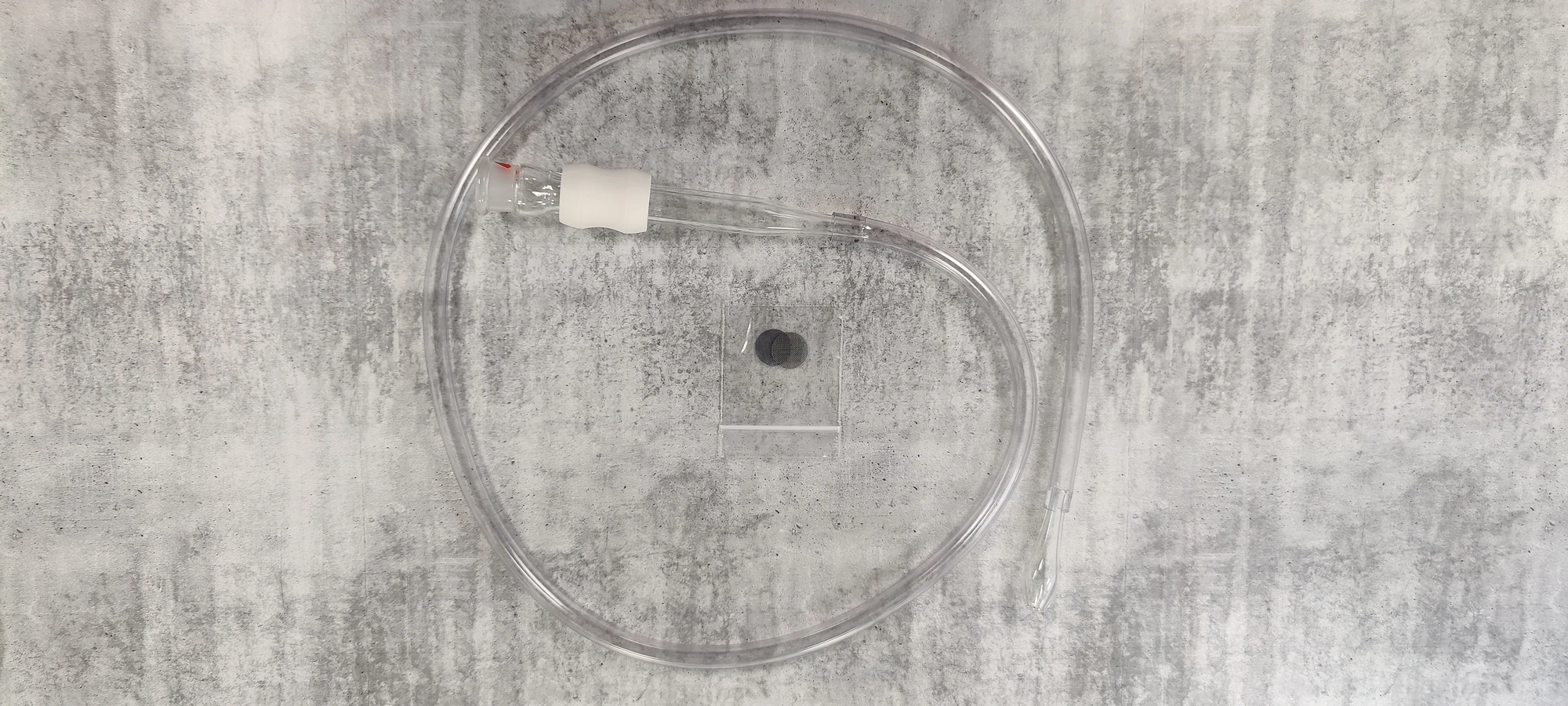 Can you use the Vaporbrothers VB1 with a Water Pipe?
Yes, the Vaporbrothers VB1 can be used with a water pipe, water piece, etc. This can be achieved using a water pipe adapter or whip attachment and involves connecting the VB1 to the bubbler using a compatible adapter. Using a water pipe with the VB1 can enhance vapor cooling and filtration, resulting in a smoother and cooler inhale. However, beware that using the VB1 with a water pipe will require specific accessories. Keep this in mind when purchasing your unit and the items you select to go along with your base unit.
Can the Vaporbrothers VB1 Produce Good Vapor?
The VB1's convection heating system provides efficient and consistent vapor production, which can help ensure that you can get the desired effects from your herb. The temp range is quite broad, and while higher temps can be a little aggressive, excellent results can be found around the middle of the range. While the lack of precision temperature control can be a little annoying at first, once you find what works for you, you're unlikely to find yourself missing it much at all.
Depending on how you pack the whip, you may need to give it a little stir mid-session, but moderate to small amounts seem to vaporize sufficiently and evenly enough that this won't be necessary for everyone. Overall, vapor production can be excellent here, don't let its simple design fool you; this thing can produce some powerful results once you get familiar with it.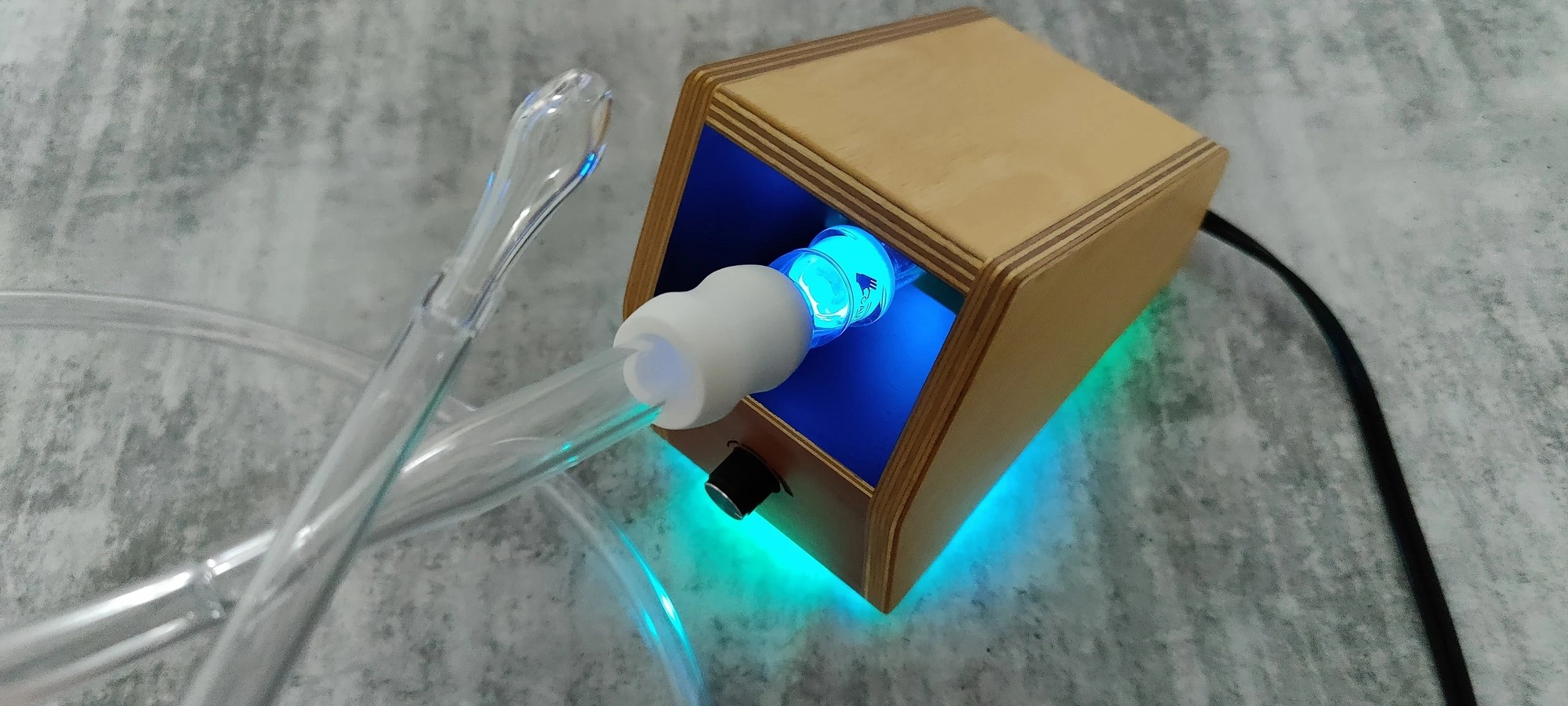 Is the Vaporbrothers VB1 Portable?
The Vaporbrothers VB1 is not a portable vaporizer. It is a desktop/tabletop vaporizer, which means it is designed to be used on a table or other stable surface. The VB1 is not tiny enough or designed to be easily carried in a pocket or used while out and about like most portable vaporizers. However, if you want to take it with you to a friend's place or something like that, you can put everything in a bag or backpack and do just that without much hassle.
Is the Vaporbrothers VB1 Good for Microdosing?
The Vaporbrothers VB1 can be suitable for microdosing, but it ultimately depends on personal preference and the desired effects. Microdosing involves using a small amount of dry herb to achieve a mild effect, and the VB1's temperature control dial and large herb chamber make it easy to control the amount of herb used in each session.
An interesting option for those wanting to microdose with the VB1 is to consider picking up one of the "manual hold-on" whips. These enable you to very efficiently mediate your dose while minimizing heat retention in the whip attachment and making it even easier to immediately remove it from the heater to keep your session as fresh as possible until you return to it.
Some users may prefer a vaporizer with more precise temperature control or a smaller herb chamber, so it's important to consider your individual needs when deciding if the VB1 is a good fit for your microdosing needs. However, whether you load a pinch into the chamber or pack it full, you can still get quite good results, so the chamber size shouldn't hinder you here, even if you keep your dosing to the absolute minimum.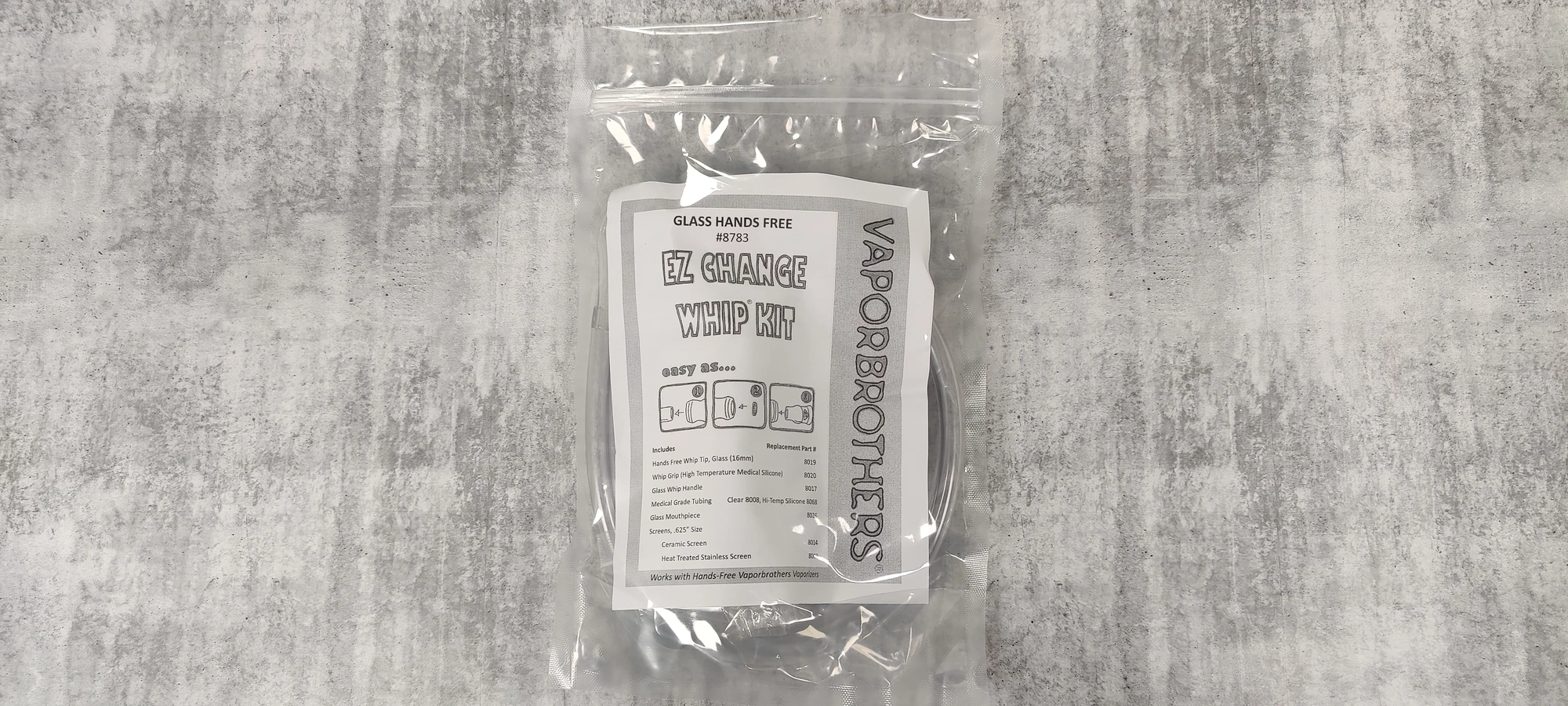 Can you use Concentrates with the Vaporbrothers VB1?
No, the Vaporbrothers VB1 is explicitly designed for dry herbs and is not compatible with concentrates. It uses a convection heating system to produce vapor, which is most effective when used with dry herbs. If you are interested in using concentrates, consider a different type of vaporizer specifically designed for this purpose, such as a dab rig or a portable vaporizer with a concentrate attachment.
Of course, you can spike your dry herbs with a small amount of concentrate, but you'll need to have realistic expectations as to how far you can take that, as the device just isn't designed with this in mind. Nevertheless, it can make for a bit of fun now and then, just don't add too much, or you'll make a mess of your whip.
Is the Vaporbrothers VB1 Good for Beginners?
The Vaporbrothers VB1 can also be a good choice for new vaporizer users due to its straightforward design and ease of use. Beginners will certainly appreciate the VB1's lack of complicated settings or functions and its reliable performance. While it's not the perfect fit for everyone, if you like the idea of a stationary vaporizer that doesn't require charging or batteries, this could be an excellent choice, especially for those that want a more simplistic approach to vaping.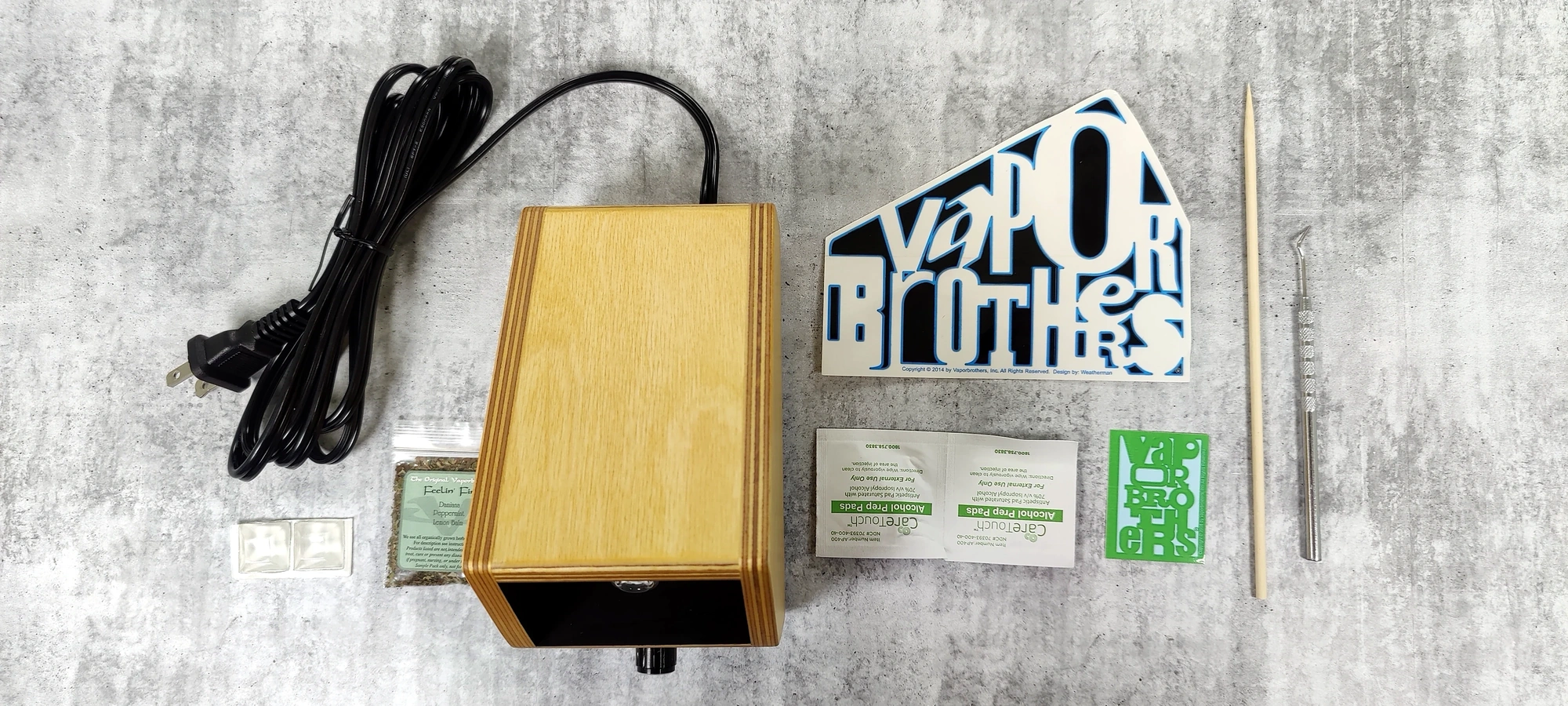 Vaporbrothers VB1 Pros
Durable design
Simple to use
100% ceramic heating element
Somewhat discrete look
Vaporbrothers VB1 Cons
Whips may need replacing (typical for this type of vaporizer)
Lacks precision temperature control
Warm-up could be faster
Is the Vaporbrothers VB1 Worth Buying?
Whether the Vaporbrothers VB1 is worth buying depends on several factors, including your personal preferences, needs, and budget. Here are some things to consider when deciding whether the VB1 is a good fit for you:
Type of vaporizing: The VB1 is explicitly designed for dry herb vaporizing, so there are better choices than this if you're looking for a device to use with concentrates.
Price: The VB1 is a high-quality tabletop vaporizer, and its price reflects this. It may be more expensive than some other vaporizers on the market, but its durability and performance make it rather appealing nonetheless.
Ease of use: The VB1 has a straightforward design and easy-to-use temperature control dial, making it a good choice for new vaporizer users or those looking for a low-maintenance device.
Performance: The VB1's convection heating system provides efficient and consistent vapor production, and the device is known for its reliable performance.
Speed: Its slower warm-up time won't be suitable for those that require instant or on-demand results, but given this vaporizer is designed for stationary use, this won't be too much of a concern for many people.
Ultimately, whether the Vaporbrothers VB1 is worth buying will depend on your individual needs and preferences. However, if you're looking for a high-quality tabletop vaporizer for dry herb use and are willing to invest in a durable and reliable device, the VB1 is well worth considering.