AirVape Legacy Pro Review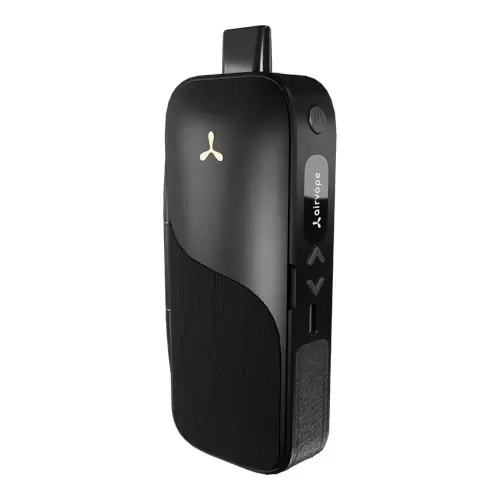 12 August 2022   •   9 min read
The Legacy Pro is the latest vaporizer from the team at AirVape. Should this hybrid convection vaporizer with some interesting design choices be your next daily driver?
AirVape Legacy Pro Features
Hybrid Convection heating
USB-C & wireless charging
On-demand & session modes
Concentrate support
Removable battery (18650)
Fast heat-up (~15 seconds to 160°C)
Is the AirVape Legacy Pro Well Built & Designed?
One area where future versions of the Legacy could be improved in terms of design is better support for standing upright. While you technically can stand the device upright, it's not very stable and would be more considered balancing than standing. However, this is mainly preferential and may not bother you at all.
Furthermore, while the design does a great job at keeping the mouthpiece as far as possible from the heating chamber resulting in cool vapor, it isn't extremely isolated from the battery. The glass vapor tube connecting the mouthpiece portion of the device to the heating chamber near the bottom feels a little close to the battery, but not in a concerning way. Still, it would be nice to see slightly more separation there than there is, but this isn't anything that should put you off.
Overall, the design and build quality are very good, and you can tell they've put some thought (and likely a few revisions) into it. When opening the box, you aren't hit with the smell of cheap electronics, which is always a good sign of the care taken in manufacturing vaporizers. While it does have a few design quirks, they are primarily issues of personal preference and a byproduct of AirVape stepping outside the box in a few areas with some relatively unique approaches.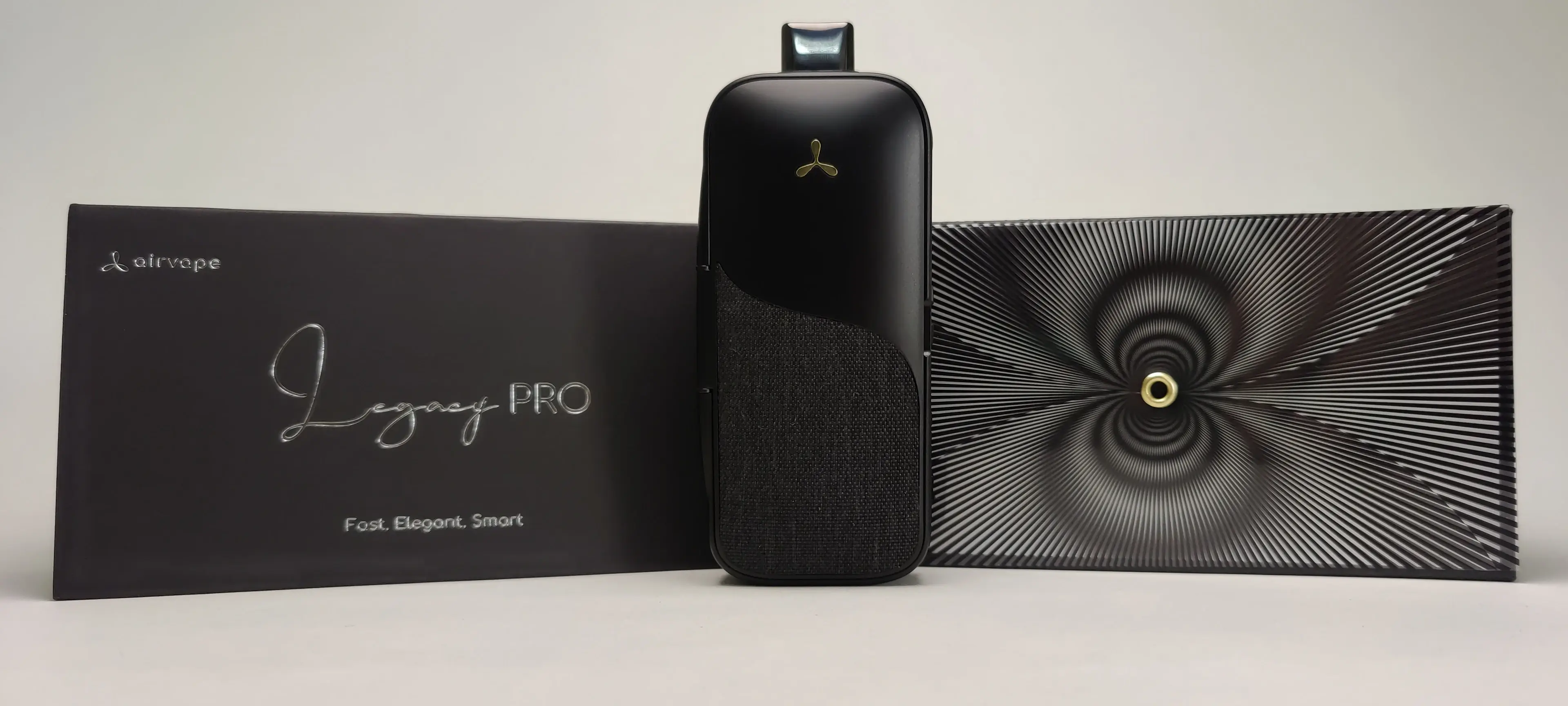 How much does the AirVape Legacy Pro Cost?
You can pick up the Legacy Pro for around $269 USD. Admittedly, it's priced on the higher end of portable vaporizers, but it does bring quite a lot to the table to help warrant the price.
How to Use the AirVape Legacy Pro
Open the side door and loosely pack the chamber with ground material.
Turn on the device by pressing the power button three times.
Adjust the temperature with the up and down (arrow) buttons.
Once the set temperature is reached, the device will briefly vibrate.
Inhale from the mouthpiece as desired. Once you finish vaping, pressing the power button three more times will turn off the Legacy Pro.
Additionally, holding the power button and up button while the device is turned on allows you to adjust the auto-shutoff timer between 3, 5, and 10 minutes. Pressing the up and down buttons together while the device is powered on will switch to an on-demand mode, where the heating will only be engaged while holding the power button.
What Comes in the Box?
AirVape Legacy Pro vaporizer
USB-C charging cable
Concentrate pad
Replacements screens
Spare silicone insert
Small cleaning brush
Alcohol wipes
Cotton buds (q-tips)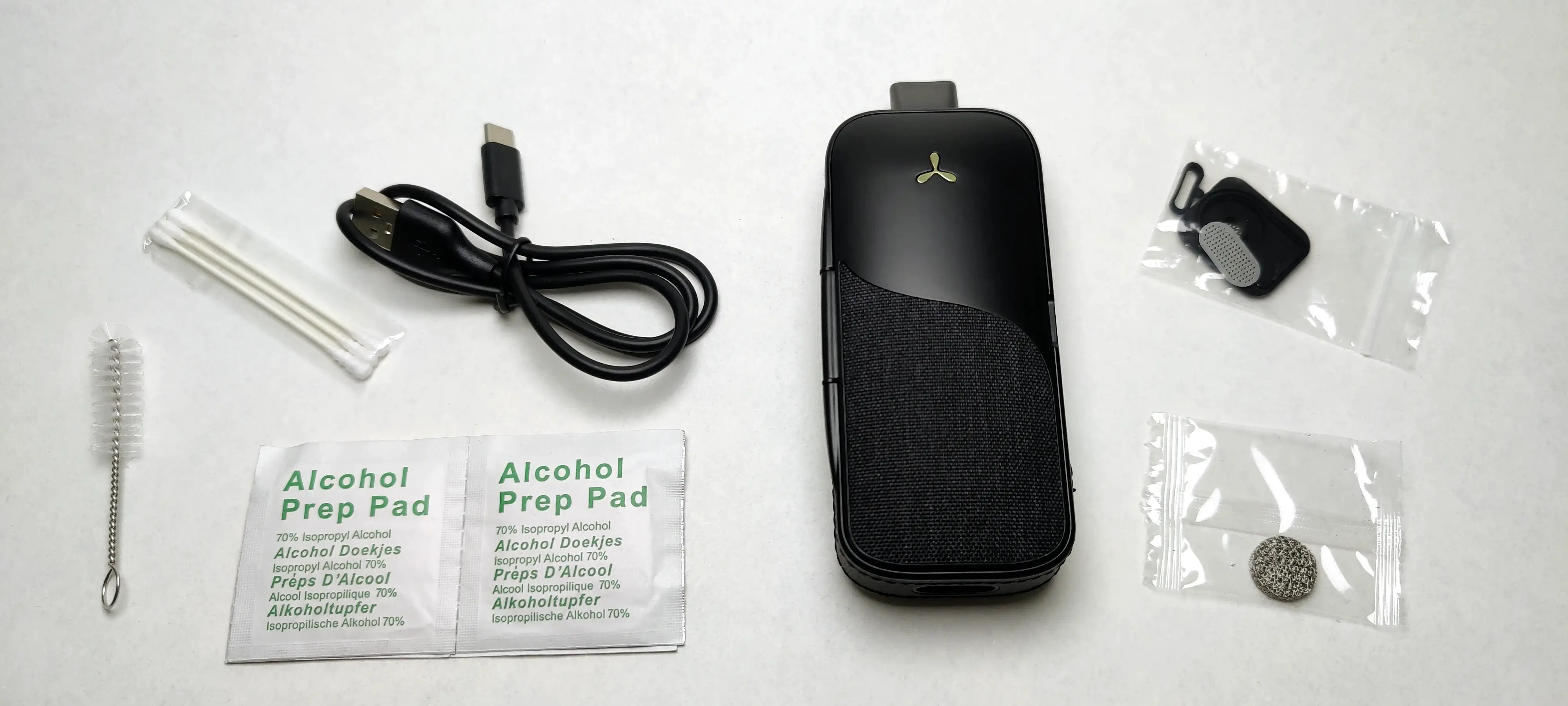 Can you use the AirVape Legacy Pro with a Water Pipe?
Support for using bubblers is not included in the out-of-box experience. However, you can pick up a water pipe adapter and even a bubbler from AirVape compatible with the device. If you have one laying around designed for the original AirVape Legacy or the AirVape X, these should also be compatible due to the similar mouthpiece dimensions.
Is the AirVape Legacy Pro Portable?
The size of the Legacy Pro makes it easy enough to take out and about with you. However, it's not the type of vaporizer that is well suited to just rolling around in your bag or stuffed in a pant pocket, at least if you want to keep the device in good condition.
The device features a lot of fabric covering sections of the housing. How well this material holds up to rough treatment is hard to say and is something that will become more apparent as this device has been around longer. Still, while it seems decent enough, it's not something that you would probably consider a rugged device or well suited to those who are rougher on their vaporizers.
In short, is it portable? Yes, and if you can manage to keep your phone in good shape while going about your day-to-day, odds are you can keep this vaporizer in good condition too.
Accessories Available for the AirVape Legacy Pro
AirVape has a decent range of accessories for their vaporizers, everything from chargers, backup batteries, some nicely made storage bags, water pipe adapters, bubblers, and many more options. If you like to flesh out the base experience of your vaporizers with some extras, they have quite a bit you can pick up if you find anything you like.
Just ensure that you check compatibility and ensure that you are grabbing something compatible with the Legacy Pro and not just the previous generation Legacy when browsing the available accessories for the device.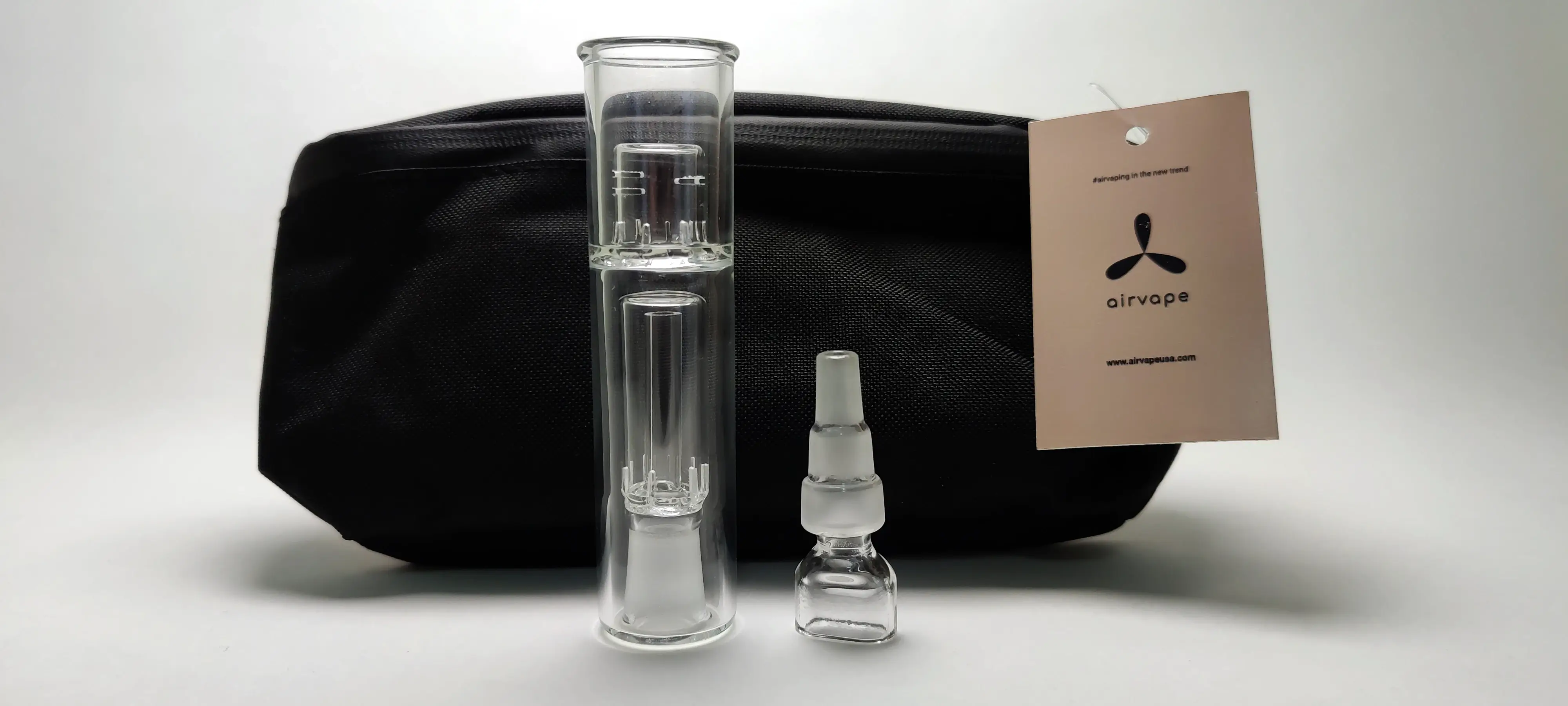 Does the AirVape Legacy Pro have Good Battery Life?
The Legacy Pro comes with a 3200mAh battery that should get you through 8-10 sessions, depending on how aggressively you have your heating set. However, one of the most noteworthy features of the Legacy Pro is the swappable 18650 battery, which provides the device with some extra future-proofing as often the battery is the weak point for electric vaporizers as they begin to age.
Similarly, the optional wireless charging provides an alternative way to charge the device if you have issues with the charging port after extended use. However, given the device uses a 18650, there's nothing to stop you from grabbing several of these and having a bunch of them charging and ready to go at all times, so you can even avoid charging the vaporizer directly if you want.
Is the AirVape Legacy Pro Easy to Clean?
While cleaning the Legacy Pro to maintain it is pretty easy, emptying the chamber can sometimes be a little awkward or messy. The easiest way to empty the chamber is to do so directly over a large enough container to catch any material that falls out. While opening it with the device on its side with the door opening upwards is the best way to avoid spillage, doing so doesn't often result in perfect results. It's hard to see how this could easily be improved with the style and format of the device, but it is a noteworthy quirk of the design, though not a huge issue.
How to Clean the AirVape Legacy Pro
Open the side door of the device and remove both the battery and glass vapor tube.
Remove the mouthpiece and separate it into three parts (easy to do).
Unscrew and remove the microdosing disk and remove the gasket underneath as well.
Remove the airflow filter from beside the chamber.
Brush out the chamber with the included brush to remove any loose materials
Once all these sections are removed and isolated, you can soak the metal or glass parts in isopropyl alcohol to remove any residue and wipe down any of the silicone parts with an alcohol wipe. Alcohol wipes can also be used to clean any parts of the device where buildup occurs in the device, as well as inside the heating chamber.
When cleaning the device, ensure the battery is removed and never wet or submerged in any liquids; it does not require cleaning, and at most, wiping with a dry cloth should suffice.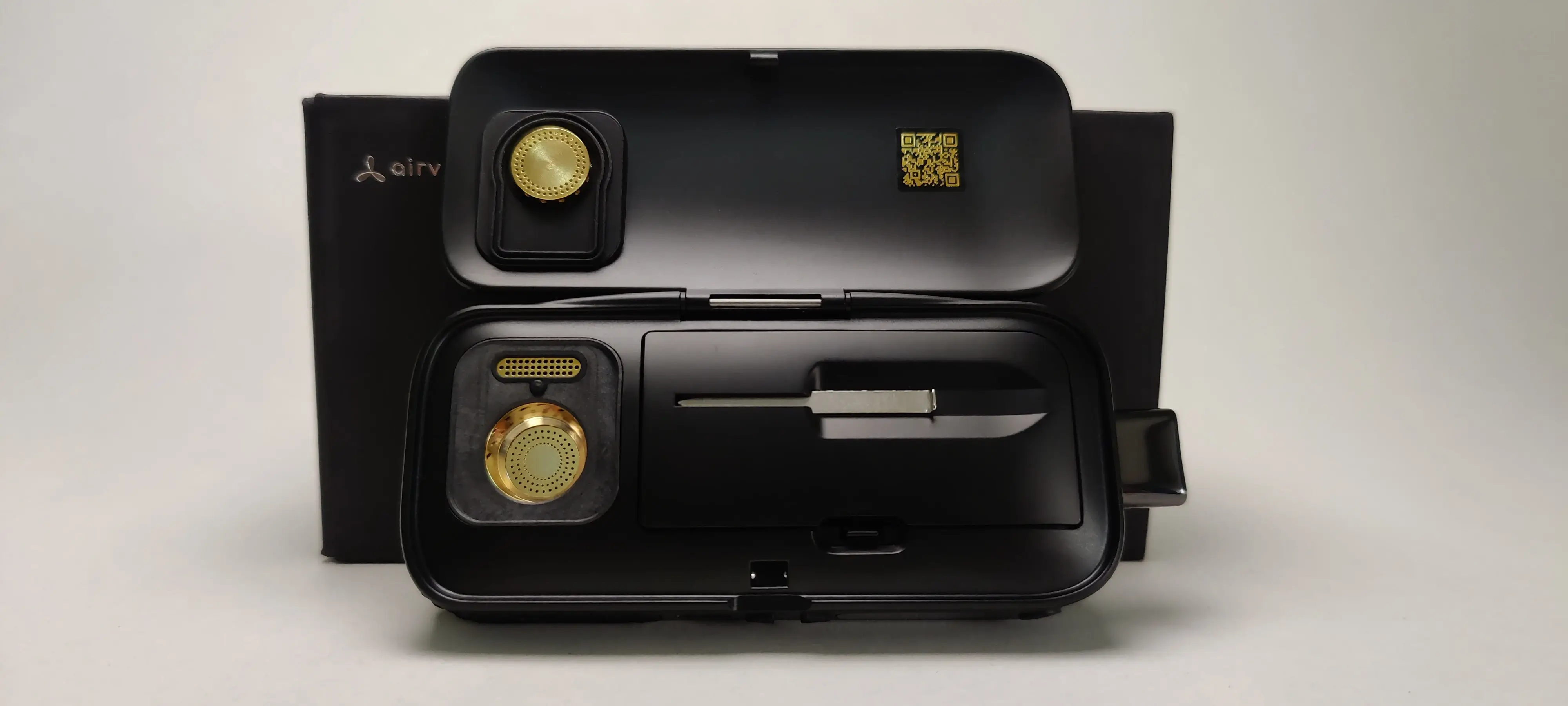 Can the AirVape Legacy Pro Produce Good Vapor?
The heating chamber is, for a start, quite large; this enables you to pack in a good amount of material (around 0.3g at most). Beyond that, the heating chamber is also positioned to be about as far away from the mouthpiece as possible, ensuring the vapor is quite cool. Heating also appears to be relatively consistent and fairly evenly heats the material.
When you combine all this, you get pretty tasty vapor. The first few inhales on a fresh load are exceptional, with airflow not feeling overly restricted either. As you progress with a session, it seems to hold up as well as you can expect from a quality vaporizer. The Legacy Pro vapor is quite well in terms of performance. It doesn't seem to get overly hot even at higher temperatures, which is something many vaporizers struggle to achieve and is also worth mentioning.
Is the AirVape Legacy Pro Suitable for Microdosing?
The Legacy Pro makes some allowances for those who prefer a little less in their sessions by including a built-in microdosing disk. However, if you unscrew it a little too far, it is a little prone to falling off, but even if this happens, you're unlikely to notice until you refill your vaporizer. So, with the large chamber, it's still an excellent addition even if it could be improved a little.
Can you use Concentrates with the AirVape Legacy Pro?
Yes, you can use concentrates with this vaporizer, and better yet, you can do it with the included concentrate pad right out of the box, which is always nice to see. Simply put the concentrate pad into the heating chamber, add a little concentrate to the pad, and start vaping. In addition, higher temperatures are available to assist with vaping concentrates, which you can sometimes find lacking from other devices that claim concentrate support, so another positive here.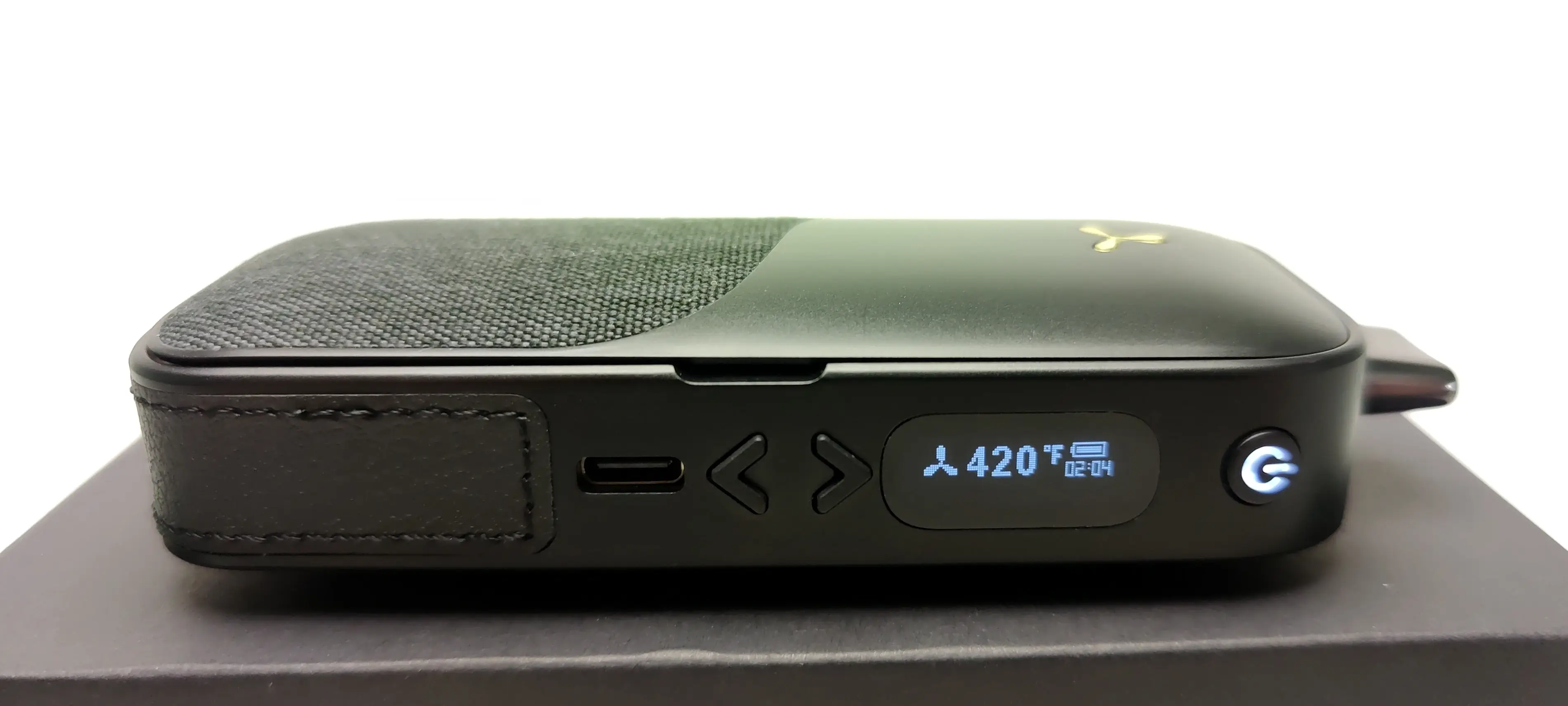 AirVape Legacy Pro Pros
USB-C charging
Swappable 18650 battery
Optional wireless charging
Out-of-box concentrate support
Cool & excellent tasting vapor
Warms up fast
AirVape Legacy Pro Cons
Emptying it can be a little messy
Can't reliably be stood upright
Microdosing disk can come loose
Not a huge amount of battery isolation
The mouthpiece could be tighter
Is the AirVape Legacy Pro Worth Buying?
The price point of the Legacy Pro is a little on the higher side, so it does require taking this into account when deciding if it's a good buy. However, you're getting a lot of excellent features that can still be found lacking with many comparable or even more expensive premium vaporizers. However, if you are on a strict budget, there are other vaporizers that can provide a better bang for your buck.
There's a lot to like about the Legacy Pro. While it can be a little awkward to empty, this is probably the most significant weak point of the device, but it's one that's pretty easily ignored once you know what to expect and account for this when using the device.
Suppose you are looking for a portable vaporizer with many premium features, excellent vapor production, and a primarily good design outside of a few minor quirks. In that case, the Legacy Pro could be a good buy and a vaporizer to consider adding to your collection. As the Legacy Pro is quite easy to use and makes quite a good first impression, even those new to vaping could find this a tempting option.