Firefly 2+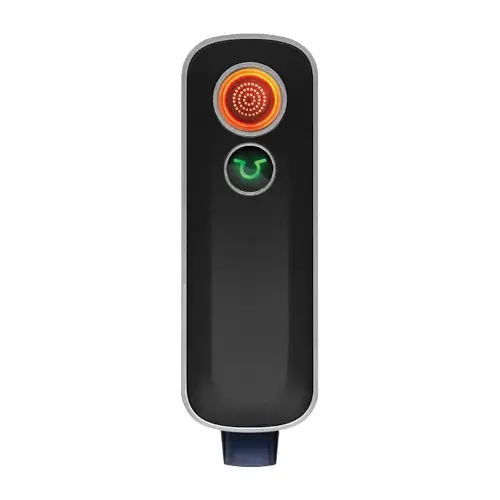 Firefly 2+ Description
The Firefly 2+ includes a lot of improvements over previous editions. With on-demand convection heating and a ridiculously impressive three-second heat-up time, and very fast cool-down, this portable vaporizer provides an intriguing option for a portable vaporizer that can respond almost as quickly as a cartridge vaporizer while also having great potential for microdosing. In addition, other more premium features are included, such as Bluetooth support, a magnesium alloy chassis, fast charging, and even user-replaceable batteries, which is always an excellent addition that can help provide extra longevity or flexibility for those that don't mind carrying some extra batteries.
Firefly 2+ Features & Traits
Portable
Premium
Battery Swap
Convection
Electronic
Microdosing
What Comes with the Firefly 2+?
Firefly 2 vaporizer
USB 3.0 Charging Cable
Concentrate Pads
Cleaning wipes (x3)
Charging Cradle
Battery


Firefly 2+ Specifications
Find out what you can expect if you decide to pick up the Firefly 2+
Temperature Range
93°C - 260°C
Firefly 2+ Prices
Below are approximate prices for the Firefly 2+ in various different currencies. These numbers are based on the average market rate for the device and are updated as regularly as possible.
$250 USD
$404 AUD
€250 EUR
$369 CAD
$433 NZD
£220 GBP
Firefly 2+ Retailers
If you decide to buy the Firefly 2+ or were wondering where to buy the Firefly 2+, it's available at the following retailers. Please note some or all of these may be affiliate links which help support us in covering the costs of operating Thermal Extractions. However, this comes at no additional cost to you. Furthermore, we always recommend to shop around the get the best Firefly 2+ price!
Firefly 2+ on Reddit
See what people are saying about the Firefly 2+ on Reddit. Please note that this feature is currently considered experimental and not all content found may be relevant to vaporizers or even this vaporizer.
Firefly 2+ FAQs
Can the Firefly 2+ be used with concentrates?
Yes, the Firefly 2+ includes concentrate pads that enable this vaporizer to be used with concentrates. While it's not a replacement for a dedicated concentrate device, at least for concentrate enthusiasts, for those that use concentrates casually, it's a nice addition.
Firefly 2+ Ratings
Loading Ratings...
Check out these other Vaporizers!