OG Jams Review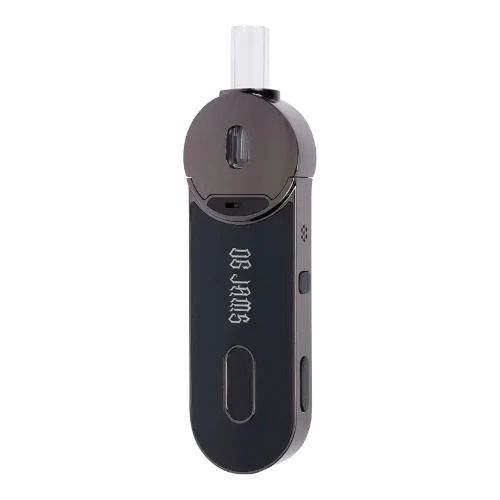 14 January 2023   •   9 min read
While The Kind Pen team is best known for the concentrate vaporizers, they also make several dry herb vaporizers as well, including their latest offering, the OG Jams.
OG Jams Highlights
Ceramic chamber
Precision temperature control
Vortex airflow cooling
What is the OG Jams?
The OG Jams is a portable handheld vaporizer for dry herbs from the team at The Kind Pen. It sports a one-gram ceramic chamber and is heated with conduction. It has a creative design that certainly makes it stand out from its competitors. Included are some other nice features like USB-C charging and airflow controls which is something that isn't too commonly found on a dry herb vaporizer.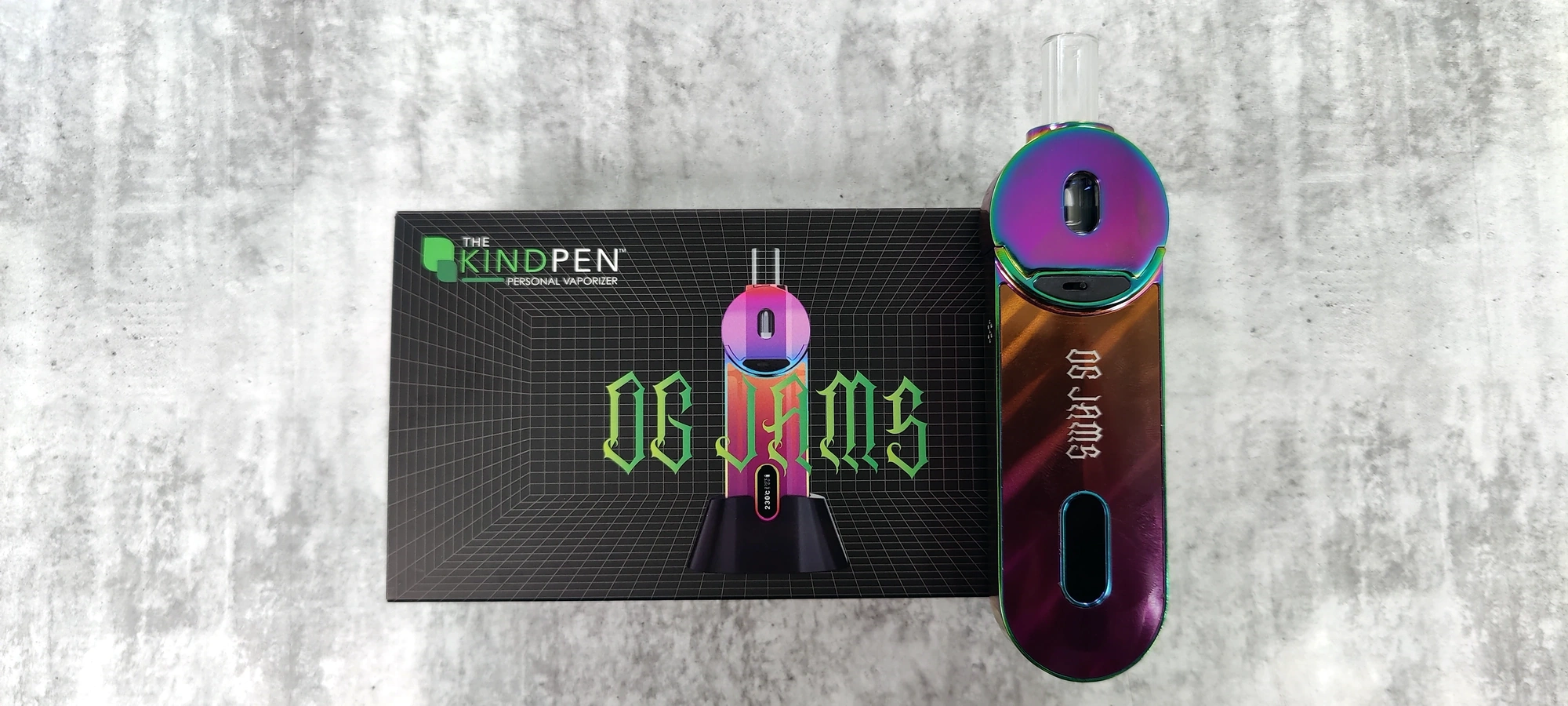 Using the OG Jams for the First Time
As soon as you unbox the OG Jams, it's easy to get distracted by the rather interesting design, but once you get past that, it's a very easy-to-operate device. If you've ever used a portable electronic vaporizer before, you should have no problems getting familiar with this one.
The hefty chamber makes for a great session, and the vortex cooling does a surprisingly good job of keeping the vapor at a reasonable temperature, especially when you experiment with the airflow control to find your sweet spot. It does get quite warm even at moderate temps, but not to a concerning degree, and the included case does assist with reducing the heat on your hands. Precision temperature control is on offer here too, making it easy to explore specific temps to find what suits you best.
The first time using the OG Jams can be a pretty nice experience, and it's certainly fun to experiment with, thanks to the little touches like the airflow control and the included water pipe adapter.
Loading the OG Jams
Loading up the chamber on the OG Jams is easy; it's just a matter of lifting off the magnetic top section, filling your chamber with some ground dry herbs, and placing the top section back on again. A medium grind seems to suit this device best, but as the device ships with a screen at the bottom of the chamber, it should handle fine grinds or dusty material without much issue, provided you don't pack too tightly and inhibit airflow.
Additionally, a slight taper leading into the chamber helps ensure you get your material where you want it, which is always a nice touch.
How much does the OG Jams Cost?
You can pick up the OG Jams for around $200 USD. However, you do get a few little bonuses that help soften the price, including the dock and case, which are included in the box, not something you often see with vaporizers, as just about everything non-essential is typically an upsell. Overall, it's a reasonable price for a vaporizer like this one, and if you can find it on sale, it becomes a little more compelling if you're a little tight on funds.
What Comes in the Box?
OG Jams Vaporizer
USB-C Charging Cable
Charge Stand
Silicone Sleeve
Water Pipe Adapter
Cleaning Brush
Packing tool
User Manual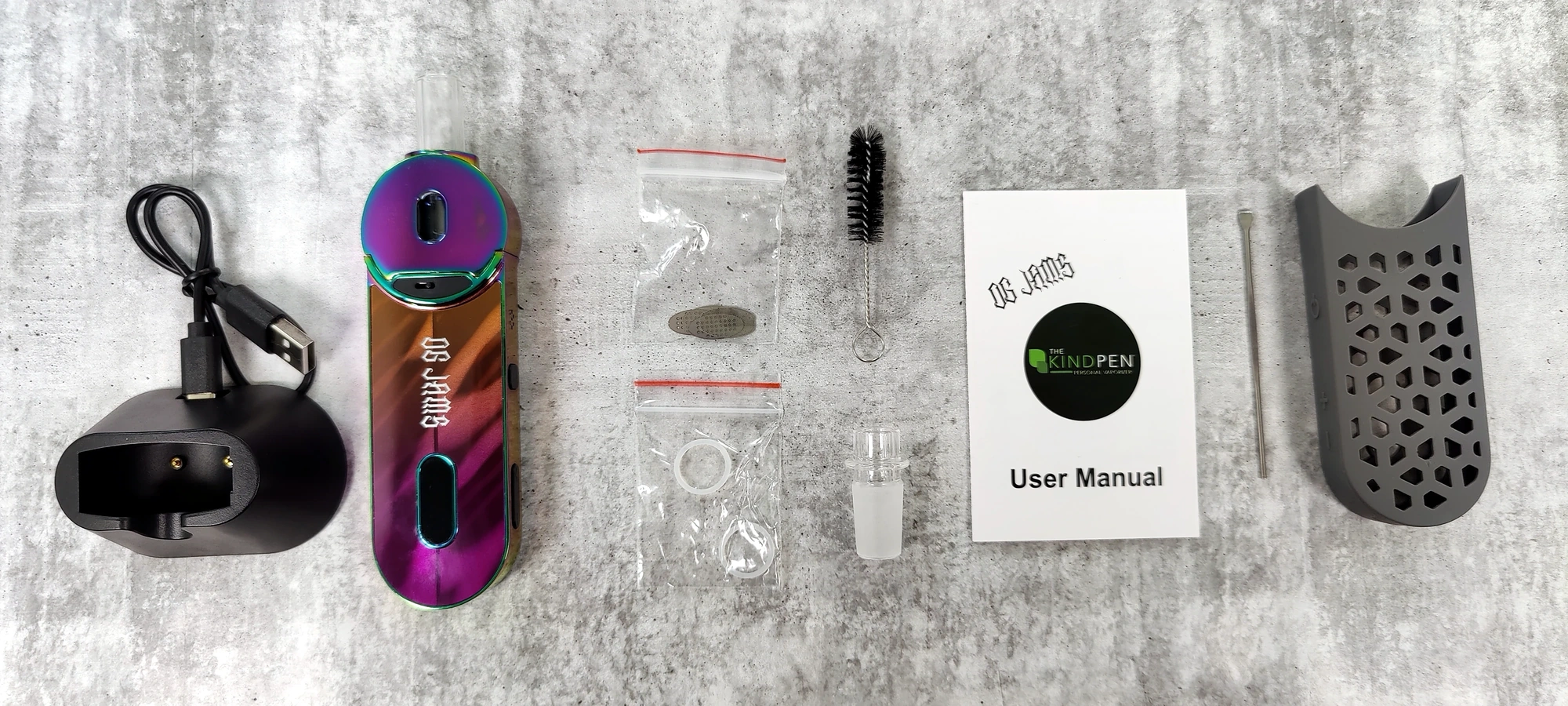 Is the OG Jams Well Built?
The design of the OG Jams is quite nice. It's something a little different, which is always great to see. There are a lot of little touches that show some thought went into creating this device; with things such as the dual side airflow control to the vortex cooling in the top section, it certainly gets a few points for design.
However, it's not perfect in this regard either. While the top section snaps together well with a strong magnet, the prong-like shapes on the corner of this section can make it a little awkward getting it lined up, and due to the shape of the device, this isn't one you'll be able to stand upright on your desk either (at least without the included dock). Additionally, there is some smell when you first unbox this device, so you'll definitely want to give it a bit of a clean and a good burn-off cycle or two before your first use, but there was nothing to be overly concerned about either.
Overall though, the OG Jams does a lot of things well in terms of both design and being reasonably well-built. There are no apparent oversights in manufacturing, and tolerances seem respectable as well, which is always a good sign.
Does the OG Jams have Good Battery Life?
While the stated battery life is 3-4 hours, you should expect less than this when running at higher temperatures. However, battery life is still quite decent and, for most people, should get you through the day with its 2000mAh internal battery, provided you aren't having back-to-back sessions all day.
If you use the vaporizer at your desk, the included dock is really nice. It makes it easy to sit it down and not have to really think about fumbling with cords, and as a bonus, it can be stood upright in the dock, something you can't do otherwise with this vaporizer due to its shape and design.
Is the OG Jams Easy to Clean?
The chamber can be easily wiped out with some alcohol swabs or q-tips dipped in isopropyl alcohol, so there is nothing too challenging. However, the top portion of the device is a little more complicated as it has to be dismantled into several parts. Even then, the cooling section will require sloshing around in some alcohol to get sufficiently clean. Another unforeseen challenge is that the screen that sits above the heating chamber is rather fiddly to get back into position. All in all, nothing too serious, but cleaning is a little awkward with this one, so you'll want to sit down for a few minutes and take your time to get it sorted.
Can the OG Jams Produce Good Vapor?
Conduction heated vaporizers are typically best suited for sipping vapor, and the OG Jams isn't much different in that regard. However, thanks to the airflow controls, you can open those right up and get some surprisingly big hits from this vaporizer. If you prefer that classic dense conduction vapor, you can keep the airflow to a minimum if you prefer as well, it's excellent this was included, and it's another plus for the OG Jams.
Is the OG Jams Portable?
Portable is certainly a word you could use to describe the OG Jams, but there's a little more to it than that if portability is a big concern for you. Firstly, it's not tiny, and while it's certainly not as big as some other portable vaporizers, it isn't something you could call pocket-friendly. It's got a bit of weight to it, the glass mouthpiece won't take well to a fall, and even though a nice case is included, this just isn't a vaporizer that does well regarding portability. However, if you usually put your vape in your bag, throw it in your car, or just carry it directly, it'll be fine; it's just not the most portable vaporizer.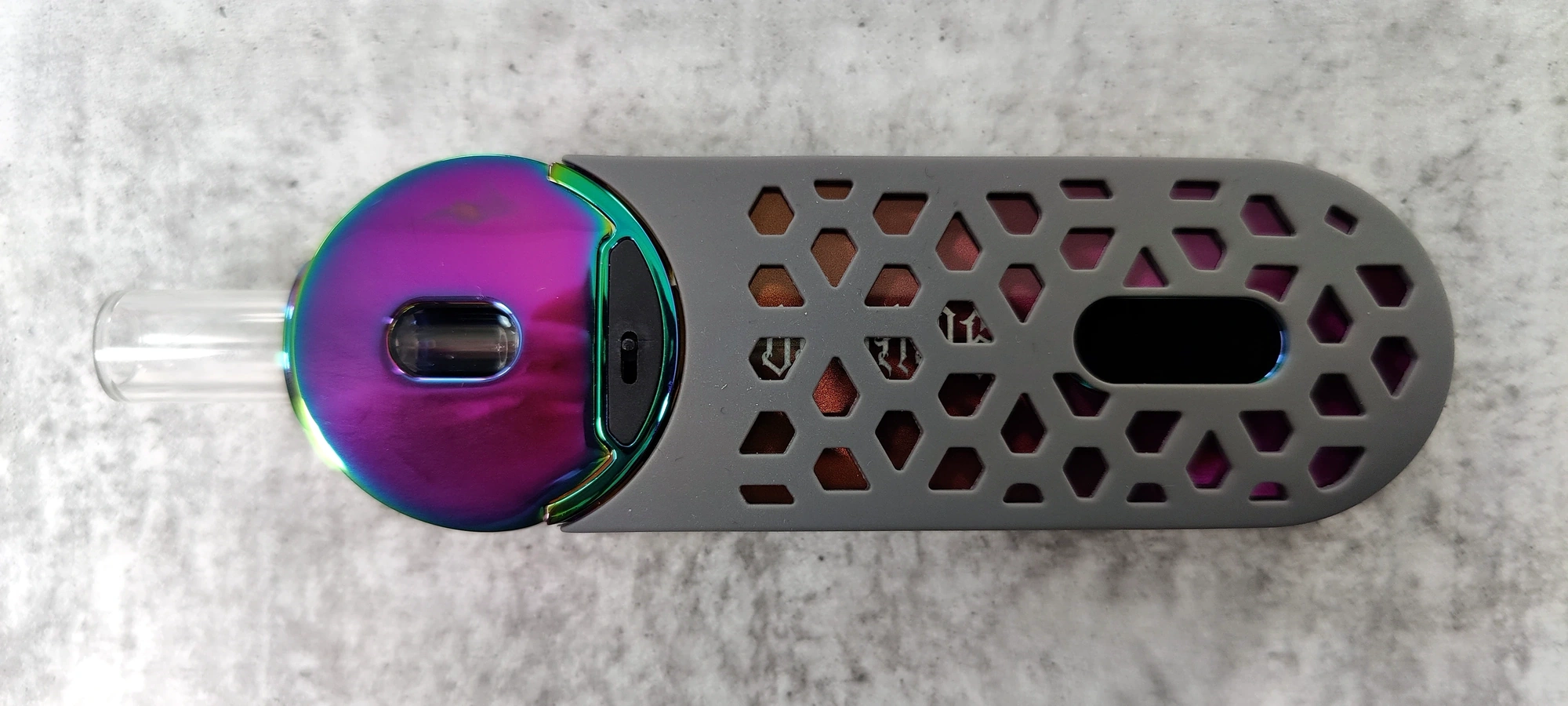 Is the OG Jams Good for Microdosing
While you can load up the OG Jams, have a few hits, and turn it off, it holds heat for a while, something not uncommon for vaporizers that leverage conduction heating. The downside is that it results in your material sitting there still hot for a time after the device has been turned off, resulting in a less-than-ideal result when you return to a partially completed session.
For those that just enjoy slower and more casual sessions, or better yet, passing a vaporizer around in a small group, it's a great option. So it really comes down to what you consider a microdose personally and how you prefer to use vape. Still, this device isn't incredibly well suited to microdosing unless you enjoy temp-stepping, especially given its rather large chamber, which is best filled due to the conduction heating benefiting from complete contact with the chamber walls.
Can you use Concentrates with the OG Jams?
The OG Jams doesn't offer any concentrate support. Like most vaporizers, you can spike some dry herb with a minimal amount of concentrate, but if you aren't careful, you can just end up making a mess, so it's best to stick to devices better suited to the task if at all possible. There are plenty of great options for concentrate enthusiasts, including some from The Kind Pen as well, but this just isn't one of them.
Is the OG Jams Good for Beginners?
Using the OG James is quite easy, making it a reasonable choice for a beginner. While vaporizers that leverage conduction heating are best suited to those coming from slower forms of combustion, the large chamber capacity helps make it a little easier to suggest for more demanding users, provided extremely fast extraction isn't necessary.
Can you use the OG Jams with a Water Pipe?
Yes, a water pipe adapter (WPA) is a fantastic addition to the base kit. It's not often you see this, so it's always great when you do. Furthermore, it works pretty well with a bubbler, and thanks to the airflow control, you can further tweak the experience to suit your bubbler size and how aggressive you are when using it. Manufacturing these adapters isn't expensive, nor do they take up much room, so it'd be great to start seeing more manufacturers doing this instead of upselling them alongside the device or, in some cases, not even bothering to release an official option. Definite points to the team at The Kind Pen on this one.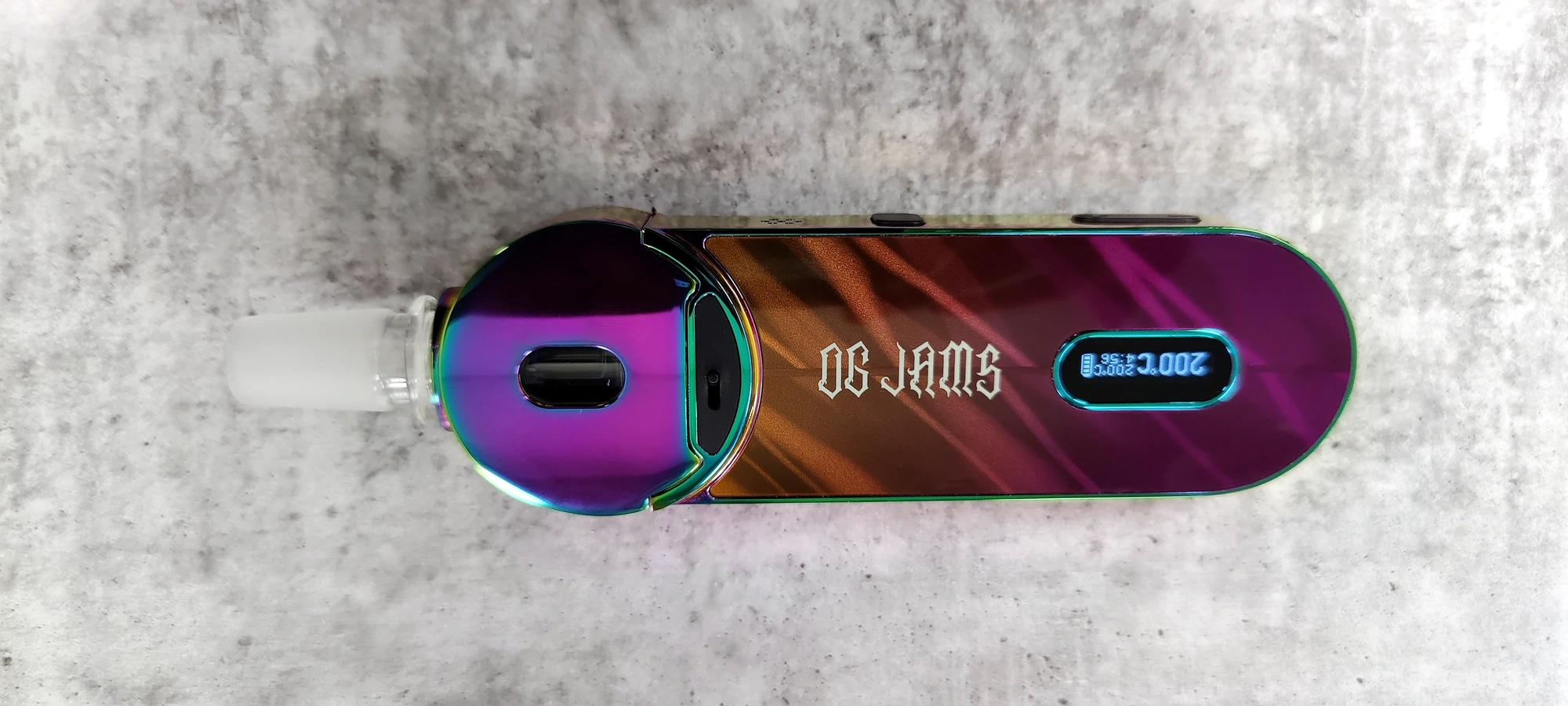 OG Jams Pros
Included dock and cover
Interesting looking design
Airflow control
Lifetime warranty
OG Jams Cons
Can't be stood upright
Fingerprint magnet
Haptic feedback could be improved
It gets pretty warm at higher temps
Is the OG Jams Worth Buying?
The OG Jams is quite well-rounded, making it an interesting option if you like the look of what's on offer. The design is nice and a little different, helping it stand out from its peers. It works well and provides flexibility with the extra accessories. In addition, The Kind Pen team offers a highly permissive lifetime warranty, which is rare to see when it comes to electronic vaporizers.
In conclusion, if you like what you see, pick one up and give it a go. There are few reasons not to, especially if you can find it on sale.