Vapman Pure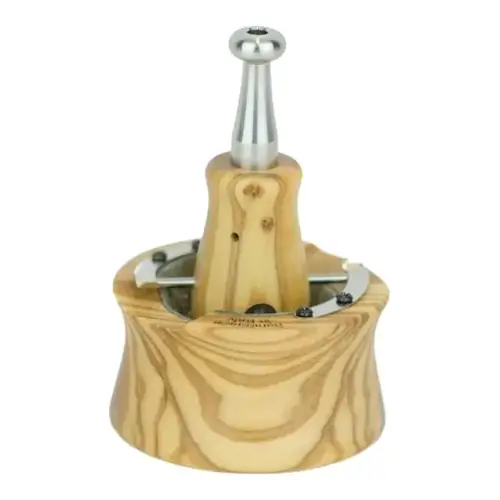 Vapman Pure Description
Slightly more premium Vapman with a heat guard and the same fantastic design
Vapman Pure Features & Traits
Portable
Conduction
Microdosing
Analog
Premium
Wood
What Comes with the Vapman Pure?
Vapman Classic
Filling funnel
Cleaning brush
User Manual
Screwdriver
Jet lighter
Hemp box
Wood box


Vapman Pure Pricing
Below are approximate prices for the Vapman Pure in various different currencies. These numbers are based on the average market rate for the device and are updated as regularly as possible.
$170 USD
$281 AUD
€170 EUR
$244 CAD
$304 NZD
£148 GBP
Vapman Pure Retailers
Looking to buy the Vapman Pure? Check out our list of Vapman Pure retailers. Note that some links may be affiliates, supporting us at no extra cost to you. Compare different retailers to ensure you always get the best price for the Vapman Pure!
Vapman Pure Specifications
Find out what you can expect if you decide to pick up the Vapman Pure
Vapman Pure FAQs
How do you clean the Vapman Pure?
The mouthpiece can be cleaned using either boiling water or isopropyl alcohol. Brushing out the chamber between uses will help reduce maintenance and keep the heating chamber shiny and looking good. Less commonly, you may find your airholes become blocked with built-up residue; if this occurs, it can be resolved with the help of a small needle or similar to clear the holes. The backside of the cleaning brush, pipe cleaner, or similar can be used to remove excess buildup from the middle piece.
What mouthpieces are available for the Vapman Pure?
While the list changes from time to time and new versions are added or removed, you can find options including the Borosilicate Glass, AFC Mouthpiece (airflow control), Inox (premium stainless steel), P.O.M (heat resistant plastic), Titanium, and Olive wood.
Vapman Pure Cleaning Guide
Maintaining your Vapman can be quite easy by following these simple steps.
Basic Cleaning Steps for Vapman Vaporizer
Clean the mouthpiece by immersing it in boiling water or a suitable cleaning solution (e.g., isopropyl alcohol) as needed.

To maintain the appearance of the gold heating chamber, gently brush it out with a cleaning brush after each use. This will not impact vapor quality.

For those who frequently use concentrates, the heating chamber may become dirtier more quickly. When heated, use the backside of the cleaning brush to remove any residue. Clean the concentrate sieve by burning off any remaining residue. Avoid cleaning the heat protection (mica) and do not expose it to liquids.
Deep Cleaning (as needed)
You may not need to perform this more advanced cleaning frequently, it depends on the type of material you're using and how frequency. If you notice herb particles in your mouth, it's likely time for cleaning.
Ensure the air holes in the middle section and air nozzles are free from obstructions. Use a needle to remove any residue if necessary.

Unscrew the two screws to detach the sieve.

Place the sieve in boiling water or a cleaning solution (e.g., isopropyl alcohol) for thorough cleaning.

Use the backside of the cleaning brush to eliminate any remaining residue from the interior of the middle piece.
Vapman Pure Ratings
Loading Ratings...