Arizer Solo 2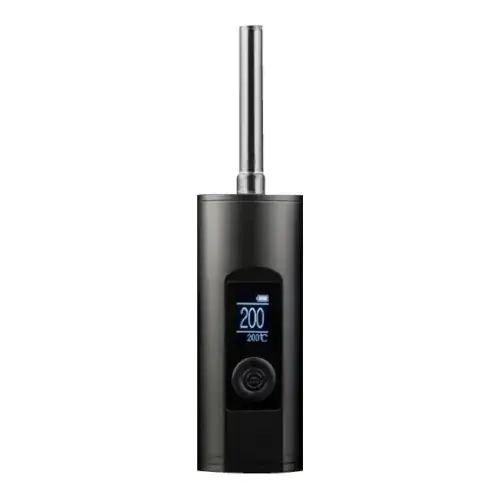 Arizer Solo 2 Description
The Solo 2 is one of the most popular portable vaporizers from Arizer. It can be found reasonably priced and can be a fantastic introduction to vaporizers or an excellent addition to an existing collection. With hybrid heating and a glass vapor path, you can't really go wrong with this one.
Arizer Solo 2 Features & Traits
Portable
Hybrid
Electronic
What Comes with the Arizer Solo 2?
Arizer Solo 2 Vaporizer
Arizer Solo 2 Charger
90 mm Borosilicate Glass Stem Aroma Tube
110 mm Borosilicate Glass Stem Aroma Tube
PVC Travel Tube with Cap (90mm Size)
PVC Travel Tube with Cap (110mm Size)
PVC Travel Tube with Cap Aroma Dish Size
Belt-Clip Carry Case
Silicone Stem Caps for Glass Aroma Tube
Stainless Steel Stirring Tool
Stainless Steel Screens
Botanicals Sample
Glass Aroma Dish
Owner's Manual


Arizer Solo 2 Pricing
Below are approximate prices for the Arizer Solo 2 in various different currencies. These numbers are based on the average market rate for the device and are updated as regularly as possible.
$120 USD
$198 AUD
€120 EUR
$172 CAD
$214 NZD
£104 GBP
Arizer Solo 2 Retailers
Looking to buy the Arizer Solo 2? Check out our list of Arizer Solo 2 retailers. Note that some links may be affiliates, supporting us at no extra cost to you. Compare different retailers to ensure you always get the best price for the Arizer Solo 2!
Arizer Solo 2 Specifications
Find out what you can expect if you decide to pick up the Arizer Solo 2
Temperature Range
50°C-220°C
Arizer Solo 2 FAQs
How do you turn on the Arizer Solo 2?
The Solo 2 can be turned on by pressing the middle and top buttons simultaneously for a few seconds. If the device isn't turning on, ensure your battery is fully charged before attempting again.
How do you clean the Arizer Solo 2?
After using the Solo 2 for a while, residue will begin to build up, primarily in the glass stem. This residue can be removed with isopropyl alcohol either by soaking, using alcohol wipes, or q tips soaked in alcohol. Be sure to let the stem dry before attempting to use it again. Sooner or later, the heating chamber will also get a little dirty, and this is easily corrected by wiping it out with alcohol wipes, a cotton swab moist with alcohol, or Q tips. When cleaning the chamber, avoid excess liquid, as this can seep into the device and potentially damage it or cause other problems.
How do you load the Arizer Solo 2?
Take some ground material and a clean Arizer Solo 2 stem and gently pack some ground material into the end of the stem. Avoid packing the stem too tight, as this will restrict airflow through the material and may result in uneven heating. Additionally, leaving a small amount of space at the bottom of the stem is critical to account for the expansion of the material as it is heated during use and to avoid excessive contact with the heater.
Arizer Solo 2 Cleaning Guide
Cleaning your Arizer Solo 2 vaporizer regularly is essential for maintaining its performance and extending its lifespan. Here is a step-by-step cleaning guide to help you keep your Arizer Solo 2 vaporizer in top condition:
Gather your cleaning supplies: You will need isopropyl alcohol, cotton swabs, a cleaning brush, and a clean cloth.

Turn off and unplug the vaporizer: Before starting the cleaning process, make sure the device is turned off and unplugged from the power source.

Remove the stem: Carefully remove the glass stem from the vaporizer's heating chamber.

Empty the chamber and stem: Dump out any remaining herb or residue from the chamber and stem. Use the cleaning brush to remove any loose debris or particles.

Clean the stem: Soak the glass stem in a container of isopropyl alcohol for about 30 minutes. Then, use a cotton swab to gently clean the inside and outside of the stem. Rinse it with warm water and dry it off with a clean cloth.

Clean the heating chamber: Dip a cotton swab in isopropyl alcohol and use it to clean the heating chamber. Avoid dripping alcohol into the chamber, as it can flow through and potentially damage the heater underneath. It may be helpful to clean the chamber while holding it upside down to prevent this. Use caution and care when cleaning to avoid any damage.

Reassemble the vaporizer: Once everything is clean and dry, reattach the stem and turn on the vaporizer. Let it heat up for a few minutes to ensure that any remaining alcohol evaporates.

Wipe down the exterior: Use a clean cloth to wipe down the exterior of the vaporizer, removing any dirt or residue.

Repeat regularly: It is recommended to clean your Arizer Solo 2 vaporizer after every few uses to ensure optimal performance and longevity.
By following these steps and taking care to avoid dripping alcohol into the heating chamber, you can keep your Arizer Solo 2 vaporizer in excellent condition and enjoy the best possible vaping experience.
Arizer Solo 2 Ratings
Loading Ratings...