Arizer Air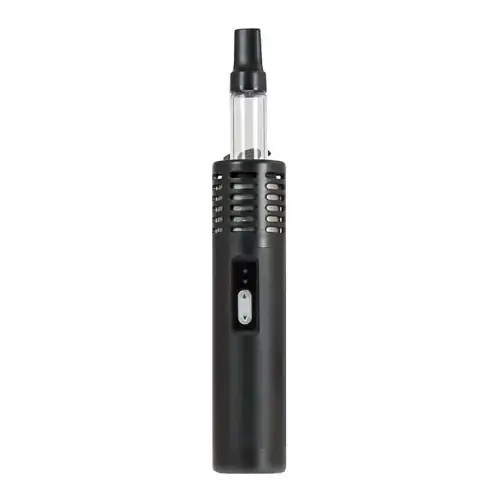 Arizer Air Description
Well known classic vaporizer from Arizer
Arizer Air Features & Traits
Battery Swap
Portable
Conduction
Electronic
What Comes with the Arizer Air?
Arizer Air Vaporizer
Power adapter
Glass Diffuser Stems (x2)
Clear Protective Silicone Skin
Stainless Steel Stirring Tool
Glass Aroma Dish
Carrying Case
18650 Battery


Arizer Air Specifications
Find out what you can expect if you decide to pick up the Arizer Air
Temperature Range
180°C-210°C
Arizer Air Prices
Below are approximate prices for the Arizer Air in various different currencies. These numbers are based on the average market rate for the device and are updated as regularly as possible.
$110 USD
$178 AUD
€110 EUR
$162 CAD
$190 NZD
£96 GBP
Arizer Air Retailers
If you decide to buy the Arizer Air or were wondering where to buy the Arizer Air, it's available at the following retailers. Please note some or all of these may be affiliate links which help support us in covering the costs of operating Thermal Extractions. However, this comes at no additional cost to you. Furthermore, we always recommend to shop around the get the best Arizer Air price!
Arizer Air on Reddit
See what people are saying about the Arizer Air on Reddit. Please note that this feature is currently considered experimental and not all content found may be relevant to vaporizers or even this vaporizer.
Arizer Air Cleaning Guide
Cleaning your Arizer Air vaporizer regularly is essential for maintaining its performance and extending its lifespan. Here is a step-by-step cleaning guide to help you keep your Arizer Air vaporizer in top condition:
1. Gather your cleaning supplies: You will need isopropyl alcohol, cotton swabs, a cleaning brush, and a clean cloth.
2. Turn off and unplug the vaporizer: Before starting the cleaning process, make sure the device is turned off and unplugged from the power source.
3. Remove the stem: Carefully remove the glass stem from the vaporizer's heating chamber.
4. Empty the chamber and stem: Dump out any remaining herb or residue from the chamber and stem. Use the cleaning brush to remove any loose debris or particles.
5. Clean the stem: Soak the glass stem in a container of isopropyl alcohol for about 30 minutes. Then, use a cotton swab to gently clean the inside and outside of the stem. Rinse it with warm water and dry it off with a clean cloth.
6. Clean the heating chamber: Dip a cotton swab in isopropyl alcohol and use it to clean the heating chamber. Avoid dripping alcohol into the chamber, as it can flow through and potentially damage the heater underneath. It may be helpful to clean the chamber while holding it upside down to prevent this. Use caution and care when cleaning to avoid any damage.
7. Reassemble the vaporizer: Once everything is clean and dry, reattach the stem and turn on the vaporizer. Let it heat up for a few minutes to ensure that any remaining alcohol evaporates.
8. Wipe down the exterior: Use a clean cloth to wipe down the exterior of the vaporizer, removing any dirt or residue.
9. Repeat regularly: It is recommended to clean your Arizer Air vaporizer after every few uses to ensure optimal performance and longevity.
By following these steps and taking care to avoid dripping alcohol into the heating chamber, you can keep your Arizer Air vaporizer in excellent condition and enjoy the best possible vaping experience.
Arizer Air Ratings
Loading Ratings...
Check out these other Vaporizers!